Four goals in the opening 45 minutes, seven by the 120th—however one might describe the Trinidad and Tobago era of Tom Saintfiet, the word "dull" surely would not come to mind.
Neither, for that matter, would words like "orderly", "controlled" or "methodical" do the Belgian coach justice. This was roll of the dice stuff: backs and forwards, swings and misses, unfocused fury.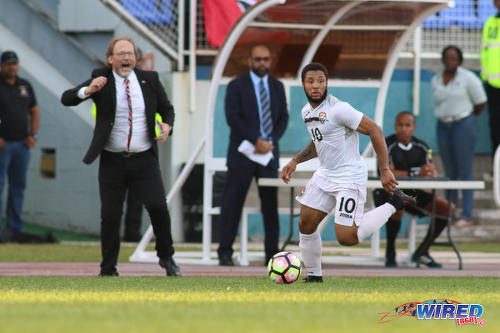 By the final whistle, Trinidad and Tobago football fans were streaming out of the Ato Boldon Stadium with heads bowed while the Haitian delegate took a flag to the middle of the field and marked their newly won territory.
Haiti 4, Trinidad and Tobago 3 in extra time, after a 2-2 finish at the end of regulation time. It meant the Warriors finished bottom of a three-team Caribbean group that included Suriname—ranked 150th in the world by FIFA—despite having home advantage and 48 hours more rest than Haiti for the final outing.
To say, Trinidad and Tobago's opponents were better prepared would be generous. Suriname, despite eight international outings last year, have not played a friendly game since February 2016. While Haiti coach Josaphat Jean Claude was appointed barely two weeks ago and four members of his squad for this competition failed to show up.

It almost seems comical now that Saintfiet's arrival was touted as a return to defensive solidity and an end to dressing room indiscipline. Instead, the Soca Warriors have conceded nine goals in four games—five from three games against the unheralded Nicaragua and Suriname—while the newfound coach seems to have already alienated a significant segment of his player pool.
Of course, it has only been four weeks since Trinidad and Tobago Football Association (TTFA) president David John-Williams appointed Saintfiet as a supposed upgrade to former coach, Stephen Hart.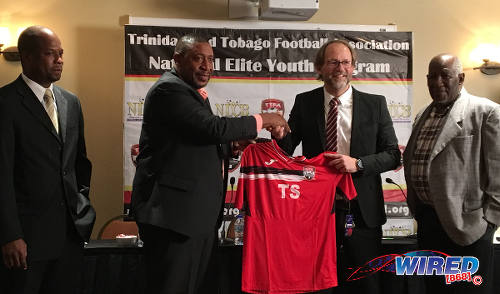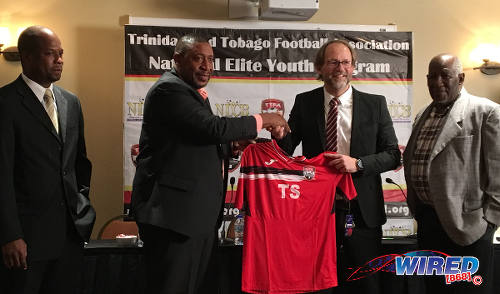 And Saintfiet will doubtless claim that his bust-ups with senior players were unavoidable and an even necessary attempt to mark his territory. It did not work in Togo, though, where he took the captain's armband off former England Premiership star Emmanuel Adebayor, which saw the striker quit, the African nation plummet down the standings and the journeyman coach make an early exit for Bangladesh.
John-Williams guaranteed Saintfiet three months in Trinidad and he would do well to reach it, particularly when so many of his fallouts were with players from the president's W Connection club.
Tonight, the Soca Warriors needed a two goal win to advance to the final play off round against Central American opposition. It is unclear what result Saintfiet needed for his own job security, if anything at all. But Trinidad and Tobago definitely gave it a go.
If Hart was often criticised for keeping the handbrakes up, Saintfiet might be said to have no brakes at all. And, sometimes, no steering wheel either.
The Belgian could not have asked for a better start, though, as Trinidad and Tobago stormed ahead within the first minute of play. Winger Nathan Lewis slipped away from Haiti left back Christian Alex and pulled the ball back to the top of the six yard box for Shahdon Winchester, who put the hosts ahead to a load roar of approval from roughly 3,400 supporters in attendance.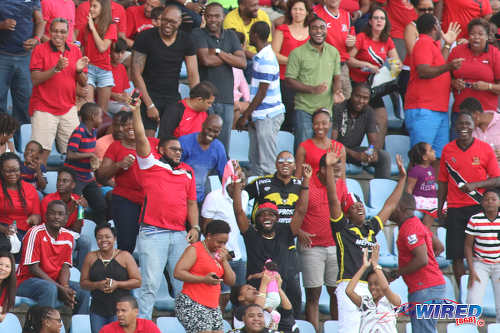 Remarkably, Winchester's opener meant the Warriors were simultaneously one goal better and worse off at the same time.
Trinidad and Tobago needed a two goal win but, since Caribbean Football Union (CFU) tournament rules don't allow draws, they would qualify regardless of whether those goals came in the 90 minutes of regulation time or the 30 minutes of extra time.
Haiti played Suriname less than 48 hours ago while the Trinidad and Tobago team faced Suriname on Wednesday. So the host nation should have had more energy in the tank. Extra time might not be such a bad idea.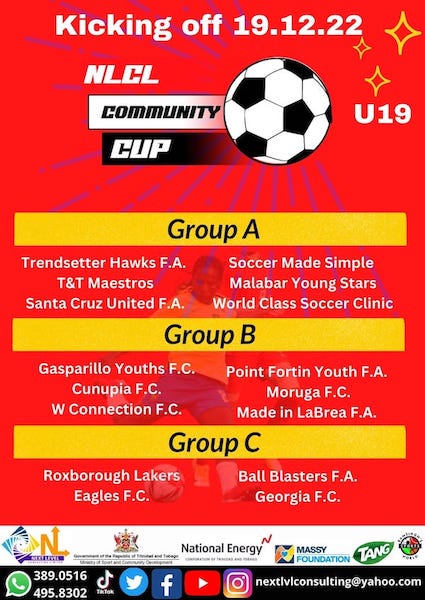 So the CFU rulebook created an intriguing subplot for the affair with a regulation time draw ensuring the Warriors a second bite of the cherry in extra time while a one-goal win for the home team would ensure Haiti advanced.
Veteran captain Carlos Edwards missed out on the fun though, as he pulled up with a groin injury in the 19th minute and left the field on a stretcher.
Trinidad and Tobago conceded before his replacement, Alvin Jones, could get on the field.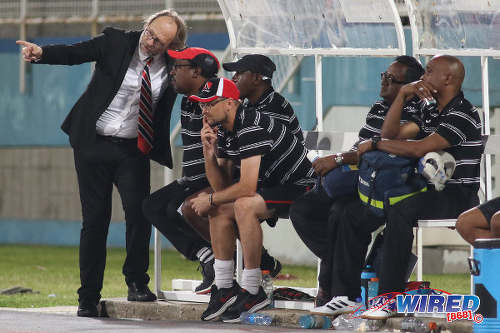 Aruban referee Ricangel De Leca gave a puzzling free kick to Haiti when it seemed that opposing forward Kervens Belfort had fouled Trinidad and Tobago defender Maurice Ford, rather than the other way around.
As Ford protested, Belfort played a quick pass to Derrick Ettienne inside the area and defender Radanfah Abu Bakr, who had just taken over the armband, was far too slow to spot the danger. 1-1.
Five minutes later, De Leca had either atoned or heaped more shame upon himself, depending on whether you were a partisan or neutral viewer.
Haiti goalkeeper Guerry Romondt, who was making just his third international cap, indulged in a bit of time wasting before he picked up the ball. De Leca whistled for a free kick inside the Haitian penalty area.
And, as the bewildered Haitians complained, Aikim Andrews returned the favour in full with a quick free kick to Winchester who drove into an empty net to restore the 2-1 advantage. Which, of course, was also a potential disadvantage.
No matter. Haiti were happy to do Trinidad and Tobago the double edged favour of equalising once more, as Belfort headed into the near corner off a Charles Hérold corner kick in the 39th minute. 2-2.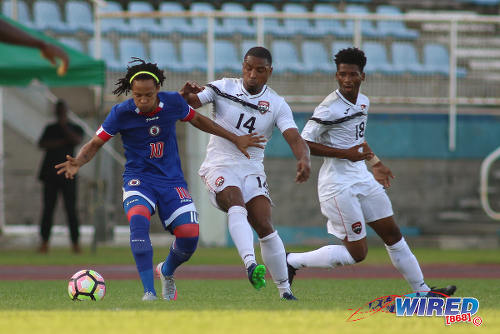 Belfort, whose goal eliminated Trinidad and Tobago from the Copa America Centenario playoff 12 months ago, celebrated with a roar and flex of his muscles.
It was riveting and atrocious at the same time.
There was more farce as Saintfiet gave a severe tongue lashing to Jones for putting the ball out so a Haitian player could get medical attention—never mind the fact that it was still the first half and Haiti themselves maintained a spirit of fair play, in similar circumstances, throughout the match.
The Haiti bench, naturally, took offence at Saintfiet's instructions to the young defender and one did not need a lip reader to get the gist of the Belgian's aggressive, animated response, which was shades of his rant at the fourth official during the Suriname match.
If Saintfiet were to give his players a manual on what does and does not constitute good discipline, it would probably be as thick as the bible.
In the 56th minute, there were cheers as World Cup 2006 Cornell Glen was introduced as a replacement for Tyrone Charles. Glen, incidentally, missed the Suriname match with a tweaked hamstring and he certainly did not look his mobile self tonight.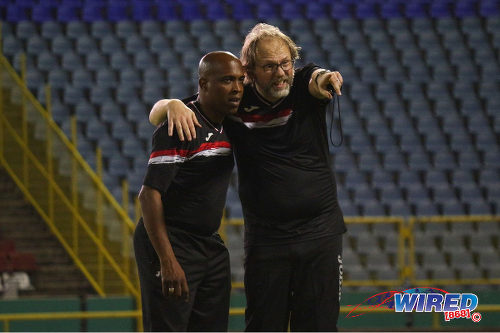 But then surely Dr Terence Babwah and Dave Isaac would never sit back and allow an injured player on the field. Right? Well, except for central defender Carlyle Mitchell who hobbled back on against Suriname on Wednesday although clearly impeded.
Mitchell's return, Saintfiet later explained, was fine since the player wanted to do it.
These are head-scratching days in local football indeed.
It was a circus on the field too. At one point, referee De Leca allowed Trinidad and Tobago to take a throw-in despite there being another ball on the field. There might have been a Haitian riot if Glen's attempted lob had gone in from that passage of play.
Andrews came close with a shot from distance too. Otherwise, it was still the Haitians who created the best opportunities as Abu Bakr and Ford threw themselves in the way of a Belfort shot in the 68th minute—like FBI agents protecting a US president—while goalkeeper Trinidad and Tobago goalkeeper Adrian Foncette made a superb save with his legs to keep out Ettienne in the 76th minute.
As the game entered the final 10 minutes, the Haitian contingent looked physically spent. But if the Warriors went ahead then, they would have to score twice or risk the chance of eliminating themselves.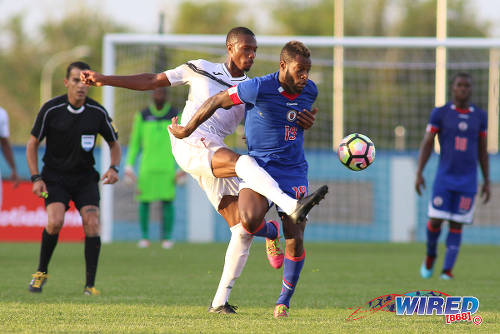 So, for the first time since Saintfiet touched down in Piarco, Trinidad and Tobago tried to hold on to the ball. As a further testament of the host team's porous defending, Foncette was still called to make a late save from Christian. But the Warriors made it to the end of regulation time on level terms.
Some supporters cheered the accomplishment of applied mathematics over football. Others were not as au courant with the rules and needed to be talked back to their seats after a crash course in CFU tournament logistics.
On to extra time then. Abu Bakr kept Haiti at bay with a brilliant lunging tackle on opposing striker Jonel Désiré in the 100th minute while Winchester was blocked by Romondt on a razor sharp counter in the 103rd minute.
Romondt, as calamitous as the circumstances required, turned a Lewis cross off his own bar in the 108th minute.
Saintfiet sent Abu Bakr upfront with supposed orders to imitate Kenwyne Jones—the striker he claimed he did not need. And, by then, the match had all the tactical subtlety of an air hockey game between two hyperactive children at the mall.
Haiti scored twice in the second half of extra time as Belfort and Andrew Jean-Baptiste crashed home headers. All four Haitian goals, remarkably, came from set pieces.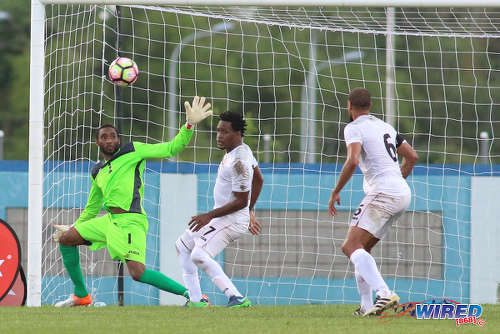 In between the Haitian strikes, Winchester—who turned 25 today—celebrated his birthday with a hattrick after driving between Romondt's legs following a flick on by Abu Bakr. Winchester made his senior international debut in mid-2010 and, six years and 17 caps later, has just four goals. Maybe national coaches should give him birthday cards on every match day.
At the post-game press conference, Saintfiet pleaded for more time at the job and claimed that former Trinidad and Tobago World Cup 2006 Leo Beenhakker lost three of his first five games in charge of the Warriors.
Not for the first time, the Belgian was totally wrong. Beenhakker's first five games as Trinidad and Tobago coach were: Bermuda (win), Bermuda (win), Panama (win), Mexico (loss) and Honduras (draw). And his first five competitive fixtures were: Panama (win), Mexico (loss), Honduras (draw), Panama (draw) and Colombia (loss).
It is hard to tell where it ranks among Saintfiet's ridiculous and, arguably, dishonest claims so far: he boasted of being Belgian's youngest professional coach without ever coaching a senior professional league club there, he inflated Togo's FIFA ranking by almost 20 places at his unveiling and, hilariously, he boasted of working with Adebayor when the former Arsenal star refused to play for him.
Is the TTFA's new coach making it all up as he goes along?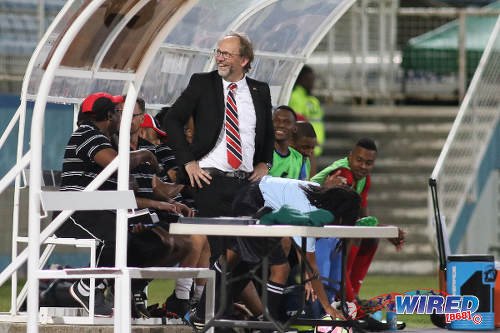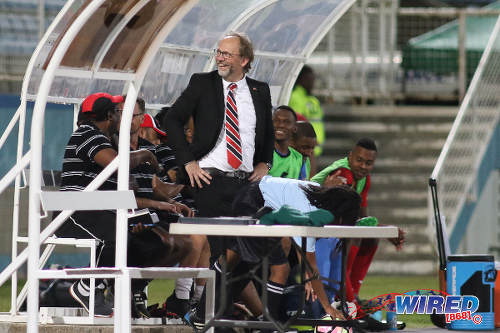 Saintfiet has certainly added a touch of excitement to the national football arena. Whether three losses from four matches suggest he is the man to rescue the Warriors' faltering campaign is another matter entirely.
Tonight was Jean Claude's second game as Haiti coach and his international career is barely two weeks old. He was selected from the Haitian league—which is inferior to its Trinidad and Tobago counterpart—and does not have the Caribbean Club Championship titles that Stuart Charles-Fevrier, Terry Fenwick, Dale Saunders and even Saintfiet's assistant, Jamaal Shabazz, possess.
Time will tell whether Saintfiet will indeed turn things around. Or, if he fails, whether he will take his TTFA appointees with him.
(Teams)
Trinidad and Tobago (4-2-3-1): 1.Adrian Foncette (GK); 11.Carlos Edwards (captain) (16.Alvin Jones 21), 6.Radanfah Abu Bakr, 17.Maurice Ford (15.Hughtun Hector 91), 2.Aubrey David; 19.Kevan George, 14.Andre Boucaud; 8.Nathan Lewis, 18.Aikim Andrews (20.Trevin Caesar 68), 7.Tyrone Charles (13.Cornell Glen 56); 10.Shahdon Winchester.
Unused substitutes: 21.Glenroy Samuel (GK), 5.Hashim Arcia, 9.Akeem Roach.
Coach: Tom Saintfiet
Haiti (4-2-3-1): 1.Guerry Romondt (GK); 21.Samuel Pompée, 16.Andrew Jean-Baptiste, 3.Mechack Jérôme (captain), 22.Christian Alex; 15.Sébastien Thuriere (19.Listner Pierre-Louis 18), 17.Wilguens Aristide; 11.Derrick Etienne (2.Paulson Pierre 92), 10.Charles Hérold, 9.Kervens Belfort (5.Romilaire Ambroise 114); 18.Jonel Désiré.
Unused substitutes: 23.Valendi Odelus (GK), 4.Handy Delice, 6.Waldo Vernet, 8.Roberto Louima.
Coach: Josaphat Jean Claude
Referee: Ricangel De Leca (Aruba)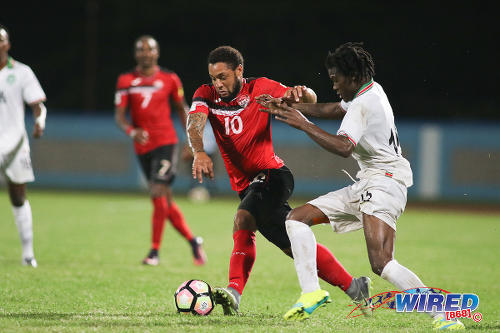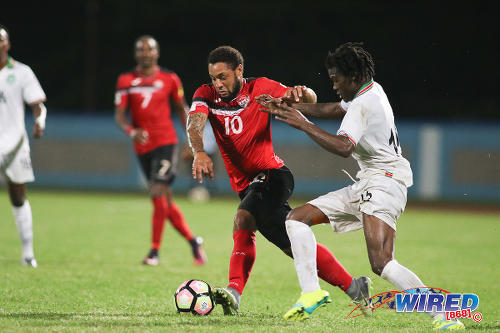 Gold Cup playoff
(Sunday 8 January 2017)
Trinidad and Tobago 3 (Shahdon Winchester 1, 25, 112), Haiti 4 (Derrick Ettienne 20, Kervens Belfort 39, 111, Andrew Jean-Baptiste 117) at Ato Boldon Stadium, Couva.