"Ain't nobody, ain't nobody better than Pres!"
This was the chant that the lively rhythm section of Presentation College (San Fernando) echoed after their 2-1 penalty shootout victory over Shiva Boys Hindu College in front of 4,000 spectators at the Mannie Ramjohn Stadium in Marabella yesterday. But boy did 'Pres' have to work for their crown.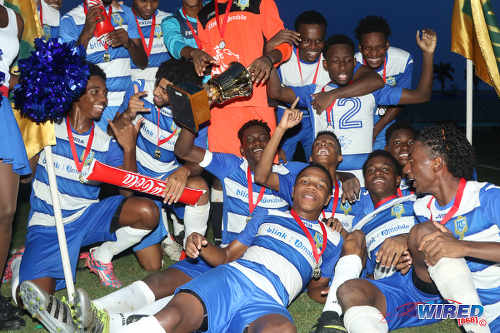 Yesterday's South Zone Intercol final was a rematch of the 2012 affair that saw Shiva Boys controversially crowned South Zone champs for the first time in a replayed final decided by penalties after the original contest was abandoned—with just 10 minutes remaining and Presentation leading 2-1 at the time—when a spectator attacked one of the assistant referees.
Revenge, as Cooper would probably agree, is a dish best served cold.
"I think that [in 2012 when Shiva won the South Intercol] it was unfair to us," Cooper told Wired868. "With 10 minutes to go, we were leading 2-1 and in total control of the game and then the spectator came on the field. I thought we were robbed there but God don't sleep. Today we got back at them and it is revenge for that defeat."

Apart from the controversial 2012 finale, Cooper really did not have to look far for motivation, as his players were coming up against the 2016 Premier Division winners, who incidentally opened their campaign with a victory over the 'Pres Lions' in Siparia.
And having defeated arch rivals Naparima College from the penalty mark in the South Zone semis on Monday, Presentation were ready to slay another foe.
"I told the boys they had won nothing [after the semifinal win over Naparima]," said Cooper. "It's a South rivalry between Naps and Pres so it was basically just about bragging rights… It would have made no sense defeating Naparima, who were the [defending] champions, and coming today and falling short.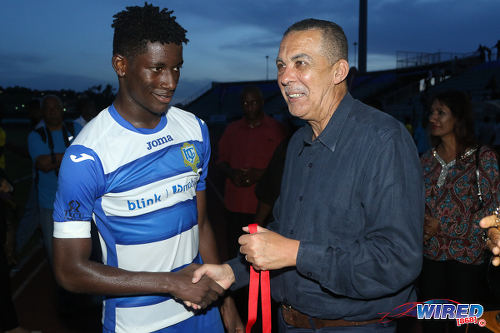 "We fell short last year and I told them today is not a day to fall short."
Presentation started the game with a frenetic pace and did not have to wait long for the go-ahead goal, as Terrell Williams sneaked a right side free kick into the far corner after only nine minutes. Williams, almost certainly, had attempted a cross but got way more than he bargained for. And Shiva's custodian Denzil Smith was bamboozled by the curl and bounce of the left-footer.
"It just didn't go our way today," said Shiva Boys coach Hayden Ryan, who left top marksman Junior Asson on the bench due to a niggling injury. "From the start we were under the gun."
Presentation attacked down the flanks with vigour in the early going, particularly down the right side where the slender Jordan Riley gave opposing defender Kellon Ferdinand a real torrid time. Riley nearly helped his school double their advantage in the 16th minute, after a nonchalant backheeled pass to his namesake, Kareem "Enzo" Riley, whose right-footed blast brought the very best out of Smith.
The Shiva Boys and National Under-20 goalkeeper appeared to his injure his left shoulder upon falling and, after extensive work by his medical staff, he rejected the stretcher to soldier on for his teammates—as he did after injuring his shoulder in a Premier Division clash with St Anthony's College last year.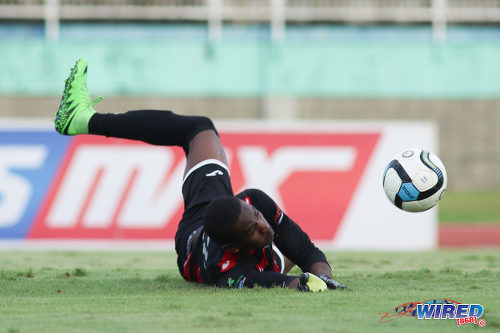 Smith had teammate Yohannes Richardson to thank soon after the resumption of play, as the defender snuffed out a dangerous cut back by Riley (J) in the 29th minute.
And then, boom! Shiva equalised out of nothing.
The Premier Division champs were largely restricted to long, hopeful balls towards striker Tyrell "Sexyman" Baptiste for most of the first half. But on the half hour mark, Shiva Boys captain and playmaker, Judah Garcia produced a neat through pass to Sexyman whose finish matched his flamboyant nickname.
Garcia, who was carrying a knock, did not make it back out for the second half, though, and the captain's armband was passed to midfielder Tyrel "Pappy" Emmanuel. It was time for the stylish playmaker to rise to the occasion—although he would first have to shake off opposing midfielder Darnell Hospedales who was stuck to him like white on rice.
Emmanuel, who pulled up lame with cramps on a few occasions, lashed a volley agonisingly wide in the 61st minute before spanking a right-footed shot off the base of the post in the 66th.
Shiva Boys, who assumed more possession and control in the second period, were starting an untimely love affair with the goalposts, as winger Ronaldo Edwards kissed a right-footed shot off bar in the 70th minute after collecting a Emmanuel pass.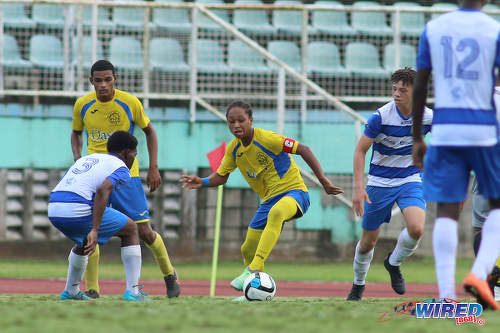 At the other end, Smith was doing his bit to keep his team in the contest as he made a key save to deny Riley (J) on a counter attack in the 73rd minute.
However, with the teams tied at one goal each with just seconds remaining in regulation time, the Shiva Boys custodian was well beaten, as Presentation attacker Nion Lammy collected a pass from left back Juaval Roberts and, after one step over in the box, rifled a left-footed shot off the underside of the bar and into net. If Smith had gotten a touch, Lammy's effort might have taken him into the back of the net as well.
Lammy took off his shirt and raced down the Mannie Ramjohn track in wild celebrations with his teammates.
However, Pres were not ready for what happened next—in fact, no one was.
Straight from the kickoff, Pappy gave another taste of his wide repertoire of skills, as he curled an audacious shot over the retreating Gray and into the net from the centre circle. It was jaw-dropping.
If National Under-20 coach Brian Williams was in attendance, he would surely have been tempted to let bygones be bygones with the midfielder, who was dropped from his team after failing to attend a training camp in Guyana, two months ago.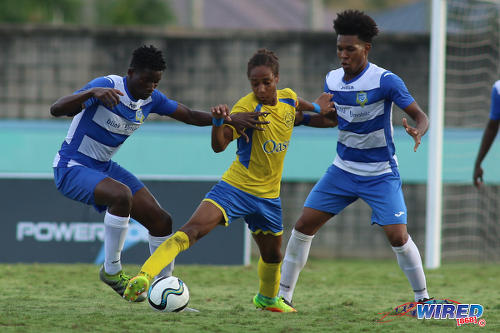 The Presentation players were crest-fallen, while their fans were just bewildered. But they got the chance to make amends in the penalty shootout.
In Presentation's semifinal win over Naps, Cooper replaced Gray with substitute goalkeeper Ishmael Salaam in the dying moments of regulation time. Today, Cooper told Wired868 that Gray wanted to be on the field for the shootout.
Shiva Boys were their own worse enemies though, as they missed their first three kicks without forcing the custodian to make a save. After three penalties apiece, Presentation led 2-0.
Emmanuel finished his kick with aplomb while Lammy blazed over bar with Presentation's fourth kick. But there would be no dramatic comeback, as Gray denied Richardson's low penalty to give Pres the hard-fought victory.
The Shiva Boys players were devastated.
"The penalties… well it was the worse," said Ryan. "Four men missed. You can't win with four men missing…"
Despite the loss, Ryan credited his team's fighting spirit.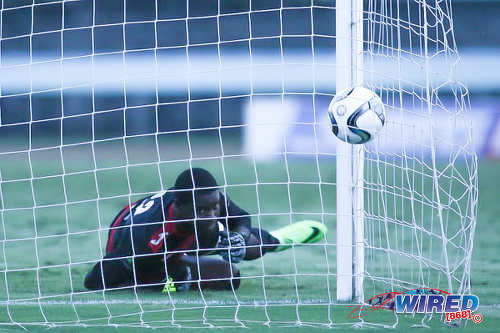 "Boy, this is what we have in this team. We have zeal, we have talent, we have gifts, we have heart, we have team spirit, we have love, unity and respect… God's willing they will be okay for the Big Four."
Although Cooper suggested that it was a triumph of revenge for his team, he also wanted to dedicate the result to his two sons and a former Presentation skipper.
"I told them today is Pres' day. Today, we dedicated this game to Daniel Quashie, the 1986 captain of the national champion team. We dedicated this game to him, may his soul rest in peace. I also wanted a victory today for both my sons…
"It was a spectator's game. It was a final of all finals. I think the spectators wanted some excitement. They wanted to see good football and I think they got that this afternoon. Hats off to Shiva Boys [and] Pappy. They have some talented players in their squad but we showed we could match them.
"I told Wired868 earlier in the season when we lost to them that we will get better and we will do our homework […] and when you do your homework you are supposed to pass your exam. So we did pass our exam today."
Presentation's next assignment will be the National Intercol semifinals on 29 November against either the Central or Tobago champions, who meet in the Intercol quarterfinal on November 25.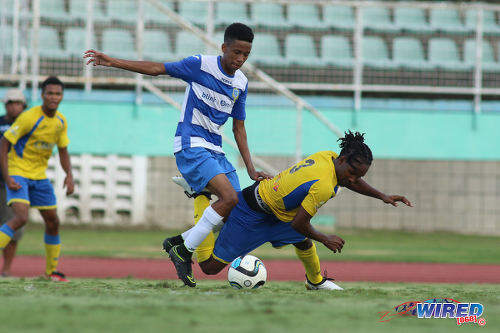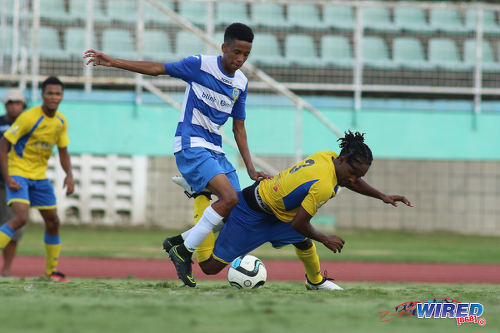 Judging on yesterday's evidence, the prospective team better come to Marabella prepared.
"We are not stopping here," said Cooper. "We are looking forward to the National Intercol finals. We are looking forward to it. We are leaving no stones unturned in terms of our preparation. It will continue until we get that National title."
(Teams)
Presentation College (San Fernando) (4-2-3-1): 28.Jabari Gray (GK); 16.Mylz Barrington, 2.Shirwin Noel, 6.Matthew Joseph, 3.Juaval Roberts; 12.Darnell Hospedales, 8.Terrell Williams (13.Jarod Gordon 65); 11.Jordan Riley, 10.Kareem Riley (captain), 7.Nion Lammy; 5.James Alex Lee Yaw (9.Omari Baird 90+1).
Unused Substitutes: 1.Ishmael Salaam (GK), 14.Jerrin Jackie, 15.Akeem Barclay, 19.Jarelle Steadman, 23.Nathaniel Dyer.
Coach: Shawn Cooper
Shiva Boys Hindu College (4-1-4-1): 22.Denzil Smith (GK); 2.Chris Vialva, 11.Yohannes Richardson, 3.Shaquille Williams, 12.Kellon Ferdinand (14.Matthew Beal 45); 15.Aaron Rodney; 17.Ronaldo Edwards (5.Jerome Samuel 90+2), 10.Judah Garcia (captain) (16.Simeon De Bourgh 46), 6.Tyrel Emmanuel, 7.Quinn Rodney; 19.Tyrell Baptiste.
Unused Substitutes: 1.De-Jon Blondell (GK), 8.Junior Asson, 13.Ryan Davis, 18.Muquasie Alexander.
Coach: Hayden Ryan
Referee: Rashby McPhee
Man of the Match: Nion Lammy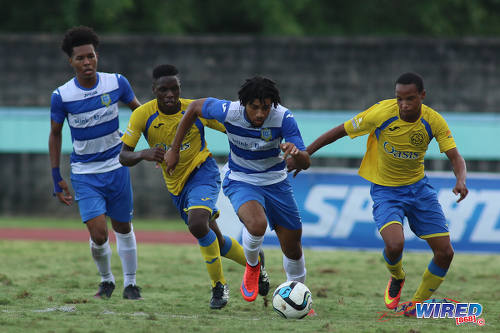 South Zone Intercol Final
(Friday 18 November)
Presentation College (San Fernando) 2 (Terrell Williams 9, Nion Lammy 90), Shiva Boys Hindu College 2 (Tyrel Baptiste 30, Tyrel Emmanuel 90+2) at Mannie Ramjohn Stadium;
*—Presentation College won 2-1 on kicks from the penalty mark;
[Penalty sequence]
Quinn Rodney (Shiva) hits crossbar, Jordan Riley (Pres) scores;
Tyrell Baptiste (Shiva) hits post, Kareem Riley (Pres) saved by Smith who seemed to re-injure himself;
Shaquille Williams (Shiva) shoots over bar, Darnell Hospedales (pres) scores;
Tyrel Emmanuel (Shiva) scores, Nion Lammy (Pres) shoots over bar;
Yohannes Richardson (Shiva) saved by Gray.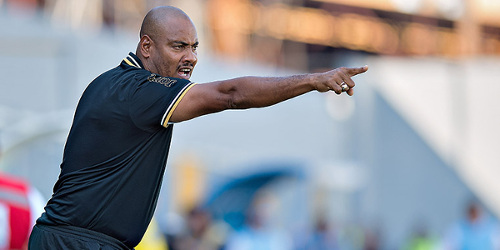 Upcoming Intercol fixtures
Monday 21 November
(Tobago Zone Finals)
Speyside Secondary vs Signal Hill Secondary, 3:30 pm, Dwight Yorke Stadium;
(East Zone Finals)
San Juan North vs St Augustine Secondary, 3:30 pm, Larry Gomes Stadium;
Tuesday 22 November
(Central Zone Finals)
Gasparillo Secondary vs Carapichaima East Secondary, 4 pm, Ato Boldon Stadium;
Friday 25 November
(North Zone Finals)
Trinity College (Moka) vs St Anthony's College, 4 pm, Hasely Crawford Stadium;
(National Intercol Quarterfinals)
Central Zone Winner vs Tobago Zone Winner, Dwight Yorke Stadium;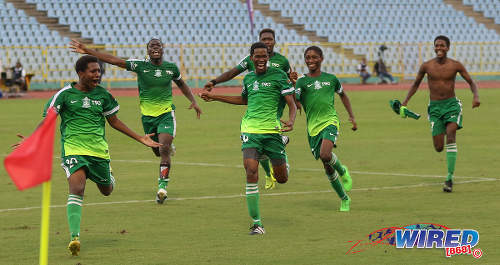 Tuesday 29 November
(National Intercol Semifinals)
Presentation College (San F'do) vs Central/Tobago Zone, 3:30 pm, Mannie Ramjohn Stadium – Semi-final 1
Wednesday 30 November
(National Intercol Semifinals)
North Zone Winner vs East Zone Winner, Hasely Crawford Stadium – Semi-final 2 
Monday 5 December
(National Intercol Finals)
WINNER Semi-final 1 vs WINNER Semi-final 2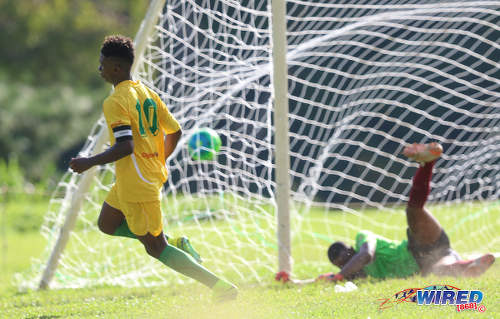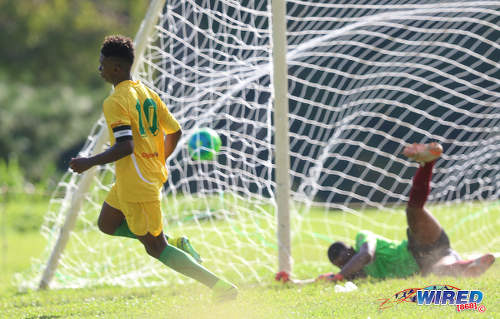 Girls Intercol results 
Thursday 17 November
(South Zone Semifinals)
Fyzabad Secondary 7 (Kadean Louison 4, Tracy Smith 11, Shanaqua Lewis 14, 78, Donansa Osbourne 34, Raenique Primus 36, 76), San Fernando East 0 at Mannie Ramjohn Stadium Training Field;
Pleasantville Secondary 15 (Shenieka Paul 12, 25, 28, 36, 40, 44, 63, 67, Faith Coombs 23, 38, Samantha Dyer 36, 59, Shawnelle Rose 37, Hope Coombs 43, Aaliyah Pascal 50), St Joseph Convent (San F'do) 0 at Mannie Ramjohn Stadium Training Field;
(East Zone Finals)
St Augustine Secondary 2, Bishops Anstey East 2 at Larry Gomes Stadium;
*—St Augustine won 3-1 on kicks from the penalty mark;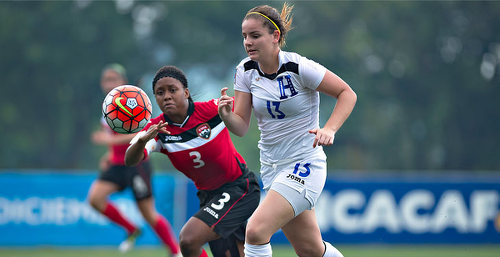 Upcoming fixtures
Sunday 20 November
(South Zone Finals)
Fyzabad Secondary vs Pleasantville Secondary, 3:30 pm, Mannie Ramjohn Stadium;
(Tobago Zone Finals)
Signal Hill vs Mason Hall, 3:30 pm,
(North Zone Finals)
Diego Martin Central vs Bishops Anstey POS, 3:30 pm,
Thursday 24 November
(National Girls Intercol Quarterfinals)
Tobago Zone Winner vs Central Zone Winner
Sunday 27 November
(National Girls Intercol Semifinals)
East Zone Winner vs North Zone Winner, 3:30 pm, Larry Gomes Stadium – Semi-final 1
South Zone Winner vs Tobago/Central Zone Winner, 3:30 pm, Mannie Ramjohn Stadium – Semi-final 2
Friday 2 December
(National Girls Intercol Finals)
Winner Semi-final 1 vs Winner Semi-final 2