St Anthony's College will look to secure their second consecutive North Zone Intercol trophy after they defeated 2014 National Intercol champions East Mucurapo Secondary by a 3-1 margin at the Hasely Crawford Stadium yesterday.
The "Westmoorings Tigers" will square off against Trinity College Moka in the North showpiece on November 25, after the boys from Maraval outlasted St Mary's College on penalty kicks following a goalless 90 minutes.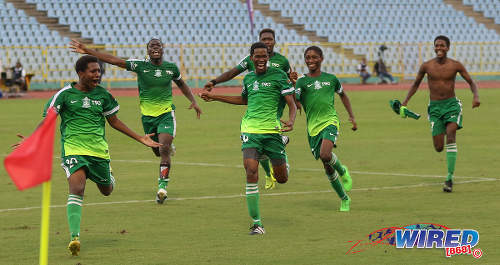 Trinity custodian Desean Bowen is a real presence between the sticks—although he spends most of his time sweeping on the edge of his penalty area—and the lads from Moka had him to thank for their eventual triumph yesterday.
Bowen made a critical point blank save in the 85th minute to deny a St Mary's substitute. But his best work came in the shootout, as he thwarted efforts by Aaron Skeene and Gabriel Nanton to help earn his team a nail-biting 5-4 win from the penalty spot.
In open play, the boys from Frederick Street would argue that they created more clear-cut chances, but they were trumped in kicks from the penalty mark by a Trinity team which scored all but one of their attempts.

The teams were locked at four apiece after five exchanges of penalties, and after Bowen saved Skeene's sudden death effort, Trinity substitute Temesgen Tezera strutted up to place his team in the North Zone Intercol final. Tezera saw roughly five minutes of action in regular time, but he ensured that his 'corbeau sweat' was a very sweet one.
If the first North semifinal was played at a pedestrian pace, then St Anthony's and Mucurapo treated the crowd to a track meet in the second semi as both teams shot out of the blocks. And with six national youth players on display from the start, there was some good quality on display as well.
The Tigers, who were defeated by Naparima College in the National Intercol final last year, wasted very little time in clawing into their opponents as the speedy Haile Beckles opened the scoring in the third minute.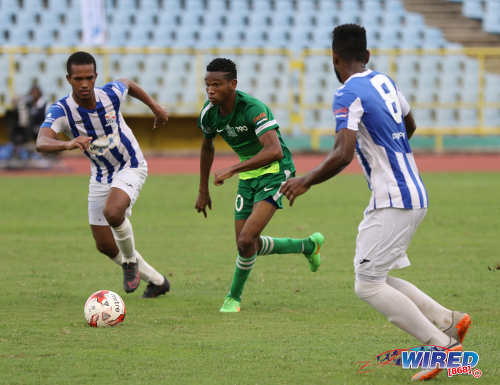 Beckles, who played a pivotal role in his school's Intercol run last year, danced all around defender Sherlon Roberts on the left side of the area before nonchalantly placing a right-footed shot past opposing goalkeeper Terral Cambridge and into the far corner.
But Mucurapo, who are led by Central FC coach Dale Saunders, know very little about backing down and they traded blow for blow with their opponents.
In the 13th minute, "Compre" were almost back on level terms as midfielder Darrion Jack had a goal-bound effort blocked by St Anthony's left back Derron John after custodian Jabari Brice hurriedly vacated his goal line.
Saunders called on his team to play positive, attacking football against St Anthony's, and the likes of Tarik Martin and National Under-20 midfielder Micah Lansiquot were certainly taking up the challenge. However, the wide pair of Kathon St Hillaire and Tyrese Bailey looked just as dangerous on the other end.
And with the diminutive duo of Che Benny and Shem Clauzel pulling the strings in the Tigers midfield, Compre had to be wide awake at all times. Benny, whose set pieces are priceless, tested the Mucurapo defence with a series of dangerous crosses near the half hour mark, but Saunders' charges were just able to escape. One Benny cross even led to a frantic goal line clearance by Mucurapo skipper Aquinde Marslin.
However, in the 38th minute, Marslin was unable to pull off another heroic act, as Beckles extended St Anthony's lead.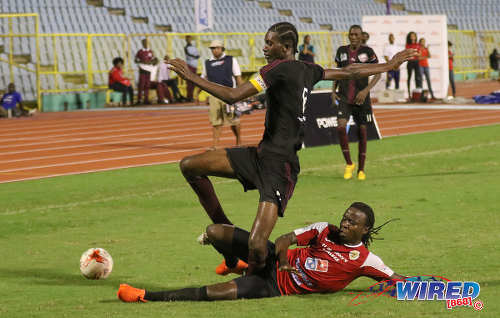 Maybe Benny's deliveries had done enough to disturb the mental capacity of the opponents by that time, as Mucurapo right back Jomokie Cassimy played an ill-advised square pass with Bailey in close proximity.
The rest, as they say, is history. Beckles quickly ran on to the loose ball and easily slotted past a flat-footed Cambridge, who opted to stay on his line.
Mucurapo, whose Premier Division fate sits in the balance after they were found to have used an ineligible player in the league, once again showed their fighting spirit to start the second half as Lansiquot tested the wits of Brice with a low drive from distance in the 48th minute. But with a two-goal deficit staring them in the face, Mucurapo badly needed something more substantial than that. And the Tigers always looked more likely to bulge the old onion bag.
St Hillaire, who copped the 2014 Intercol title with Mucurapo, did not seem to be on friendly terms with his old schoolmates as he caused his fair share of mayhem on the wing.
In the 57th minute, the tricky winger combined with Beckles to create a golden chance for Clauzel which was wasted. And mere seconds later, St Hillaire did it all on his own as he set up his team's third item.
St Hillaire's through pass was actually meant for Beckles but the winger deduced that he was in an offside position and wisely let the ball run. So St Hillaire gave chase and outran at least three Mucurapo players to latch on to his own pass before delivering a deadly cross, which was slammed home by a jolly Benny.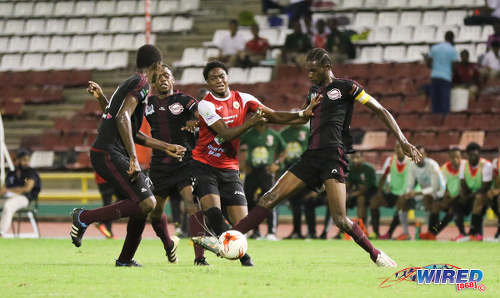 Both Benny and St Hillaire missed several games during the SSFL season due to national duty. But now coach Ronald Daniel seems to be reaping the rewards with his team playing some slick, attacking football.
"Things are working out in my favour as the team is meshing together in all departments and we are playing more constructive and more organised," Daniel told Wired868. "Our team—as you can see—is fit. That's what we have focused on: our fitness and playing together at a fast pace, which I think we executed well today."
The St Anthony's coach even had the luxury in sending on National Under-17 striker Jaydon Prowell in the 68th minute. The lanky Prowell notched three goals in the CFU Under-17 tournament two months ago, but his firepower wasn't needed yesterday.
Instead, it was another National Under-17 player who etched his name on the score sheet before full time. Jesse Williams, who operated as a centre-back in the CFU tournament but was mostly utilised as an attacker for Mucurapo this season, scored in the 90th minute after striking the crossbar just three minutes prior.
"Jesse scored a number of goals for us [and] he has been doing fine on top," Saunders said. "Unfortunately, we didn't get the result but going forward I think we will be better off for this experience… St Anthony's have a lot of quality but we have a lot of young guys within the mix.
"I am pleased with the effort of the guys. It goes to show that a little more time with these guys and Mucurapo will be a force to be reckoned with going forward."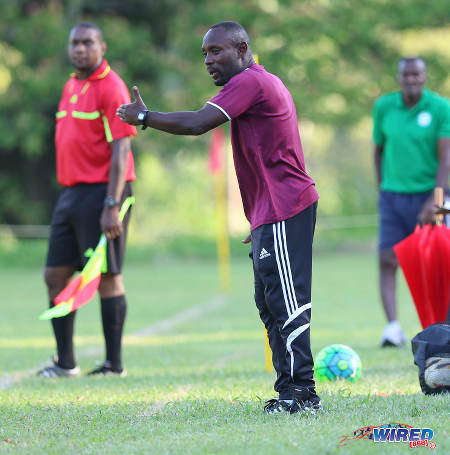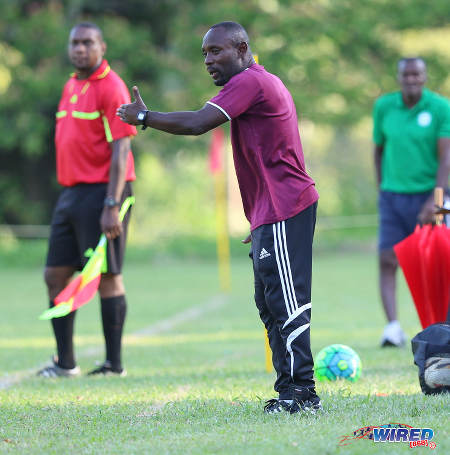 It remains to be seen whether Mucurapo's immediate future will be in the Premier Division or the Championship Division, as the school is still at odds with the SSFL over the ineligibility ruling against Abdus Ramcharan, a Form Six student.
Ramcharan was declared ineligible by the league as he did not meet the academic criteria for Form Six footballers, which stipulates that a student must have four or more CXC passes.
As a result, Mucurapo were deducted three points from their original Premier Division tally of 15, after a protest by St Benedict's College. However, according to the SSFL's Assistant Secretary Admin Gerald Elliot, Mucurapo have taken their matter to the SSFL's highest court of appeal. And Elliot anticipates that the scenario will not be resolved until the Intercol is done and dusted.
"The SSFL Secretary of Operations was charged with the responsibility of checking the match cards [to see how many games Ramcharan would have participated in]," said Elliot. "Since then, Mucurapo have sent a letter stating that they will be going to Arbitration. The possibility is that it will be finalised after the Intercol.
"Probably by then we can get the decision of the Arbitration so we can make one decision and move forward."
Mucurapo have certainly played their last game of the season. But where will the 2014 National Intercol champions play their football next season?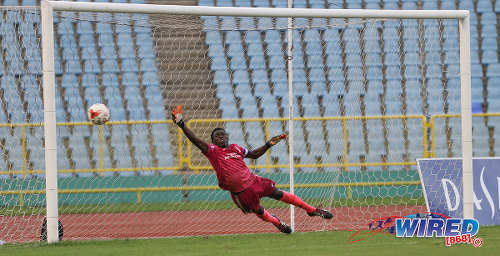 The answer is behind SSFL doors at the moment…
(Teams)
St Anthony's College (4-1-4-1): Jabari Brice (GK); 5.Marc Robertson, 27.Derron John, 4.Nkosi Salandy, 6.Kheisa Granger (18.Ronaldo Jacob 60); 14.Nicaya Mahon; 7.Kathon St Hillaire, 9.Che Benny, 13.Shem Clauzel, 10.Tyrese Bailey (24.Jaydon Prowell 68); 11.Haile Beckles (23.Sowande Prieto 75).
Unused Substitutes: 22.Oba Augustine (GK), 16.Jordan Barclay, 17.Krishorn Alexander, 20.Yevan Rajpaul.
Coach: Ronald Daniel
East Mucurapo (4-2-3-1): 30.Terral Cambridge (GK); 5.Jomokie Cassimy (22.Zion McLeod 46), 6.Aquinde Marslin (captain), 21.Sherlon Roberts, 23.Akeil Matooram (16.Aaron Roberts 71); 8.Joshua Constantine (26.Kevon Edwards 60), 2.Keshawn Hutchinson; 10.Micah Lansiquot, 17.Darrion Jack, 11.Tarik Martin; 12.Jesse Williams.
Unused Substitutes: 1.Joshua Davis (GK), 9.Jelani Ferary, 20.Johan Anthony, 24.Elijah Joseph.
Coach: Dale Saunders
Referee: Joel Cox
Man of the Match: Che Benny (St Anthony's College)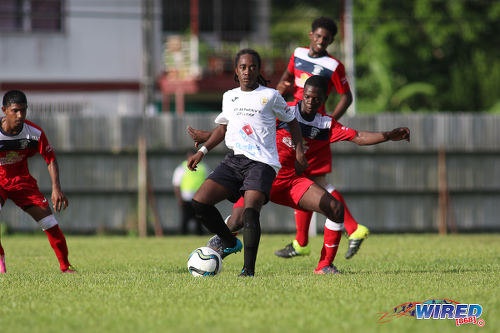 2016 Intercol results 
Wednesday 16 November
(North Zone semifinals)
St Mary's College 0, Trinity College Moka 0 at Hasely Crawford Stadium;
*—Trinity Moka won 5-4 on kicks from the penalty mark;
St Anthony's College 3 (Haile Beckles 3, 38, Che Benny 59), East Mucurapo 1 (Jesse Williams 90) at Hasely Crawford Stadium;
(Central Zone semifinals)
Gasparillo Secondary 4, Chaguanas North 0 at Ato Boldon Stadium;
Carapichaima East 5, Presentation College (Chaguanas) 0 at Ato Boldon Stadium;
(Girls Tobago Zone semifinals)
Signal Hill Secondary 5 (Avonell Loraine 23, 39, 70, Jelese Alexander 25, Asha James 65), Scarborough Secondary 0 at Bon Accord;
Mason Hill Secondary 5 (Crystal Toney 14, 27, 28, 82, Celine Loraine 25), Bishop's High 0 at Bon Accord.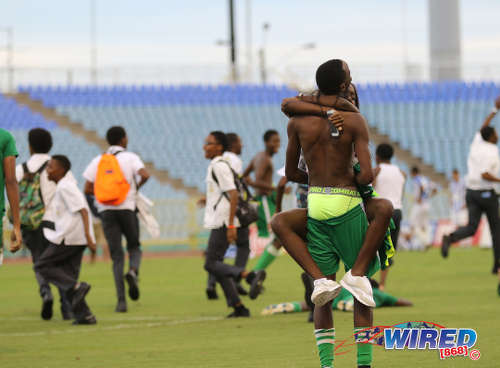 Upcoming Intercol fixtures
Friday 18 November
(South Zone Finals)
Presentation College San Fernando vs Shiva Boys HC, 3:30 pm, Mannie Ramjohn Stadium;
Monday 21 November
(Tobago Zone Finals)
Speyside Secondary vs Signal Hill Secondary, 3:30 pm, Dwight Yorke Stadium;
(East Zone Finals)
San Juan North vs St Augustine Secondary, 3:30 pm, Larry Gomes Stadium;
Tuesday 22 November
(Central Zone Finals)
Gasparillo Secondary vs Carapichaima East Secondary, 4 pm, Ato Boldon Stadium;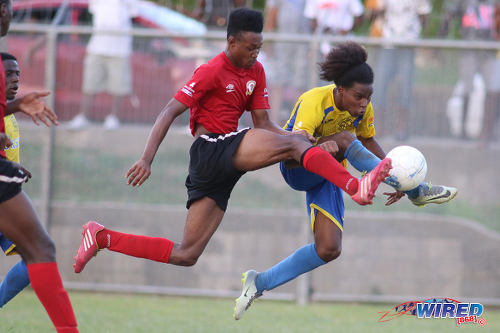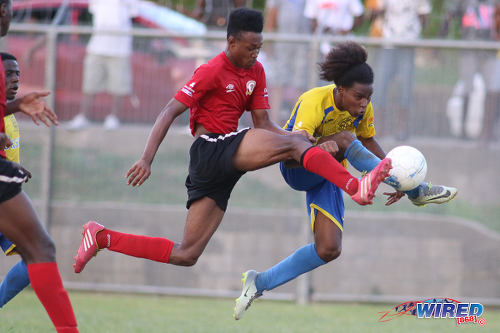 Friday 25 November
(North Zone Finals)
Trinity College (Moka) vs St Anthony's College, 4 pm, Hasely Crawford Stadium;
(National Intercol Quarterfinals)
Central Zone Winner vs Tobago Zone Winner, Dwight Yorke Stadium;
Tuesday 29 November
(National Intercol Semifinals)
 South Zone Winner vs Winner Central/Tobago Zone, 3:30 pm, Mannie Ramjohn Stadium – Semi-final 1
Wednesday 30 November
(National Intercol Semifinals)
North Zone Winner vs East Zone Winner, Hasley Crawford Stadium – Semi-final 2 
Monday 5 December
(National Intercol Finals)
WINNER Semi-final 1 vs WINNER Semi-final 2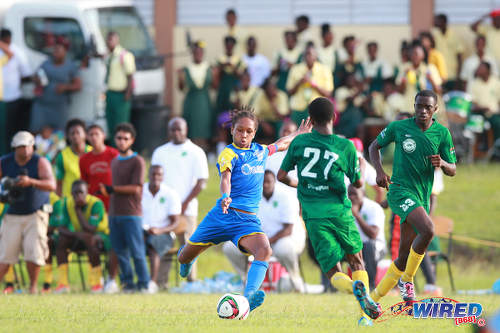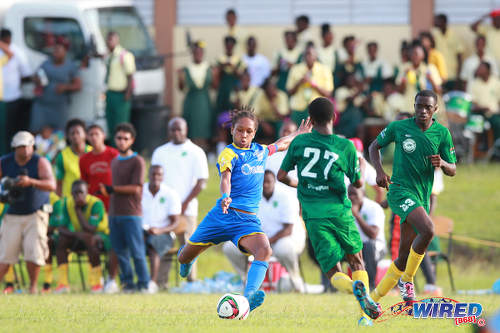 Upcoming Girls Intercol Fixtures 
Thursday 17 November
(South Zone Semifinals)
Fyzabad Secondary vs San Fernando East, 3:30 pm, Mannie Ramjohn Stadium Training Field;
Pleasantville Secondary vs St Joseph Convent, 3:30 pm, Mannie Ramjohn Stadium Training Field;
(East Zone Finals)
St Augustine Secondary vs Bishops Anstey East, 1:30 pm, Larry Gomes Stadium;
Sunday 20 November
(South Zone Finals)
Fyzabad/San F'do East vs Pleasantville/St Joseph Convent, 3:30 pm, Mannie Ramjohn Stadium
(Tobago Zone Finals)
Signal Hill vs Mason Hall, 3:30 pm,
(North Zone Finals)
Diego Martin Central vs Bishops Anstey POS, 3:30 pm,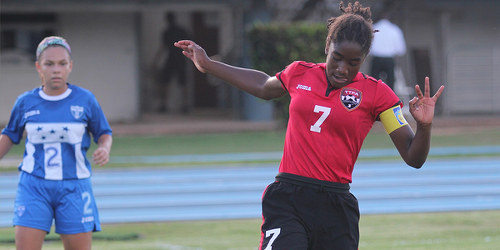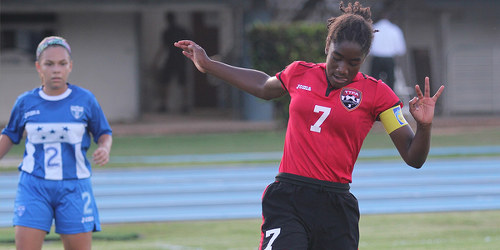 Thursday 24 November
(National Girls Intercol Quarterfinals)
Tobago Zone Winner vs Central Zone Winner
Sunday 27 November
(National Girls Intercol Semifinals)
East Zone Winner vs North Zone Winner, 3:30 pm, Larry Gomes Stadium – Semi-final 1
South Zone Winner vs Tobago/Central Zone Winner, 3:30 pm, Mannie Ramjohn Stadium – Semi-final 2
Friday 2 December
(National Girls Intercol Finals)
Winner Semi-final 1 vs Winner Semi-final 2