Trinidad and Tobago National Under-20 head coach Brian Williams has cleared the air on Isaiah Hudson's controversial departure from the national squad, in the midst of their Caribbean Cup tournament in Curaçao.
And Williams, a former Strike Squad standout, denied that Hudson was injured—as claimed by the player's father, Brent Hudson—but instead said his exit seemed to be in retaliation to the W Connection attacker being left out of the team against Haiti, in their final group match.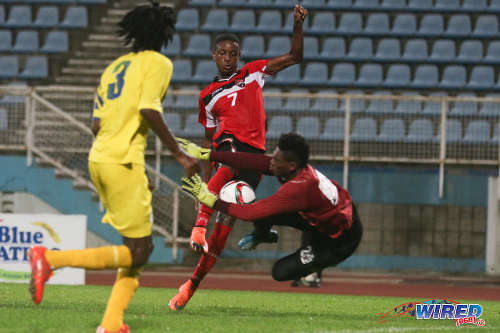 Hudson (B) told Wired868 that his son was not being properly treated in Curaçao and said the family's decision to recall him was not affected by Williams' decision to drop the player against Haiti—although two other injured players, Jacob Sooklal and Kierron Mason, remained with the squad for the entire competition.
"He has an injury and we are not comfortable with him having an injury and we see it fit for him to come home," said Hudson (B), last week. "I didn't discuss [with him] why he was on the bench [against Haiti]. We will probably talk about that when he gets home.
"Me and my wife were uncomfortable about him staying there [in his condition] because [the team] has already qualified. Taking care of Isaiah [now] will help Trinidad more in the long run."
However, although Williams said Hudson had a sore shoulder, he denied that the player was ever declared unfit or even asked to be left out due to an injury.
"Nobody was aware of an Isaiah injury until we received the request from his father after the Haiti game," Williams told Wired868. "The boy was training and playing as normal and was even doing pushups. I even asked Dexter Thomas, who is our qualified physio, and he said Isaiah never complained to him…
"Isaiah seems to want guaranteed playing time and I cannot give that to any player!"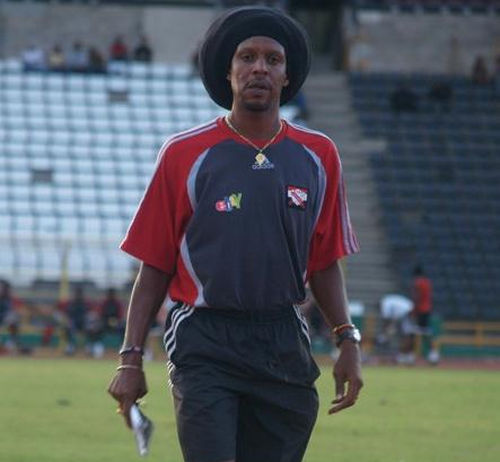 Remarkably, Williams, who is also a W Connection youth coach, said it was not the first time that Hudson (B) apparently threatened to withdraw his son. The first threat, according to the national youth coach, was relayed to him via players after he used Hudson off the substitutes' bench for the first practice game of their pre-tournament tour in Panama.
"I was a bit concerned about Isaiah's performance in the Under-17 competition but I was told that he was sick," said Williams. "So I decided to give him some extra rest and bring him in gradually. So he wasn't selected from the start for our first practice game in Panama.
"I understood from some players that his father said if he is not playing to come home. So I called Isaiah in to talk about it and he was giving a little attitude.
"He told me he wants to start and that a man who had just come was starting ahead of him. And I told him he didn't have a divine right to start every time."
Williams did start Hudson for Trinidad and Tobago's two subsequent warm-up matches as well as their two opening Caribbean Cup fixtures. But against eventual champions, Haiti, the coach opted for more workmanlike wingers—in a bid to contain the French-speaking team's adventurous full backs—and chose the tigerish Jarred Dass ahead of Hudson.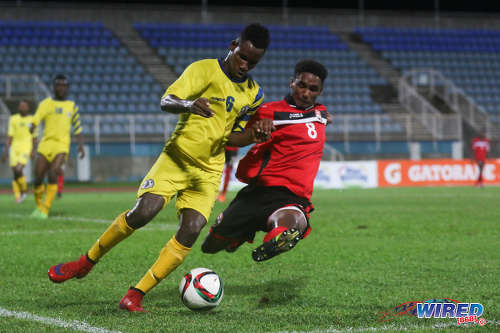 That tactical decision, according to Williams, proved to be the last straw for Hudson (B).
"Due to how game went against Haiti [on Wednesday evening], with their wing backs coming at us, I wanted a player who worked more defensively and Isaiah is more of an offensive player," said Williams. "On Thursday morning, we received a message from his father than he wanted his son to return immediately because he is injured and nobody cares about him…
"We received that request from his father in writing, so we had to agree… When we told Isaiah, he didn't want to leave the camp. But we had no choice [but to send him home] because he is a 16 year old boy and there is a request from his father."
The Warriors, who lost star striker Nicholas Dillon to injury against Haiti, went on to lose on penalties to Antigua and Barbuda before falling 3-2 to Bermuda in the third place play off.
Crucially, Williams rested Shiva Boys' Hindu College goalkeeper Denzil Smith for the third place fixture. Smith did not concede a single goal in his first outings between the uprights.
However, the national youth coach said Dillon's injury and Hudson's departure was an unwelcome distraction.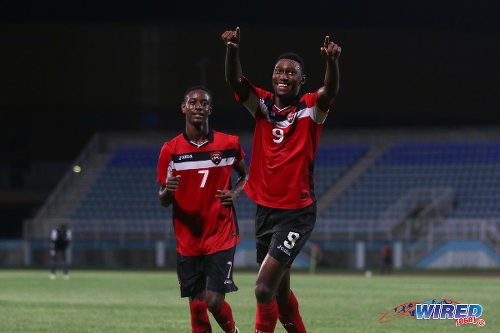 "Dillon injured and Isaiah [Hudson] pulling out interfered with our team chemistry and balance," said Williams. "We play with three attackers and we lost two."
Williams and Trinidad and Tobago Football Association (TTFA) president David John-Williams, who is also the W Connection president, still have to decide on how to treat with the situation.
Ironically, it follows on the heels of another disciplinary breach with the senior team after star midfielder Kevin Molino left coach Stephen Hart's camp to party for his second straight international tour.
Williams, who had Shiva Boys players Tyrel "Pappy" Emmanuel and Quinn Rodney shun a training camp in Guyana earlier in their preparations, said he is concerned about parents trying to hold the national team to ransom over playing time for their children.
"If parents can pull their players out of a national team camp when they want then I have to take that under consideration," Williams told Wired868. "How can a parent just bring his child home if they are on the bench or if they are not satisfied with selection?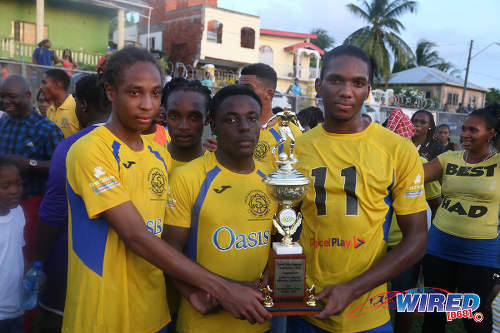 "I cannot guarantee any child on the national team playing time or selection… I cannot tolerate parents' interference because I am working in the interest of the national team."
Hudson (B) was ambiguous when asked about his son's future with the National Under-20 Team.
"If the [national] coach feels to pick him and he is fit and feels like playing, I would let him play," said the parent. "That is if he feels like playing of course."
Williams retorted that he would have to be mindful of the potential issues which came with selecting the Naparima College schoolboy.
"I want players who have a hunger to represent the national team," said Williams. "How his father might think about me is not my problem; because I cannot have a 16-year-old questioning selection all the time.
"You don't have a divine right to play and I will have to consider how I will deal with you. Because if every time you are upset your father takes you out of the team, then we have a problem."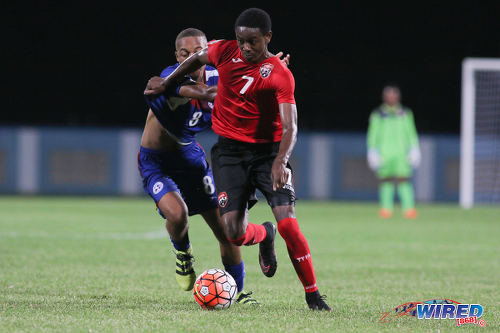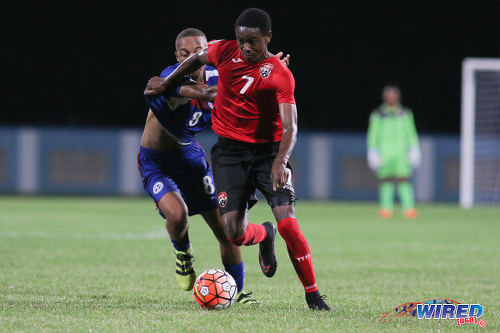 At present, the National Under-20 Team is the most successful men's outfit in Caribbean competition during a lean period for the TTFA. The National Under-17 Team were eliminated in the Caribbean Cup's group stage, despite playing at home, while the senior Soca Warriors were eliminated in the qualifying round in Martinique.
Williams said his troops benefitted from the Panama pre-tournament camp and insisted that there is better in-store. He plans to head to Tobago for a second scouting mission before he resumes training while he also hopes to have Netherlands Eredivisie winger, Levi Garcia, for the CONCACAF round in Costa Rica from 17 February to 5 March.
"The Panama tour was a real plus for us because of the exposure at international level," said Williams. "The players responded well and there was an improvement in terms of our defensive discipline and attitude… I will continue to look for offensive players and try to improve our goal scoring and mobility in the final third."
Ironically, Hudson, Rodney and Emmanuel are, potentially, three of the country's best offensive talents. But Williams would need to be convinced about their commitment to the "Red, White and Black" before they allowed back into his fold.
"I am not creating a clean slate for people who are not committed to the national team," said the National Under-20 coach. "I cannot call back men who are just walking out on me. I want players who will honour national team duty. I take a very firm stance on that."