"Allyuh this is not Siparia eh!" a spectator warned the Wired868 cameraman at Lachoos Road, Penal. "This is Penal: the heart of football!"
The Secondary Schools Football League (SSFL) fixture list at the start of the season suggested that Shiva Boys Hindu College would play their home games at Irwin Park in Siparia and, although it was subsequently corrected, some media houses—Wired868 not included—continued to suggest as much.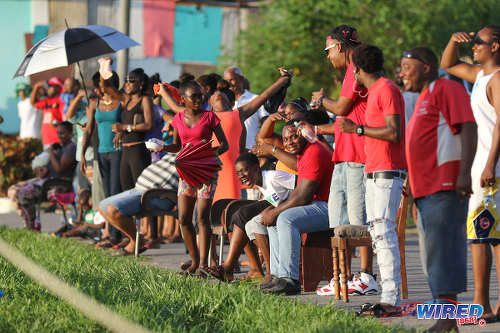 But the residents of Penal refuse to accept such slights anymore. On the football field, just over a dozen teenaged schoolboys are arguably at the vanguard of their challenge to the wider population.
Yesterday, Shiva Boys hosted St Mary's College, a former powerhouse of the schoolboys game and an old grand institution of the local education system. The final score read 3-0 to Shiva Boys and the Penal-based school are now just two points away from their first top tier national SSFL title.
The villager who collected admission fees at the gate insisted that the media took an impromptu tour of the facilities. And he would not take no for an answer.

"Look how they have the boys using a tent to get ready for the game," said "Picos", pointing to a large white tent on the basketball court. "Dey have no lights here! Look there where they cut the lights… The councillor said we didn't vote UNC, so they don't care about we!"
The Lachoos Road Recreation Ground—its formal name is the David Williams Recreation Ground—is, according to residents, the heart of a small Afro-Trinidadian community that resides in a predominantly Indo-Trinidadian district. The resulting largely political tensions make the Shiva Boys Hindu College football team, which—this season—is comprised of roughly 60 percent Afro-Trinidadian players and 40 percent mixed race, a particularly interesting experiment.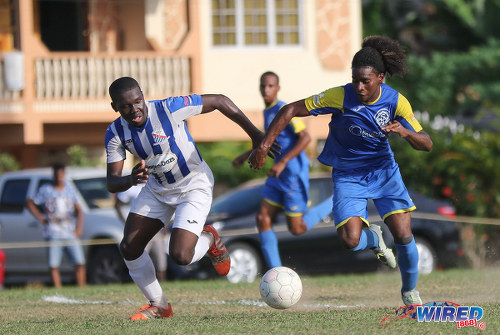 Incidentally, Shiva Boys lost a gem of an attacking player who also happens to be of Indian ethnicity, Mark Ramdeen, to Naparima College this season.
"People do look at it and say: 'Boy, it have no Indians on the team'," Shiva Boys school principal Dexter Saklal told Wired868. "I don't want a token [Indian] boy on the team. If you can make it the team, then make the team…
"I know it draws a lot of attention but I don't pay that any mind. I don't want people to feel that I am favouring anyone because of race because that would be negative."
Saklal declined the chance to play in the spanking new facilities at Irwin Park in Siparia, so as to keep the team nearer to its community at Lachoos Road. He admitted that there were issues at the ground but said they would be taken care of soon.
"Anytime you try to make a protest [about an issue], some politician will jump on your back and try to make it about politics," said Saklal, a slim, youthful and unassuming figure. "So I don't want to get my school in that."
Saklal is probably used to walking tightropes on a daily basis. A former Naparima school teacher, he credited Naps' iconic former principal, Roy Jagroopsingh, as a mentor.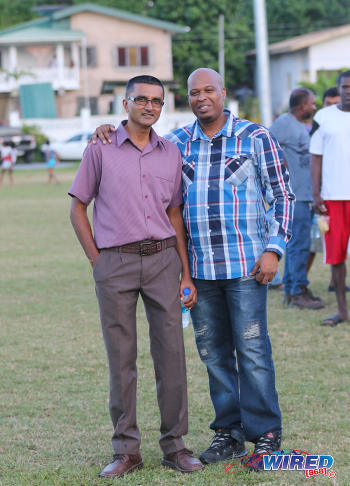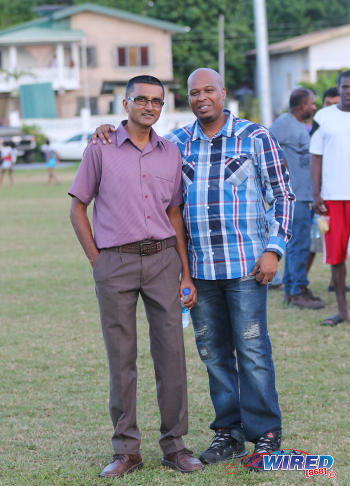 When Shiva Boys HC was opened in 2000 and Saklal was assigned there, he insisted that the school should compete in all sports and, especially, football.
"We used to get about 20 goals and the other side's goalkeeper would take out the newspapers and read," said Saklal, with a laugh. "But still I felt my team should be involved in everything; because everybody has a talent in the school and all talent should have an avenue."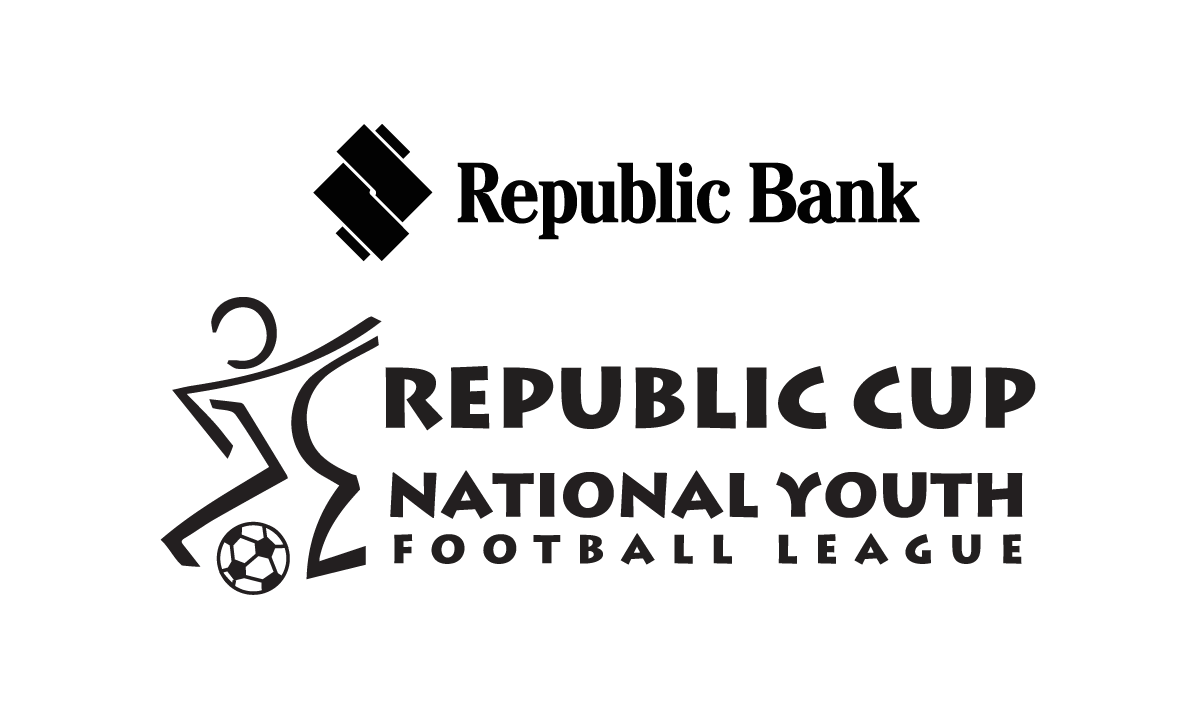 Fast forward to 2008 when, under then coach Cecil "Cotton" Jones, Shiva Boys won promotion to the top flight for the first time. Former Strike Squad defender Dexter "Peck" Francis continued Cotton's progress as coach and, in more recent times, introduced the SSFL and the country to young talent like the Garcia clan:
Levi Garcia, at 18, now plays professionally in the Netherlands and is a Soca Warriors player, his elder brother Nathaniel "Spanish" Garcia represented the National Under-23 team, younger brother Judah Garcia is en route to England now for a training stint with Chelsea FC and cousin Isaiah Garcia is on the National Under-20 Team.
Last season, Hayden Ryan took over the technical staff and it is his name that is likely to go down in history as Shiva Boys' first title-winning coach. He probably deserves some fame for his work with the school, as it apparently has not improved his bank balance.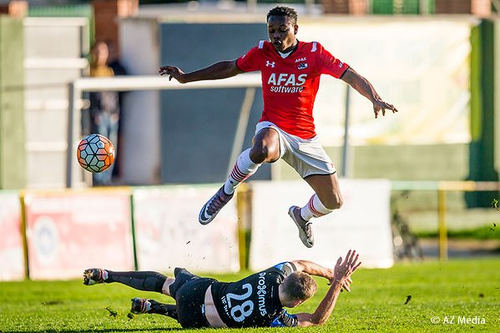 While many top flight SSFL coaches—from defending champions Naparima College to bottom-placed St Benedict's College—get between TT$3,000 to TT$12,000 a month, Ryan, according to Saklal, guides Shiva Boys for free.
"I don't want it to get too professional," said the school principal. "I feel schools should have a certain amount of volunteerism. It shouldn't be too transactional… Besides, there is less bickering in the camp that way."
Not that there is much chance of Shiva Boys being mistaken for a professional unit.  Despite their place in the standings, there is still that breezy feel of a bunch of young men from the same street taking a "sweat", led by a coach who is more of a big brother than a disciplinarian.
During a water break, Shiva Boys' super-sized goalkeeper De-jon Blondell waddled over for a drink. Ryan offered him a bottle of water.
"Well open it nah," said Blondell.
There are more than a few coaches who would have subbed him on the spot for his cheek and informality. Ryan smiled—as though he was in on a private joke—and did as requested by the young man, who would otherwise have had to remove his gloves to unscrew the bottle.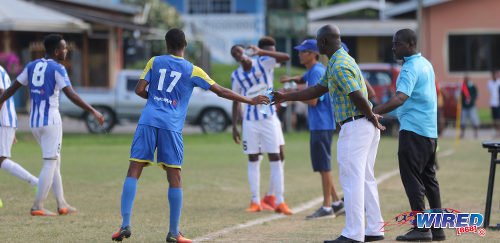 "I am a players' coach that is just my style," said Ryan. "They are like my children. We have a very good relationship.
"I have always noted that when a championship team wins you see them throwing water on the coach because they have a good relationship with the coach."
He had better be wearing a raincoat when Shiva Boys play away to Pleasantville Secondary on Saturday then. A win would secure the title for the Penal-based team with a game to spare.
Ryan claimed that the secret to their success was his ability to adjust coaching methods to the culture of his players, who, according to the coach, were big on talent but not so keen on matters like training, organisation and discipline.
"Culture is stronger than principle a thousand times," said Ryan. "And that is to say that when you grow up doing one thing, behaving one thing [and] believing one thing, it is very hard to just do something else.
"And this is one of the things we have been working on, to ensure that the players understand that they have championship material in them."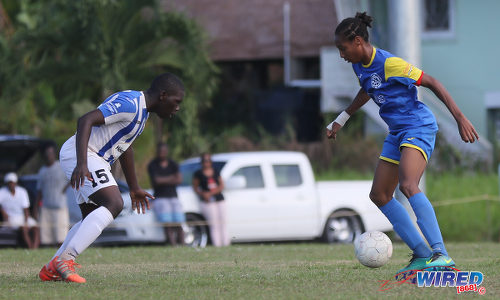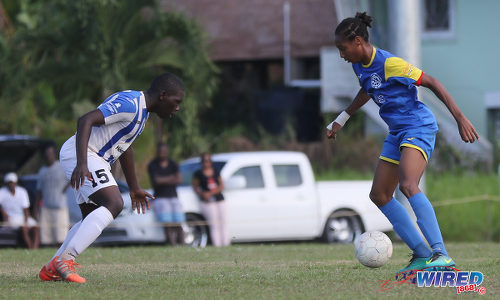 Not that it is easy to picture the wise-cracking Ryan as a strict disciplinarian in the first place.
"Aye, Simeon [De Bourgh] drink rum before he come here or wot?!" Ryan asked his bench, rhetorically, after a misplaced pass from his central midfielder during the game.
Yet, this jovial gang has 31 points from 12 matches and, with two games remaining, are on course to eclipse the record tally of 35 points in a single Premier Division season, which was set by Naparima last year.
On the field, yesterday, Shiva Boys showed the steely side of their game that was arguably missing in recent seasons.
St Mary's College, who were in fifth place at kick off, pushed the hosts hard. Captain and holding midfielder Matthaeus Granger kept a close eye on opposing playmaker Tyrel "Pappy" Emmanuel while right back Samuel Affonso and central defender Nathan Harte gave commendable displays and attacker Gabriel Nanton brought 'oohs' with his trickery on the ball.
"St Mary's really started strong," said Ryan. "They showed [why they have] their position on the table by the way they played the first half and part of the second half. But again, we're seeing championship business here and we [found] a way to turn it around."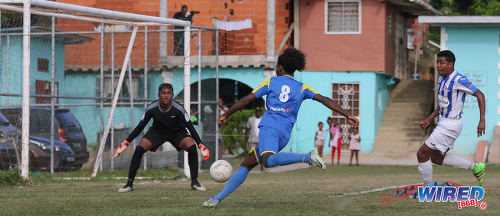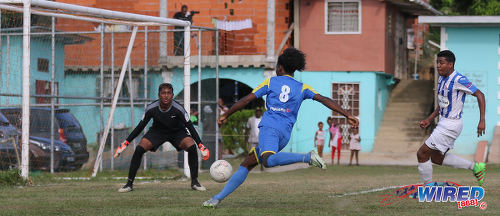 Not for the first time, striker Junior "Barry" Asson delivered the breakthrough, as he ran on to a through ball and calmly hit beyond hesitant opposing goalkeeper Jordan Bidaisee in the 43rd minute. The scoreline was unchanged at the interval when Ryan went to work.
The Shiva Boys coach, for better or worse, is not big on football jargon and tactical sleight of hand. His instructions were simple and often targeted individuals rather than the collective. Win enough of those individual battles, presumably, and you have a better chance of winning the game.
"We could play more football than this," said Ryan, as he slapped his hand. "We need to be more uptempo… Simeon, you're all over the shop, except in defensive midfield.
"Listen, you have to wait for your moment. You want to come off? […] Play football nah. Otherwise I will take you off!
"Barry, don't do me that nah man. Don't bring me quite here to let me down. Where you've been scoring all the goals from? […] So what you doing over there?!
"Well Quinn, I don't know what going on with you. You coming off just now. Gimme something early in the second half and let me see 'Quinn Rodney'…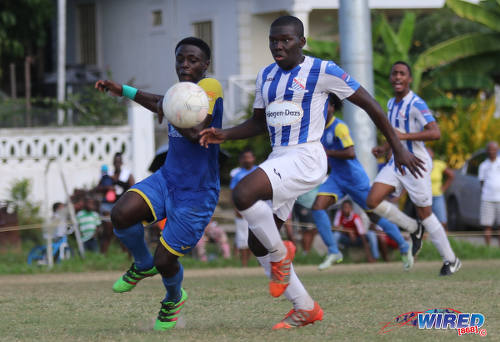 "Pappy, this is not the game where you will get the luxury to play one touch, two touch, three touch. This is the game where you have to play smart and let your team win…"
And Ryan's parting halftime words were: "This is our backyard. This is the kind of obstacle you meet when you want to be champions. Let's play football!"
On the dry, bouncy surface, Shiva Boys and St Mary's continued to slog it out. No jabs. Just attempted haymakers and clinching.
Emmanuel hit a left foot rocket from 35 yards that rebounded off the base of the post. But there was little quality on view otherwise. And Rodney was getting nowhere as the "Saints" doubled up on the tricky winger down either flank.
In the 72nd minute, Ryan replaced Rodney with Tyrell Baptiste in what turned out to be a decisive change.
At the Penal school, nicknames are clearly much more popular than formal names. Apart from "Pappy" Emmanuel and "Barry" Asson, Shiva Boys also had Chris "Dogfight" Vialva, Shaquille "Dollar" Williams and Ryan "Bachac" Davis. But Baptiste had the most extravagant pseudonym of all. The fans call him "Sexyman".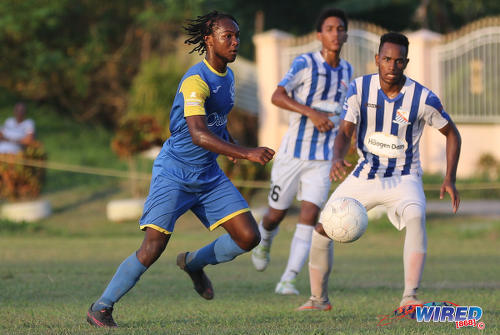 "Allyuh Sexyman bound to score!" shouted one spectator, as the crowd welcomed Baptiste on to the field with a rousing ovation.
Within two minutes, referee Devon London was writing "Baptiste" on his score sheet. A loose ball popped up just inside the opposing area and, despite the close attention of CIC left back Joshua Joseph, Sexyman responded with a left footed rocket that looked to be going to Bidaisee's left at take-off but ended up in the far corner to the goalkeeper's right instead.
"This man called Sexyman!" yelled the same supporter. "I tell you he will score two. That Sexyman is a menace!"
Baptiste did not score again. But Asson mustered a fine solo effort, two minutes later, and it was all over for the Saints.
"Today Shiva knew they were in a game," said St Mary's coach Ryan Shim. "They did not win this easily although the score may [make it] look easy if you look at it in isolation. St Mary's [are] full of confidence still and we're playing some good defensive football."
St Mary's were in relegation trouble after their first four games. However, the Frederick Street school had eight straight unbeaten matches—including a draw with Naparima—before yesterday's defeat.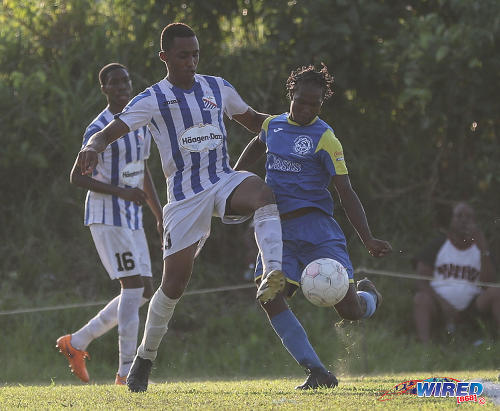 "I appreciate this season much more than the first two," said Shim. "The boys coming back from a slow start showed that they have character and were willing to work. And, with the right coaching, we were able to come forward."
But 2016 is the year of the Shiva Boys Hindu College football team.
Saklal said the school has won nine national scholarships in the last seven years—some achievement for a newly formed school that, according to the principal, was once given junior secondary students that could not get into anywhere else.
Most of the players come from their catchment area of Penal and Santa Flora and, ever since they got into the SSFL top tier, Saklal said they routinely have a queue of talented young men who ask to register there.
Shiva Boys, according to the principal, have done well well in everything from Hindu dance competition to debating and he was especially proud of former Carifta sprinter Chad Ryan, who graduated with six I's. Olympic cyclist Njisane Phillip, another past pupil, is close to his heart too although he was quick to deny any role in the latter's success as he did cycling outside of the school.
The principal made no apologies for the team's football ambitions and success.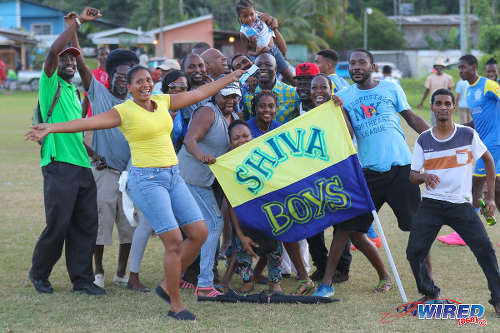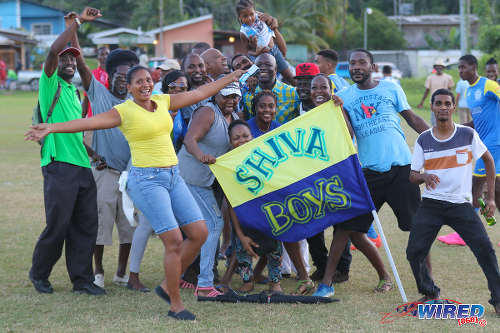 "My vision is the school must excel in everything and football is a big part of our life here in Trinidad," said Saklal. "It brings a sense of pride and belonging and spirit in the school. And that makes students easier to discipline. When they feel they are part of something special and positive, they want to be involved and are more receptive [to learning]."
Politics aside then, Penal is a happy place to be at the moment.
(Teams)
Shiva Boys HC (4-2-3-1): 1.De-jon Blondell (GK); 2.Chris Vialva, 3.Shaquille Williams, 11.Yohannes Richardson, 14.Matthew Beal; 16.Simeon De Bourgh, 18.Muquasie Alexander (13.Ryan Davis 63); 17.Ronaldo Edwards (15.Aaron Rodney 83), 6.Tyrel Emmanuel, 21.Quinn Rodney (19.Tyrell Baptiste 72); 8.Junior Asson.
Unused substitutes: 5.Jerome Samuel, 26.Ronald Charles, 25.Jalen Bristol, 23.Jeromy Williams.
Coach: Hayden Ryan
St Mary's College (4-4-1-1): 29.Jordan Bidaisee (GK); 17.Samuel Affonso, 15.Nathan Harte, 6.Emilio Saunders (2.Nathaniel Williams 46), 3.Joshua Joseph; 11.Gabriel Nanton, 8.Matthaeus Granger (captain), 24.Justin Keith, 16.Tyrese Spicer; 9.Aaron Skeene; 19.Trey La Motte (25.Terran Winner 56).
Unused substitutes: 1.Gordon Sabga (GK), 20.Justin Brooks, 21.Kevon Alonzo, 26.Michael Poon-Angeron,
Coach: Ryan Shim
Referee: Devon London
Man of the Match: Junior Asson (Shiva Boys)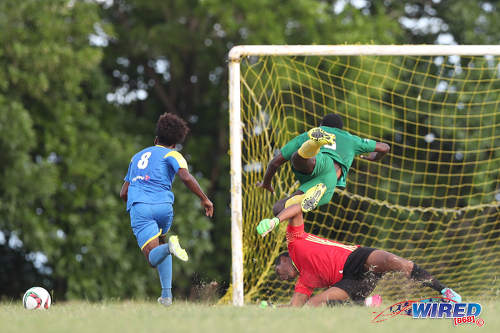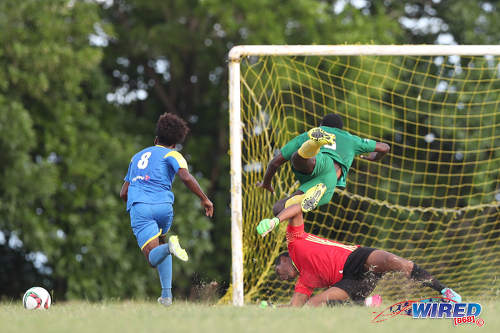 SSFL Premier Division results
(Wednesday 19 October)
St Augustine 4 (Rahim Gordon 17, 19, 73, 86), East Mucurapo 0 at St Augustine;
Shiva Boys HC 3 (Junior Asson 43, 77, Tyrel Baptiste 75), St Mary's College 0 at Penal;
Naparima College 1 (Jeremiah Kesar 90+1), QRC 0 at Lewis St, San Fernando;
Trinity College (Moka) 1 (Saleem Henry 27 pen), Pleasantville 0 at Moka;
Fyzabad Secondary 3 (Kareem Gill 7, Alleric Williams 43, Daviyd Jones 71), San Juan North 2 (Kyle Thomas 10, Renaldo Boyce 12) at Fyzabad;
Signal Hill 2 (Ronaldo Samuel 27, Che Richards 73), Fatima College 0 at Signal Hill;
St Anthony's College 0, St Benedict's College 1 (Detori Boucher 78) at St Anthony's;
Presentation (San F'do) are on a Bye.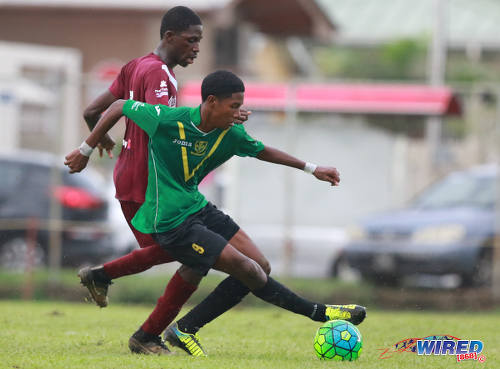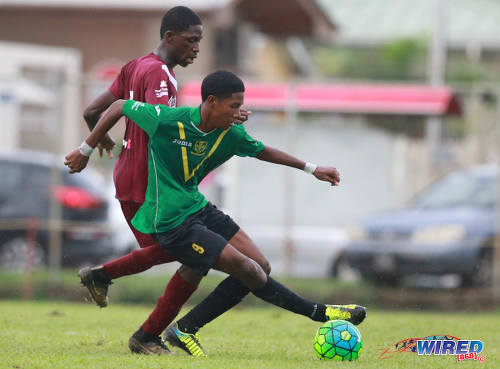 Upcoming fixtures
(Saturday 22 October)
St Mary's College vs Presentation (San F'do) at Serpentine Road, St Clair;
East Mucurapo vs Naparima College at Moka;
Pleasantville vs Shiva Boys HC at Pleasantville;
QRC vs Fyzabad Secondary at QRC;
Fatima College vs Trinity College (Moka) at Fatima;
San Juan North vs St Anthony's College at San Juan;
St Benedict's College vs Signal Hill at Mahaica, P/Fortin;
St Augustine Secondary are on a Bye.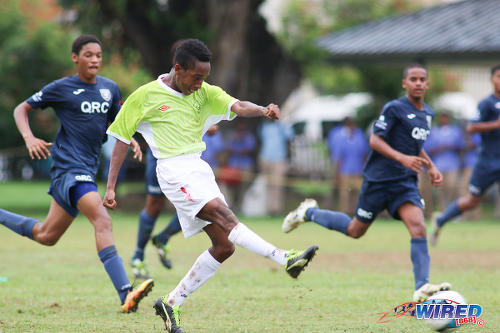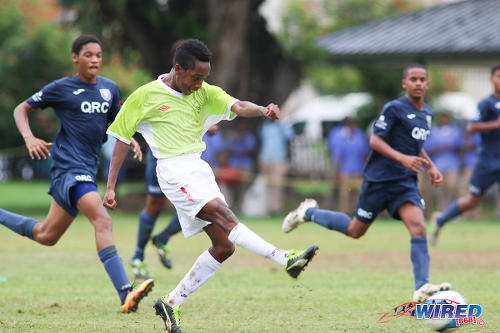 SSFL Premier Division standings
(Tabulated as Played-Won-Drew-Lost-Goals For-Goals Against-Points)
Shiva Boys HC   12-10-1-1-28-9-31
Naparima             12-8-2-2-25-12-26
Presentation SF 12-8-2-2-20-10-26
St Anthony's        12-7-1-4-30-18-22
St Augustine        13-5-5-3-15-11-20
St Mary's               13-5-5-3-14-16-20
Signal Hill            12-5-2-5-15-12-17
Fyzabad Sec         12-5-2-5-23-22-17
Trinity Moka        12-4-3-5-6-16-15
East Mucurapo   12-3-3-6-11-17-12
San Juan North  12-3-2-7-18-19-11
QRC                         12-2-4-6-7-14-10
Pleasantville        12-2-4-6-11-21-10
Fatima College   12-2-3-7-13-22-9
St Benedict's       12-1-3-8-5–21-6