East Mucurapo took a massive stride towards SSFL Premier Division safety yesterday with a last gasp winner versus fellow relegation candidates St Benedict's College to snatch a 2-1 win at Mucurapo Road.
The result saw East Mucurapo hurdle Trinity College (Moka) to 12th place in the 15-team standings with the bottom three clubs doomed to relegation.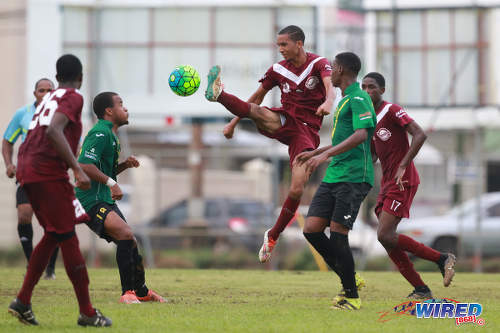 For the southern school, it was a different story as St Benedict's continue a remarkable slide under new coach Leonson Lewis. After finishing second last season under Dexter Cyrus, they have spent the last three rounds at rock bottom and are the only of the Premier Division's 15 teams without a win to their name.
There was more joy elsewhere in south Trinidad, as Shiva Boys Hindu College, Naparima College and Presentation College (San Fernando) continued to set the pace.
Junior Assoon grabbed the winner for Shiva Boys in Tobago, as they edged Signal Hill 1-0 on Wednesday evening to go three points clear at the top of the table with 22 points.

Naparima, who beat Pleasantville Secondary 3-1 at home, and Presentation College (San Fernando), who roared to a 3-2 win over St Anthony's College at Westmoorings, are both on 19 points although 'Naps' have played a game less.
Elsewhere, Queen's Royal College registered their maiden win of the season as they pipped the inconsistent San Juan North Secondary 2-1 in St Clair. QRC remain 14th and firmly in the relegation zone although they would be encouraged by Fatima College's 2-0 loss away to a St Augustine Secondary team showing signs of a slow but steady revival.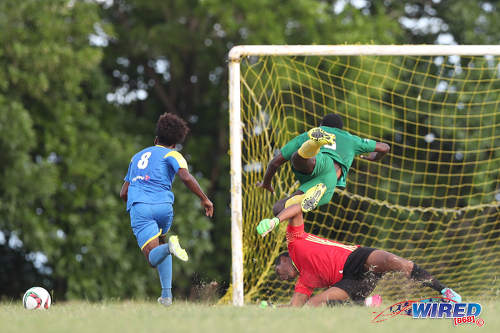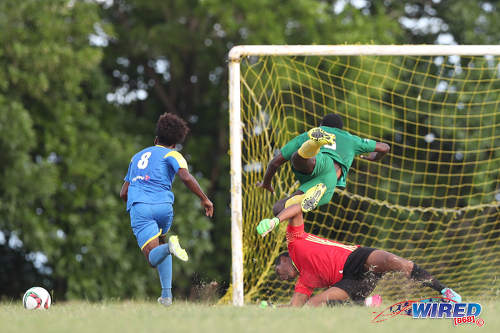 Fatima are 11th but just two points clear of QRC.
In yesterday's other affair, St Mary's College continued their run of five successive unbeaten outings as they won 1-0 away to Fyzabad Secondary, who were without coach Anthony Rougier due to internal wrangling.
St Mary's are in fifth place at present with Fyzabad sixth.
The situation was much more dire at Fatima grounds where two relegation threatened teams faced off. And, as Zion McLeod scored the winner with virtually the last kick of the game, St Benedict's survival hopes seemed in tatters while their goalkeeper, Jasper McLeod, was in tears.
St Benedict's are winless after eight matches with just two points to their name and four adrift from their closest rivals, QRC. And two of their remaining six games are against Naparima and St Anthony's.
It would take an effort of divine inspiration to see them escape from here. And, unfortunately for coach Lewis, there was no sign of anything special from the visitors on Mucurapo Road.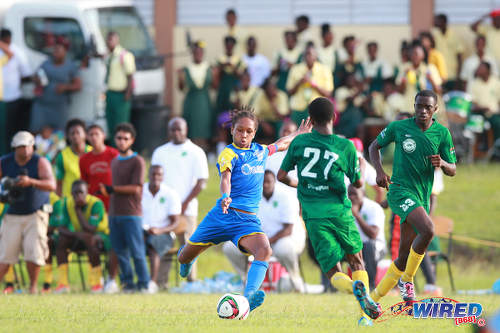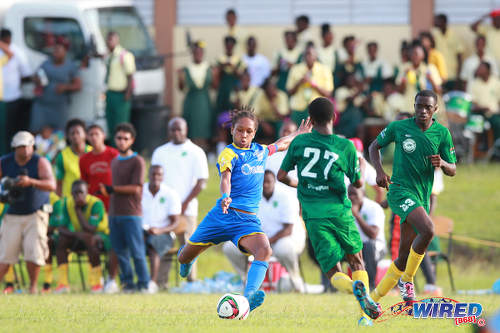 St Benedict's looked nervous from the onset and the slippery field mirrored their less than assured confidence. They were weak in the tackle, second to the loose balls and could have gone behind within the first 20 minutes.
East Mucurapo frontman Kevon Edwards stole a march on the opposing defence and squared from the byline to the enterprising Zion, who, even while surrounded by three green shirted markers, slide in to connect to the cross. But his effort kissed the outside of the near post with the Benedict's custodian stranded.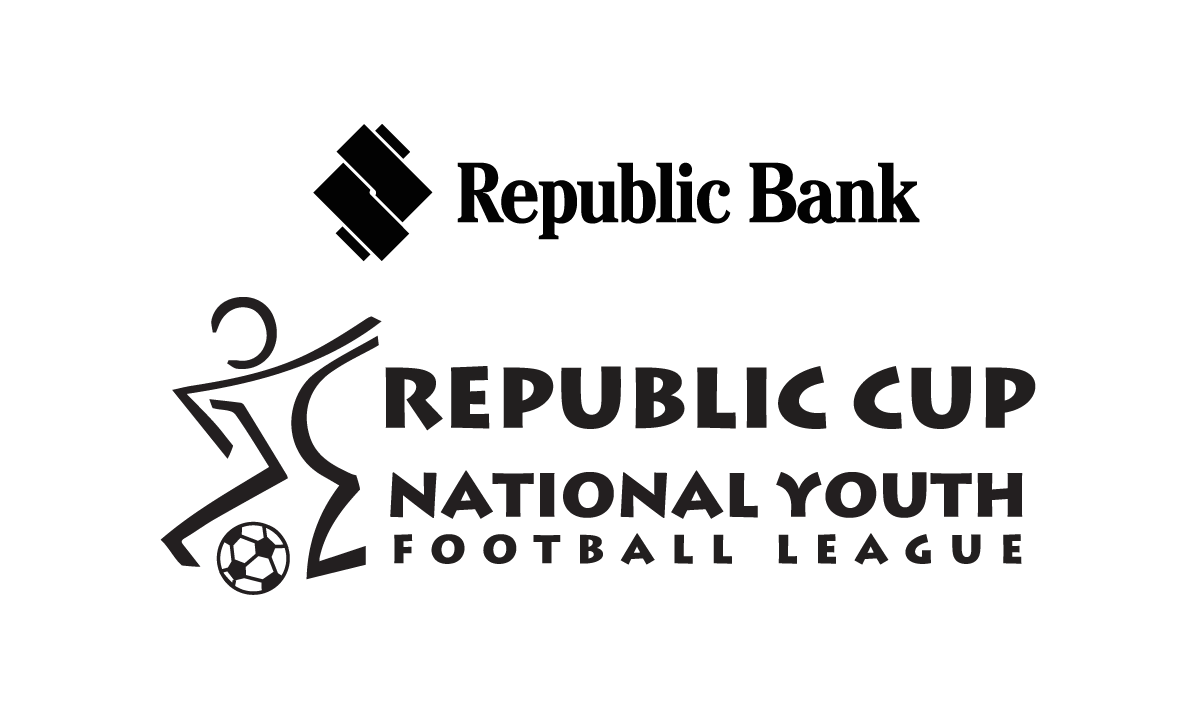 Lewis was not amused to say the least. He strode around his technical area for the entire match barking at his players to raise their game and waving his hands furiously to and fro like a steelband conductor on Panorama night.
For all of Benedict's limitations, however, East Mucurapo were only marginally better in the first half.  The match was shaping up to be exactly what the SSFL table suggested: a tense, error prone affair between two teams struggling for form and consistency.
Lewis' charges came out in the second half with more impetus as they tried to peg back their opponents.
Jaycee Paras, their best attacking outlet in the first half, began where he left off, as he drove at Mucurapo left back Akiel Matooram and regularly left him for dead or in a puddle on the soggy surface. But his final ball simply could not find any of his fellow attackers.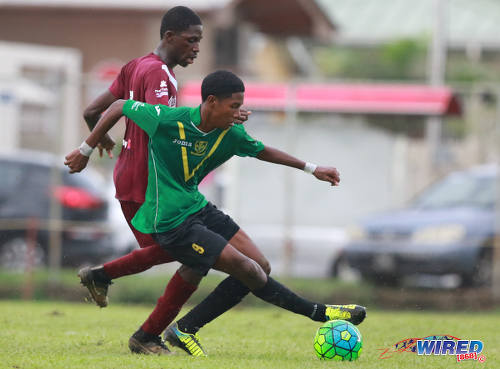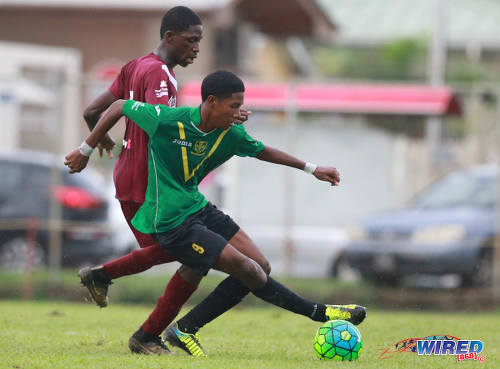 For the most part, Benedict's biggest problem was East Mucurapo's long haired, slightly built central defender, Abdus Ramcharan, who seemed to have mastered the art of the last ditch tackle and put on an exhibition of those skills throughout the match.
Whenever Benedict's finally thought they had a clear cut opportunity, there he was with a block, a toe poke and even an acrobatic clearance after his goalkeeper Terral Cambridge misjudged the bounce of a ball.
But, as is even the case in comic books, the hero can't save the day all the time. Sometimes he is just that millisecond too late.
In the 64th minute, Ramcharan learnt that lesson. Shemar Ravello headed down a cross and Ramcharan was a fraction too late as Paras curled a left footed shot into the far corner.
It was only St Benedict's fourth goal this season and the relief was palpable. But, unfortunately for their handful of fans, it was short lived.
Mucurapo were back in the game within 11 minutes after savouring an equaliser that was not of their own making. Benedict's left back Mickel Ravello somehow scoffed the ball past his own helpless keeper after the ball was squared across the face of the visitor's goal. Ravello was forlorn.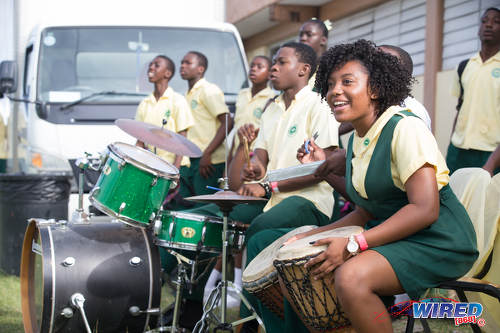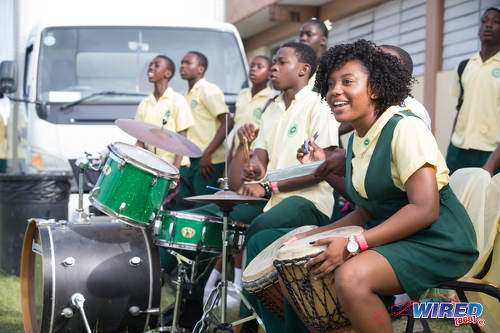 Back to square one for both teams who knew that a point would not be enough from this contest. It prompted a frantic final few minutes.
Ravello, a powerful and direct runner down the left channel, cut inside onto his right foot to let fly. Somehow, with the ball arrowing for the inside of the far corner, Cambridge miraculously clawed the shot away with his fingertips.
It proved to be a game winning save for East Mucurapo. A few seconds later, in the third minute of added on time, the host team won a corner.
The ball was floated to the far post where Zion McLeod rose like a salmon, above his taller peers, to head the ball past his sprawling namesake, Jasper McLeod, in the Benedict's goal.
As the ball slipped off of Jesper's glove and nestled beyond the line, there were wild celebrations from the stands: "Muco, Muco, Muco, Muco, Mu-co. Mu-co".
East Mucurapo coach Dale Saunders was jubilant.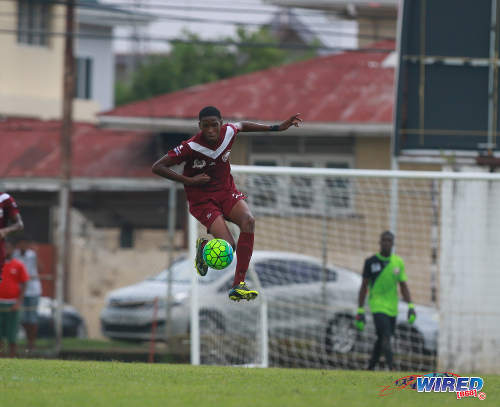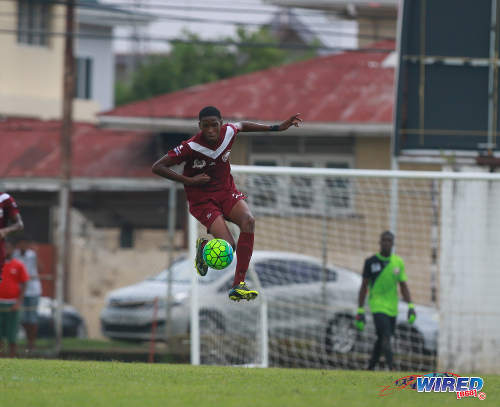 "The whole team was good but I want to single out one player," Saunders told Wired868. "Zion! He scored the winner [with a] very good effort.
"He has plenty ability in the air and on the ground. He is the leading goalscorer for the school and I want to commend him for his effort today."
Saunders hopes to avoid the relegation zone for the rest of the season.
"We have a points tally in mind [to secure safety] but we are just looking at taking one game at a time," said Saunders. "We are looking for three points against QRC [on 12th October] as well. One game at a time."
Whatever Lewis' plan for St Benedict's might be, he decided to keep it to himself. In fact, he refused to talk to Wired868 at all after the final whistle—which was a first for a SSFL coach—and complained about his portrayal in a previous article.
It was a reference to an interview in which he explained why Benedict's players were not allowed to call him "Coachman" and other coaches should follow his lead, which was mocked by some football fans.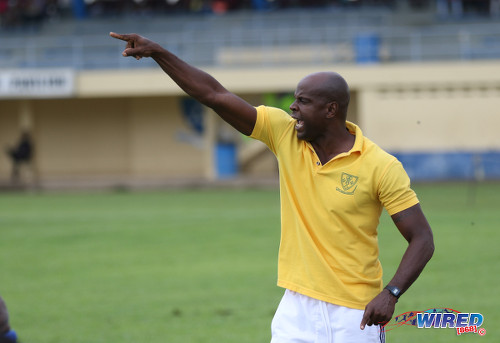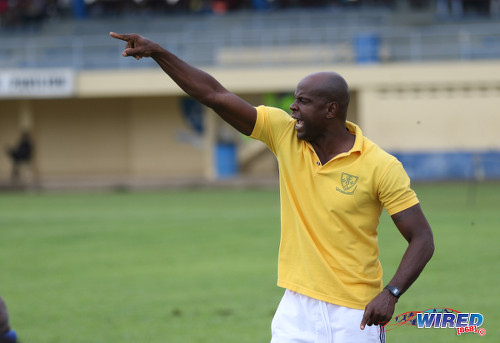 At present, the southern school has bigger problems.
(Teams)
East Mucurapo (4-2-3-1): 30.Terral Cambridge (GK); 5.Jomokie Cassimy, 6.Akquinde Davis (C), 25.Abdus Ramcharan, 23.Akiel Matooram; 17.Darrion Jack, 8.Joshua Constantine (2.Keshawn Hutchinson); 27.Isaiah Alexander (11.Martin Tarik), 12.Jesse Williams (21.Sherlon Roberts), 22.Zion McLeod; 26.Kevon Edwards.
Unused Substitutes: 1.Joshua Davis, 4.Renaldo Prescott, 9.Jelani Ferary, 19.Nathaniel Ryan.
Coach: Dale Saunders
St Benedict's College (4-5-1): 1.Jasper McLeod (GK); 11.Reul Tyson, 5.Daquon Foster, 16.Detori Boucher, 12.Mickel Ravello; 9.Jaycee Paras, 18.Kristoff Burkett, 25.Jevaughn Humphrey, 6.Caleb Gaspar, 14.Justin Cho-Foon (10.Shemar Ravello); 21.Jabari Jones (23.Micah Blackman).
Unused Substitutes: 3.Tarik Eastman, 7.Shaquille DuBoulet, 8.Vishal Gunness, 17.Russell Orie, 22.Lennard Richardson.
Coach: Leonson Lewis
Referee: Kern De Souza
Man of the Match: Zion McLeod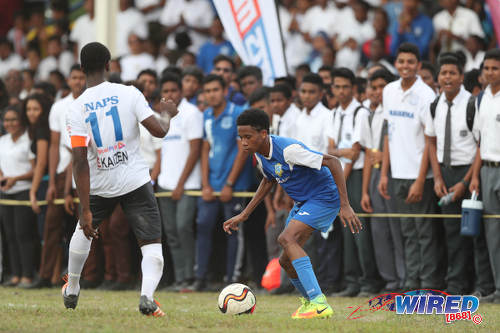 SSFL Premier Division results
(Wednesday 5 October)
Signal Hill 0, Shiva Boys HC 1 (Junior Assoon) at Signal Hill;
(Thursday 6 October)
QRC 2 (Darius Dickson 20, John-Paul Rochford 88), San Juan North 1 (Renaldo Boyce 36) at QRC;
East Mucurapo 2 (Mickel Ravello OG 75, Zion McLeod 90+3), St Benedict's College 1 (Jaycee Paras 64) at Fatima College ground;
St Anthony's College 2 (Jaydon Prowell 10, Che Benny 65), Presentation (San F'do) 3 (James Alex Lee Yaw 18, 29, 56) at Westmoorings;
St Augustine 2 (Anthony Samuel 64, Kendell Hitlal 75), Fatima College 0 at St Augustine;
Fyzabad Secondary 0, St Mary's College 1 (Daniel Conocchiari 67) at Fyzabad;
Naparima College 3 (Akinola Gregory 38, 66, Isaiah Lee 45), Pleasantville 1 (Anfernee Joefield 69) at Lewis Street, San F'do;
Trinity College Moka are on a Bye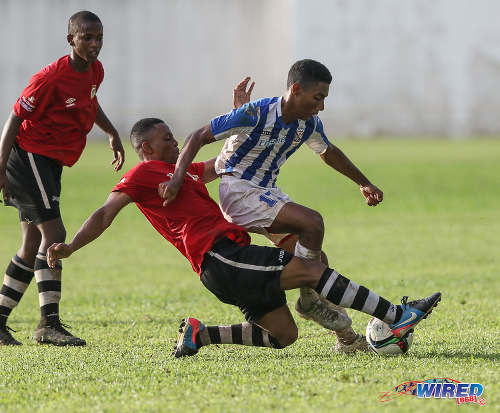 Upcoming fixtures
(Saturday 8 October)
Trinity College Moka vs Signal Hill, 3.30pm, Moka;
Shiva Boys HC vs St Anthony's College, 3.30pm, Penal;
Fatima College vs East Mucurapo, 3.30pm, Fatima;
Presentation San F'do vs Fyzabad Secondary, 2pm, Mannie Ramjohn Stadium,
St Benedict's College vs QRC, 4pm, Mannie Ramjohn Stadium;
Pleasantville vs St Augustine, 3.30pm, Pleasantville;
St Mary's College vs Naparima College, 3.30pm, Mary's;
San Juan North are on a Bye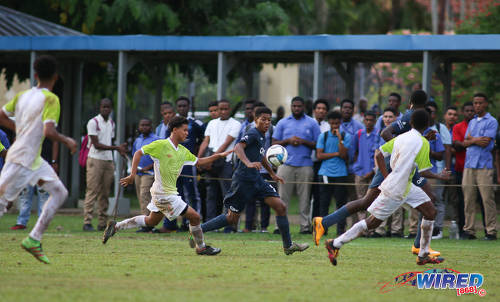 SSFL Premier Division standings
(Tabulated as Played-Won-Drew-Lost-Goals For-Goals Against-Points)
Shiva Boys HC    9-7-1-1-17-8-22
Naparima             8-6-1-1-16-7-19
Presentation SF 9-6-1-2-12-9-19
St Anthony's        8-5-1-2-21-12-16
St Mary's               9-4-3-2-11-11-15
Fyzabad Sec         9-3-2-4-16-13-11
San Juan North  9-3-2-4-16-14-11
Signal Hill             8-3-2-3-10-9-11
St Augustine        9-2-5-2-9-9-11
Pleasantville        8-2-3-3-10-14-9
Fatima College   8-2-2-4-11-14-8
East Mucurapo  8-2-1-5-10-13-7
Trinity Moka      8-2-1-5-3–15-7
QRC                        8-1-3-4-5-8-6
St Benedict's      8-0-2-6-4-14-2