Trinidad and Tobago National Under-20 Team coach Brian Williams has refused to consider Shiva Boys Hindu College players Tyrel "Pappy" Emmanuel and Quinn Rodney for the Caribbean Cup finals, after rejecting their excuses for skipping an ongoing training camp in Guyana.
Emmanuel and Rodney were selected on Williams' 20-man team, which left for Georgetown on Wednesday evening. But neither made the trip and both played for their schools on the same evening, as Shiva Boys lost 2-1 away to San Juan North Secondary.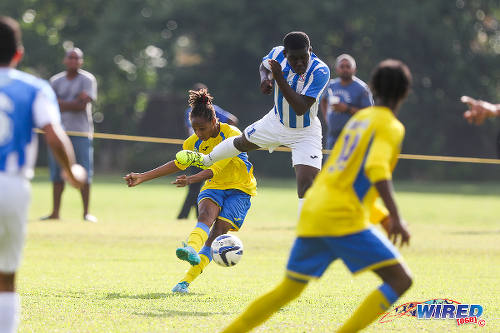 Williams, a former Strike Squad standout, said the two talented players had dropped themselves as a result of their actions. He said he already informed TTFA president David John-Williams and technical director Muhammad Isa about his decision.
"I am very disappointed about this," Williams told the TTFA Media. "Definitely these two players will not be eligible for selection for the CFU Final Round. I think this is a total disrespect to the national team by not turning up after being selected with travel and hotel arrangements already confirmed.
"I will not be including them in the selection for the final round in Curacao. These two players have dropped themselves."

Williams, a W Connection youth team coach and former coach with Pro League team, United Petrotrin, confirmed that his technical staff informed all 20 players of their travel arrangements earlier in the week.
"We selected 20 players which I confirmed earlier this week," said Williams. "Every player was spoken to and informed about the travel arrangements."
However, Rodney simply did not turn up.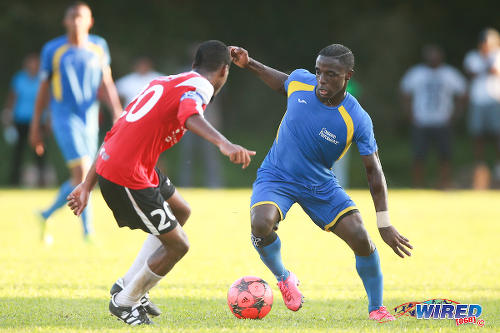 "Quinn Rodney did not show up at the airport," said Williams. "I spoke to his mother and his school teacher. But I understand the mother said afterwards that she had no money to send with her son on the tour.
"I could not understand [that excuse] because we were covering all expenses."
Williams said Emmanuel called on Wednesday afternoon, less than three hours before the flight, to say that his mother could not find his passport and he was also suffering chest pains.
But the national youth team coach rejected that excuse too.
"Pappy called me when I was on my way to the airport and said that his mother could not find his passport," said Williams, "and due to his medical status with him still having some chest pains, he cannot make the trip.
"I asked him if he was playing in the evening for Shiva Boys and his response was: no coach I am not playing. But I found out after that he scored for Shiva Boys later that day."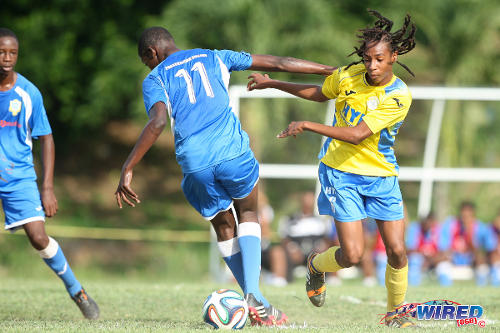 Williams will name his final 23-man squad for the Caribbean finals on Tuesday. All selected players will be barred from playing in the Secondary Schools Football League (SSFL).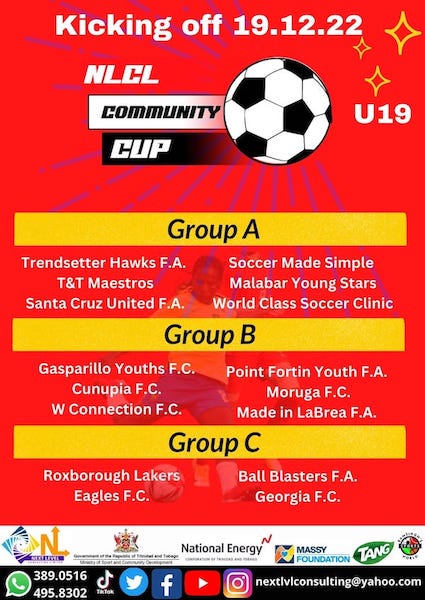 The Under-20s hope to have a second training camp in Panama before they head to Curacao before the CFU competition.
The young Soca Warriors edged Alpha United 2-1 on Friday evening in Georgetown. However, their opponents were a surprise since the team thought they would play two exhibition matches against the Guyana National Senior Team for their tour.
"There was an adjustment when we reached here because initially we were supposed to play the national teams," said Williams. "But what was explained to us by [Guyana National Senior Team coach] Jamaal Shabazz when we arrived here is that he recently selected a pool of national players to prepare for the Caribbean Cup and right now they are into their preparations.
"So there was an arrangement where we would play the Alpha team, which has a few national players, and then play against an Elite All Star team on Sunday, which is also made up of several of their local-based national players."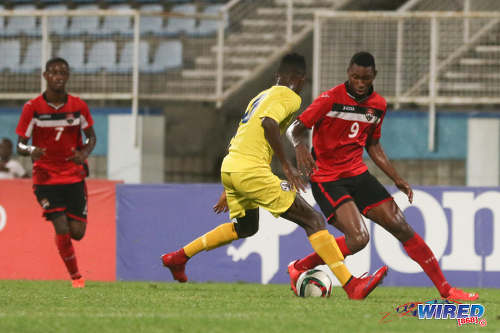 Team captain Jabari Mitchell and newcomer Moses Jaikeran got the goals against Alpha while striker Nicholas Dillon and left back Keston Julien also gave creditable efforts.
Williams said he was pleased with his team's performance and happy to away from the distracting nature of the SSFL competition, which has led to regular absences from national team training sessions.
"I was really pleased with the way our boys handled the match. It was very important for us to come here and play as it helped us as a team to refocus on the task at hand.

"Because of the distraction of secondary schools football and the club football back home, we were not getting the chance to really have proper training sessions involving all of the players. And that was becoming a big concern for me as we get closer to the tournament.

"But coming here has allowed us to regroup and refocus and I am happy about that. We came in Wednesday and we had two good training sessions and the boys have been very positive so far. They put on a strong performance in the match which I felt was important for us."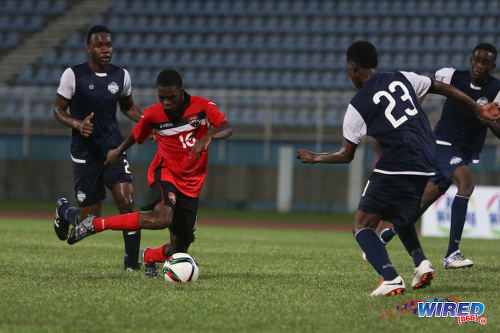 The National Under-20 Team close off their tour tomorrow with a warm-up match against a local all-star team.
(Trinidad and Tobago National Under-20 Team)
Goalkeepers: Jabari Brice (St Anthony's College/San Juan Jabloteh), Denzil Smith (Shiva Boys HC);
Defenders: Tyrek Sampson (North East Stars), Kori Cupid (Presentation/W Connection), Isaiah Garcia (Shiva Boys/W Connection), Kierron Mason, Keston Julien (both Marabella Family Crisis Centre), Rondell Payne (Naparima College), Hakim Baird (North East Stars);
Midfielders: Jabari Mitchell (W Connection), Kareem Riley (Presentation/Central FC), Shane Sandy (Naparima/North East Stars), Micah Lansiquot (Mucurapo East/St Ann's Rangers);
Forwards: Nicholas Dillon (Central FC), Kathon St Hillaire (St Anthony's/St Ann's Rangers), Josh Toussaint (St Ann's Rangers), Chaz Burnett (Players Development Academy—USA), Moses Jaikeran (Harlem Strikers).