Trinidad and Tobago National Senior Team captain Kenwyne Jones' protracted transfer to Pro League champions, Central FC, appears to be concluded after the Couva-based club announced his capture today.
Jones, who spent the first half of 2016 with Al Jazira in the United Arab Emirates, was said to have completed his move to new United States Major League Soccer (MLS) franchise, Atlanta United, before immediately joining the "Couva Sharks" on loan.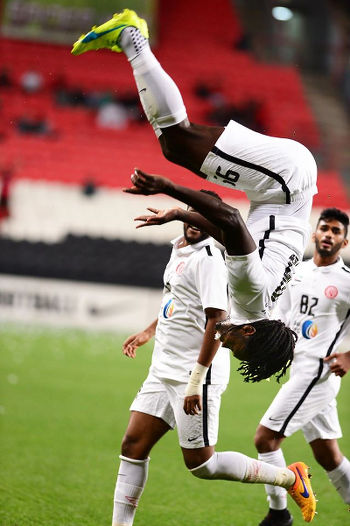 Atlanta will compete in its maiden professional season in 2017 and the 31-year-old Jones is not due to join his MLS employers until next January.
Central, via press release, said Jones will represent their team in the interim. The former England Premier League forward may also be joined by former Sunderland teammate and 37-year-old ex-World Cup 2006 teammate, Carlos Edwards, according to the Pro League club.
Edwards has been out of contract since leaving England League One club, Millwall, in June. Both Edwards and Jones were teammates with Central managing director and ex-Sport Minister Brent Sancho and assistant coach Stern John at the Germany World Cup.

They are now available to play on Tuesday 16 August when Central hosts MLS team, Sporting Kansas City, from 8pm in CONCACAF Champions League action at the Ato Boldon Stadium in Couva.
The Sharks lost 1-0 to Vancouver Whitecaps on 2 August and will be desperate to get a result on Tuesday, as only the group winner advances to the next round.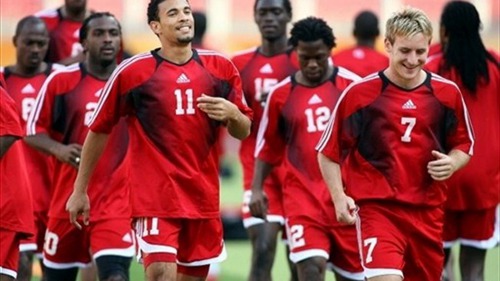 The following is an interview conducted by the Central media team, in conjunction with MiStore, with Jones:
CFC: Kenwyne, many people may have been surprised by your choice of clubs. Can you tell us why you chose to join Atlanta United?
Kenwyne Jones: I think I just wanted a fresh challenge. Playing in England was great, but after so many years I thought it would be good to use my experience to build something new. Atlanta have great plans and I love the city. Joining Atlanta gave me the chance to influence football in that city and help to build their brand. It's a very exciting opportunity.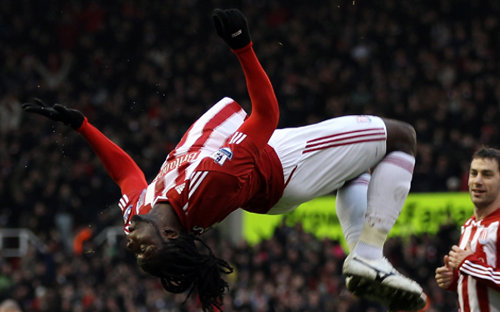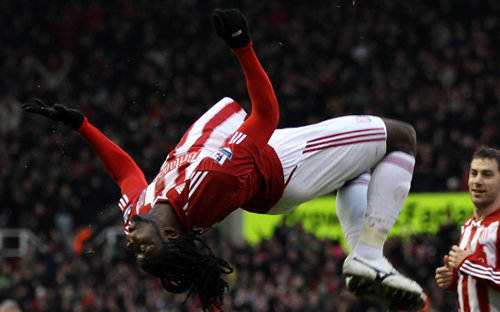 CFC: But why accept a loan to Central FC?
KJ: I had received interest from various clubs around the world including England. But there were several factors that, combined, made Central the right choice for me. First, I wanted to be closer to the national team with the World Cup qualifiers approaching. Being based in T&T will give me a lot more access to [Trinidad and Tobago National Senior Team coach] Stephen Hart without the pressure from foreign clubs [who don't want] to allow you to leave too early. Also, the journey does affect your performance.
Secondly, I wanted the chance to play Champions League football. While we all know that UEFA Champions League is the premier club tournament, the SCCL is growing year by year. Having never played MLS football, this gives me the chance to play a few games against MLS opponents to prepare myself for the upcoming season. Its a great opportunity for me to introduce myself to the MLS public and hopefully increase the interest in Atlanta United.
Of course, another reason is that it's great to be at home for a few months. I've been overseas for more than 10 years so it feels great to live and play at home for a while.  Brent [Sancho], Stern [John] and Dale [Saunders] are former team mates and that's a formidable combination for a Pro League club. Their results speak for themselves. I am proud to be playing with the Caribbean champions and I've loved training with the guys, many of whom I know from the national team.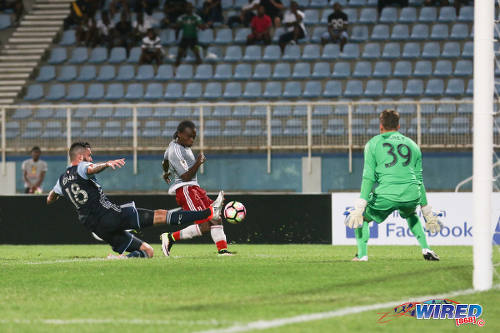 CFC: Do you think the standard of the Pro League is beneath your ability?
KJ: Well, first off, one man doesn't make a team. You only get from every game what you put in. I approach training and games just the  same whether Pro League or EPL.  Of course, some teams will be better than others, but generally you have to look at your own performance first. I think the Pro League is unfairly criticised. Pro League teams' record in the Caribbean Club Championships shows that the top Pro League teams have quality. The step up to becoming real challengers in the Champions League requires much more than the clubs can provide.
I'm very disappointed at seeing the low level of support at games. Football is our number one sport yet people prefer to sit in a bar watching Barcelona. Obviously, we're all interested in watching the world's top teams, but football supporting is about participation. You need to attend games and influence the outcome. I was amazed at the Vancouver game to see 1,500 people behave like they were in a library! There was no buzz. The crowd only reacted when Central made a bad pass or lost the ball.
In England, supporters—men, women and children—will turn up at our stadium to shovel snow off the pitch so the game can play. They don't get paid, they just love their team and want to help. Local supporters need to get involved more. Once we can improve attendances, TV will want to cover the games. That, in turn, will help to finance clubs and attract sponsors. While clubs, and the league, have their part to play, the football public must also step up.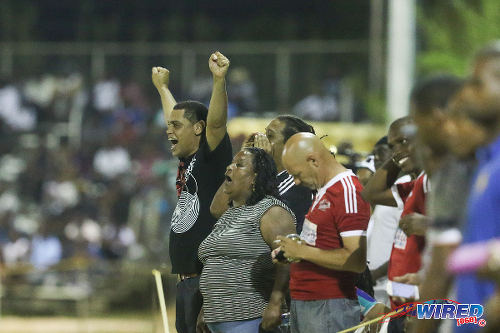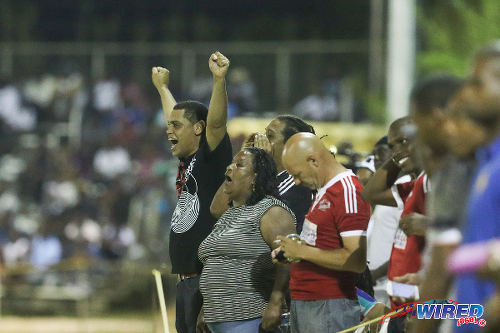 CFC: Do you see the Pro League as important to our national football development?
KJ: Of course. Look at how many of our national players began with Pro League clubs. The professional league gave me my start. Many Caribbean countries would love a professional league. We just don't appreciate it enough. You need to be training and playing 24/7 to make the grade. You can't do this properly if you have to go to work and train later. Also, the league gives you access to the CFU and CONCACAF football, which is great experience and helps player development.
CFC: Do you think that you will help increase interest in the Pro League?
KJ: Without wanting to sound arrogant, yes, I do believe there will be more interest. I also think that it will help to spread the Pro League brand overseas. I'd really like to think that I can help to develop the league by attracting more spectators and sponsors. In the end, I owe my career to the start I received in this league so I'd like to influence a change in how Trinis relate to the league.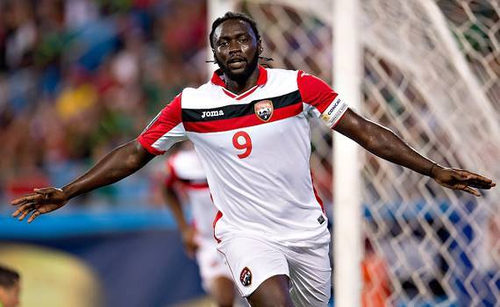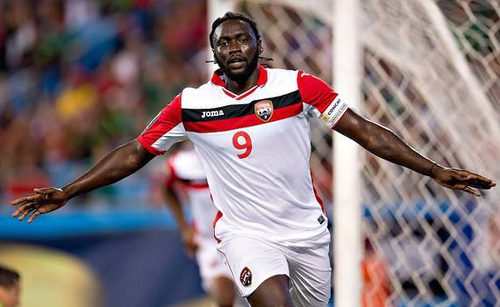 CFC: Do you think Central are able to compete with the likes of Vancouver and Kansas City?
KJ: After training with the lads, I could see that lack of match fitness was an issue against Whitecaps. They were totally beatable and had they played Central last May, Central would have won that game. I was also impressed with Sean de Silva who played despite suffering from Zika. That kind of determination impresses me and I believe we can get a result against Kansas and get some points on the road.
I expect Kansas to take four points from Whitecaps so we need to win two games out of the three remaining games. Once we get some decent practice games under our belts, I'm confident we can turn in a top performance.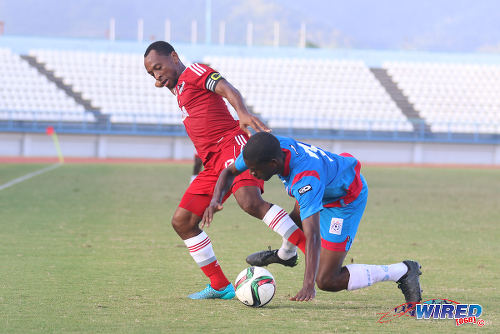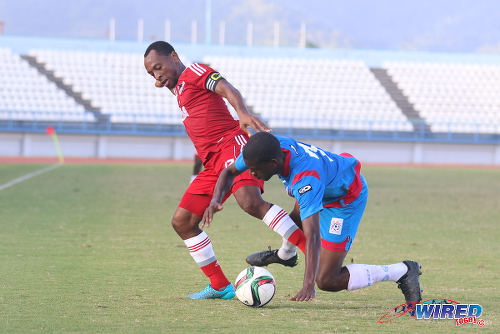 CONCACAF Champions League schedule
(Tuesday, 16 August, 2016)
Central FC (TRI) v Sporting Kansas City (USA), 8pm, Ato Boldon Stadium, Couva, Trinidad and Tobago;
(Thursday, 25 August, 2016)
W Connection (TRI) v  Honduras Progreso (HON), 8pm, Ato Boldon Stadium, Couva, Trinidad and Tobago;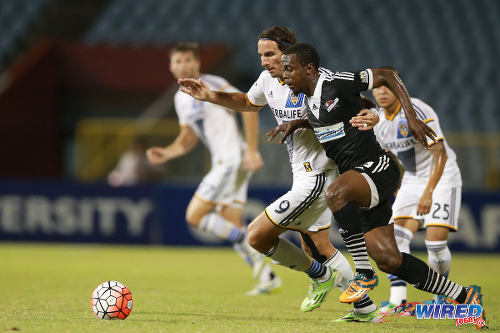 (Wednesday, 28 September, 2016)
Vancouver Whitecaps FC (CAN) v Central FC (TRI), 10pm, BC Place, Vancouver, BC, Canada;
(Thursday, 29 September, 2016)
Honduras Progreso (HON) v W Connection (TRI), 10pm, Estadio Francisco Morazan, San Pedro Sula, Honduras;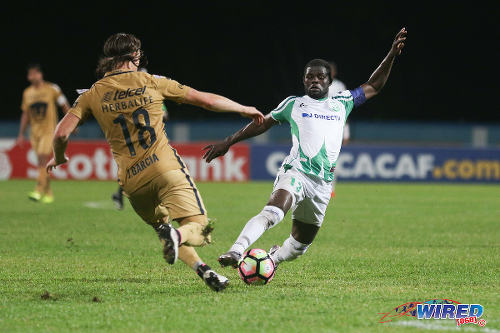 (Wednesday, 19 October, 2016)
Sporting Kansas City (USA) v Central FC (TRI), 8pm, Children's Mercy Park, Kansas City, KS, USA;
(Thursday, 20 October, 2016)
Pumas UNAM (MEX) v W Connection (TRI), 10pm, Estadio Olimpico Universitario, Mexico City, Mexico.