Play Whe San Juan Jabloteh are now one point away from reaching the 2017/18 CONCACAF qualifying stage, after they edged reigning Pro League champions Central FC 3-2 at the Hasely Crawford Stadium yesterday evening.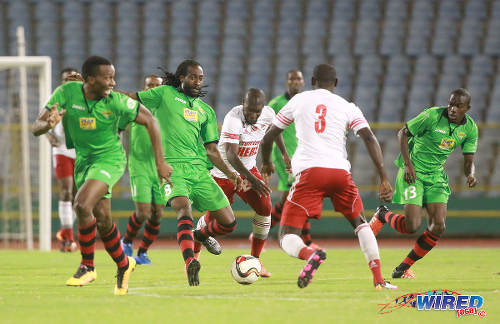 The "Couva Sharks," who wrapped up their second straight league title with a thumping victory over North East Stars last week Sunday, were without the quartet of Andre Ettienne, Marcus Joseph, Sean De Silva and captain Leston Paul, who reported to national duty with the "Soca Warriors."
Jabloteh also felt the pinch as in-form winger Nathan Lewis also received his first National Senior Team call up.
"I am very proud of Nathan Lewis on his call-up," Jabloteh coach Keith Jeffrey told Wired868. "Every time I speak to him I remind him that he's a pioneer for the local league. It is great to know that Hart is showing some confidence in the local players.
"While it is good, I don't want the local players to think that representing Trinidad and Tobago is a walk through; they cannot take it for granted. They have to take up the mantle to ensure that Hart and his coaching staff take note of the local players."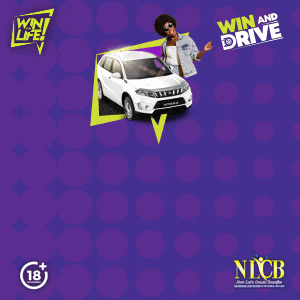 The leggy Lewis, who usually terrorises opposing defenders with bustling runs down the left flank, has notched a team high of 13 league goals for Jabloteh this season.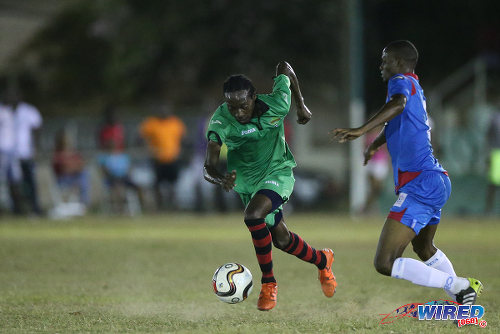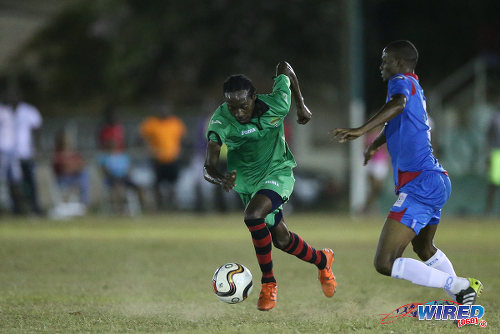 But the "San Juan Kings" did not seem to miss the tricky winger in the first half yesterday, as they stormed into a three-goal lead by the half hour mark.
Another Jabloteh schemer, playmaker Fabian Reid, opened the scoring in the seventh minute after sidestepping defender Keion Goodridge and finishing calmly between the legs of Central goalkeeper Javon Sample.
Sample, who made some key penalty stops en route to Central's CFU Club Championship win earlier this month, found himself in a compromising position after hacking away a loose ball from his penalty area just six minutes later.
However, Jabloteh attacker Tyrone Charles was unable to make the most of the opportunity, as he sent his volley agonisingly over bar.
Charles, a former Central employee, did not take no for an answer as he orchestrated Jabloteh's second item in the 16th minute. The burly Jamal Gay was the eventual beneficiary, as he slotted home from inside the six-yard box after Reid mishit Charles' sharp cut back.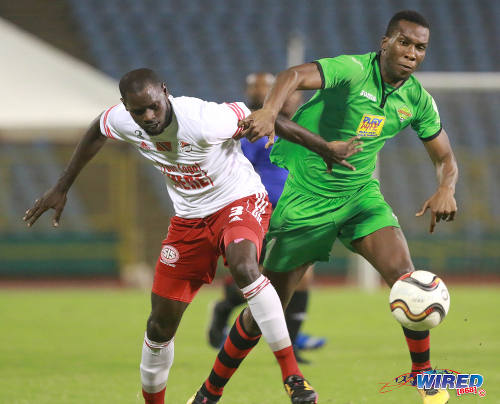 The CONCACAF-chasing Jabloteh were beating the Pro League champs to every loose ball, as the brawn of Keyon Edwards and Jamaican Damian Williams seemed too much for the Sharks midfield.
"We weren't happy with the early part of the season in the sense that we started slowly but as the season went on, especially the third round, we won seven and drew one which propelled us up the table," said Jeffrey. "It's a good accomplishment to be back where we are supposed to be: and that's competing to be in the Caribbean Club Championships. It's a good feeling.
"The players are under the pressure because they know what the training staff and the Jabloteh community want."
Central looked short of more than just ideas. The Sharks were without a title sponsor too, as their deal with Bankers Insurance drew to an end.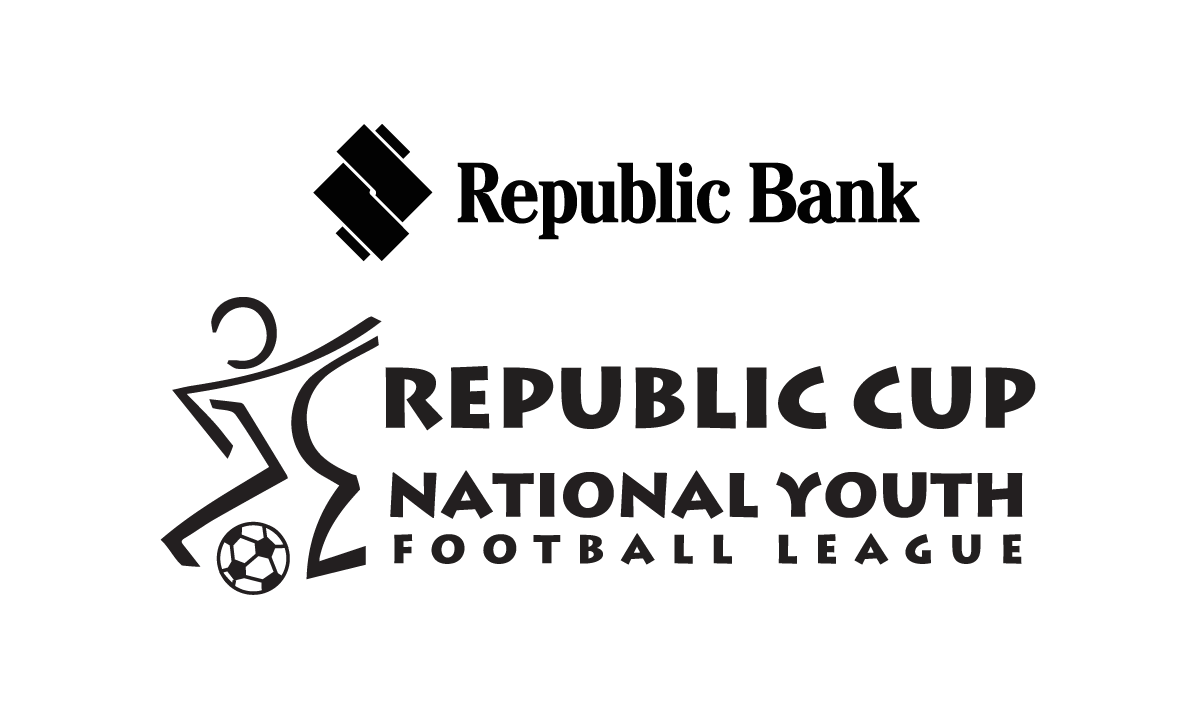 And, to emphasise their availability, Central FC CEO Brent Sancho sent his players out with the words "Your Logo Here" emblazoned across their white tops.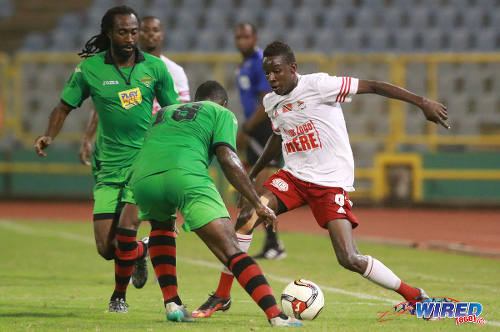 Sample offered another Sharks give-away in the 27th minute, as he sent a goal kick straight to Gay's feet. It was then off to the races for the ex-Caledonia man, who chipped the ball over the onrushing Sample for his 11th league goal of the season.
Central coach Dale Saunders immediately decided to scrap his 'Plan A', as he replaced the wily Jason Marcano with bustling Darren Mitchell.
And Central should have probably claw themselves back in the game before the end of the half, but referee Rashby McPhee waved away penalty appeals after Jabloteh custodian Shemel Louison appeared to catch the feet of opposing striker Ricardo John inside the area.
And John was rewarded with a yellow card for showing his displeasure with the decision.
In the second half, Central assumed the bulk of the possession as Jabloteh sat deep to protect their three-goal cushion. It was a tactic that nearly cost the Bourg boys dearly.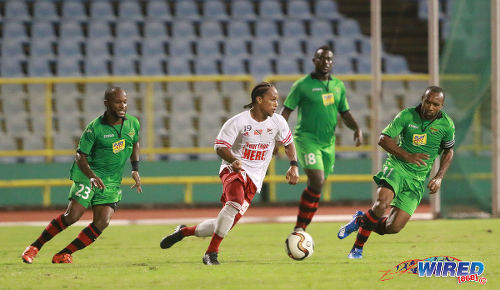 Central tallied two goals from the penalty spot in the final ten minutes as McPhee whistled for infringements committed by Edwards and former Central defender Akeem "Battery" Benjamin.
Corbin kissed the first penalty off the post and in, on the 80 minute mark, while Mitchell sent Louison the wrong way with his kick, six minutes later.
It meant some unwanted palpitations for Jeffrey for the closing minutes but Jabloteh held on to the important three points.
"I think we went into a panic mode because Central had nothing to lose since they already won the league," said Jeffrey. "They just stepped up their game and it nearly cost us in the end. But we were resilient and we held out.
"We're just happy to get the three points and then we have another crucial game against North East (Stars) on Saturday."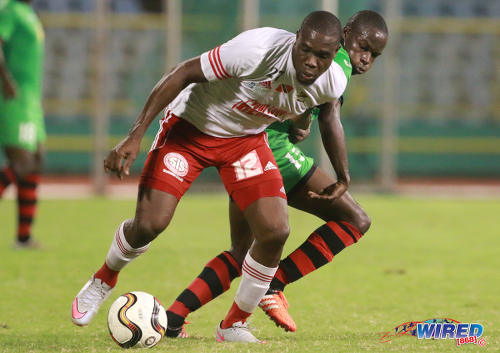 Saturday's game against fifth place Stars holds double importance for Jeffrey's charges, as there is the matter of the Kevon Carter Trophy—the winner of each Pro League round receives a TT$50,000 purse—to go along with the 2017/18 CONCACAF qualifying spot for finishing second.
Jabloteh possess the only unbeaten record in the league's final round and have amassed 22 points through eight games, while Stars have collected 21 points.
But the San Juan Kings will not play their final game on the Barataria Recreation Ground, as the match venue was rescheduled to the Mannie Ramjohn Stadium in Marabella.
Jeffrey explained that the Pro League board expressed concerns over the accommodation for referees, field markings, the height of the goalpost and general security for the venue.
He claimed that his club did everything they could to facilitate the League but still lost out on the chance to play their final two fixtures in Barataria.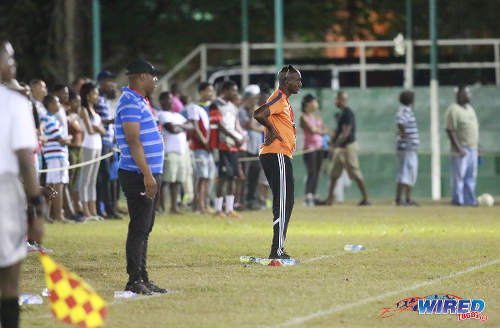 "The away team would have gotten the whole pavilion to themselves and we would have organised a caravan so that we could take care of our players," said Jeffrey. "The marking of the field could be adjusted and they said the height of the goalpost was below FIFA expectation. So we had put all these measures in place.
"Plus they had asked for security, and we already made arrangements with the Barataria Police Station to ensure that we had some police presence there."
But it was not enough and Jeffrey said there disappointed supporters in Barataria as a result.
"I had to explain to (displeased fans) that the Pro League has the final say with regards to the third round," said the Jabloteh coach. "In fact, the clubs know that the final round belongs to the Pro League. The first and second rounds are home and away but the third round is the league's…
"Sometimes you have to take the community into consideration when making these types of decisions. People from the community even asked us to charge a fee.
"If you look at the game at the stadium last night, if 25 persons were there then it was plenty. And if you had brought that game to Barataria you would have gotten over 500 persons, especially the Central FC game."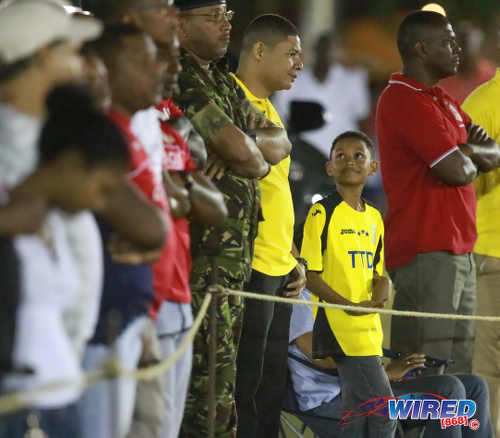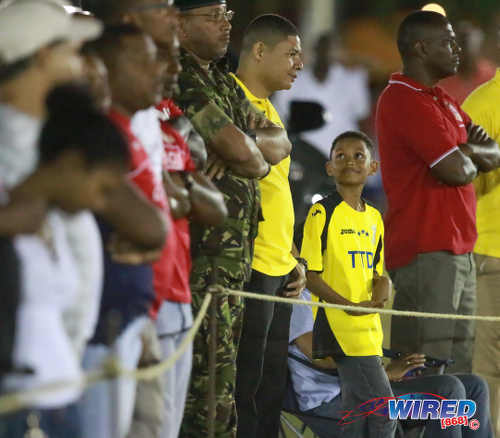 With Defence Force (48) just three points away, Jabloteh must make the most of the Mannie Ramjohn Stadium's atmosphere as they search for that all-important point on Saturday afternoon.
Former Jabloteh stalwart Kerry Baptiste, who has been on song with the Stars, will ensure that his former employers can take nothing for granted.
(Teams)
San Juan Jabloteh (4-2-3-1): 30.Shemel Louison (GK); 18.Jevon Morris, 21.Aquil Selby, 24.Adrian Reid, 6.Akeem Benjamin; 8.Keyon Edwards, 11.Damian Williams (captain); 23.Kennedy Hinkson (9.Brent Sam 65), 13.Fabian Reid, 10.Tyrone Charles (4.Garth Thomas 90); 7.Jamal Gay (17.Josiah Trimmingham 75).
Unused Substitutes: 35.Andrew Durant (GK), 2.Noel Williams, 14.Sean Bonval, 16.Kaashif Thomas.
Coach: Keith Jeffrey
Central FC (4-1-3-2): 1.Javon Sample (GK); 15.Kaydion Gabriel (26.Jem Gordon 73), 12.Jamal Jack (captain), 3.Keion Goodridge, 24.Kevon Villaroel; 25.Elijah Manners; 14.Nicholas Dillon, 7.Jason Marcano (11.Darren Mitchell 28), 19.Nathaniel Garcia; 9.Kadeem Corbin, 8.Ricardo John (18.Michael Darko 86).
Unused Substitutes: 2.Suraj Ramcharan, 4.Tekay Hoyce, 5.Derron John, 22.Shem Clauzel.
Coach: Dale Saunders
Referee: Rashby McPhee
Man of the Match: Fabian Reid (San Juan Jabloteh)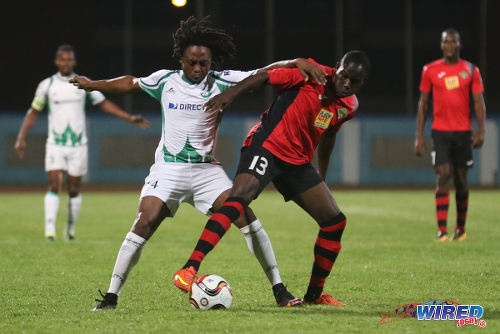 Pro League results
(Tuesday May 17)
San Juan Jabloteh 3 (Fabian Reid 7, Jamal Gay 16, 27), Central FC 2 (Kadeem Corbin 80, Darren Mitchell 85) at Hasely Crawford Stadium;
W Connection 3 (Dimitrie Apai 17, 52, Kurt Frederick 62), St Ann's Rangers 0 at Ato Boldon Stadium.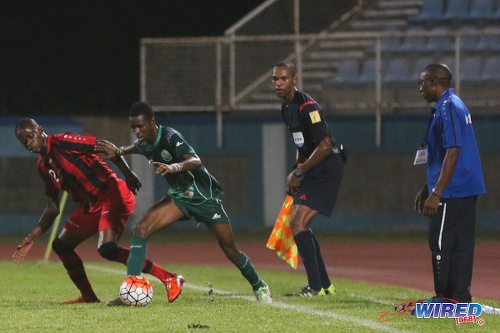 Upcoming Pro League fixtures
(Friday May 20)
Central FC vs St Ann's Rangers, 6 pm, Ato Boldon Stadium;
Club Sando vs W Connection, 8 pm, Ato Boldon Stadium;
(Saturday May 21)
Defence Force vs Morvant Caledonia United, 4 pm, Larry Gomes Stadium;
San Juan Jabloteh vs North East Stars, 4 pm, Mannie Ramjohn Stadium;
Point Fortin Civic vs Police FC, 6 pm, Mahaica Oval.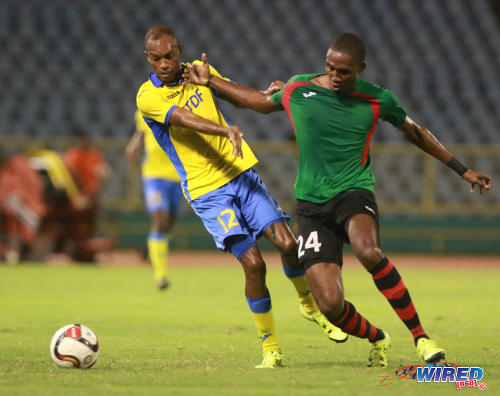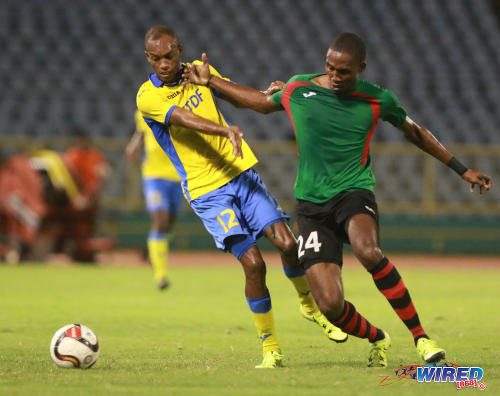 Standings (Tabulated as Won-Drawn-Lost-Goals For-Goals Against-Points)
Central FC       26-17-4-5-61-20-55
Jabloteh           26-16-3-7-50-36-51 [+1]
Defence Force 26-14-6-6-53-22-48 [-1]
W Connection 26-13-7-6-49-23-46 [+1]
North East       26-13-5-8-42-48-44 [-1]
Police FC           26-12-4-10-57-51-40
Club Sando       26-9-3-14-34-52-30
Caledonia Utd 26-6-3-17-27-56-21
Point Fortin     26-5-4-17-23-56-19
Rangers             26-3-5-18-26-58-14