The former St Augustine Secondary coaching duo of Michael Grayson and Desiree Sarjeant and ex-St Benedict's College coach Dexter Cyrus have spoken out on their controversial dismissals, as the upcoming Secondary Schools Football League (SSFL) season looks set to kick off with some drastic changes in the technical areas.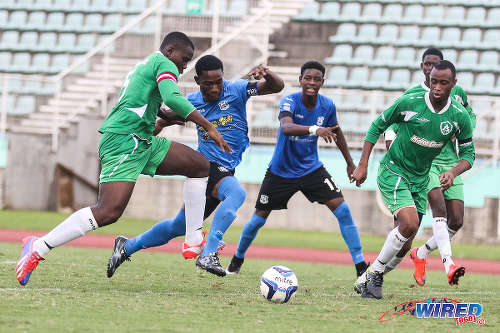 In January 2016, Grayson and Sarjeant were named among the top coaches in the SSFL's history—only five coaches managed more than Grayson's five national titles while Sarjeant's six titles are bettered by just two coaches.
Yet, three months after receiving their coaching accolades, St Augustine principal Linda Francis fired them both.
In Cyrus' case, he led St Benedict's College to a second place finish behind the all-conquering Naparima College last year, while the southern school were beaten finalists in the 2014 National Intercol competition when they also scooped up the South Zone Intercol title.
"I was called in at the end of last season (and) complimented by the principal," Cyrus told Wired868. "She told me she liked the work and she hoped to see an improvement next season. And an improvement on second place would mean that we had to come first."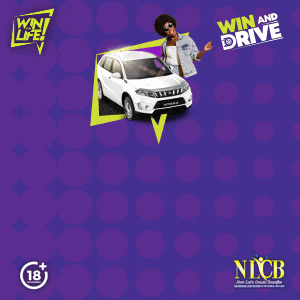 So what went wrong thereafter?
Cyrus claimed an extraordinary bust-up during last year's Premier Division campaign and the scheming of his managerial staff led to his dismissal, some months later in mid-March.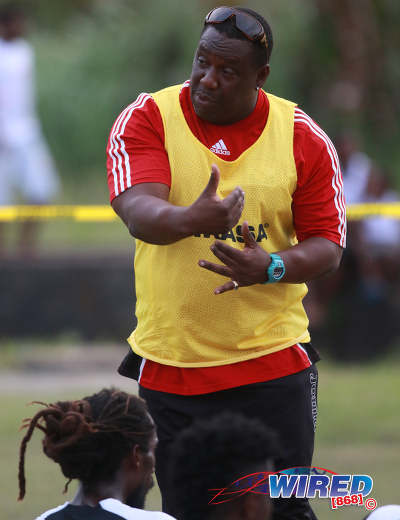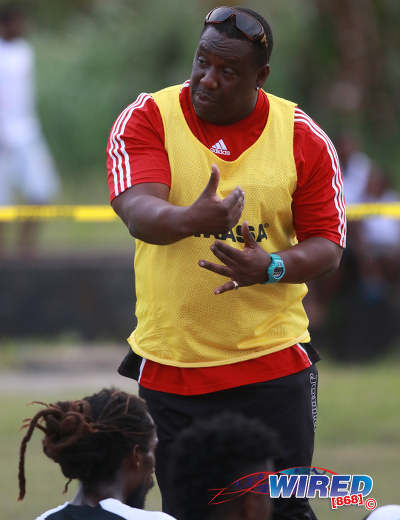 On October 17, a St Benedict's substitute refused to fetch a ball during a fixture against Presentation College (San Fernando) at the Mannie Ramjohn Stadium in Marabella. And pandemonium was not far behind.
"Our manager Mr Ravi Ramgoolam asked a player to go for a ball but the player refused," said Cyrus. "About three weeks before that, we went through this issue with a student going for a ball where I told them that players cannot leave the bench and be walking and running out the stadium going for balls in their kit… We had a meeting with the boys and we told them that nobody will have to ball boy again.
"So when I'm ready to send the player on now, I told him to warm up. The manager then turns and tells me that the player is not going to be involved in the game because he refused to go for a ball. I told the kid I'm the coach, go and warm up.
"Unknown to me, when the player is getting himself organised, Mr Ramgoolam tells him before you go on that field you have to apologise."
The player, Mickel Holder, issued an apology and went on to the field. But the forward, who suffers from asthma, quickly returned to the sideline for some water.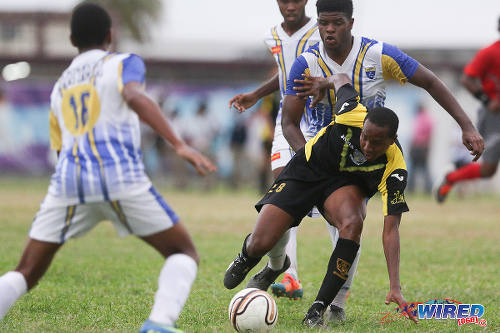 Holder's teammates, who were supposedly acting on instructions given by another manger, Nolan Bernard, refused to give it to him. Cyrus was further incensed.
"I said Mr Bernard how could you refuse to give water to the player with an asthmatic condition, yuh know he have to keep that throat wet," said Cyrus. "I say suppose he drop down and dead. The manager then says 'boy Cyrus let him f**king dead'."
The game finished in a goalless draw and, in the dressing room, Holder let loose as he accused the team management of leaving him for dead.
"The player came out of the bathroom and said that's why fellahs from Benedict's does leave and go 'Pres' and 'Naps' because how allyuh does treat them," said Cyrus. "Mr Bernard leave from by the sink and went across to the lockers and hit the player a right flushers, knock him down, and then turned him around to hit (him) again."
The players and remaining staff allegedly subdued Bernard before he could cause any further harm. At least two other Benedict's members, including former assistant coach Brian Jordan, corroborated the chain of events to Wired868.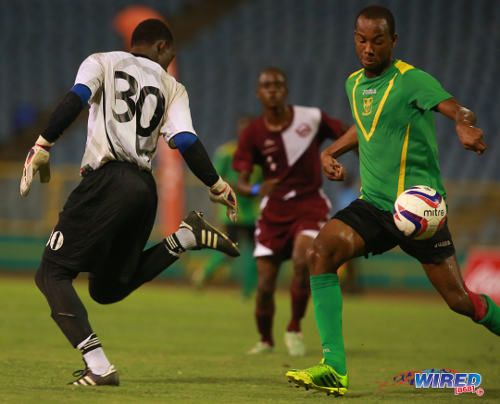 "Presentation's assistant coach Dunstan Williams and I commiserated at the end of the game, and he said 'Brian, I could not believe what I was hearing' (with regards to the player being refused water)," Jordan told Wired868. "The game is done eh. Dunstan and I are in the tunnel talking as friends would do. Then this boy comes out in a towel crying… so I immediately cut the conversation.
"I head into the dressing room and I see Cyrus being held back. He then tells me that Bernard slapped (Holder)."
With three Premier Division games to go and the Intercol campaign yet to come, Cyrus and his staff opted against taking the matter to principal Anne Gomes-Phillips.
"The general consensus was that we would let the kids finish off the season because we were in third place," Cyrus said. "We were thinking that it had a big four, and we didn't want to disrupt what was going on because we wanted to make top four. We said we will deal with it afterwards…
"Yeah I regret (not going to the principal earlier) because I was thinking that these men would have done the honourable thing. But these men do not have an honourable bone in their bodies."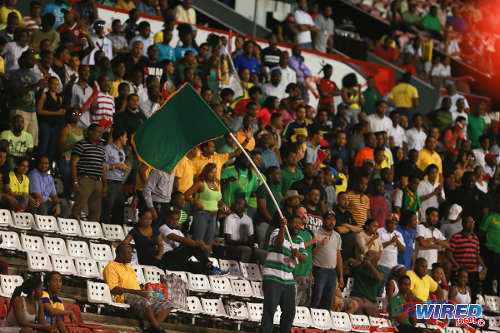 Days after Cyrus' end of season meeting with Gomes-Phillips, his assistant Jordan and physio Adaryll John, said they would not work with the football team's management again and quit
"Me now, caught between a rock and a hard place, I had to make an advance to the principal and tell her that my coaching staff decided that they didn't want to work with this management anymore," said Cyrus. "I went to a Benedict's Old Boys meeting and expressed to them what I was about to do. That would have been the Thursday."
Some six days after meeting with the Past Students' body, Cyrus was summoned by principal Gomes-Phillips. He believes that the team managers got wind of his plan and took pre-emptive measures.
"The manager, assistant manager and coordinator, the three of them, they said they find I does come training late," Cyrus told Wired868. "I said you all agreed for me to come 4.30 because I finish work 4 o'clock. The training session starts 3.30, my assistant coach is never absent and he's always on time.
"I come in and I do the main part of the session, and it works like clockwork. So I don't know how that could have been a problem."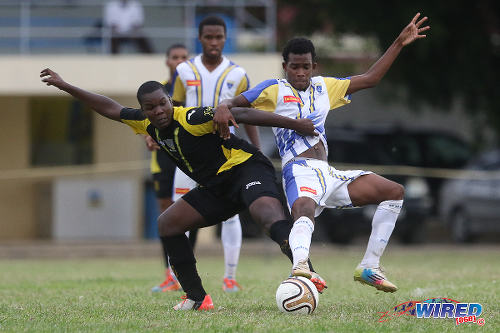 Cyrus was fired mere months after Gomes-Phillips's congratulations. The former striker maintains that he was wrongfully dismissed on the back of false accusations by the management staff.
"It holds no water because that is what they told me to do," he said. "It's five years now I've been doing it. That's what we agreed on in front."
Wired868 was reliably informed that the issue surrounding Holder and Bernard was resolved following a meeting with both parties along with principal Gomes-Phillips and Holder's father. It is uncertain whether Bernard was punished for his alleged behaviour on October 17.
When contacted for a comment, principal Gomes-Phillips said the matter was closed and she would like to leave it as is.
Bernard and Ramgoolam were also tight-lipped. Bernard said that the incident had been resolved while Ramgoolam said he did not have the authority to comment.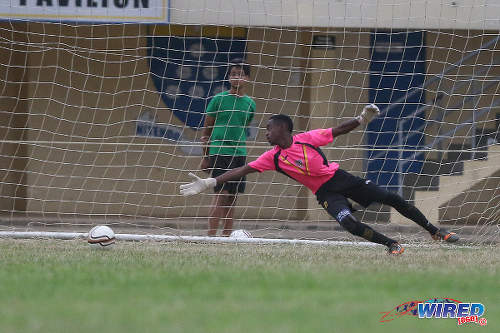 "At the end of the day I have nothing against the school," said Cyrus. "I think what the St Benedict's management did was one of the most underhanded and deceitful things I have faced. But then again these things make you stronger and you get to learn.
"The blind was leading the blind-folded in the staff."
Elsewhere in east Trinidad, St Augustine Secondary footballers lost not one, not two, but a total of four coaches, as the axe fell at the "Green Machine" last month.
Grayson was summarily fired after a season in which he copped the East Zone Intercol title and led the Green Machine to the semifinals of the National Intercol tournament—they were ousted by eventual winners, Naparima, after being asked to play twice in the space of three days.
St Augustine also managed a credible fifth place finish in the 15-team Premier Division table.
The last of Grayson's five national titles at St Augustine was the 2013 National Intercol competition when his team included a quarter of the subsequent Trinidad and Tobago National Under-20 Team: Aikim Andrews, Akeem Garcia, Maurice Ford, Ricardo John and Shannon Gomez.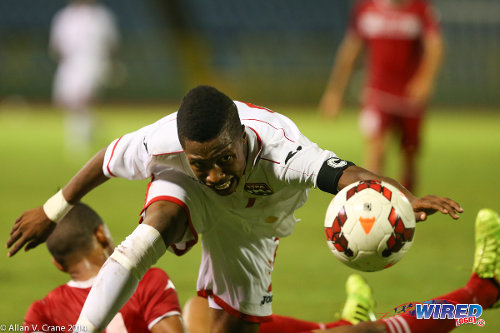 Andrews, Garcia and Gomez all represented the "Soca Warriors" in friendly action last year while Gomez, the former Under-20 captain, is currently on loan at United States MLS club New York City FC.
But the grooming of national players and a healthy trophy room was not enough to save Grayson's job at Augustine. The veteran coach, who previously led Arima Senior Comprehensive during its own era of dominance, said he remains dumb-founded by the events.
Even before he was formally dismissed, Grayson was told that former Trinity East College coach Adrian Romain already announced the job as his.
"People who are rationale thinking still can't understand what happened, it eh adding up at all,"  said Grayson.
Romain denied suggestions that he undermined Grayson to take his post.
Last season, Romain endured a winless spell in the 2015 SSFL Premier Division season before being axed as head coach there, in the first half of the season. Trinity East were eventually relegated after one win from 14 games.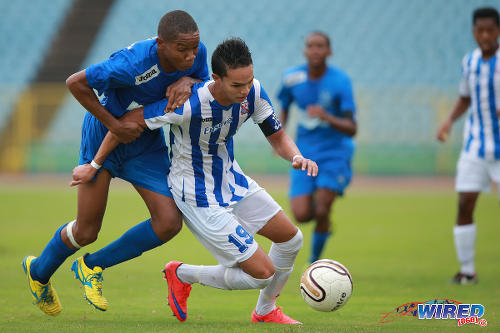 At the same time, St Augustine Secondary won the East Zone Intercol title.
Yet, Romain insisted that St Augustine contacted him to offer him the job; and not the other way around. He said he had just returned home from a successful stint in an India youth competition—the Badhani Premier League—and was committed to heading back to India.
"When I returned home I saw an e-mail from St Augustine stating that they will like to meet with me on the job," said Romain. "I was hired around April the 20th as the Technical Director in charge of all football duties at the institution.
"Lemme just clear up the air a bit. I have a lot of respect for Michael Grayson and Desiree Sarjeant. I actually look up to both individuals because I'm still a young coach, I'm only 27 years.
"I have never gone behind anyone's back to take his job. Actually, I was settled on returning to India to continue my contract. I have no control over this situation when it comes to the firing of the former coaching regime.
"My first question was: Will they be re-hired? And it all came down to qualifications in terms of CXC passes."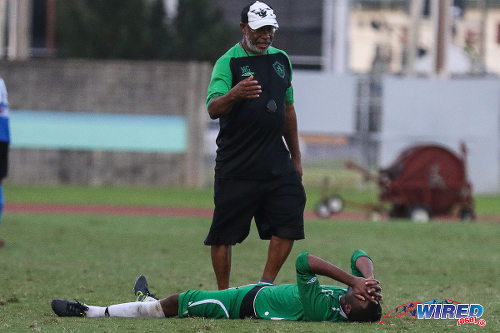 Grayson, who has a university degree, easily met the Ministry of Education's academic requirement stipulation, which insists that all school staff must have three passes. But he was fired anyway without an explanation. Sarjeant didn't meet the criteria and it was used to explain her dismissal.
"For whatever discipline you'd like to coach, you must have three CXC passes, and one must be English," said the Ministry of Education's Curriculum Officer for Physical Education, Veronica Dolan-Samuel. "The principal must write to us requesting the services. Also he/se must send photocopies of your certificates, endorsing and certifying that he/she has seen the original."
And according to Dolan-Samuel, the academic criterion was first established in 2005, but endured a five year grace period. Now, it appears to be firing on all cylinders.
Schools can still pay their coaches via various fund-raising mechanisms. But, unfortunately for Sergeant and company, that possibility was overlooked in this scenario.
Francis declined comment on the firing of her two coaches.
Sarjeant, a former Trinidad and Tobago international player and ex-St Augustine student, said she was disillusioned by the entire ordeal.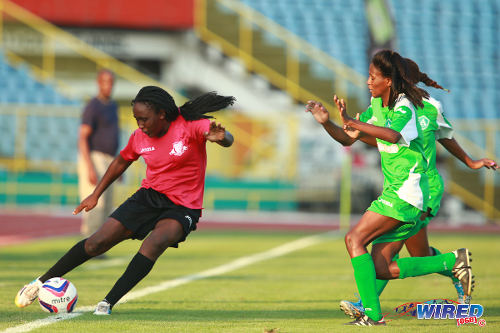 "There was no real prior consultation, we did not see this coming at all," Sergeant said. "I know I can say openly that I am very gutted by this all. It really did put its toll on me for a little while but it is what it is.
"I think it's a principal's choice to keep a coach on. I could have three passes and she (can still) say I'm not going to renew your contract."
Sarjeant is proud of her time with the Green Machine, although hurt at the way it was ended.
"I have been at St Augustine since 1998," said Sarjeant. "I'm also the first and only female to have won six national titles (as only Stephen Smart from Malick and Arnold Murphy from Debe managed more).
"In 2013, I won every title that was up for grabs and I repeated the same feat again in 2014. So today it still bothers me, I felt as though my entire inside was taken out of me and thrown in front of a bus.
"Coaching at school football is what I am known for, it is my passion, it is what I live, it is what I breathe… It is good to see that you can develop young ladies, not only as footballers, but as young women."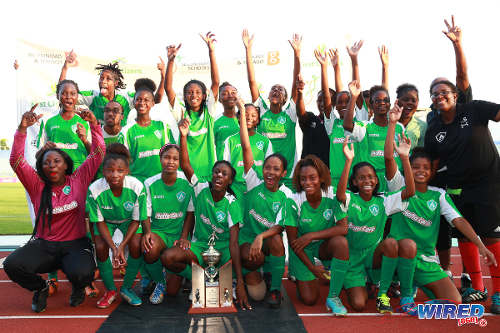 Sarjeant, who is also the coach of 2015 TT WoLF champions St Augustine FC, hopes another opportunity becomes available soon.
"I don't know how many schools are aware that 'coach Des' is no longer at St Augustine Secondary," she said. "I hope something comes around because coaching at this level is really my passion. I am gutted yes, but at the end of the day when one door closes, another one opens.
"And I can only hope that door opens sooner rather than later."
The St Augustine and St Benedict's benches may look strange this season without Cyrus, Grayson and Sarjeant.
Former "Strike Squad" star Leonson Lewis has taken over the reigns at St Benedict's while Romain is in charge of the entire football programme at St Augustine.
Romain refused to name Sergeant's successor just yet. But he said he was excited by the challenge of replacing Grayson and hoped to leave his own legacy at St Augustine.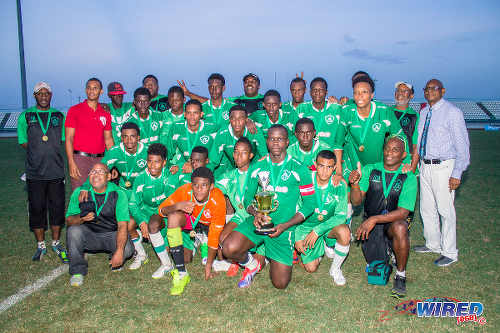 "This is school football, and I think in Trinidad we focus on what is in it for the coaches and we forget the kids," said Romain, who said he admired the school protests for the fired coaches. "My plan at St Augustine is to continue the program that Grayson left and to get more kids on academic scholarships as well as football scholarships…
"I can't wait to start. I'm replacing Grayson or Sir Alex as I call him, so I'm excited. It's going to be a challenge but nothing in life comes easy."
Editor's Note: New St Augustine Secondary coach Adrian Romain insisted that was only offered the post after the dismissal of former veteran coach Michael Grayson, who was released on 14 April 2016. The following Facebook post appeared to contradict that.