Defence Force FC maintained their three point lead atop the 2015/16 TT Pro League standings yesterday with a deserved 2-0 win over Play Whe San Juan Jabloteh at the Marvin Lee Stadium in Macoya.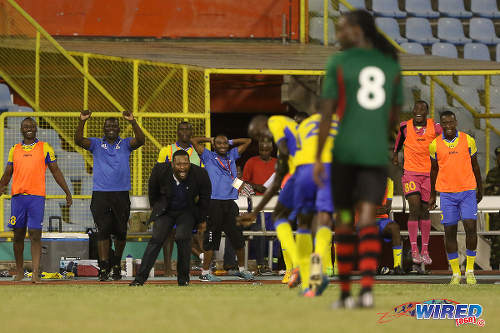 The Army/Coast Guard combination overcame a first half penalty stop by Jabloteh goalie Shemel Louison to extend their unbeaten league run to six games. Coach Marvin Gordon's brigade have been stingy at the back too, as they are yet to concede a goal in 2016.
In the first game of yesterday's Marvin Lee double header, Police FC arrested cellar-placed Morvant Caledonia United and threw away the key, as they ran away rampant 5-nil victors courtesy of a stylish Kareem Freitas hat-trick.
The wily attacking midfielder took his league tally to nine goals in the process. Freitas' teammate, Makesi Lewis, still leads all scorers with 12 league goals.
Defence Force marksman Devorn Jorsling knows all about goals, having scored 141 Pro League goals himself. However, the burly attacker was unable to extend his tally yesterday as Louison stuck out a trailing leg to turn back the striker's 31st minute penalty, after referee Gyasi McDonald blew for a hand ball in the area.

Jabloteh had the better chances up until that point in a tight first half but they were unable to ripple Defence Force goalkeeper Sheldon Clarke's netting. The Secondary School Football League (SSFL) 2015 Player of the Year, Brent Sam, was Jabloteh's main protagonist in the first half but the lanky San Juan North schoolboy failed to punish his more experienced opponents.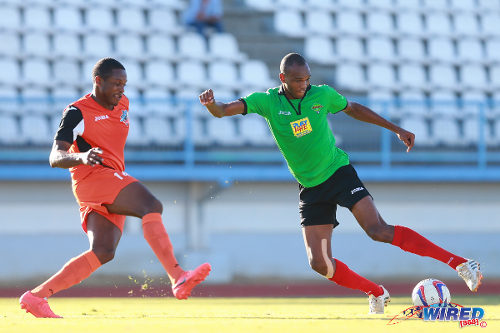 In the ninth minute, Sam picked off a sloppy pass by Glynn Franklyn, in the final third, but hurriedly screwed his left footed shot wide of Clarke's goal frame from a tight angle.
Then, in the 21st minute, the 19 year-old attacker missed from close range with a cheeky back heel attempt following a mazy run and cross by winger Nathan Lewis down the right flank. A simple side foot finish might have sufficed, but the youngster opted for the more elaborate route.
Jabloteh mustered another excellent chance in the 26th minute, after another counter attack that involved Lewis, striker Jamal Gay and playmaker Fabian Reid. Reid was unable to get on the scoresheet though, as Clarke and the steely "Army" defence combined to stop his initial shot and subsequent follow-up effort.
The Army usually pose a threat from set pieces, and maybe Louison should have been aware of that danger in the 56th minute when he awkwardly flapped a harmless-looking attempted lob by ex-Trinidad and Tobago National Under-20 winger Kishun Seecharan for a corner.
Seecharan served up a dangerous in-swinger from the subsequent set piece and Jerwyn Balthazar made the Jabloteh goalkeeper past, as he rose above Lewis to bury a header into the back of the net.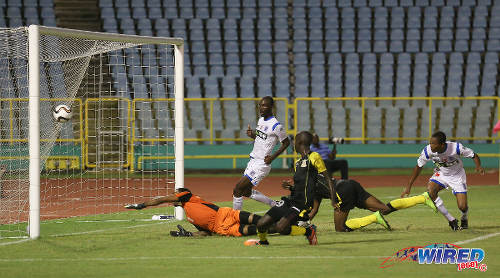 Fresh off a four goal display against St Ann's Rangers on Friday, the in-form Defence Force captain, Balthazar, was not going to let such an opportunity pass him by.
Jabloteh coach Keith Jeffrey responded to Balthazar's 11th league goal of the campaign by inserting the dangerous Tyrone Charles for defensive midfielder Jevon Morris in the 64th minute, while Sam slotted into central midfield.
But Gordon's charges continued to threaten from corner kicks and counter attacks. First half substitute, Jamali Garcia, saw his goal-bound header cleared off the line, just two minutes later, while winger Ross Russell Jr twice shot wide on the break.
Jabloteh's hopes of a comeback were dealt a blow in the 79th minute, when Charles was withdrawn after failing to shake off a challenge from opposing midfielder Sean Narcis.
Jabloteh substitute Kennedy Hinkson put hearts in throats in the first minute of stoppage time when his dangerous free kick from the right flank flew across the face of the goal with none of his teammates able to deliver the final touch.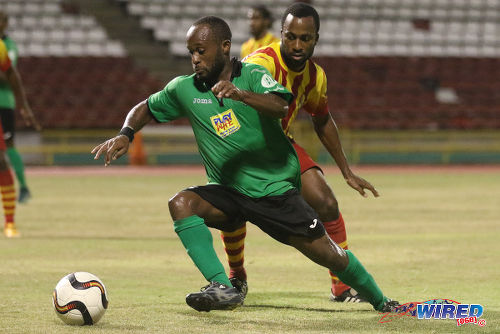 But Russell finally put the game beyond doubt in the fourth and final minute of stoppage time, as he calmly slotted in from the left side of the area after clever hold up play by substitute Hashim Arcia in yet another smooth counter attack.
At the Ato Boldon Stadium in Couva, defending champions Bankers Insurance Central FC and DIRECTV W Connection registered victories with contrasting score lines.
Central got goals from Marcus Joseph and Ataulla Guerra in a 2-1 win over Club Sando, while Connection hammered Point Fortin Civic by a 7-1 margin.
The "Couva Sharks" put seven goals past Civic at the same Couva venue last Friday and their arch-rivals showed that they could hit seventh heaven too, as goals by Dwight Quintero, Alvin Jones, Andre Toussaint and Aikim Andrews, along with a Dimitrie Apai double, pushed the "Savonetta Boys" up to third spot.
At the Larry Gomes Stadium, Japs North East Stars slipped two places to fifth, as they played to a goalless draw with ninth placed Rangers.
(Teams)
San Juan Jabloteh (4-4-2): 30.Shemel Louison (GK); 4.Garth Thomas, 21.Aquil Selby, 24.Adrian Reid, 15.Jerome McIntyre; 13.Fabian Reid (23.Kennedy Hinkson 79), 18.Jevon Morris (10.Tyrone Charles 64) (8.Keyon Edwards 79), 11.Damian Williams (captain), 27.Nathan Lewis; 7.Jamal Gay, 9.Brent Sam.
Unused Substitutes: 35.Andrew Durant (GK), 12.Jordan Devonish, 14.Sean Bonval, 16.Kaashif Thomas.
Coach: Keith Jeffrey
Defence Force (4-2-3-1): 25.Sheldon Clarke (GK); 8.Curtis Gonzales, 2.Glynn Franklyn (3.Jamali Garcia 11), 6.Rodell Elcock, 21.Akile Edwards; 4.Dave Long, 18.Sean Narcis (10.Hashim Arcia 75); 30.Kishun Seecharan (7.Jelani Felix 62), 99.Jerwyn Balthazar, 17.Ross Russell Jr; 9.Devorn Jorsling.
Unused Substitutes: 80.Aaron Enil (GK), 16.Kellon Serette, 23.Kerry Joseph, 52.Stephan Campbell.
Coach: Marvin Gordon
Referee: Gyasi McDonald
Man of the Match: Jerwyn Balthazar (Defence Force)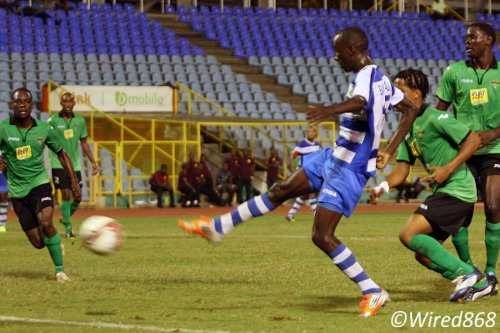 TT Pro League results
(Tuesday January 19)
Japs North East Stars 0, St Ann's Rangers 0, Larry Gomes Stadium;
Police 5 (Kareem Freitas 10, 39, 90+3, Anton Hutchinson 61, Keon Wilson 74), Morvant Caledonia United 0, Marvin Lee Stadium;
Play Whe San Juan Jabloteh 0, Defence Force 2 (Jerwyn Balthazar 56, Ross Russell Jr 90+4), Marvin Lee Stadium;
Bankers Insurance Central FC 2 (Marcus Joseph 29, Ataulla Guerra 43), Club Sando 1 (Shaquille Holder 80), Ato Boldon Stadium;
DIRECTV W Connection 7 (Own goal 3, Dwight Quintero 9, Alvin Jones 23, Andre Toussaint 52, Dimitrie Apai 74, 80, Aikim Andrews 81), Point Fortin Civic 1 (Jamille Botswain 34), Ato Boldon Stadium.