Police FC moved atop the Pro League standings yesterday evening, after a double strike from Christon Thomas secured a 2-0 win for the "Lawmen" over Club Sando at the Ato Boldon Stadium in Couva.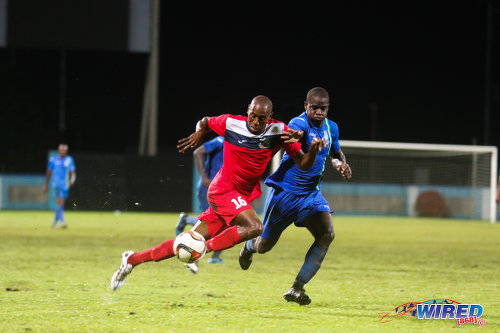 And only fellow servicemen, Defence Force FC, or North East Stars can overtake them for the Christmas season, as the Pro League plays its final round of fixtures today before closing until the new year.
Law enforcement and the military in control of proceedings in Trinidad and Tobago?
It must be a Christmas miracle.
DIRECTV W Connection played the second game of yesterday's Couva double header and ran out similar 2-0 winners over Play Whe San Juan Jabloteh. But it was just enough to take them to third place, albeit just two points shy of Police.
A goal apiece from the usual suspects, Jomal Williams and Shahdon Winchester, did the damage for Connection, although the "Savonetta Boys" struggled for control in a ding-dong battle on the soggy, worn surface.
There were some unfamiliar heroes for Connection yesterday. Or, at least, heroes in unfamiliar roles.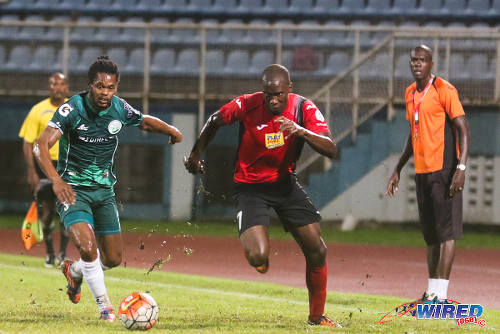 Patrons were left rubbing their eyes when Connection's defensive gladiator, Gerard Williams, picked up the ball near the half-line, sidestepped Keyon Edwards, danced around Damian Williams and played a brilliant outside of foot pass into the path of his namesake, Jomal, for the opening goal.
It was like watching a Datsun overtake a Mercedes Benz on the open road.
Winchester doubled Connection's advantage in the 60th minute with a close ranged finish, after a sweeping attack down the left flank that involved Jomal and Dimitrie Apai.
Connection might have had three by then, as Jabloteh custodian Shemel Louison blocked a low Winchester penalty in the 56th minute and then thwarted the attacker from the rebound to keep his side in the game.
But the game really came to life when Jabloteh coach Keith Jeffrey introduced San Juan North schoolboy Brent Sam off the substitutes' bench.
Sam is now in his third half-season in the professional ranks. Every season, he splits his time into roughly three months with the Secondary Schools Football League (SSFL) and five months in the professional arena.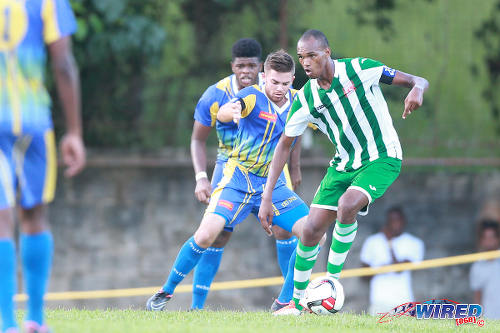 He is local football's "Peter Pan", the man-child who cannot quite seem to achieve adulthood.
Within seconds of his introduction in the 57th minute, Sam forced a low save from Connection custodian Terrence Lewis with his left foot and dragged a right footed effort just wide of the far post from the edge of the area.
Winchester got the only goal of the second half but Jabloteh did most of the running, as lanky striker Jamal Gay came alive alongside Sam. But Lewis, who had a rare outing ahead of Connection's number one Julani Archibald, was unbeatable.
In the 80th minute, Sam dribbled past Connection defender Triston Hodge and served Gay a clear shooting opportunity on a plate, only for the latter's effort to be clawed away by Lewis.
And, three minutes from time, Lewis again refused to allow Gay to spoil his clean sheet. On this occasion, the goalkeeper fended away a Tyrone Charles effort into Gay's path but reacted quickly to block the striker's follow-up.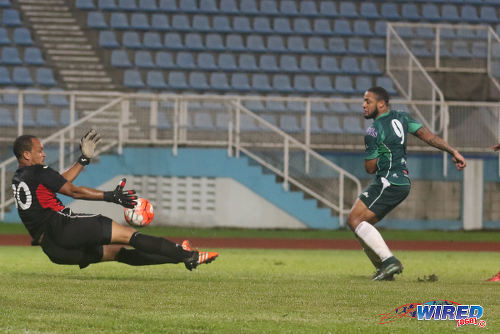 Connection and Jabloteh are now level on 13 points with the Savonetta Boys ahead on goal difference.
Both teams would need binoculars to see Club Sando, who are down at the foot of the Pro League's 10-team standings.
"Who say San-doh?! San-doh!" was the familiar war cry, as the San Fernando-based team pummelled opposition in the National Super League or, briefly, held their own alongside top flight competition in the 2013 Toyota Classic.
But few teams have managed a seamless adjustment to the Pro League and Sando, with one point from seven games, are not the exception.
In contrast, Police, who managed their third successive league win yesterday, are loving the sound of the referee's opening whistle. And coach Richard Hood's officers again made light of the absence of team captain Todd Ryan and defenders Jasimar Ashers and Anton Hutchinson for a combination of injury and suspension.
Police striker Makesi Lewis and his partner Kareem Freitas have 15 league goals between them, which is equal to or better than the output of any entire Pro League squad this season. Sando managed just four league goals—the lowest returns this term—in their top flight adventure so far.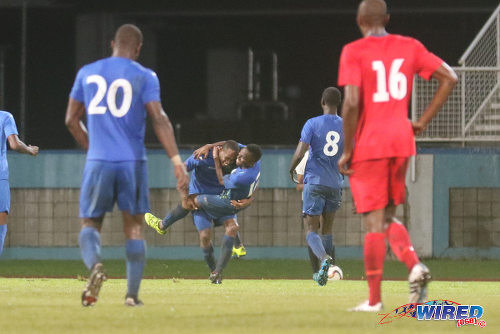 It was not Lewis or Freitas who pulled the trigger yesterday though. Instead, Thomas, often the provider, took centre stage with a brilliant individual performance that he capped with two strikes of differing quality.
Thomas' first, in the 23rd minute, was a lesson in efficiency.
As a low cross flew into the Sando area from the left flank, Thomas leaned towards the ball but then allowed it to run across his body and cushioned it with his right foot. His second touch was a searing strike past opposing goalkeeper Kelvin Henry.
Sando left back Kemuel Rivers was just two feet away from Thomas but he might as well have been in the stands.
Thomas' second, which came in the 89th minute, was a speculative effort inside a crowded area that deflected in off namesake and Sando sweeper Coneal Thomas.
Police might have had another, two minutes into the second half, but midfielder Kevin Lewis' effort was adjudged to have not crossed the line, after it slammed off the underside of the bar, hit the ground and rebounded to safety.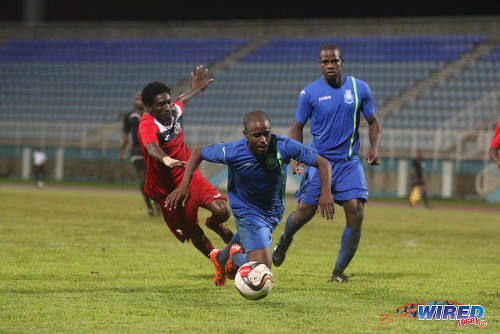 Sando, who altered their traditional 4-2-3-1 formation to introduce a sweeper in a 1-4-3-2 line-up, were lively throughout, as utility player Akeem Humphrey shone at right back while substitutes Kevon Neaves and Kevon Woodley threatened.
But it was not enough to spoil the festive season for Hood and his Lawmen.
(Teams)
Police FC (4-2-1-3): 1.Adrian Foncette (GK); 6.Jibiri McDavid, 4.Karlon Murray, 17.Dexter Alleyne, 20.Elijah Belgrave; 8.Kurdell Brathwaite, 18.Dylon King (14.Kaaron Foster 79); 10.Kareem Freitas (16.Keon Wilson 60); 12.Kevin Lewis, 9.Makesi Lewis (15.Jameel Perry 85), 19.Christon Thomas.
Unused substitutes: 22.Keinol Paul (GK), 3.Kadeem Boyce, 7.Clevon McFee, 13.Ricardo Peltier.
Coach: Richard Hood
Club Sando (1-4-3-2): 34.Kelvin Henry (GK) (captain); 22.Coneal Thomas; 7.Akeem Humphrey, 15.Amritt Gilhdarry, 17.Jared London, 6.Kemuel Rivers; 19.Ryan Frederick (10.Kevon Neaves 72), 8.Jeromie Williams, 9.Jesse Downing; 24.Devon Modeste (16.Kevon Woodley 75), 21.Kerron Mitchell.
Unused substitutes: 33.Alexei Julien (GK), 5.Devon Drayton, 13.Kern Cupid, 18.Shane Hospedales, 26.Shaquille Holder.
Coach: Anthony Streete
Referee: Keilon Bacchus
Man of the match: Christon Thomas (Police FC)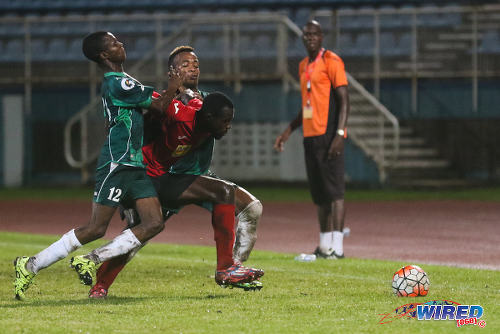 Pro League results
(Friday December 18)
Club Sando 0, Police FC 2 (Christon Thomas 23, 89) at Ato Boldon Stadium;
W Connection 2 (Jomal Williams 41, Shahdon Winchester 60), San Juan Jabloteh 0 at Ato Boldon Stadium;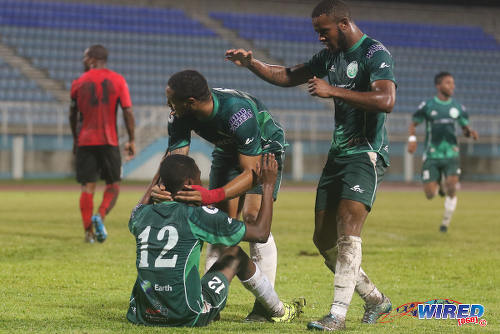 Today's fixtures
(Saturday December 19)
Morvant Caledonia United v Central FC, 3.30 pm, Larry Gomes Stadium;
Defence Force v North East Stars, 4 pm, Hasely Crawford Stadium;
St Ann's Rangers v Point Fortin Civic, 6 pm, Hasely Crawford Stadium.