There will be no CNG National Super League (NSL) teams in the 2015 Toyota Classic semifinal round. Defence Force and Play Whe San Juan Jabloteh saw to that yesterday evening with wins over FC Santa Rosa and Guaya United respectively in quarterfinal action at the Hasely Crawford Stadium in Port of Spain.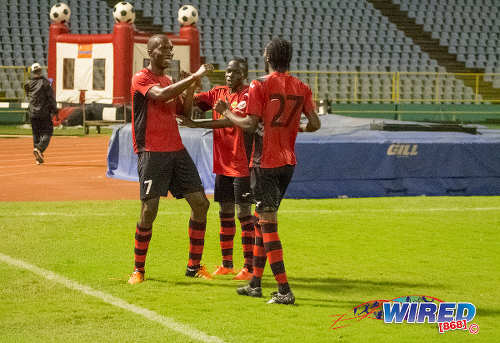 Jabloteh are the defending Toyota Classic champions and they gave some indication of how seriously they view that responsibility with a 5-0 rout of second tier leaders, Guaya.
While "Rosa Nation", whose assistant coach Kenny Thomas passed away suddenly at his home yesterday morning, gave a trademark gutsy and belligerent performance but had to settle for a close defeat, as a second half Devorn Jorsling item ensured a 2-1 win for Defence Force.
Thomas, like Look Loy, is synonymous with a glorious era of the Secondary Schools Football League (SSFL) in the 1990s. For Look Loy, he gave us a Malick Secondary team which introduced Trinidad and Tobago to players such as Arnold Dwarika, Stokely Mason and Shawn David.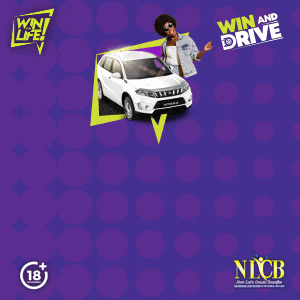 Thomas, as St Augustine Secondary coach, gave us talent like Jerren Nixon, Roger Henry and Michael McComie.
Together, at Santa Rosa, their more recent honour roll included current Trinidad and Tobago National Senior Team defender Daneil Cyrus and past and present national youth team players like Duane Muckette and brothers Jean-Luc and John-Paul Rochford.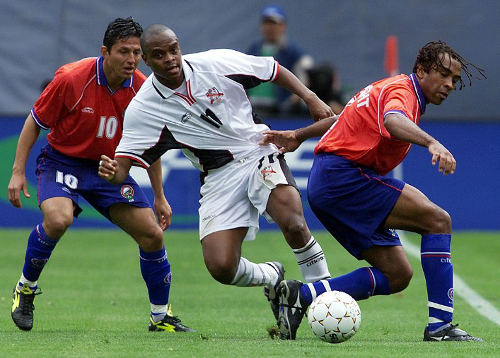 Santa Rosa could not send him off on a win yesterday but surely Thomas could not begrudge their effort.
In the round of 16, Rosa Nation shocked the Defence Force (Super League) team with a 1-0 win. Surely, the Pro League version of the Army/Coast Guard combination would be a step too far.
Yet, at halftime, the score was tied at one goal apiece.
In a lopsided first half, Defence Force dominated proceedings but only had a Jelani Felix item in the 15th minute—a speculative effort from just outside the penalty area—to show for it.
One minute into stoppage time, Rosa were gifted an equaliser as Defence Force custodian Sheldon Clarke came out to claim a cross and, needlessly, decided to teach opposing striker Devon King a lesson. Clarke led with his studs and took out the Rosa striker.
Referee Rashby McPhee ruled, bravely, that the goalkeeper had strayed from protecting himself into the realm of violence and gave a yellow card and penalty kick.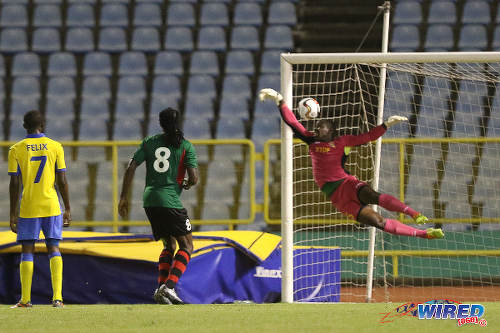 And King took revenge with a venomous spot kick into Clarke's top left hand corner.
Unfortunately, King did not last much longer. He came off for treatment with a torn jersey and bruised arm to show for his clash.
And, two minutes into the second half, King dropped flat on his back and had to be replaced.
By then, Defence Force coach Marvin Gordon had already used their three substitutions. It was a statement to his starting team that did not reap immediate dividends, as the soldiers struggled to regain their absolute grip on the contest with pocket-sized Rosa midfield battle axe, Durwin Ross, becoming increasingly influential.
Rosa winger Al Davidson seemed to get better and better as the game progressed as well and he almost sent Look Loy in heaven with a deflected effort that clipped the outside of the Defence Force upright.
McPhee had a different location in mind for Look Loy, who is as nurturing to match officials as dogs are to cats. It was not Look Loy's first red card for "aggressive behaviour" towards referees. And, more likely than not, it won't be the last.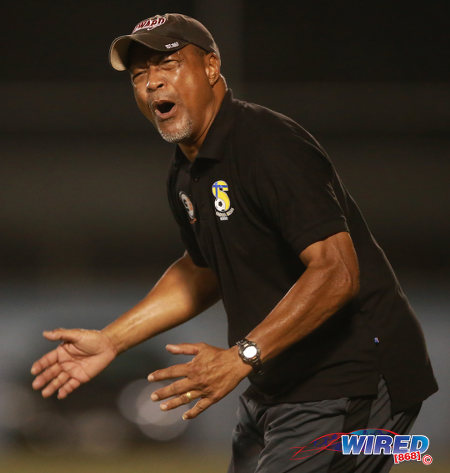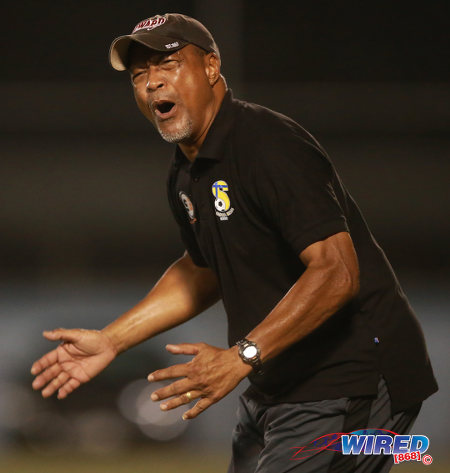 There was a late heart-in-throat in moment for the "Teteron Boys" as Clarke needed to react sharply to keep out another Rochford header. But Jorsling's 77th minute strike, finished clinically from close quarters after a deep diagonal cross from Ross Russell Jr, turned out to be the decisive item.
In retrospect, Guaya might wish they were treated as humanely as their NSL colleagues.
Led by the elegant and measured playmaker Ryan Stewart, Guaya, backed by the vociferous "Green Army", can be a treat to behold on their day. But, one might ask, how would they fare if Stewart did not show up?
Yesterday evening, local football fans got their answer.
Jabloteh's midfield wrecking ball, Jevon Morris, seemed to always be nearby whenever Stewart started one of his trademark surging runs. But it would be flattering Morris to claim that he single-handedly stop the man that Guaya fans refer to as "Veron."
It was simply a poor night for the south-east Trinidad star and no one else stepped forward to provide inspiration.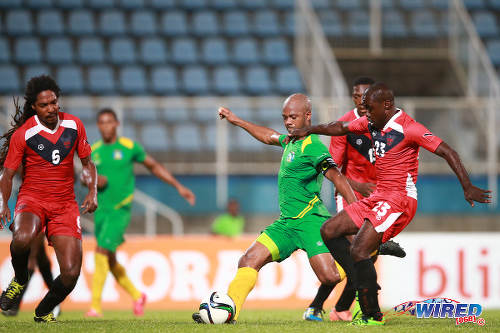 In the end, Guaya were fortunate to concede just five.
Jabloteh were having their way in central midfield while winger Nathan Lewis was in a class of his own. Still, it took a bad error from Guaya for the game's opening goal in the 51st minute.
Right back Leroy Jones slipped as he moved to intercept a simple cross and Lewis passed into the path of striker Jamal Gay, who raced into the Guaya penalty area before stroking past overworked custodian Erskine Johnson.
Johnson was culpable for Jabloteh's second item in the 60th minute, as Fabian Reid's inadvertent cross-cum-shot sneaked in at the near post.
Johnson and Jones combined to stop a remarkable a three shots in succession from Lewis and Gay in the the 67th minute. But Morris, then stationed at right back, got Jabloteh's third in the 75th minute.
Surely it is time to call for a taxi when Morris, more a bouncer than an artist, scores a solo effort.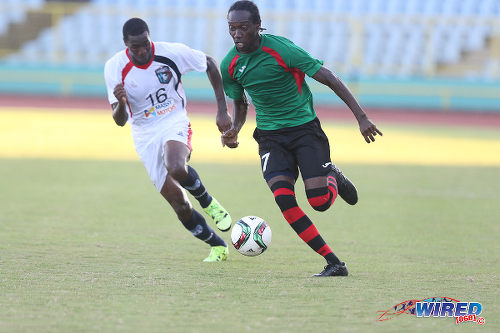 By then, the Guaya midfield all but abandoned their backline in a vain attempt to pull a goal back. And Jabloteh coach Keith Jeffrey sent Tyrone Charles on, in the 76th minute, to take advantage of counter attacking opportunities.
Charles scored with his first touch, after just three minutes, following another attack that featured Lewis and Gay. Four-nil.
Charles should have had a second in the 85th minute but, with Johnson beaten, tried to be too elaborate and his scooped effort dropped on the wrong side of the bar. No matter. He atoned in the 88th minute with a crisp finish at the near post.
And there was still time for Reid to make two comically bad misses, after being left alone with Johnson.
It was a humbling lesson for Guaya, who got this far by eliminating Pro League team, Police FC. But the Toyota Classic will feature only Pro League competitors for the rest of the tournament now.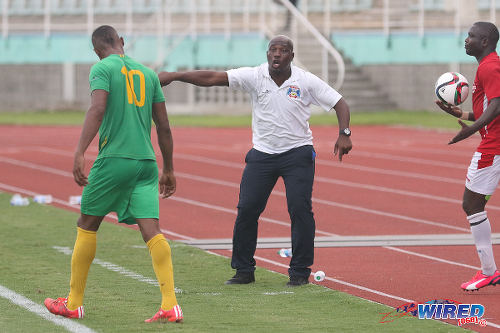 (Teams)
Defence Force (4-1-4-1): 25.Sheldon Clarke (GK); 6.Rodell Elcock, 8.Curtis Gonzales (captain), 21.Aklie Edwards, 17.Ross Russell Jr; 4.Dave Long; 30.Kishun Seecharan, 23.Kerry Joseph, 16.Kellon Serrette (18.Sean Narcis 46), 7.Jelani Felix (13.Marvin Jones 46); 26.Richard Roy (9.Devorn Jorsling 46).
Unused substitutes: 80.Aaron Enill (GK), 2.Glynn Franklyn.
Coach: Marvin Gordon
FC Santa Rosa (4-2-3-1): 22.Kitwana Manning (GK); 3.Kerron Reid, 5.Alfie James, 13.Jovan Rochford (captain), 15.Osei Sandy; 11.Durwin Ross, 16.Jacinto Rampersad (14.Avery Cabralis 31); 20.Al Davidson, 8.Shaka Pilgrim, 21.Jean-Paul Aqui-Blanc; 25.Devon King (12.Nicholas Armstrong 48).
Unused substitutes: 30.Darren Shah (GK), 4.Jeremy McMeo, 18.Shaquille Antoine, 19.Gary Bart, 23.Claudius Howard.
Coach: Keith Look Loy
Referee: Rashby McPhee
Man of the match: Durwin Ross (FC Santa Rosa)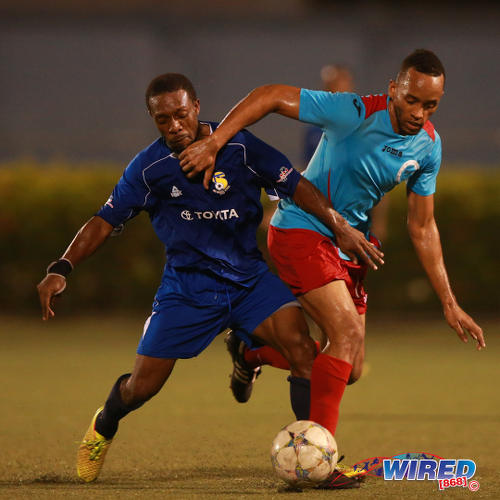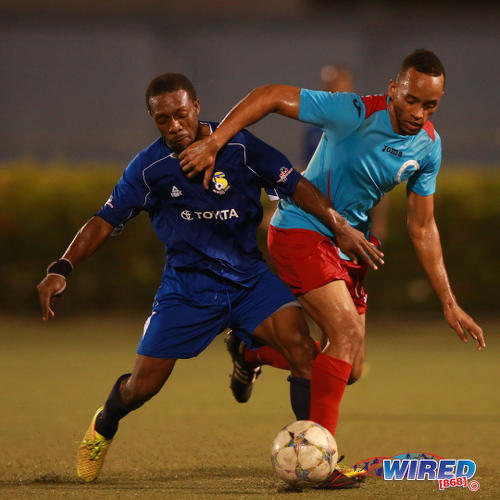 Toyota Classic Quarterfinal round
(Saturday November 21)
Defence Force 2 (Jelani Felix 15, Devorn Jorsling 77), FC Santa Rosa 1 (Devon King 45 pen) at Hasely Crawford Stadium;
San Juan Jabloteh 5 (Jamal Gay 51, Fabian Reid 60, Jevon Morris 75, Tyrone Charles 79, 88), Guaya United 0 at Hasely Crawford Stadium;
Today's fixtures
(Sunday November 22)
Morvant/Caledonia United v Central FC, 4 pm, Ato Boldon Stadium;
North East Stars v W Connection, 6 pm, Ato Boldon Stadium.