A double strike either side of half time by midfielder Jesse Joseph ensured that the "Green Machine" rolled over St Benedict's College in SSFL Premier Division action yesterday, leaping above St Benedict's to seventh place in the process.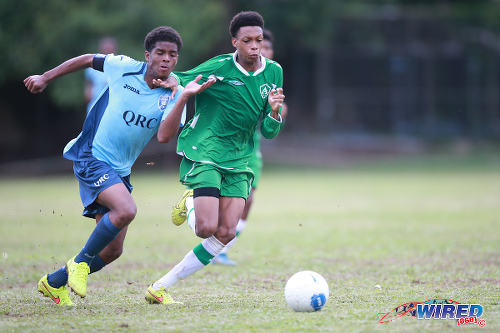 The stylish midfielder treated his schoolmates to a classy showing yesterday in St Augustine and his two goals were worthy of winning any game. As it turned out, Joseph's first strike was the only one really needed as the "Green Machine" slammed three unanswered goals past their southern opponents.
St Benedict's coach Dexter Cyrus, a former Trinidad and Tobago international striker, had more than one reason to be upset yesterday and he started showing his disgust even before the start of the contest. The Benedict's coach marched up and down the near sideline, which looked in dire need of a paint job, as he remonstrated with referee Felix Olivierre and his match officials in vain.
"The markings on the field were horrible today and I don't know how that field got passed," Cyrus told Wired868. "We lost three points to St Anthony's last season because of the fact that they said in the report that the lines were not visible. These lines today were not visible.
"We said that we are playing the game under protest, so we have to lodge a report."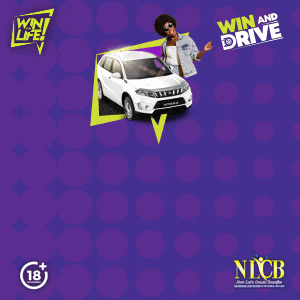 Cyrus may well have a case too.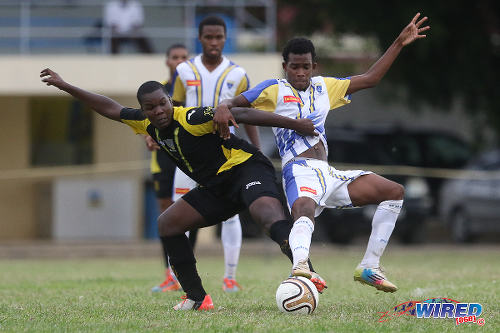 "The match commissioner said that he checked the lines and they were not up to standard, so he's putting it in his report," said Cyrus.
As if to rub salt in the wounds of the St Benedict's coach, St Augustine's first goal materialised down the Green Machine's right flank directly in front of an already perturbed Cyrus in only the second minute.
St Augustine's Isaiah Lee retrieved the ball just before half line and went on a solo run, which looked as though it would yield a corner at best. Lee was able to do much more than win a set piece though as some timid marking by left-back Mickel Ravello and midfielder Vishal Gunness allowed him to pick out attacker Moses Jaikeran, who then neatly turned the ball to Joseph just outside the area.
Joseph created some space by faking his marker before unleashing a right-footed shot which swerved and dipped before escaping the hapless grab of Benedict's goalie Jabari Gray.
Eight minutes later, Gray retrieved the ball from the back of the net for the second time as a lively Lee turned goal scorer with a powerful header, which flew past the Benedict's goalie.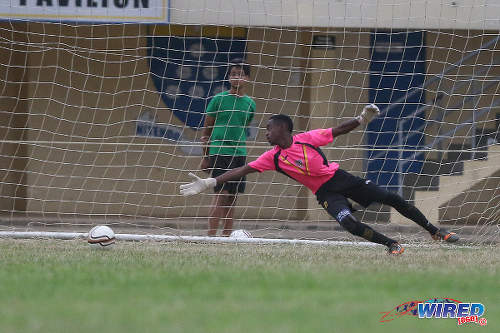 The Green Machine had struck St Benedict's with the force of a Junior Sammy truck.
St Benedict's cut the look of an already defeated team midway through the first half, as they struggled to get beyond St Augustine's central midfield duo of Joseph and Ainsworth Grant.
Joseph strutted around the centre of the park with confidence and that swagger trickled down to his teammates. The Green Machine were well-oiled yesterday and Lee and winger Kenton James looked particularly dangerous on the counter.
The first moment of first half panic for Michael Grayson's St Augustine team came in the 31st minute when goalkeeper Yannic Gamaldo awkwardly collected a harmless looking J'Deem Parris free kick.
Green Machine striker Anthony Samuel also fluttered a few hearts near the stroke of half time as he went down unchallenged near the half line with apparent breathing issues. Samuel was swiftly stretchered into a waiting vehicle and taken to hospital.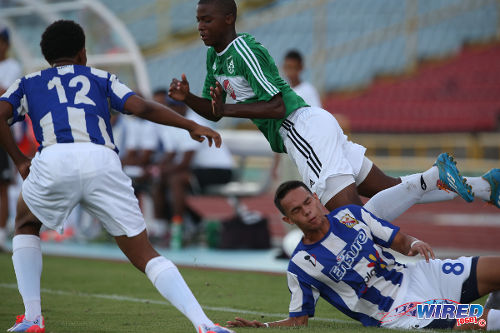 "They have stabilised him," Grayson told Wired868, after the match. "(Samuel) was complaining about shortness of breath and he was also delirious."
Half time substitutes Jeron Pantor and Jevaughn Humphrey brought some life and fight to the Benedict's midfield at the start of the second half but they still created very little. Cyrus pointed out that his team lacked cohesion up top.
"We reached in the last third and players were not sure what to do," Cyrus said.
St Augustine's Joseph definitely knew what to do when he got there, though, and he left Gray clutching at straws once more in the 75th minute as he bent a 26-yard free kick under the dive of the Benedict's custodian.
"Unfortunately Jesse broke his leg early in the season last year against Mucurapo," said Grayson. "We are seeing the best of him from free kicks but the overall passing and so on is still not his best."
If Joseph can get to his best before the end of the season then SSFL fans could be in for something really special.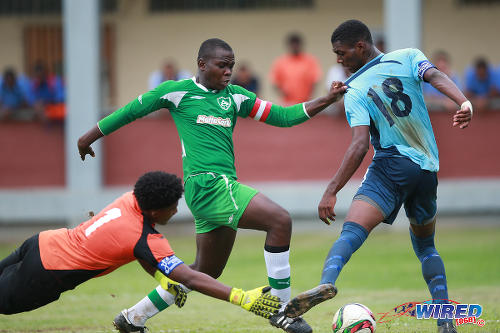 (Teams)
St Augustine (4-2-3-1): 1.Yannic Gamaldo (GK); 14.Tyriq Alexander, 3.Zion Holder, 5.Joshua Marshall (captain), 11.Kendell Boneo; 8.Jesse Joseph, 4.Ainsworth Grant; 19.Kenton James (18.Dike Wilson 70), 10.Moses Jaikeran (13.Darrian Parks 55), 7.Isaiah Lee; 9.Anthony Samuel (21.Akeem Hosten 45).
Unused Substitutes: 17.Tajh Devenish, 24.Shakun Hanley, 25.Allan Hogan, 28.Jhavon Peters.
Coach: Michael Grayson
St Benedict's (4-2-3-1): 12.Jabari Gray (GK); 2.Levi Crawford, 27.Tevin De Boulet, 3.Taryll Coutou (captain), 15.Mickel Ravello; 19.J'Deem Parris (13.Jeron Pantor 46), 8.Kadeem Gittens (6.Matthew Joseph 55); 20.Kerwin Mitchell, 16.Vishal Gunness (23.Jevaughn Humphrey 46), 14.Shaquille Du Boulet, 10.Shemar Ravello.
Unused Substitutes: 1.Jaspar McLeod (GK), 4.Tyrese Pierre, 22.Caleb Gaspar, 25.Deturi Boucher.
Coach: Dexter Cyrus
Referee: Felix Olivierre
Man of the Match: Jesse Joseph (St Augustine)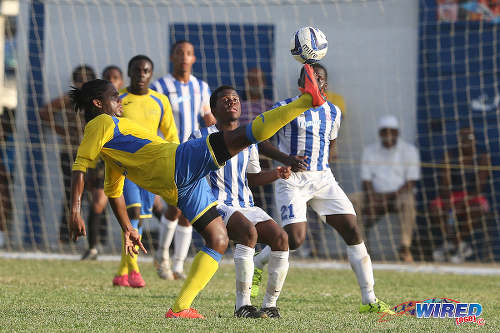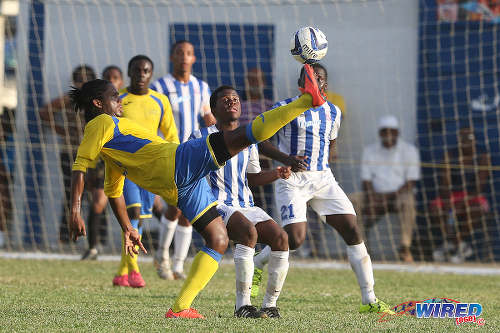 SSFL Premier Division results
(Wednesday October 7)
Naparima College 5, Trinity College East 1
Shiva Boys HC 1 (Yohannes Richardson 78), QRC 1 (John-Paul Rochford 6)
Fatima College 1, St Anthony's College 2
Speyside High 0, St Mary's College 5 (Ethan Shim 25, 28 & 60, Aaron Skeene 65, Darrion Campbell (OG) 90
St Augustine 3 (Jesse Joseph 2, 75, Isaiah Lee 10), St Benedict's College 0
Fyzabad Secondary 3, San Juan North 1
Carapichaima East 1, Trinity College Moka 1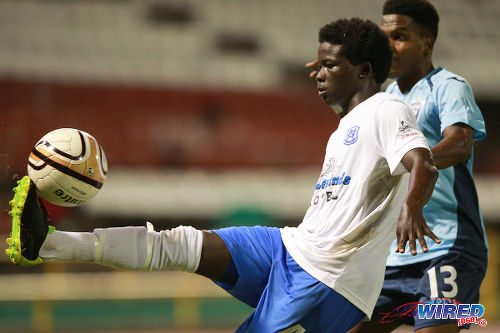 Standings (Tabulated as Played-Won-Drew-Lost-Goals For-Goals Against-Points)
Naparima College  8-6-1-1-15-4-19
San Juan North      9-6-0-3-16-9-18
Shiva Boys HC         8-5-2-1-12-5-17
Presentation SF      8-5-2-1-16-10-17
St Mary's College   9-5-1-3-20-8-16
QRC                              9-3-5-1-11-8-14
St Augustine Sec    9-4-2-3-14-12-14
St Benedict's            8-4-2-2-10-10-14
St Anthony's            7-3-2-2-11-12-11
Trinity Moka           8-2-3-3-14-15-9
Fyzabad Sec             8-3-0-5-11-15-9
Fatima College       9-1-3-5-13-16-6
Carapichaima E     9-0-4-5-6-17-4
Speyside High         8-1-1-6-9-21-4
Trinity East              8-0-0-8-5-22-0