First, the good news for St Mary's College football fans. The Shiva Boys Hindu College team eventually gave the "Saints" their ground back this evening.
But, just to be on the safe side, perhaps CIC coach Ryan Shim should have a priest and trauma counsellor on hand for their next trip to Serpentine Road, St Clair.
The final score read 3-1 to Shiva but, for those who witnessed the affair, it was so much worse.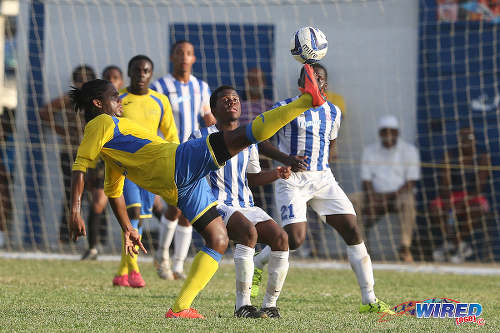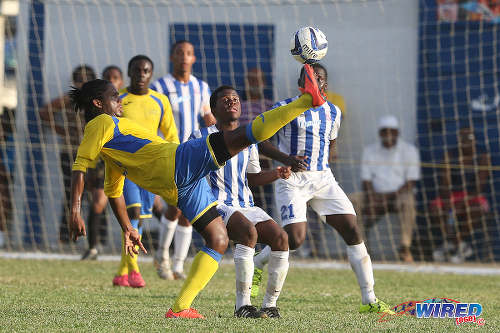 "It was very very difficult for us today," Shim told Wired868. "Once we got behind, we chased the game a bit but it just didn't happen for us in the end…
"We did all we could do today."

St Mary's striker Chinua Bernard put in a good shift and, fittingly, got the lone goal for the hosts. But they lacked the poise and purpose of a Shiva team that is now third in the 15-team table.
Shiva Boys trail leaders, San Juan North Secondary, by two points, although the Penal-based school has a game in hand.
"We have a lot of work to do," said Shiva coach Hayden Ryan. "We are seeing in spurts what we can do. And sometimes things just falling apart."
There are indeed occasions when the Shiva Boys outfit looks like a make-shift, extempore band of liming partners.
But the beauty of Ryan's outfit, which was crafted over the years by former "Strike Squad" defender Dexter Francis, is that, on the ball, his troops play with a single philosophy.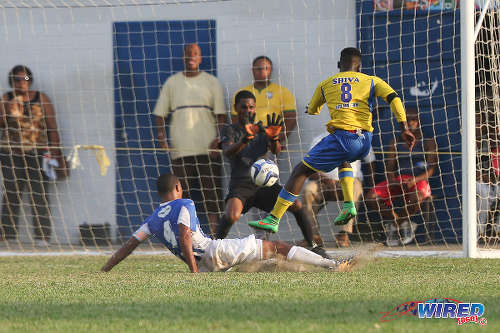 Their style of play could be summarised as: pass, pass, pass and wait for a winger to get possession while facing his marker. And then Shiva goes from zero to 100 really quickly.
Quinn Rodney, who started on the right flank but ended the match at centre forward, was decisive today although he did not get on the score summary. Tyrell "Pappy" Emmanuel, as always, was peerless in central midfield. And the two combined for the opener in the 24th minute.
Rodney zipped past two opponents on the touchline and whipped in an inviting cross at the far post where Pappy steered his header past St Mary's custodian Kristopher Donaldson.
"They looked a well knit unit," said Shim. "They had a lot of pace and power in wide areas and they look good in the middle of the park also."
St Mary's did respond though. Bernard was a whisker away from the opener himself, just seconds before Pappy struck, and the versatile 17-year-old attacker conjured up an equaliser for the Saints in the 36th minute.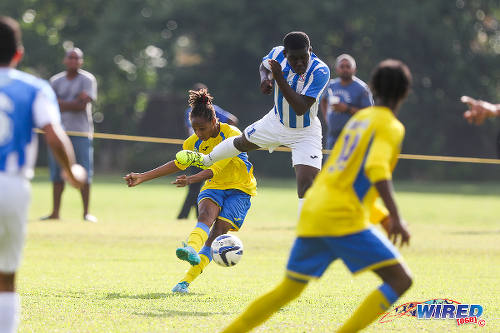 There seemed to be little on when Bernard glided away from an opponent on the left side of his opponents' penalty area. But Shiva goalkeeper Denzil Smith's mind was elsewhere and the St Mary's student surprised him at his near post.
The scoreline flattered the hosts, though, and Tyrell "Sexy Man" Baptiste corrected that, three minutes before the interval, as he spun between his markers and drove Shiva back into the lead with a finish into the far corner.
Baptiste started the season on Shiva's bench but yesterday's strike was his third in as many matches. Maybe Ryan has found his 'number nine.'
The Saints were a shell of their old selves in the second half as Shiva players strode around the St Clair ground as though they had just bought the place.
By then, Pappy had begun to fade and he eventually left the field on a stretcher and clutching his heart. He seemed okay after the whistle and Ryan insisted that it was a gas pain.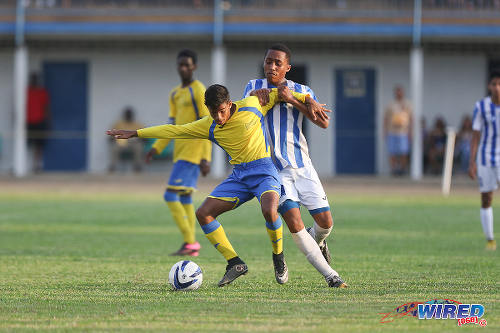 "He didn't eat properly (over the years), so he would sometimes get gas pains," said Ryan. "But he will be okay."
After the tragic deaths of former Trinidad and Tobago World Youth Cup defender Akeem Adams and CONCACAF Gold Cup player Kevon Carter, one hopes that Ryan's prognosis is supported by a doctor.
There was nothing in blue and white stripes to worry Shiva in the second half.
Attacking midfielder and stand-in captain Shaquille John picked up where Rodney left off.
In the 56th minute, John cleared the bar by inches with a left footed drive, after a pass from Baptiste. A minute later, he crashed a swerving 25 yard free kick off the bar.
Then, in the 58th minute, John finally got his goal, as he prodded home from close range after Donaldson spilled a Rodney effort.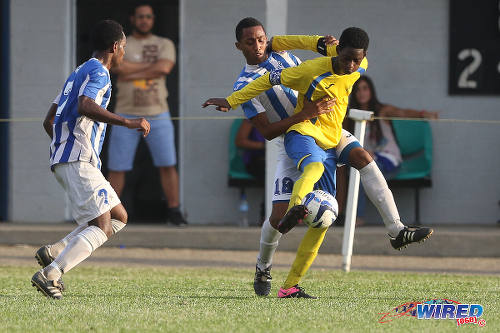 Ryan immediately introduced 15-year-old Judah Garcia, the younger brother of national youth players and former Shiva stars Nathaniel "Spanish" Garcia and Levi Garcia. (Shiva Boys could probably open a Garcia wing at the school since their cousin, Isaiah Garcia, played at left back yesterday).
As chants of "Judah! Judah!" went up from Shiva Boys supporters, there was a feeling that Serpentine Road was about to witness something special.
The pint-sized Garcia, who actually made his SSFL Premier Division debut last year under Francis, did not lack confidence and he buzzed around in centre midfield, looking for passing opportunities and defenders to take on.
His elder teammates passed him the ball on request without fail. But, despite some flashes of potential and neat touches, he did not quite produce anything really memorable. There is little doubt that it will come though.
"It is the first time he got a 'wet' (this season)," said Ryan. "We believed this was the right game to give Judah a knock and he didn't do badly…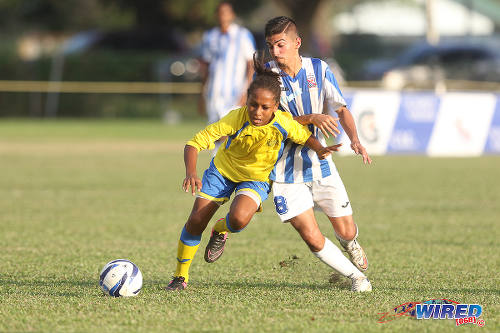 "He is a genius in collecting and passing the ball."
In the other camp, St Mary's own talisman, Ethan Shim, was a shadow of himself and his father and head coach, Shim, took him off in the 61st minute.
"I don't want to make an excuse," said the St Mary's coach, "but he had his SAT exam today and he came out of it around 1.30 pm.
"He had been studying for it over the last couple of nights as well."
Hopefully, Shim did better at SAT than he and his teammates did on their Shiva test.
The elder Shim was gracious in defeat.
"I think my boys gave a great effort," said Shim. "There wasn't much more that we could do. I must take off my hat to Shiva."
Ryan suggested his boys have not peaked yet. If they do hit top gear this season, it would be difficult for anyone to match them.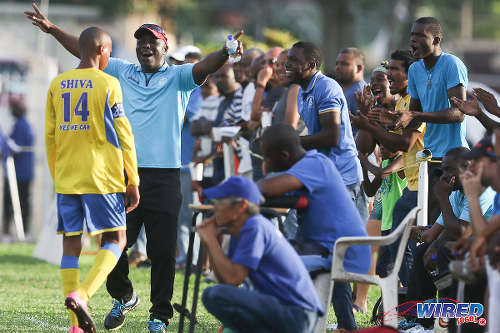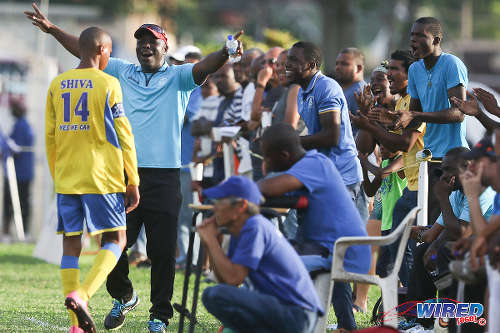 "We are getting there," said Ryan. "We are playing better and better every game."
Naparima College assistant coach and former Trinidad and Tobago international midfielder Travis Mulraine was at Serpentine Road to witness Shiva's progress first-hand.
Last year, "Naps" battered Shiva 6-0 at Lewis Street, San Fernando on the final game of the season to win the inaugural Premier Division title. This season, the two southern schools will meet in San Fernando again for the penultimate game of the competition, three weeks from now.
It should be a mouth-watering clash.
(Teams)
Shiva Boys HC (4-2-3-1): 24.Denzil Smith (GK); 15.Jabari Graham, 13.Ryan Davis, 5.Jerome Samuel, 8.Isaiah Garcia; 11.Yohannes Richardson, 6.Tyrel Emmanuel (17.Mark Ramdeen 76); 7.Quinn Rodney, 33.Shaquille John, 14.Ronaldo Edwards (10.Judah Garcia 60); 19.Tyrell Baptiste.
Coach: Hayden Ryan
St Mary's College (4-2-1-3): 1.Kristopher Donaldson (GK); 13.Nicholas Emmanuel, 4.Jerome Dempster-Babb (captain), 3.Emilio Saunders, 6.Samuel Affonso; 21.Nathan Harte (5.Howard Sabga 90), 7.Matthaeus Granger; 8.Daniel Conocchiari (22.Kyle Mowser); 10.Aaron Skeene, 9.Chinua Bernard, 19.Ethan Shim (18.Joshua Joseph 61).
Coach: Ryan Shim
Referee: Kern De Souza
Man of the Match: Quinn Rodney (Shiva Boys HC)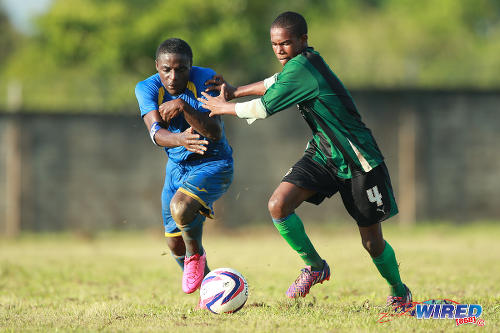 SSFL Premier Division results
(Saturday Oct 3)
St Mary's College 1 (Chinua Bernard 36), Shiva Boys HC 3 (Tyrel Emmanuel 24, Tyrell Baptiste 42, Shaquille John 58) at St Mary's;
San Juan North 2 (Brent Sam [2]), Speyside High 0 at San Juan.
Trinity College East 0, Fatima College 3 (Jahreed Murray 6, Jonathan Casimire 12, Keyon Williams 30) at Trincity;
St Anthony's College 3, St Augustine 3 at St Anthony's;
QRC 0, Presentation San F'do 0 at QRC;
San Juan North 2 (Brent Sam [2]), Speyside High 0 at San Juan;
St Benedict's College 3 (Shemar Ravello, Kerwin Mitchell, Levi Crawford),  Carapichaima East 0 at Mahaica Oval;
Trinity College Moka 1, Fyzabad Secondary 0 at Moka.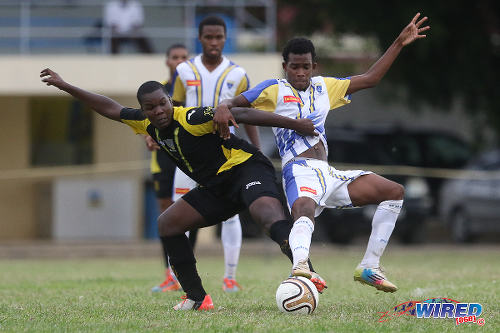 Standings (Tabulated as Played-Won-Drew-Lost-Goals For-Goals Against-Points)
San Juan North      8-6-0-2-15-6-18
Presentation SF      8-5-2-1-16-10-17
Shiva Boys HC         7-5-1-1-11-4-16
Naparima College  7-5-1-1-10-3-16
St Benedict's             7-4-2-1-10-7-14
St Mary's College    8-4-1-3-15-9-13
St Anthony's              7-3-2-2-11-12-11
St Augustine Sec     8-3-2-3-11-12-11
QRC                               7-2-4-1-7-5-10
Trinity Moka              7-2-2-3-13-14-8
Fatima College          8-1-3-4-13-14-6
Fyzabad Sec               6-2-0-4-6-11-6
Speyside High           7-1-1-5-9-15-4
Carapichaima E        8-0-3-5-5-16-3
Trinity East                 7-0-0-7-4-17-0