"I think that players need to seek their own interests, go to the gyms, get stronger, faster (and) fitter," Tamar told Wired868. "When we come into the national or international realm, we should be ready so the coaches should only have to do tactical and team bonding work."
Tamar Watson continues to defy all odds and prove to Trinidad and Tobago that she is more than a survivor. On January 4th, 2009, Trinidad and Tobago lost its boxing champion, Giselle Salandy, in a motor vehicular accident on the Beetham Highway. That day, Watson, who was in the car and seriously injured, started the most gruelling battle of her life.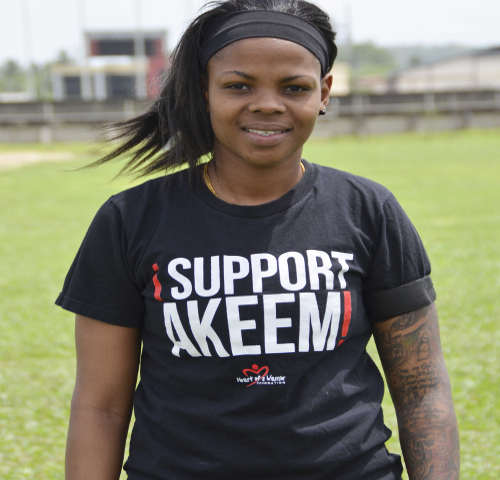 Watson at the time was on an international football scholarship and also on the National Women's Team.  Her injuries, which included a broken leg, were a devastating blow to her football career, and many said she could not recover from them.
She recounted the years of painstaking physiotherapy at Petrotrin Medical and Floyd Rehabilitation Centre in Georgia(USA) that saw her regain the use of her legs; first to walk and, eventually, to get back on the field to play the beautiful game.
Even today she is taking life and its challenges head on. Watson loves the fitness aspect of sport and is currently playing in the Women's Premier League for the Chancellor Angels. She often has to rush from work at SM Jaleel as a Preventative Maintenance Coordinator to get to training most days, making her commitment clear to coach Anthony Creece and her teammates.
Through all her challenges, she stays focused and confident. Wired868 met up with Watson for a chat at the Manny Ramjohn stadium to get a first-hand account of her rise from the ashes to the Angels.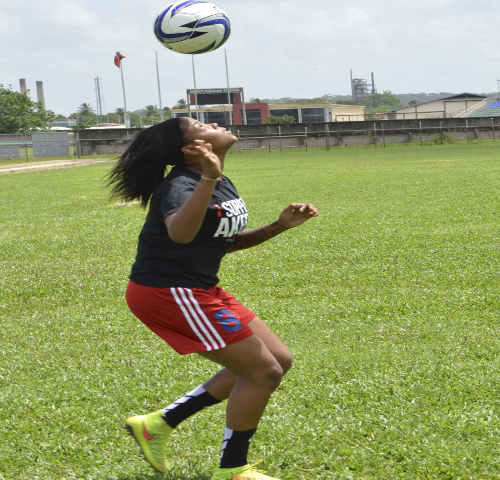 Date of birth:  30 December 1987
Home Town:  Vessigny Village, La Brea
Last School attended: I played four years on a full scholarship for Shorter University in Atlanta, Georgia.
Can you describe yourself as person?
I think I am free spirited. Some people I am serious and unapproachable but I am a cool, calm and relaxing type of person. I love to make jokes and some people tend to think of me as the class clown or the "fun" type, the life of the party I guess.
What is something most people do not know about you?
My life is an open book.
What do you enjoy doing in your free time?
I enjoy hanging out with friends and family and just being around the people I love more than going to parties.
What pushes you to succeed?
My inner drive, the motivation within me, knowing that I can achieve more and be better than I was yesterday. That motivates me to push myself and go further and further in life.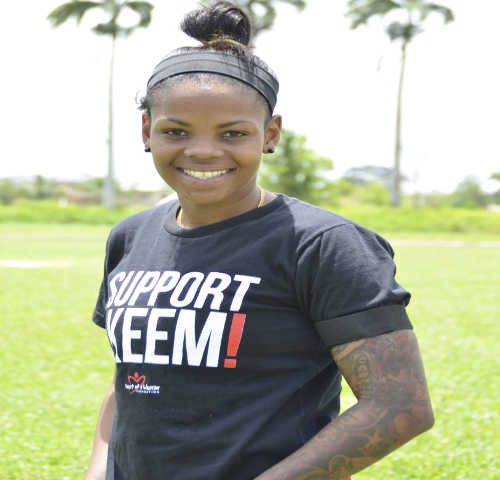 Who is your favourite player?
Ronaldinho
What is your favourite team?
My favourite team would be Barcelona, I love (them) with all my heart. I think that Barcelona is the best team in the world! Nobody oppose me for that because I will get on real bad!  They have good unity and I like the style of football that they play.
How did you start playing football?
I  started playing street ball in Vessigny with all the guys. I was the only little one running around with all the big guys. And then I developed the basics and moved on from there.
What is your earliest football memory?
Playing with the older guys back home in Vessigny in a sports day… I slide tackled a guy which was an amazing defensive move. I got up and ran back on the field not knowing my eyes were swollen, black and closed down. It was bittersweet having made a great defensive move for my team but having to end up in the hospital for the rest of the afternoon.
Who was your most important coach/coaches and why?
I have two important coaches. Firstly, Jamaal Shabaaz was the one who brought me to the realm of taking football to another level. He taught me the basics, how to be calm and cool when I am playing. The next one would be Josh Severns from Shorter University (Georgia, USA). He was the one that told me I need to "suck it up and stop being a baby. Stop crying, and get out there and get the job done. Be professional about it…"
What makes you stand out as a player?
I believe my maturity makes me stand out, my ability to be cool and calm and motivate my team mates.  Also I'm left footed, I think that's unique. There are not much left footed footballers in Trinidad and Tobago.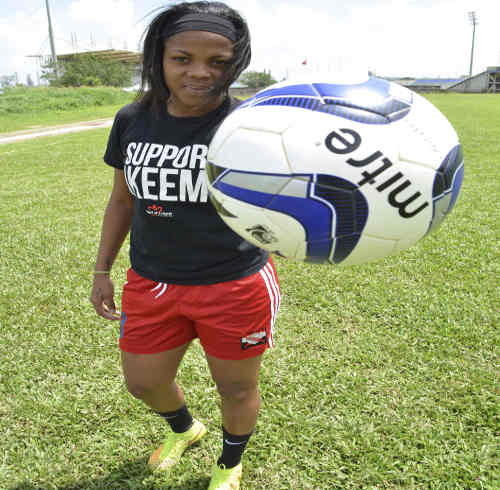 What is your best moment in football so far?
I believe in 2008, it was the ending of the women's league at that time; I was registered to play with Real Dimension although I was playing abroad in college. I just visited with my friend (Giselle) Salandy to watch the semi final game and the coach asked me to take part in the game… I borrowed a football boots from Dale Saunders I think… We were playing against Joe Public, I scored an amazing goal for the team and that helped push the us through to the final. It made play of the day and play of the week. I celebrated like a boxer because my friend (Giselle) was a boxer and she was in the stands.
What is your personal target for this season?
I want to see a lot (of development) in terms of my ability to play. To make a comeback and to play at next level, that's what I'm pushing for.
What is the team target for the season?
Team Angels want to make a great bond. There are a lot of players from different countries. Some of the languages, most of us don't understand, so as a team we just want to put our best foot forward.
Pros and Cons of the WPL?
It is an amazing feeling to play in a league this standard and structure because we have never had it before. The response from the crowd is amazing, it wants you. It makes you want to go out there and perform at your best.
Describe the journey back to fitness after the accident in 2009… 
(It) has been the hardest thing I've ever had to do. Mentally and emotionally I was (broken) and obviously physically I was in the poorest condition. It started off with me being in a wheelchair for almost seven months and then progressing to crutches. I was in crutches for about three to five months and then I had a walking stick.
I started realising that my body was not the same and probably will not be the same but I pushed for it, I worked hard and continued to strive and strive. And here I am today playing in the WPL (and) I think that my ability to play is just as any other on the field right now.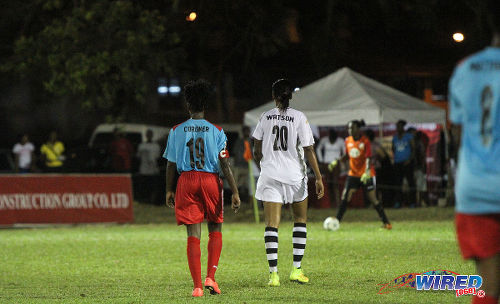 Remembering Giselle Salandy… Everyone that knows me knows that Giselle is my number one motivaton. I wear this band (pointing to black armband on her left hand) on my hand everytime I play, everytime I touch the ball it signifies I know she is still here with me.
The way forward for football in Trinidad and Tobago?
I think that players need to seek their own interests, go to the gyms, get stronger, faster (and) fitter. When we come into the national or international realm, we should be ready so the coaches should only have to do tactical and team bonding work. We (would) already be at the (right) fitness level and our game itself would be at a high peak. It would definitely make it easier. As long as we go out there and we show results, I think country would be forced to show interest.