Trinidad and Tobago National Women's Team captain Maylee Attin-Johnson came off the bench to score a late equaliser today as the "Women Soca Warriors" held Argentina 2-2 in their opening Toronto 2015 Pan American Games fixture.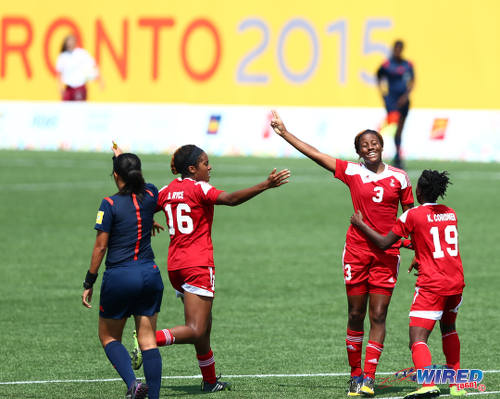 The Women Warriors trailed Argentina twice but, on each occasion, displayed typical resilience to claw themselves back level.
Argentina goal poacher Marianna Larroquette, who has well over 100 league goals for River Plate, put the South American nation ahead in the 52nd minute after the inattentive Trinidad and Tobago defence failed to cut out a cross. But, within seven minutes, CNGC Rush attacker Mariah Shade equalised for the "Red, White and Black" after a scorching run and cross from winger Ahkeela Mollon.
It was then the turn of the substitutes as Belen Potassa restored Argentina's advantage in the 88th minute, just five minutes after she entered the field of play.
Remarkably, the Warriors were able to go up a gear again as Angels star Attin-Johnson, who replaced Karyn Forbes in the 72nd minute, pulled off a last gasp leveller with a predatory close range strike after Argentina, with all 11 players in their own penalty box, could not clear a Mollon free kick..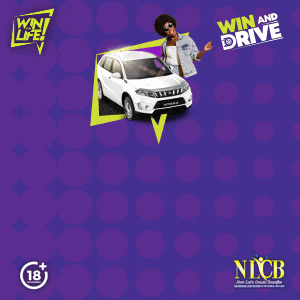 The result means that new women's interim head coach Ross Russell, a former Trinidad and Tobago international goalkeeper and Defence Force technical director, starts his stint on a positive note.
While the W/Warriors, who nearly boycotted the competition due to a row over match fees, again proved themselves to be the Trinidad and Tobago Football Association's (TTFA) most successful team.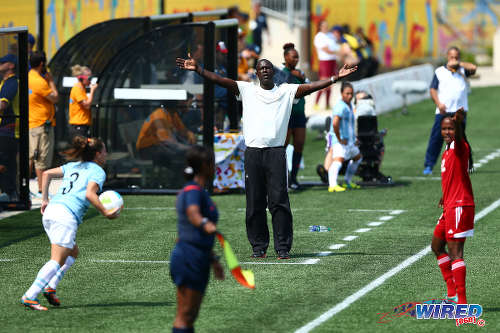 "The team took a little long to settle in," Russell told the TTFA Media. "The Argentines settled before us but once we did that, we started to look good and play our game.
"The strategy going into the game was to be careful at first and once settle in, we would play our game which is more attacking through the wings. The Argentines were a bit slow on the wings."
But it will not get any easier for Russell's ladies in the Pan Am competition.
The Trinidad and Tobago women are ranked 48th in the world by FIFA, which is six spots higher than the Ecuador team that edged them to a Canada 2015 World Cup spot. Argentina are 36th.
However, the W/Warriors' next two opponents, Colombia and Mexico, are 25th and 26th in the world respectively. Only the two top nations in the group will advance to the semifinal round.
Russell started with a fairly conservative team that maintained the longstanding attacking trio of Kennya "Yaya" Cordner, Ahkeela Mollon and Shade but chose the workmanlike combination of Brianna Ryce, Karyn Forbes and Janine Francois in midfield.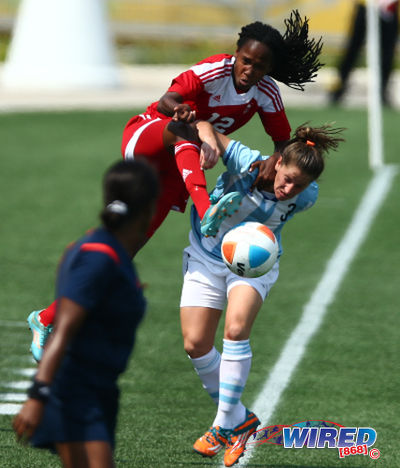 It was a more offensive Trinidad and Tobago team after the interval, though, as veteran attackers Tasha St Louis and Attin-Johnson were introduced, after Larroquette put Argentina ahead.
Match statistics suggested that the Warriors deserved their point.
Argentina shaved the possession at 51 percent against 49 for Trinidad and Tobago while there were eight shots on target each and the W/Warriors led the corner kick count by four to two.
In the 80th minute, with the score locked at 1-1 after Shade's response, Russell introduced versatile defender Lauryn Hutchinson for his goal scoring forward. But Potassa threatened to make the Caribbean team pay with a 88th minute item, which seemed certain to be the game winner.
Attin-Johnson had the last laugh, though.
"The result is a good one because I thought we did well to come back twice to get a share of the points," said Russell. "I think we can do a lot better in the upcoming games. Once we settle down and play our style, I believe we will be a force to be reckoned with in this group."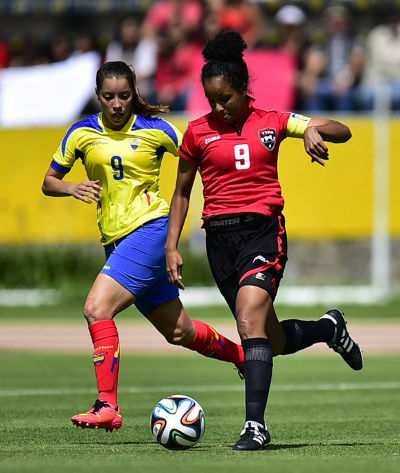 (Teams)
Trinidad and Tobago: 1.Kimika Forbes (GK); 4.Rhea Belgrave, 2.Ayanna Russell (captain), 5.Arin King, 8.Patrice Superville; 16.Brianna Ryce, 11.Janine Francois (10.Tasha St Louis 63), 14.Karyn Forbes (9.Maylee Attin-Johnson 72); 12.Ahkeela Mollon, 3.Mariah Shade (15.Lauryn Hutchinson 80), 19.Kennya Cordner.
Unused substitutes: 21.Shalette Alexander (GK), 6.Khadidra Debesette, 7.Dernelle Mascall, 13.Shenelle Henry
Coach: Ross Russell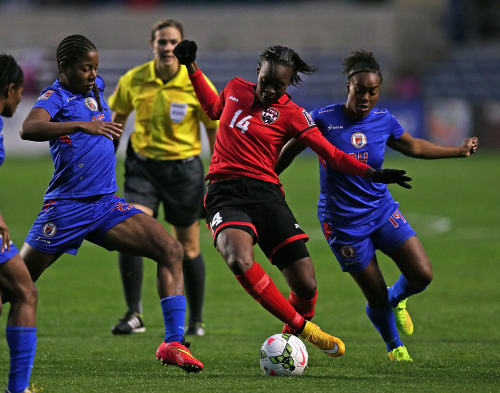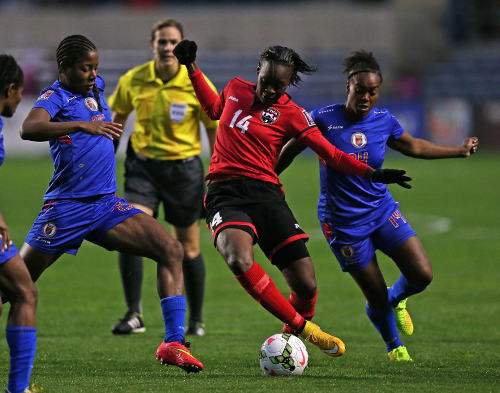 2015 Pan American Games 
Women's results
(Sat July 11)
Trinidad and Tobago 2 (Mariah Shade 59, Maylee Attin-Johnson 90), Argentina 2 (Marianna Larroquette 52, Belen Potassa 88) in Toronto;
(Tue July 14)
Trinidad and Tobago v Colombia in Toronto;
(Sat July 18)
Trinidad and Tobago v Mexico in Toronto.