The IOC did what FIFA would not
December 8, 2011, IOC HQ, Vidy: I was shocked. I had not seen President Jacques Rogge for two years and this late afternoon in Lausanne, as he settled in his chair at the press conference, he looked like a cadaver and spoke like he would be one sometime next week.
Was he told today he has cancer? I asked one of his aides.
'No, he's always like this when there's bad news.'
The first part of Rogge's bad news was already public. Four days earlier João Havelange, the longest serving member of the Committee had resigned, in disgrace, to avoid further public humiliation.
To avoid having to kick him out, the IOC had briefed reporters off the record that the recommendation on the table in the IOC boardroom was a two-year suspension for taking ISL's money. Havelange got the message and quit.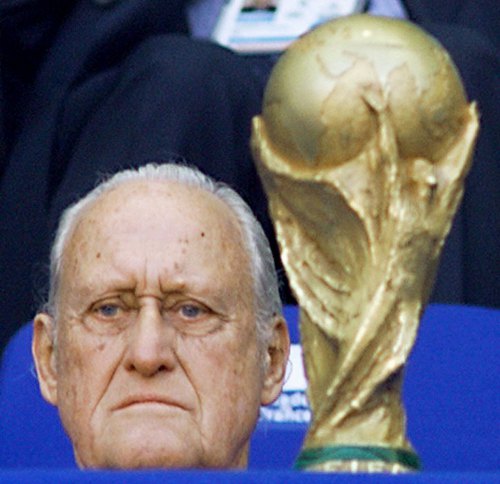 I had travelled by train from the north of England, through the Channel Tunnel, stopped off for a meeting in Paris, on to Geneva and finally to Lausanne.
Snow was on the mountains, the lake gleamed in the winter sunshine, retired couples walked little dogs in the parkland of this most bourgeois of cities.
I wanted to see what the IOC would have to say about the ISL bribes list. Even though Havelange had been allowed to creep out of the back door, we had named IOC member Issa Hayatou and fellow member track and field boss Lamine Diack was also in play.
A week after we transmitted the list on BBC Panorama we were visited by an official from the IOC's Ethics Commission. They wanted a copy. Blatter and his degenerate FIFA would not, dare not investigate – but the IOC would.
This needed careful planning. The source had to be protected. In the weeks that followed my producer James Oliver negotiated with the source and the IOC and a handover was agreed.
An Olympic source called me saying, 'I think you would want to be here!'
So here I was, entering the glass and marble palace, greeting familiar faces and heading for the room where Rogge would hold his press conference.
Rogge welcomed us and announced, 'We had the proposal of the Ethics Commission and the Executive Board upheld the proposal of the Ethics Commission and issued a warning to Mr Diack and a reprimand to Mr Hayatou.'
That was it! All over. Thirty-two words in twelve seconds!
Where was Havelange, the big fish in this tiny pond?
A reporter asked, 'How seriously do you take this case?'
Miserably the IOC president responded, 'It's always sad if you have to discipline colleagues.
Another inquired, 'What did the Ethics Commission say the two gentlemen had done wrong. That hasn't been made clear to us yet and is there any possibility we can see the reports of the Ethics Commission so we can see for ourselves the process that was gone through and the thinking behind it?'
Rogge would not answer such a direct question. But I hadn't travelled hundreds of miles for this cold jelly of a meal.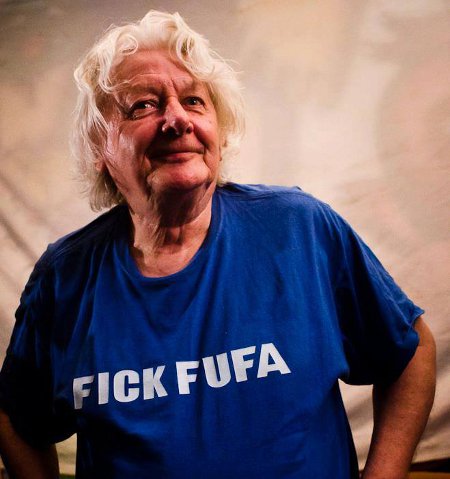 I heaved myself upright; 'Just over a year ago the BBC transmitted the documents showing that João Havelange had taken a million dollars from the ISL company, a kickback on a marketing contract. Please, can we see the report of the Ethics Commission and what their recommendation was before he resigned.'
Rogge appeared to be slipping into a terminal coma.
'The reports of the Ethics Commission are confidential – the proposals to the Executive Board are public. And are published.'
I had another go. 'Did you see the one on Havelange, did it disturb you, did you have any emotional reaction to it?'
'Mr Jennings, I have no emotions on this day, I have a task to fulfil, I have duties to respect. I am not there to display my emotions.'
I tried again. 'What did you think of that report on Havelange, please?'
Rogge: 'I keep my thoughts to myself. Thank you very much.'
Another reporter took up the struggle to prise open this oyster. 'Were you disappointed that Mr Havelange resigned and therefore you were not able to be seen to be doing justice to his case?'
'As I said before, I am not here to talk about my feelings and my emotions. I received the resignation of Mr Havelange – it was endorsed by the IOC Executive Board as a result of that Mr Havelange was no longer an IOC member. For us he is a private person.'
The presidential monotone continued.
'May I, even without a question, the IOC has shown it respects its rules, that we had a high respect of ethical behaviour and that we do not hesitate, when needed, and when the evidence is brought to us.'
I had one final go, 'The wider world, President Rogge, is now very well aware of the $100 million bribery scandal from ISL into sports organisations. Are you confident that after announcing today's decision, that Havelange is off the hook, that the wider world will believe that the IOC is facing up to its responsibilities dealing with corruption?'
Rogge interrupted me. 'I am sorry Mr Jennings. I think the wider world will agree and acknowledge that the IOC means business and that the IOC is accountable and transparent.'
That was it.
December 17, 2011, Tokyo: Lobster time again! Blatter and his ExCo are at the Ritz-Carlton for their annual Christmas party.
The lobster sushi, a special favourite of Chuck Blazer who chairs the organising committee, is catered at the conclusion of the Club World Cup.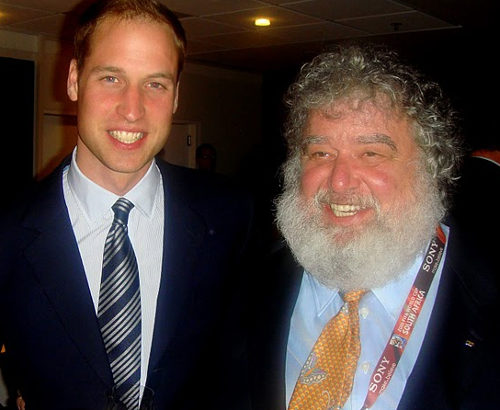 Corinthians won. The Belly knows it will be his last free banquet. Investigators are closing on him and his two decades of helping himself to football's millions.
They gather around Hayatou, drinks in hand, laughing, congratulating him. His escape at the IOC with only a tiny wrist tickle from Rogge is hilarious.
More drinks! FIFA's paying! Blatter is triumphant!
He tells a press conference, 'As for Mr Hayatou, there is no action required there. He was issued with a reprimand by the IOC regarding a very old case, but he is still a member of high standing with them and with FIFA too. There is no need to instigate any kind of inquiry because the executive committee trusts and supports him fully.'
Blatter mourns that he is not yet permitted to publish the Hildbrand report – 'a subject dear to my heart.'
He doesn't tell the reporters that he is still fighting against disclosure. Neither does he reveal, five days later, the rejection, again, by the Zug Court of the attempt by him and the still not named Havelange and Teixeira, to block publication.
January 8, 2012, Rio: Havelange, now isolated and disgraced, is reported saying, 'Until the end of my life I will never forget what that British journalist did to me.'
But he doesn't stop fighting disclosure of the Hildbrand report. Blatter has now dropped out, advised by his lawyer that they can't win — but leaving the Brazilians to continue the stalling.
The next month, Havelange and Teixeira now sharing a lawyer to reduce costs, appeal again. They win more months of delay while we have to waste time and money again refuting their empty arguments.
Blatter gives an interview to a German football magazine and blames FIFA's problems on 'Investigative journalists in England.' He adds, 'I've been trying to release this exasperating ISL dossier for a long time. I'd be ready to do that today if only the court would allow it.'
Separately he comes up with a new plan to block the revelations. Apparently it is a complex document and would first have to be studied by 'legal experts.' Fortunately, we never hear any more of this gambit.
Into the New Year and Blatter is off in his executive jet to Paraguay to prop up Nicolás Leoz at Conmebol's Congress in Asuncion. The main theme is 'the independence and autonomy of the member associations.'
That is their code for opposing governments or police officers investigating their corruption.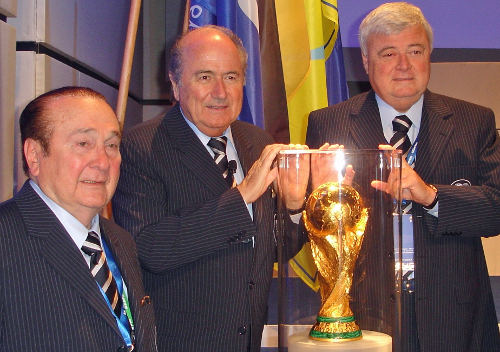 With Leoz safe, Blatter directed his jet to fly across the Atlantic to Libreville in Gabon to give similar support to Issa Hayatou at the CAF congress. Hayatou runs African football with an iron grip and not surprisingly the gathering passed a somewhat odd motion attacking the IOC.
It began, 'The general assembly denounces the strategy by which the African sports movement and its officials are used as scapegoats by those who seek by all means to cover their tracks.' Hayatou would have drafted this gibberish; what on earth was going on in his mind?
It went on, 'We note the president of CAF has in the past been the target of an unpleasant campaign.'
Again, the visiting Blatter plugged his demand for the autonomy of his corrupt associates.
He told puzzled reporters, 'As you can see, "Work hard, love football" continues to be my motto.' Raising his voice he declaimed, 'For the game. For the World.' Then he got back on his ozone-busting jet and returned to Zurich.
THE LAWYER acting for the two Brazilians came up with a final, derisory argument. Maybe the report should be revealed to the media – but Messrs Tanda and Oliver were 'private persons' so it could not be given to them. Both men of course were journalists working for major media organisations and both had been reporting on FIFA corruption for years. The dispute was now on its way to be decided finally by Switzerland's Federal Court.
But Teixeira would not be around when judgement was delivered. On March 12, 2012 he resigned in disgrace from FIFA, the CBF and the 2014 World Cup organising committee. Years of investigations by the Brazilian Congress, Senate and more recently BBC Panorama had forced him out.
Romario tweeted, 'Today we can celebrate. We exterminated a cancer from Brazilian football.'
The international debate about FIFA corruption moved to Paris. In December the previous year, three days before Rogge's embarrassing press conference, I had testified to a committee of politicians at the Council of Europe offices in Avenue Kléber.
Earlier I submitted a report, at their request, analysing FIFA as an organised crime syndicate. In my presentation in Paris I named the Brazilian embezzlers and stressed that Investigating Magistrate Thomas Hildbrand knew the truth and that some of us were battling to have his report published.
The Committee listened carefully. Then, in secret, they invited Hildbrand to come and testify to them. He was given permission by the Swiss Government and was heard in Paris on March 6, 2012. Six weeks later the Council of Europe published their report.
Their rapporteur François Rochebloine, a member of the French National Assembly representing the Loire constituency, highlighted a crucial statement by Hildbrand; that the order ending the Zug proceedings 'was not subject to an absolute secrecy requirement.'
He went on, 'It would therefore appear that FIFA is able to publish the document in question (which it must have in its possession as party to the proceedings) without waiting for a decision from the Swiss Federal Court.'
This was the same legal advice we had been given at BBC Panorama. Blatter had no justification for sitting on the report. He had lied again and again, month after month. Naïve reporters had parroted this to the world. Rochebloine spotted that Blatter pays his most senior people massive bonuses.
He commented, 'The suspicion is that these payments are to keep employees and Executive Committee members quiet about the corruption.'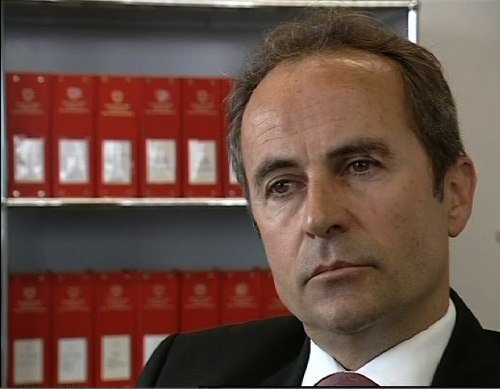 THE END came on July 11, 2012 when the Swiss Federal court ruled that the Hildbrand report could be published. Blatter immediately tried to divert attention from the disclosure that he had been a 'disloyal manager' and not taken action when he knew about the embezzling by the Brazilians.
He tweeted, 'Pleased by the Swiss Fed. Court decision on ISL. It confirms as I & the court in Zug said: I was not on the list.'
Blatter could not stop lying; the Court in Zug had not said anything of the sort. Neither Blatter nor any FIFA officials had been on trial. It was only ISL managers, accused of trading while insolvent. Bribes were part of the evidence – but only to show that ISL managers had paid them when they should have closed the company and instead sent the money to their creditors.
Blatter continually briefs dimwit reporters that he was 'cleared' by Hildbrand's investigation. One hilarious exchange was with a reporter at Sky News who had an 'exclusive' interview with the boss of world football but had not bothered to read the Hildbrand report – or had any idea what the Swiss Federal Court had said – and not said.
Question: 'How did the allegations affect you personally? Was it very disturbing for you to read these allegations?'

Blatter: 'Absolutely, absolutely, because also it put into question my probity, my independency, but I was very happy then, even the high court in Switzerland has made a decision that the FIFA president was not personally involved in any matter where money was distributed and he had no clue in this matter, but it affects the person, it affected my family, but it will not affect my energy, my heart and my soul to go through this process until the end.'
DURING MY RESEARCH for this book I spoke with a trusted source who was very close to one of Horst Dassler's closest aides. They told me that they asked him, did Havelange and Blatter ever take money from Horst Dassler?
My source was told, 'Both men, ever since he has known them took money. He has documents but cannot give them to anybody for personal reasons.
Shortly before Dassler died, he handed over a document in which it was clear that Blatter was given and had taken cash from Dassler.'
He also said that for more than 20 years, Ricardo Teixeira and Jean-Marie Weber met to settle the 'account' – which means Teixeira received money.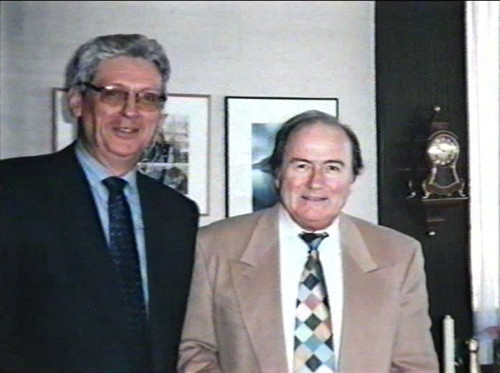 Two years before Dassler died he gave a confidential file to his aide. It contained a contract for 60 Million Swiss Francs to be paid to Havelange over 12 years. Horst would travel to see Havelange in Rio to discuss the details and at these meetings money was also paid over.
Editor's Note: Wired868 has been authorised to publish excerpts from Omertà for readers. We urge you to purchase an online version of the book for just US$11.70 from Amazon by clicking HERE.