The "Soca Warriors" began the 2015 CONCACAF Gold Cup preparation today under the customary cloud of uncertainty with regards to warm-up matches before their tournament opener against Guatemala on 9 July in Chicago.
Trinidad and Tobago National Head Team coach Stephen Hart hopes to have three internationals before they face Guatemala. But, for now, the only confirmed fixture is a June 16 friendly away to Jordan.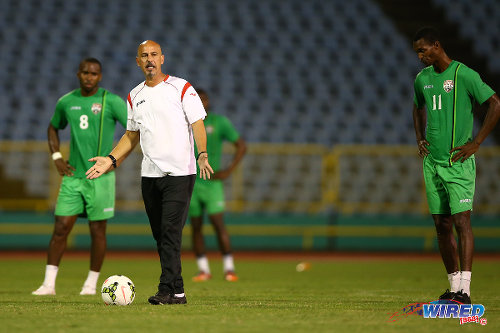 The Warriors have a tentative fixture away to Curaçao on Friday and they began training today with that trip in mind. But Hart will only get confirmation on that proposed match tomorrow.
"We have a squad in training and we were hoping to confirm a game against Curaçao," Hart told Wired868, "but we are in a limbo…They asked for the game on (June) 5th and then changed it to the 3rd, which means we would have to leave today with no training.
"If that was the case, we would have had to pull the game."

Hart, who is heading into his second Gold Cup as the Warriors coach, said the Trinidad and Tobago Football Association's precarious finances made it near impossible for them to enter into long-term match contracts with other member associations, due to the time delays in accessing State funds.
And, at present, there are few potential opponents around as Asia, South America, Europe and even some CONCACAF nations are playing competitive fixtures.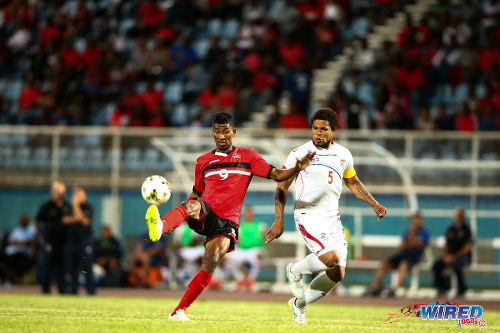 "Like every other coach, I would like to be on the field more and have games against high quality opposition," said Hart, "but it is not a reality based on our finance and budget structure.
"All the other teams had their games booked out months in advance."
Hart had an 18-man squad start training today for the proposed Curaçao fixture while two overseas-based players, Daneil Cyrus and Andre Boucaud, should join them during the week.
Already missing playmakers Kevin Molino and Hughton Hector and defenders Seon Power, Robert Primus and, possibly, Carlyle Mitchell through injury, Hart revealed that he also cut Point Fortin Civic attacker Marcus Joseph for a more disappointing reason.
The 24-year-old Joseph, who has seven international caps and was a substitute in the Warriors' 1-0 loss against Panama in March, missed a physical evaluation exercise twice and allegedly delivered a suspect reason for his absence through a teammate.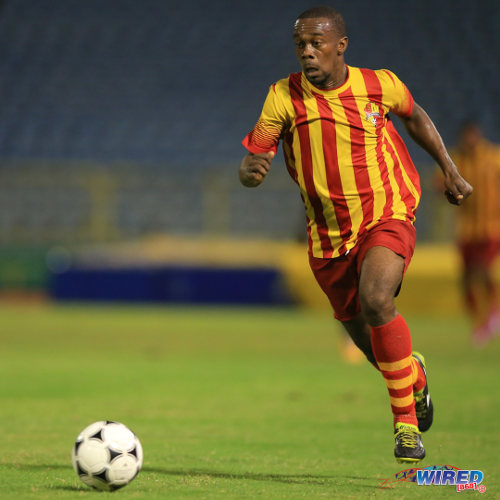 "I can't have that kind of inconsistency from a player," said Hart, who took disciplinary actions against players like Keon Daniel, Joevin Jones and Cyrus in the past. "We asked you to come for an evaluation (and) you don't show up. We make an alternative date and he said he was in Tobago and couldn't get a flight. But I came over from Tobago that same night on a half-empty plane…
"And, to make it worse, he didn't contact me directly but sent a message with a player. That is unacceptable."
Apart from Joseph, Hart made a raft of changes from his squad that faced Panama with San Juan Jabloteh winger Tyrone Charles, teenaged North East Stars midfielder Neveal Hackshaw and Central FC defender Jamal Jack among the exclusions.
In their places, Shahdon Winchester (DIRECTV W Connection), Leston Paul (Central FC) and Devorn Jorsling (Defence Force) were recalled. While Elijah Belgrave (Police FC), Triston Hodge (W Connection), Keron Cummings (North East Stars), Kadeem Corbin (St Ann's Rangers), Kaydion Gabriel and Sean De Silva (both Central FC) received their first call-ups under Hart.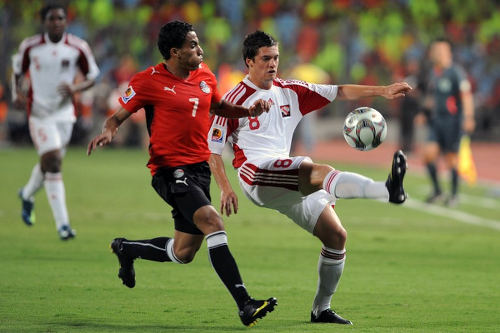 De Silva, who represented Trinidad and Tobago at two World Youth Cups, can represent Guyana, Barbados and Antigua and Barbuda at senior international level and, according to his father, Chris De Silva, has not ruled out that possibility.
However, despite attracting attention from Guyana coach Jamaal Shabazz, the former St Mary's College student still hopes to continue to represent the land of his birth.
Warrior captain Kenwyne Jones, who plays with England Championship Division team Cardiff City, and midfielder Khaleem Hyland are the only overseas-based players already in training.
Playmaker Hashim Arcia misses out as he has joined recruit training at the Defence Force, for what should be an eye-opening transfer from W Connection.
National Under-23 midfielder Jomal Williams and 2013 Gold Cup forward Jamal Gay, who is a free agent at present, were both invited to train as well although they are not being considered for the Curaçao fixture.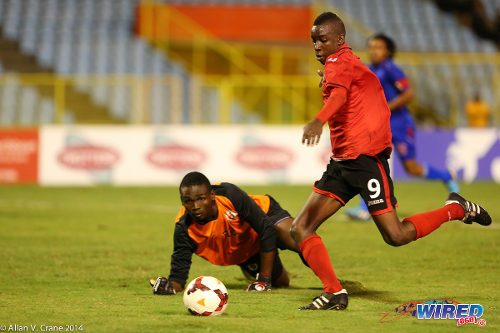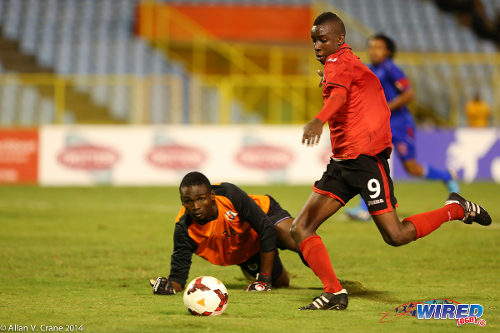 As previously revealed, Panama reneged on an agreement to have their senior squad play the Warriors on June 12.
The Panamanian FA offered to send their National Under-23 to play the Trinidad and Tobago Senior Team, which was rebuffed by Hart. The TTFA then asked to have the Trinidad and Tobago U-23s face their Panamanian counterparts but the Central American nation refused.
Such wrangles have only added to the anxiety of the Warriors as they aim to match—or better—their quarterfinal finish at the 2013 Gold Cup.
"At this point, we are hoping we will be properly prepared going in to the Gold Cup," said Hart. "This is just the first day (of or preparations) and we are in a non-residential camp. I would have liked to be in a residential camp but (because of finances) that is not possible at the moment.
"We will move into a residential situation when we return from Jordan."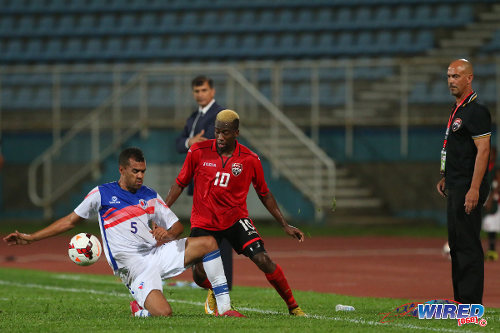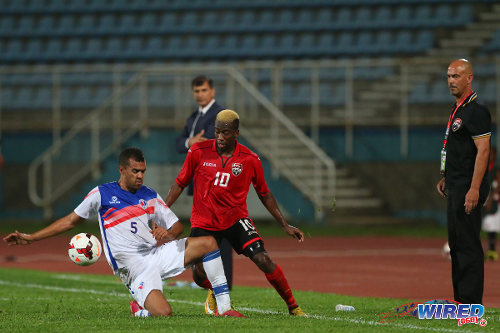 Hart revealed that he is considering alterations to his preferred 4-2-3-1 formation, due to injuries to key attacking midfield players. However, that will not be easy without warm-up matches.
"I have considered changing the system," said Hart, "and I have introduced two different systems.
"We have not had that many training camps or international games so it is impossible to say how it would work without a chance to experiment."
The Jordan friendly date falls on a FIFA international match day and Hart confirmed that he will request his full quota of overseas players for that encounter.
It means that Friday's proposed contest against Curaçao could be key for the Pro League players to force themselves into the reckoning for a Gold Cup place.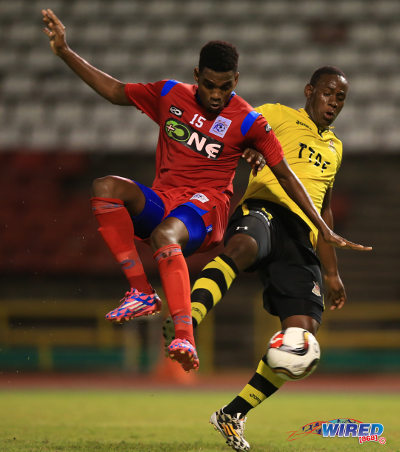 Apart from the two goalkeepers, only Cyrus, Boucaud, Hyland and Jones—from the 20-man squad—have previously played in a Gold Cup tournament.
(Team to face Curaçao)
Goalkeepers: Jan-Michael Williams (Central FC), Marvin Phillip (Point Fortin Civic);
Defenders: Kaydion Gabriel (Central FC), Shannon Gomez, Triston Hodge, Daneil Cyrus, Mekeil Williams (all W Connection), Eljiah Belgrave (Police FC);
Midfielders: Andre Boucaud (Dagenham & Redbridge—England), Leston Paul (Central FC), Dwane James (North East Stars), Khaleem Hyland (Unattached);
Attacking midfielders: Ataulla Guerra, Sean De Silva (both Central FC), Keron Cummings (North East Stars), Kadeem Corbin (St Ann's Rangers);
Forwards: Shahdon Winchester (W Connection), Willis Plaza (Central FC), Kenwyne Jones (Cardiff City—England), Devorn Jorsling (Defence Force).