Trinidad and Tobago Football Association (TTFA) president Raymond Tim Kee said the local football body has decided to pay the salaries of head coach Stephen Hart and technical director Kendall Walkes while the TTFA's impasse continues with the Ministry of Sport.
The TTFA accepted a March deadline to present audited accounts to the Ministry of Sport but is yet to fulfil its end of the bargain. Sport Minister Brent Sancho responded by halting all funding to the football body, which included the payment of coaches' salaries.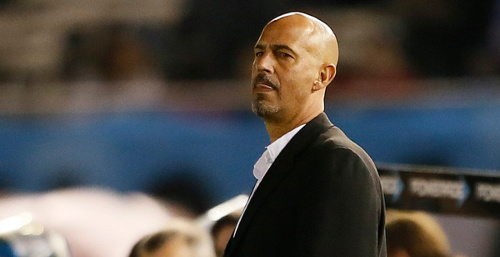 Although Tim Kee claimed that the TTFA was "about two weeks" away from satisfying the Sport Ministry, he said the football body will pay Hart and Walkes in the interim.
"Mr Hart has been attended to," Tim Kee told Wired868, on Friday evening. "He is owed for April and May and an arrangement was made where he will get one month's salary and a small portion. He was satisfied with the arrangement; he made no hassle about it…
"He may have been paid (on Friday) as that decision was made (on Wednesday evening). Our plan is to pay Hart's salary directly for up until September."
Hart's contract with the "Soca Warriors" expires in July 2015, although he has been credited with doing a fine job at the helm and it seems likely that the TTFA will try to keep him onboard.
Tim Kee, who is also the Port of Spain Mayor and PNM Treasurer, admitted the football body contracted Walkes' services with the expectation that half his salary would be paid by the Sport Ministry—as was the case with former technical director Anton Corneal.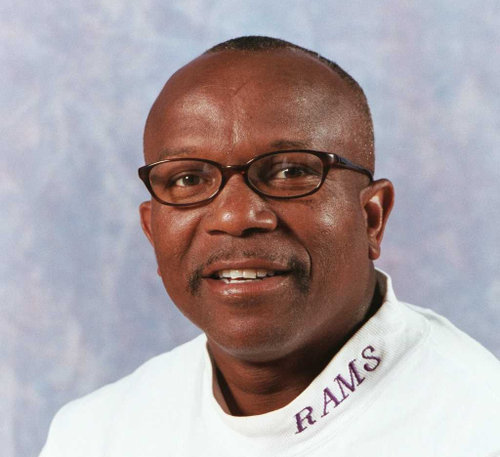 However, the TTFA never actually broached the topic with the new Sport Minister and the result was Walkes was unpaid after his first month's work.
Tim Kee said the football body will also pay Walkes although he advised that the new TTFA technical director should be no more than "cautiously optimistic" about being paid every month's end.
"We will have to give him his full salary," said Tim Kee. "I have also told the General Secretary (Sheldon Phillips) and the Chairman of the Technical Department (Richard Quan Chan) to let him know that we do not have an open cheque book and to tell him what the true situation is. I don't want any surprises for people.
"Let him be cautiously optimistic. From all indications, we will be able to afford him as we move forward (as) we have applied for some (FIFA) developmental funding."
And what about the remainder of the Senior National Team coaching staff as well as the national youth team and women's coaches?
"I don't want to convey that impression (that we do not care about the other coaches)," said Tim Kee. "(But) they were always the government's responsibility… Most people involved in football are poor people who cannot enjoy the luxury of not getting paid. So that plays on my conscience."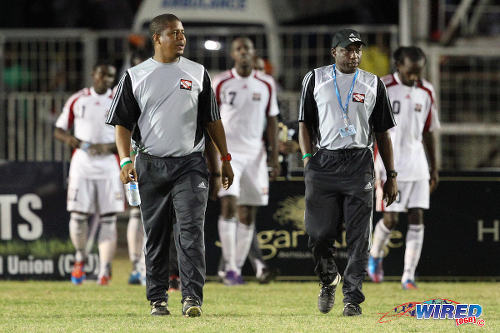 Wired868 asked, if all coaches are TTFA employees: Why has the association decided to pay some and not others?
"We don't owe (assistant coach Derek) King and the others any money," said Tim Kee. "The money owed to them is from the Ministry of Sport… Remember those guys don't have contracts (with the TTFA)."
Wired868's checks suggested that the only coaches with TTFA job contracts are Hart and Walkes. The others are working on the verbal assurance from the football body that they will be paid if funds are sourced.
Tim Kee said the TTFA is in the process of drawing up contracts for its other coaches but did not offer a date when those are likely to be ready.
National Under-23 Team manager David Muhammad claimed last week that assistant coach Reynold Carrington did not attend any training sessions and was allegedly awaiting his job contract. Wired868 was unable to reach Carrington for an explanation for his absence.
Tim Kee suggested that, if Muhammad's assertion was true, then the fault lay either with Quan Chan—who liaised with the youth team coaches on behalf of the TTFA—or Carrington himself.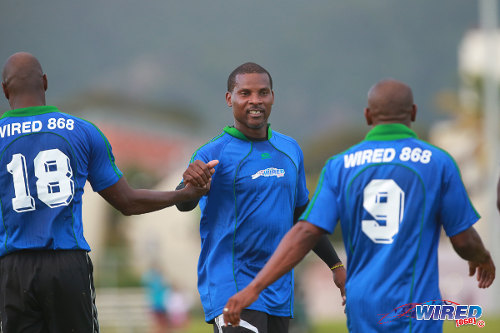 "I did mention to Mr Quan Chan to explain to these people what the situation is," said Tim Kee. "I said this is the situation, this is what we can do and, if you can provide under these conditions, then we are telling you upfront. So there is no reason to stay away because they were told (or should have been told) this is the conditions under which they will be operating.
"There will be consequences to that."
Tim Kee insisted he and his general secretary Sheldon Phillips have done all they could to raise money for football and approached 28 private and public sector corporations with little success. He blamed politics for the TTFA's financial crisis.
"If you were rating our job without explanation, it would be not a pass mark (for us)," said Tim Kee. "But if you look at the notes you will understand. There are circumstances over which you have control. When we went to National Gas, (a board member) told one of our executives that the people who play football do not wear yellow.
"So it is a political and a racial situation. I brought it to (then Sport Minister Anil) Roberts' attention. And the imbalance is cricket was getting what it wanted."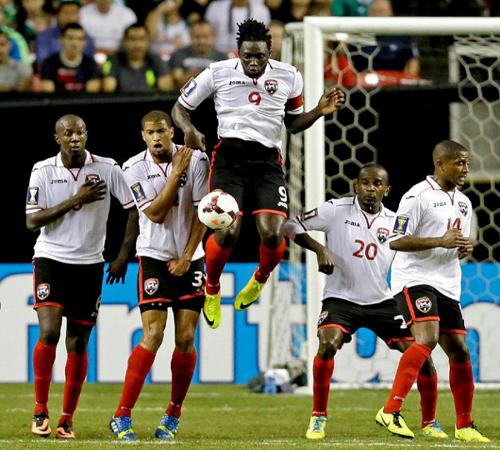 Tim Kee alleged that the National Lotteries Control Board (NLCB) also promised US$1 million to the TTFA but reneged on the deal when he was appointed Mayor.
"He said 'Tim Kee is a PNM mayor' and he is not doing anything for the PNM to look good," the TTFA president said of an unnamed NLCB member.
Wired868 was unable to verify Tim Kee's claims from members of either State board.
Race and politics were not the only things that Tim Kee blamed for their fund raising issues. He claimed that the TTFA was on the verge of a multi-million deal with TSTT, only for it to be scuppered after Wired868's exclusive regarding possible corrupt or unethical practices by the football body in the build up to an international friendly against Argentina on 4 June 2014.
Wired868 revealed that TT$400,000 was pocketed from taxpayers' money for a supposed TTFA licensing fee, which remains missing. Travel agency, Nissi Tours, alleged that the money was pocketed by TTFA marketing officer, Darren Millien, although Millien denied this.
There were also emails from Phillips' match agency company, Element Agency + Events, which suggested that the TTFA general secretary might have a personal stake in a match put on by State money.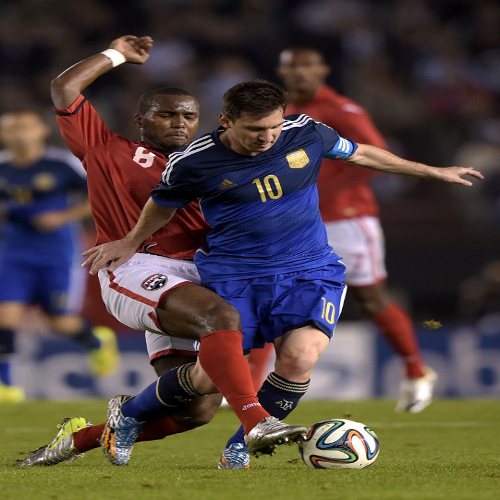 Phillips claimed there was a "glitch" in his email account and denied that his company was benefitting from Warrior matches.
TSTT's interest in sponsoring the TTFA, according to Tim Kee, cooled immediately.
"(TSTT) agreed to sponsor us to the tune of TT$4.5 million," said Tim Kee. "then (Wired868) wrote that article on the Argentina business and, when I went to consummate the agreement, I was told that the board had read the article and decided to put a stop on it.
"So we were back to square one."
Still, Tim Kee responded to his critics by pointing to the relative successes of their football teams despite the issues. He said the TTFA has begun implementing FIFA's income generation plan and should soon be able to raise funds from merchandising via its new website.
"When you hear what we have been able to achieve with scarce resources," he said, "it brings goose pimples."
He hopes to also mend bridges soon with the Sport Ministry, despite his annoyance that Sancho attached stipulations to last November's TT$9.9 million Cabinet note.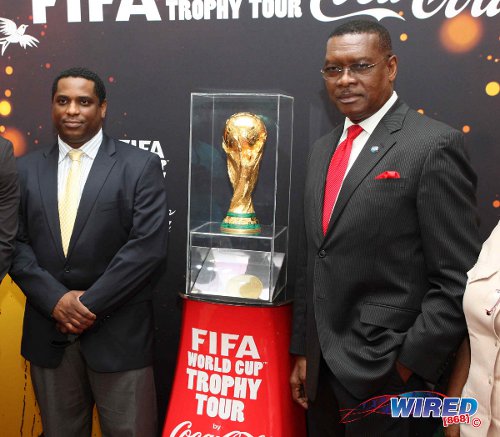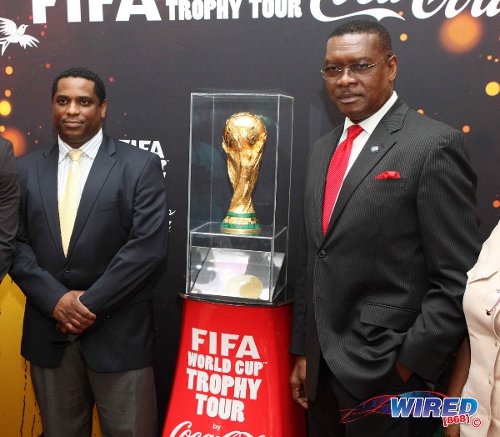 "The Cabinet note seems not to be as highly favoured by the Sport Minister as it was intended by the Prime Minister," said Tim Kee. "That is unfortunate because all the plans we made for this year was predicated on that type of assistance from the Ministry.
"So I am hoping that, as time goes on and we adhere to the best policies, I would expect understanding and support from the Ministry. I would hope that there is a change in direction."
Tim Kee said the TTFA will try to juggle its resources so as to ensure practice games for the National Under-23 Team, which begins its 2016 Olympic Games campaign in Puerto Rico next month.
The senior Warriors are also rumoured to be on the brink of sealing international friendlies against Jordan and 2014 World Cup team Croatia.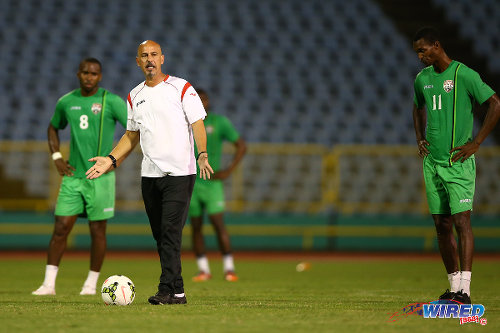 Hart and Walkes might be "cautiously optimistic" about being paid too, regardless of the Sport Ministry's relationship with the football body, while Tim Kee claimed that a financial offer was also made to Corneal, who is still owed from his spell as technical director.
The TTFA's other two dozen or so national coaches have no such guarantees, limited or otherwise.