San Juan North schoolboy Brent Sam created one goal and scored one himself as San Juan Jabloteh advanced to the 2015 TTFA FA Trophy semifinals yesterday evening with a 3-2 win over Club Sando at the Larry Gomes Stadium in Malabar.
Jabloteh, who are three time winners of the FA competition, joined an all Pro League semifinal line-up, which includes defending champions, DIRECTV W Connection, last year's beaten finalist, Central FC, and North East Stars, who were semi-finalists last season as well.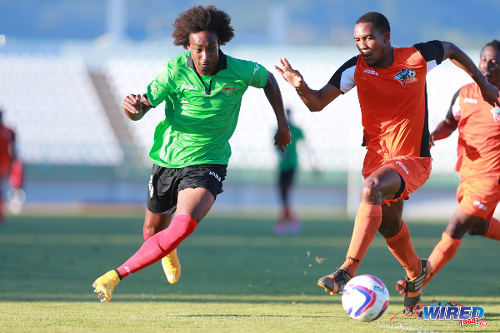 The FA tournament is Trinidad and Tobago's oldest competition but don't believe anyone who tells you it is this country's most respected domestic knockout trophy. Under the current Trinidad and Tobago Football Association (TTFA) leadership of president Raymond Tim Kee and general secretary Sheldon Phillips, the tournament is closer to a cruel joke.
The 2015 FA competition is the third one run by Tim Kee and not once has the local football administration managed to pay out prize money for its top teams. Unless the Trinidad and Tobago Government personally dips into the Treasury, the current TTFA seems devoid of ideas; and it is a shame to see a competition that once qualified teams for CONCACAF now generate less buzz than a fete match.
At the Police Barracks in St James, Central FC and Police players as well as match officials changed their clothes in their vehicles as there was no available dressing room while, at the Larry Gomes Stadium, the players' tunnel was locked and the two teams had to walk through a side gate to get to the playing field.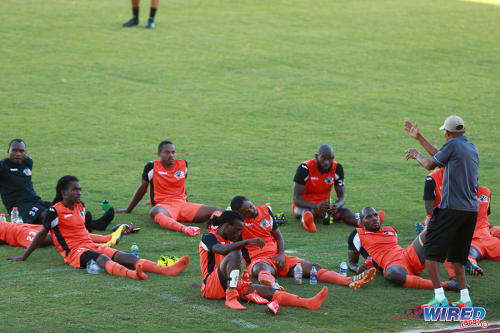 There was no match commissioner for the North East Stars' clash with Defence Force in Macoya. And no ambulance to be seen anywhere.
Meanwhile, the TTFA never tires of sharing their plans for the 2018 and 2022 senior World Cup competitions and the good they can do if only someone gives them a blank cheque.
Well, at least the fans who turned up in Malabar were entertained.
Club Sando have already been accepted into the Pro League for the 2015/16 season and, having eliminated top flight club Point Fortin Civic on penalties, were anxious for an encore against Jabloteh.
But Sando was not on even footing. The Super League competition, which is also run by the TTFA and promptly lost its title sponsor, ended months ago. It meant that Sando was in its off-season and challenging better resourced mid-season Pro League clubs.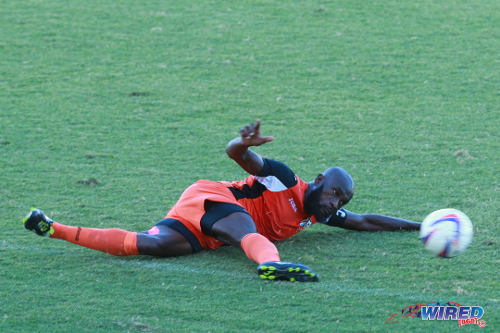 They gave it a good go though.
Coneal Thomas gave Jabloteh the lead with a curling free kick into the far corner in the 28th minute. Thomas' effort was well placed but it was aimed at the corner Sando goalkeeper Alexei Julien should have been protecting.
Still, the Super League outfit pulled level at 1-1 in the 39th minute when a brilliant cross from right back Trevor Mitchell was converted by journeyman striker Kevon Woodley.
Woodley, who scored his share of goals at the Larry Gomes Stadium during his spell with Malabar FC, actually tried to control the ball but watched it spin off his body and beat opposing goalkeeper Shane Mattis all the same.
The two teams were deadlocked at the break.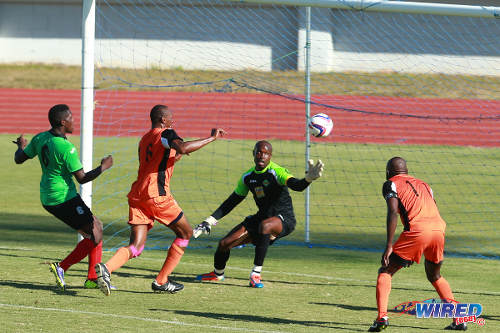 Jabloteh, anchored by tidy Jamaican midfielder Damian Williams, looked composed and thoughtful in possession. But a Sando team that includes experienced players like Teba McKnight, Kevon Neaves, Nigel Daniel and Woodley could not be easily ruled out.
It was the lanky, fresh-faced Sam who decided the match, though.
In the 61st minute, the teenaged Sam flicked on a corner kick from Brendon Boucaud and his Jamaica strike partner, Newton Sterling, reacted quickly to hook home off the underside of the bar.
And, in the 66th minute, Sam went outside and then inside Sando stopper Andre Phillip before beating Julien with a speculative effort at his near post. Once more, Julien was surely beaten too easily for the liking of Sando coach Anthony Streete.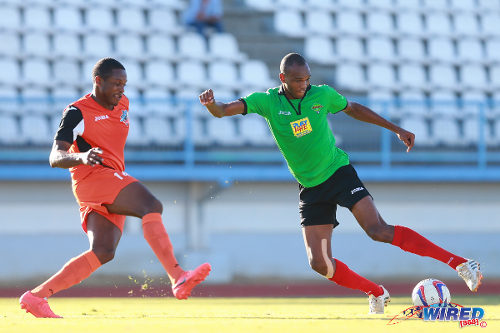 The Super League outfit fought back and Kemuel Rivers and Neaves both wasted good free kick opportunities while Mattis was quickly off his line to deny McKnight after a threatening cross from Sando substitute Kerron Mitchell in the 77th minute.
In second half stoppage time, Sando utility player, Daniel, finally got to take a stab at a dead ball.
Daniel curled home his share of free kicks during his days as a Jabloteh player while he once scored a beauty for Trinidad and Tobago in the 2007 Caribbean Cup final. Today's strike was as good as any and better than many, as Daniel got the ball to fizz and dip, from just 18 yards, to confuffle Mattis.
It was a goal which deserved a better occasion than the shambles of a competition that the FA Trophy has become. And, more importantly, it was not enough to stop Jabloteh from advancing to the semifinal round.
(Teams)
San Juan Jabloteh (4-2-2-2): 30.Shane Mattis (GK); 4.Garth Thomas, 6.Dario Holmes, 19.Dillon Kirton, 13.Coneal Thomas; 11.Damian Williams, 21.Neil Mitchell; 12.Brendon Boucaud, 17.Fabian Reid (9.Johan Peltier 83); 8.Newton Sterling, 3.Brent Sam (29.Tyrone Charles 80).
Unused substitutes: 36.Raheem Belgrave (GK), 14.Shaquille Bertrand, 15.Isaiah McIntyre, 20.Nkosi David, 23.Brendon Figuera.
Coach: Keith Jeffrey
Club Sando FC (4-3-3): 33.Alexei Julien (GK); 15.Trevon Mitchell (21.Kerron Mitchell 77), 19.Ryan Frederick, 14.Andre Phillip, 6.Kemuel Rivers, 22.Simeon Augustus, 23.Akeem Humphrey, 17.Kevon Neaves, 11.Teba McKnight (captain), 16.Kevon Woodley, 8.Kerron Smith (12.Nigel Daniel 34),
Unused substitutes: 30.Derron Maillard (GK), 5.Devon Drayton, 9.Jesse Downing.
Coach: Anthony Streete
Referee: Keilon Bacchus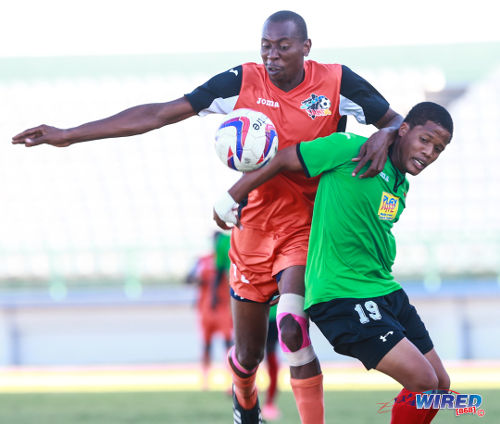 TTFA FA Trophy results
(Sun Mar  8)
San Juan Jabloteh 3 (Coneal Thomas 28, Newton Sterling 61, Brent Sam 66), Club Sando 2 (Kevon Woodley 39, Nigel Daniel 90) at Malabar;
Central FC 2 (Jason Marcano 61, Willis Plaza 75), Police FC 0 at St James;
North East Stars 3 (Neveal Hackshaw 14, Kaashif Thomas 28, Jomoul Francois 39, Defence Force 2 (Rodell Elcock 45, Ross Russell Jr 90+2) at Macoya;
W Connection 0, St Francois Nationals 0 at Marabella;
*–Connection won 5-3 on penalties.