Trinidad and Tobago started the day unbeaten and near the top of Group A in the CONCACAF Under-20 Championship. But by 6 pm (Jamaican time), the young "Soca Warriors" were staring elimination in the face.
A 2-0 loss to Guatemala today means that Trinidad and Tobago must defeat the United States in its final group match on Wednesday January 21 at Montego Bay to have any chance of advancing to the play off round of the CONCACAF competition.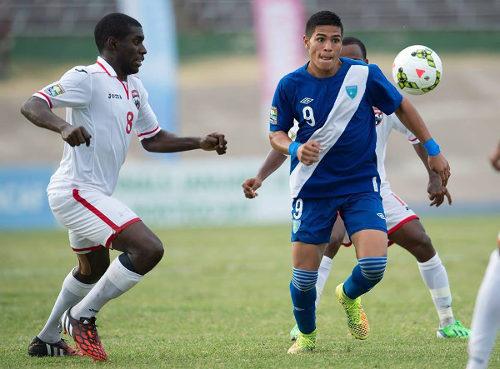 And, even so, the Warriors must win by a hefty goal margin too after the United States trounced Aruba 8-0 today, which is four goals better than Trinidad and Tobago's 5-1 result against Aruba on Sunday.
Suddenly, the road to the New Zealand 2015 FIFA Under-20 World Cup looks fraught with uncertainty.
"I am very disappointed with the result," said Trinidad and Tobago National Under-20 coach Derek King. "In the first 20 minutes we played all the football (and) we saw some good ball movement. We held our shape and Guatemala sat back and allowed us to play.

"We allowed a soft goal. (In the) second half, the same thing happened and a blunder from our keeper (led to the second goal). We played all the football but goals win matches not possession."
The final statistics, according to CONCACAF, showed 10 shots from the Trinidad and Tobago team and just two from Guatemala. Even then, the Central American team needed more than a little help from the Warriors.
Mauro Portillo's header was heading straight to Trinidad and Tobago goalkeeper Johan Welch when it went in off the thigh of defender Martieon Watson in the 24th minute. CONCACAF chalked it down as an own goal from the Naparima College student.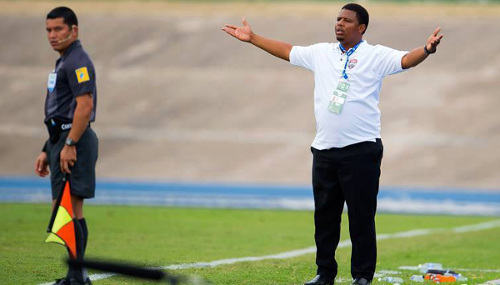 And Guatemala's second? Welch would seem a very unlikely candidate to execute a "Rene Higuita-type" move outside of his own penalty area. And, again, Portillo was there to take advantage.
Guatemala coach Carlos Ruiz, an Argentine import, said his team was "very lucky" to come away with three points.
"Trinidad and Tobago played very well and had most of the ball," said Ruiz, via a translator. "We were very lucky today to come out victorious because our chances came from two mistakes.
"Guatemala made use of mistakes given to them by the Trinidad and Tobago team."
Ruiz was, arguably, a touch generous. True, Guatemala capitalised on errors rather than made much of the game themselves. But it was alarming, although not altogether surprising, to see the Warriors growing increasingly lacklustre with every passing minute.
Sure, the likes of Aikim Andrews and Kadeem Corbin were still willing runners to the death. But the movement off the ball that died after 70 minutes against Jamaica was gone much sooner this afternoon.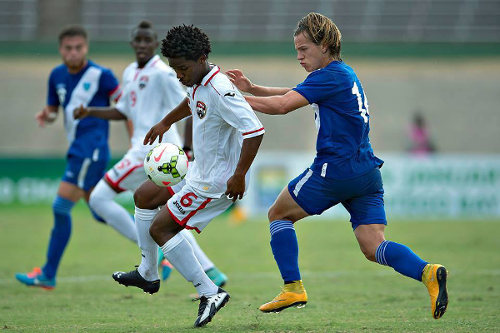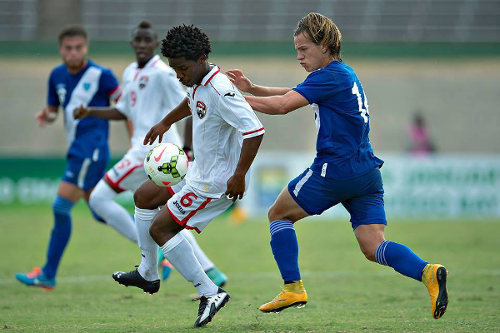 University of South Florida playmaker Duane Muckette is arguably Trinidad and Tobago's best player but, for the third successive game, he did not get close to 90 minutes and was at walking pace long before his substitution.
Muckette lasted 78 minutes against Jamaica, 66 minutes against Aruba and, in Trinidad and Tobago's biggest game so far, he managed just 57 minutes against Guatemala.
Do the Warriors, whose poor pre-tournament preparation was well documented, have any energy left to knock off Panama and the United States?
King suggested concern over the team's fitness levels was overblown though. He claimed that their livelier showings against Jamaica might be down to an 8 pm kick off as opposed to 3 pm starts against Aruba and Guatemala.
"At the end of the day, we had ball possession and once you have ball possession you have a chance to score goals," said King. Plenty of our players were below par today… We created goal scoring chances but we just didn't take them."
In truth, Guatemala goalkeeper Nicholas Hagen looked flustered just twice today. In the seventh minute, Hagen threw himself low to his right to keep out a Muckette effort. And, in the 80th minute, he again had to use every inch of his wingspan to keep out a low Corbin effort in a crowded penalty box.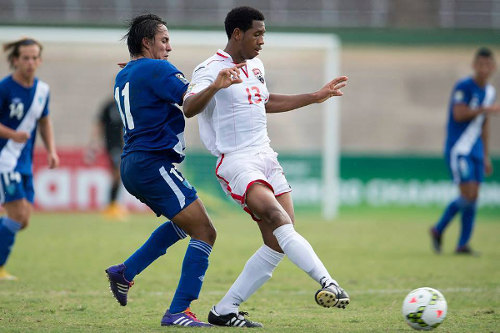 Otherwise, the Warriors were straight at the Guatemala custodian or overbar while there were far too few good scoring chances created considering the havoc that Andrews and Akeem Garcia caused on either flank.
"The final pass wasn't there today," said King. "Sometimes when we could take an extra touch we were forcing (the play) and the crosses were not good today. The service in the final third was poor today."
After a lopsided opening 25 minutes, Guatemala went ahead with only its second real attack and its first shot on target. Only it was not really on target.
Guatemala right wing back Steven Robles got down the right flank and delivered a looping cross to the far post. Portillo climbed well to head down to goal and, probably, straight at Welch. But Watson could not get out of the way in time and the ball struck the Trinidad and Tobago defender and rolled in at the near post.
Muckette had a chance to equalise in the 29th minute only for Guatemala defender Carlos Estrada to fling his body in the way to make the block.
Eight minutes into the second half, Muckette released Corbin with a clever flick but the latter attacker dragged his angled left footed shot harmlessly across the face of the goal.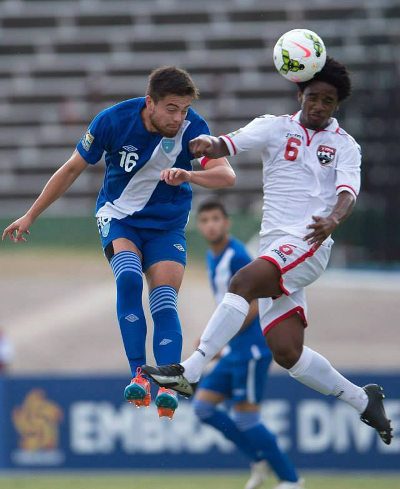 Trinidad and Tobago's three-man central midfield combination had gone flat by then and King sent in Akeem Humphrey and Jabari Mitchell for Muckette and Kevon Goddard.
Humphrey immediately helped to lift the tempo but Mitchell's contribution was mixed. Mitchell did create another shooting opportunity for Corbin in the 80th minute but the playmaker failed to make much headway in the crowd of players on top the Guatemala penalty area.
Levi Garcia, who is bound for Europe in 2015, was the third change in the 69th minute and, apart from one incisive cross to Andrews, he did not resemble the younger winger who set the Caribbean Cup tournament alight last September.
"Leading up to the competition, he was not well and he is now getting back (his) confidence," said King, who revealed the player had a stomach bug. "He is the youngest member of the team and we are trying with him and talking to him and trying to guide him."
In the 87th minute, it was lights out as Welch collected a throw from captain Shannon Gomez and, inexplicably, tried to dribble Portillo rather than hammer the ball forward or simply return the ball to his right back. Portillo won the ball and applied the insurance goal.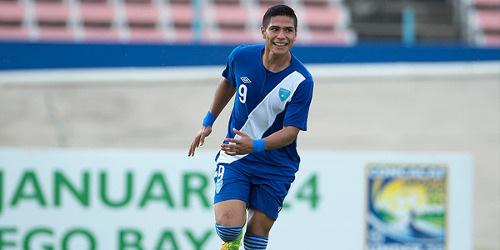 The less said about that decision from the United States-based goalkeeper, the better.
Gomez called it a blooper while King went with blunder.
"We just have to give him confidence to come back and do his best in the next game," said Gomez.
But can the tiring Trinidad and Tobago team rebound to take a draw from Panama and win against the United States?
"Football plays on the day so it is not beyond us," said Gomez. "Every game we go with the mindset to win. It is (about) them taking their chances or us taking our chances…
"We are confident."
The Warriors need a big result from their final group match now. But, going into the tournament, they might have expected that it would come to this. Whether they can pull it off is another matter entirely.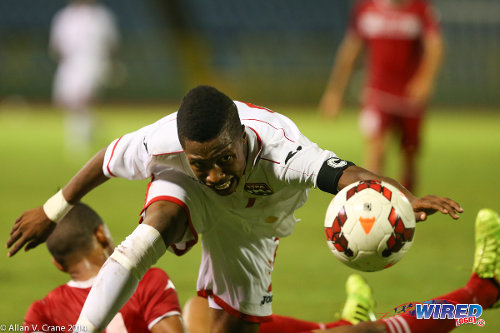 King's team has been praised for being one of the country's best youth teams. But now they must prove it.
The Dwight Yorke-led Under-20 team beat the United States 1-0 on the way to the Portugal 1991 World Youth Championships while, in 2009, Kevin Molino scored the winner to take the young Warriors past Jamaica.
Gomez, Corbin, Muckette and company must take a big scalp to join such lofty company.
(Teams)
Trinidad and Tobago (4-2-3-1): 1.Johan Welch (GK); 2.Shannon Gomez (captain), 3.Martieon Watson, 13.Brendon Creed, 4.Jesus Perez; 18.Kevon Goddard (17.Akeem Humphrey 57), 8.Neveal Hackshaw; 15.Aikim Andrews, 6.Duane Muckette (10.Jabari Mitchell 57), 7.Akeem Garcia (11.Levi Garcia 69); 9.Kadeem Corbin.
Unused substitutes: 21.Javon Sample (GK), 5.Leland Archer, 12.Kishun Seecharan, 14.Matthew Woo Ling, 16.Ricardo John, 19.Maurice Ford.
Coach: Derek King
Guatemala (3-4-3): 1.Nicholas Hagen (GK); 16.Julio Ortiz, 15.Carlos Estrada, 2.Kevin Grijalva, 13.Steven Robles, 14.Andy Ruiz, 6.Cristian Jiminez, 20.Mauricio Maltes (17.Pablo Aguilar 59), 8.Kevin Bordon (10.Diego Alvarez 46), 9.Mauro Portillo, 11.Mario Hernandez (18.Benedicto Aldana 71).
Unused substitutes: 12.Julio Ochoa (GK), 3.Allen Yanes, 4.Nicholas Samayoa, 5.Luis De Leon, 7.Christopher Ortiz, 19.Jose Morales.
Coach: Carlos Ruiz
Referee: David Gantar (Canada)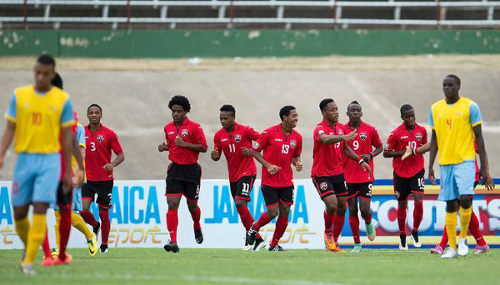 CONCACAF U-20 results
Group A
(Wednesday January 14)
Guatemala 2 (Martieon Watson OG 24, Hugo Portillo 87), Trinidad & Tobago 0 at National Stadium, Kingston;
United States 8 (Romain Gall 16, 23, 32, Bradford Jamieson IV 18, 48, Thomas Thompson 26, Emerson Hyndman 30, Amando Moreno 84),  Aruba 0 at National Stadium, Kingston;
Jamaica 0, Panama 2 (Edson Samms 56, Ismael Diaz 86) at National Stadium, Kingston.