Wired868 reports from Jamaica:
It was easy like Sunday morning. Of course, it was a 3 pm (Jamaican time) kick off today—if you want to nitpick—but the Trinidad and Tobago National Under-20 team found Aruba to be every bit as straightforward as US bard Lionel Richie's classic tune.
At the final whistle in the CONCACAF Under-20 Group A fixture, the young "Soca Warriors" were four goals clear of their Dutch neighbours and the 5-1 win meant their Road to New Zealand had some momentum again.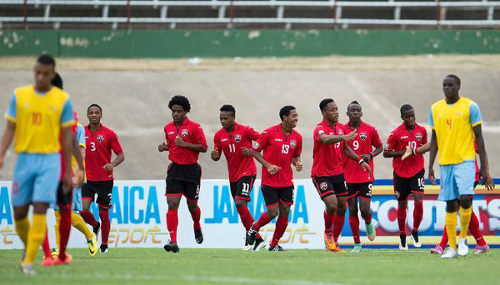 On Friday night, the Warriors looked to have made two steps forward and then two steps back as they squandered a two-goal lead to end 2-2 with hosts Jamaica.
But Aruba possessed no such powers of recovery and it did not help that the inexperienced outfit was reduced to 10 players after just 26 minutes following a clumsy challenge by defender Joel Geerman on Aikim Andrews. Aruba was already two goals behind by then and Kadeem Corbin's penalty made it 3-0 for T&T.

"After 15 minutes, the game was over due to big mistakes by my defenders," said Aruba coach and Netherlands native, Arent Bekhof.
Truth be told, the red card was, arguably, a tad harsh from Bahamian referee Randolph Harris. And, bizarrely, Harris followed it up by booking Corbin for celebrating his penalty by gesturing to Aruba custodian Jeanmarc Antersijn with a finger on his lips.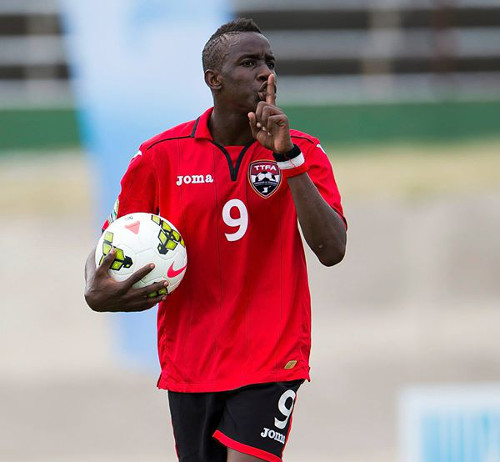 Harris was not shy about taking the names of Trinidad and Tobago players in his little black, book as left back Maurice Ford and substitutes Akeem Humphrey and Matthew Woo Ling were also cautioned.
In a tournament with five group matches, those yellow cards could eventually haunt the Warriors, who already saw Jesus Perez booked in Friday's Group A opener. But at least Trinidad and Tobago got the important business done.
"I will give them a six (out of 10) today," said Trinidad and Tobago head coach Derek King, "because I thought they could do much better."
It did not speak well of Aruba's chances in Jamaica. Today was their second successive spanking after a 4-0 loss to Panama on Friday. But it is not inconceivable that the Dutch-speaking islanders might be a tougher opponent later in the competition.
Eight members of the Aruban squad were flown in from the Netherlands along with new coach, Bekhof, just two weeks before their opening CONCACAF fixture. They are essentially learning on the job.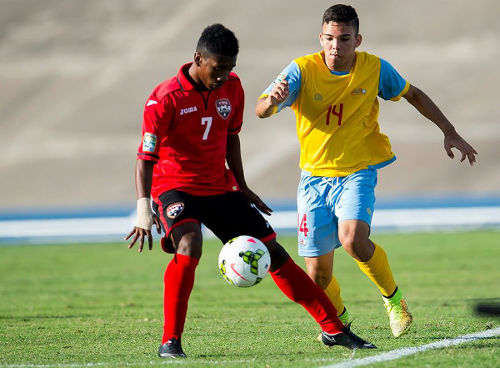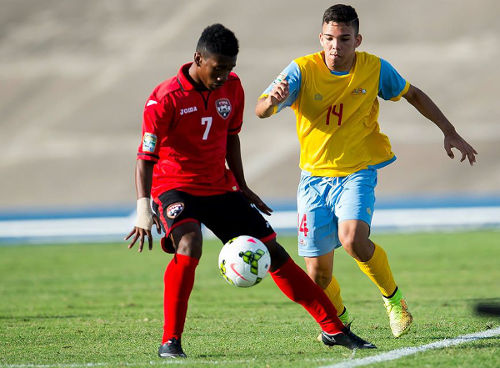 Today's lesson was a humbling one, though.
Just three minutes after kick off, the Warriors were already celebrating as Andrews crossed from the right flank for Jabari Mitchell to open the score summary. Some more alert wing play saw Trinidad and Tobago double its lead in the 15th minute as Mitchell released Levi Garcia with a quick free kick down the left and his cross was prodded over the goalline by Andrews.
Mitchell and Garcia were among three changes to the T&T starting line-up today along with Ford as King shuffled his pack to manage his team's energy levels. It did not help the Warriors that today's game was played with the sun high overhead. In fact, three of Trinidad and Tobago's five group matches will be contested in bright sunlight while Jamaica and the United States play all of their fixtures under lights in the cool of the evening.
But the Warriors, who have struggled to get everything from practice games to visas, are probably accustomed to doing things the hard way by now.
They took out their frustrations on Aruba.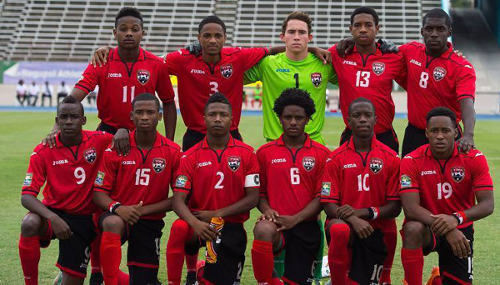 Duane Muckette, who played deeper in a holding midfield role today, got Trinidad and Tobago's fourth with a stunning strike into the top corner from distance after Aruba cleared a Woo Ling corner in the 58th minute but was too slow to apply pressure on the US-based midfielder.
And Mitchell got his second of the match from the penalty spot in the 78th minute after Garcia was chopped down in the area. By then, King had already withdrawn Andrews, Corbin and Muckette with Wednesday's showdown against Guatemala in mind.
Aruba did get a clever consolation goal on a counter attack in stoppage time as lively striker Duncan Homoet twisted Gomez inside and out before surprising Trinidad and Tobago goalkeeper Johan Welch at his near post.
There is cause for concern too as Andrews hobbled to the dressing room with his right ankle heavily strapped while four Warriors are now booked. But there was plenty to smile about at today's Dutch party.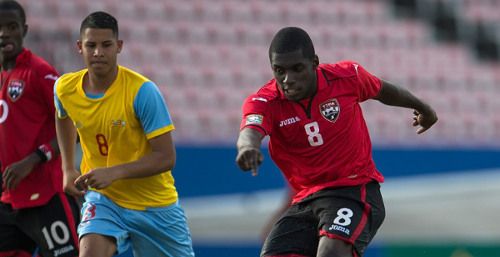 Hopefully, Trinidad and Tobago has held something in reserve for Guatemala on Wednesday.
(Teams)
Trinidad and Tobago (4-2-3-1): 1.Johan Welch (GK); 2.Shannon Gomez (captain), 3.Martieon Watson, 13.Brendon Creed, 19.Maurice Ford; 6.Duane Muckette (17.Akeem Humphrey 66), 8.Neveal Hackshaw; 15.Aikim Andrews (7.Akeem Garcia 46), 10.Jabari Mitchell, 11.Levi Garcia; 9.Kadeem Corbin (14.Matthew Woo Ling 55).
Unused substitutes: 21.Javon Sample (GK), 4.Jesus Perez, 5.Leland Archer, 12.Kishun Seecharan, 16.Ricardo John, 18.Kevon Goddard.
Coach: Derek King
Aruba (4-1-4-1): 1.Jeanmarc Antersijn (GK); 2.Niels Ridderstap, 19.David Dubero, 5.Joel Geerman, 3.Jefferson Vegas; 4.Nickenson Paul; 14.Marcel Kock (7.Youri Wernet 71), 8.Gregorio Van Der Biezen (15.Aidan Martha 82), 10.Walter Bennett (16.Franklin Cabaracas 80), 12.Jeanpierre Van Der Linden; 9.Duncan Homoet.
Unused substitutes: 20.Brandon Maimaceda (GK), 6.Johnatan Ruiz, 11.Ricky Hodge, 13.Carl Geerman, 17.Andrew Valois-Smith, 18.Kevin Tromp.
Coach: Arent Bekhof
Referee: Randolph Harris (Bahamas)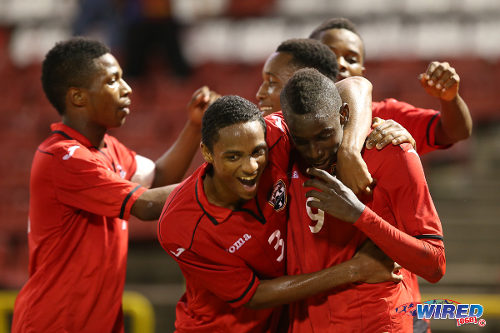 CONCACAF Under-20 Championship
Group A
(Sunday Jan 11)
Trinidad and Tobago 5 (Jabari Mitchell 3, 78 pen, Aikim Andrews 15, Kadeem Corbin 28 pen, Duane Muckette 58), Aruba 1 (Duncan Homoet 90) at Kingston;
Panama 1 (Carlos Small 78), United States 0 at Kingston;
Jamaica 0, Guatemala 1 (Steven Robles 27) at Kingston;
(Friday January 9)
Jamaica 2 (Donja Smith 67, Junior Flemmings 90+3), Trinidad and Tobago 2 (Aikim Andrews 6, Kadeem Corbin 15)
United States 1 (Cameron Carter-Vickers), Guatemala 1 (Jose Ruiz)
Panama 4 (Ismael Diaz 19, 50, Ervin Zorilla 30, Edson Samms 36), Aruba 0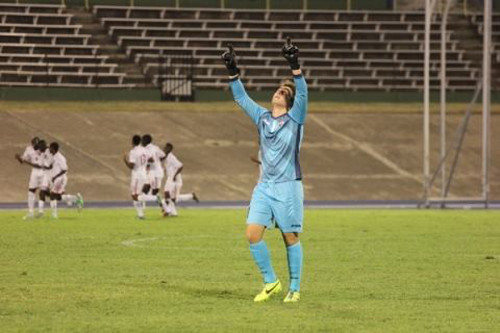 Upcoming Group A fixtures
(Wednesday January 14)
(All kickoffs given in TT time)
Guatemala vs Trinidad & Tobago, 4 pm, National Stadium, Kingston;
Aruba vs USA, 6.30 pm, National Stadium, Kingston;
Jamaica vs Panama, 9 pm, National Stadium, Kingston.