Football lives.
For "Soca Warrior" fans hung over by last night's Caribbean Cup final defeat to Jamaica, the Coca Cola Intercol East Zone final was the perfect remedy as San Juan North Secondary held off Trinity College East 3-2 to clinch a pulsating affair at the Larry Gomes Stadium in Malabar
At the final whistle, San Juan hattrick hero Brent Sam had the biggest smile in east Trinidad.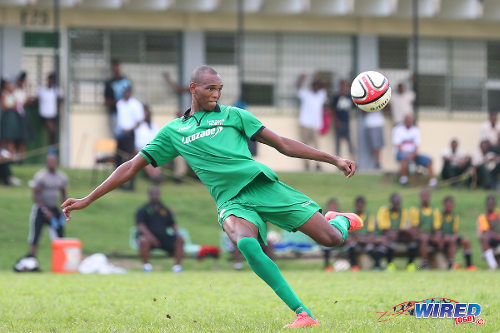 "This is my best game ever," Sam told Wired868.
It was some statement from a striker who once scored seven times in an Under-17 World Cup qualifier for the national team against the British Virgin Islands. But then it was easy to get carried away in the intoxicating atmosphere in Malabar.

At one point, it looked like a very different story was emerging. San Juan North led 2-0 after 66 minutes. By the 73rd minute, it was 2-2.
Pony-tailed Trinity East student Sean Bonval whipped his shirt off and waved it in the air as though it was Carnival Monday. His schoolmates erupted in the covered stand.
The momentum had shifted and San Juan North was in trouble. The "Blue Hawks" were in full flight now.
And then something odd happened.
A dozen San Juan school girls got up from their seats high in the covered stands and surged towards the lower section of the seated area behind their school team's technical area. Without a word, other students followed until there were around 300 fans within a stone's throw of coach Jerry Moe.
And then someone struck a rhythm on the drum and San Juan North flags started waving more vigorously than ever.
Trinity East had overcome so much to drag themselves back into contention. But, in the end, the Blue Hawks could not subdue the raw emotion from the Bourg Mulattrasse supporters.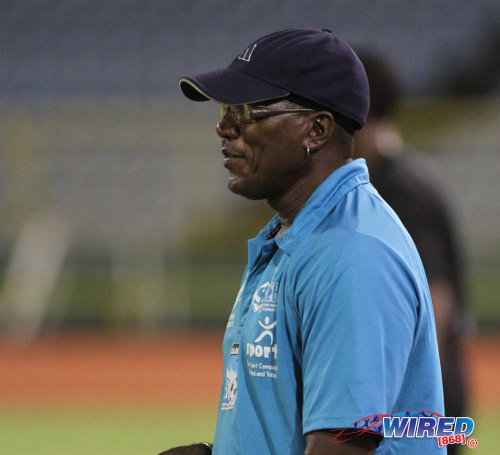 "I think in an atmosphere like this, it gives players more responsibility," said Moe, who is also the head coach of Pro League team Caledonia AIA. "This is what we are missing in football these days, especially in the Pro League."
On the other bench, Trinity East coach Adrian Romain could only smile and shake his head ruefully.
The Hawks had dropped star striker and national under-17 player Dareem Daniel for poor attitude and were without injured attacker Tyriq John, who is the son of record Trinidad and Tobago goal scorer and 2006 World Cup hero Stern John.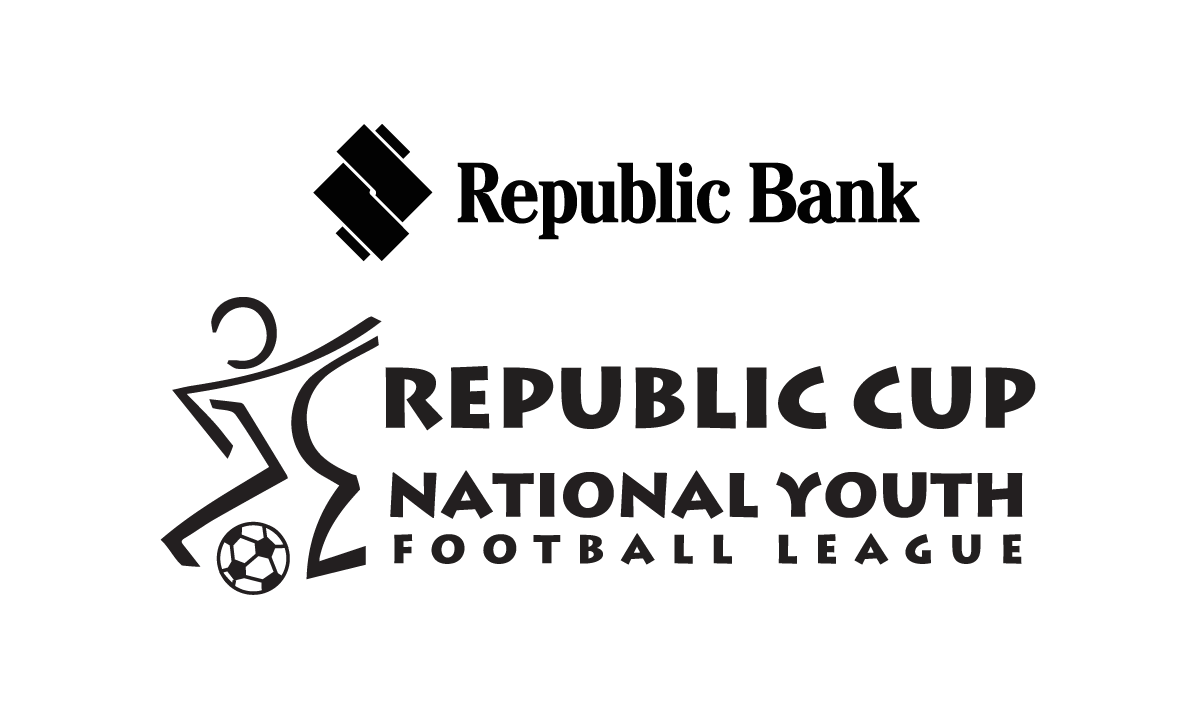 Yet Trinity played its part in a great cup final and, if Sam was wearing a white shirt rather than San Juan's green top, maybe the end result would have been different. It is not a slur on Moe's competent coaching abilities; but testimony to the prowess of the teenaged striker.
The game was just six minutes old when Sam put San Juan ahead and Trinity was always going to find it difficult against such an organised opponent.
Yet the Hawks, with midfielder Kristian Meloney at his tricky best, was running them closer than San Juan fans had hoped.
"Sam, yuh stop play or what?!" shouted one adult fan. "What kind of work ethic is that from a national player?!"
Considering that Trinity had San Juan pinned back at the time, it is uncertain what Sam could do about it apart from play in central defence. But, within seconds of the rebuke, the lanky striker reminded onlookers of his quality.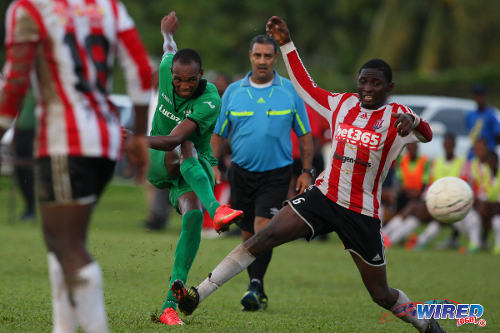 Substitute Kyle Williams, with his first touch, sent a ball down the right flank for Sam to chase in the 66th minute. And, when Trinity midfielder-cum-defender Taje Commissiong slipped, the outcome was inevitable.
Sam still had one defender left to beat. But that was a minor inconvenience. He dipped his right shoulder and glided left to elude Liam Burns before arrowing his left footed effort into the far corner.
"Ah boy, like he heard me!" replied the supporter, with a metaphorical and undeserved pat on his own back.
On the bench, Romain got up and headed towards the dressing rooms. Had Trinity East conceded the match already?
"I went to pray," Romain confessed, after the match.
Maybe the young coach should pray about the country's crime situation; because he got an immediate response from the Father yesterday.
He had barely reached the tunnel when the San Juan defence, marshalled by national under-20 player Josiah Trimmingham, responded dozily to a through ball. And Bonval waited for opposing goalkeeper D'Eandre Villaroel to commit himself before delicately lifting the ball over him from a sharp angle to halve the deficit.
In the 73rd minute, Bonval produced an even better strike. Trinity's "Divine Ponytail" collected a pass just inside the San Juan penalty area and shaped to shoot with his right boot before chopping the ball past Levi O'Brien and burying past Villaroel with his left foot instead.
Bonval whipped his shirt off as Trinity East students went into frenzy. But the San Juan faithful was far from silenced.
"San Juan! San Juan!" they chanted.
And, in the 79th minute, Sam responded.
San Juan got a free kick at the halfline. Inexplicably, Trinity players retreated to their own penalty area. In so doing, they played right into the hands of Trimmingham's booming right foot deliveries and Sam's impressive leaps.
Trimmingham punted the ball into the Trinity box, Sam rose to flick a header into the corner; and that was that.
Sam took his top off and sprinted over to celebrate with his schoolmates; some of whom climbed on to the roof of the tunnel to dance along with him. San Juan North was about to be crowned as the East Intercol's champion school.
Just three months ago, San Juan was preparing for life in the zonal division before El Dorado West's withdrawal from the Premier Division suddenly offered the "Bourg Mulatrasse Boys" a chance to compete at the top level.
Trimmingham was trying to force through a transfer to Trinity East at the time.
Look at San Juan North now: Premier Division runner-up, third in the Big Four and East Zone KO champions; all in Moe's first season with the school.
"This was an important game for the school," said Moe, "and something special for the students, the faculty, the principal…"
Moe is not looking too far ahead yet and he promised to take the remainder of the season one game at a time.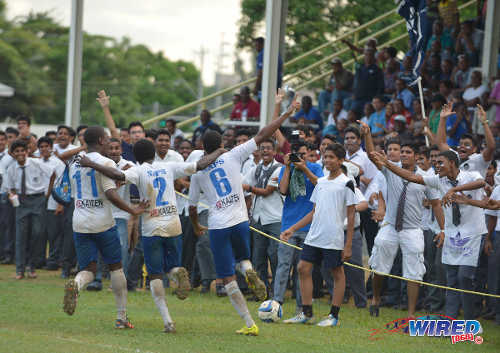 But Sam, who insisted he would not have left San Juan even if his school was not accepted in the Premier Division, had other ideas.
"We going out for Naps now," said Sam.
Naparima's student body is not short of passionate football fans either. If Sam gets his wish, it could be a stirring final.
(Teams)
San Juan North (5-3-2): 1.D'Eandre Villaroel (GK); 12.Warren Chase (27.Romario Rochard 83), 3.Hakeem Wilson, 20.Josiah Trimmingham, 6.Jamal Roach, 16.Brandon Semper; 18.Marcus Rosales, 5.Shayon Eustache (24.Levi O'Brien 46), 17.Onee Jarvis (25.Kyle Williams 64); 22.Jermell Britto, 9.Brent Sam (captain).
Unused substitutes: 26.Sterling Sween (GK), 11.Jeankeon Alexander, 19.Joshua Leach, 21.Kyle Mack, 23.Benjamin Magloure.
Coach: Jerry Moe
Trinity College East (4-1-2-3): 1.Myron Mark (GK); 3.Lloyd Pierre, 2.Liam Burns, 15.Taje Commissiong (captain), 6.Daniel Sandy; 8.Adrian Charles; 7.Kristian Meloney, 17.Deshawn Edwards; 12.Thomas O'Neil (21.Kishion Hackshaw 85), 9.Quincy Ballah, 10.Sean Bonval.
Unused substitutes: 22.Christophe Lewis (GK), 5.Nickel Orr, 11.Akeel Modeste, 13.Tristan Perrotte, 14.Darnell Sookoo, 19.Andre Raymond.
Coach: Adrian Raymond
This week in the Coca Cola Intercol:
Wed Nov 19
(East Intercol final)
San Juan North 3 (Brent Sam 6, 66, 79), Trinity College East 2 (Sean Bonval 67, 73) at Larry Gomes Stadium;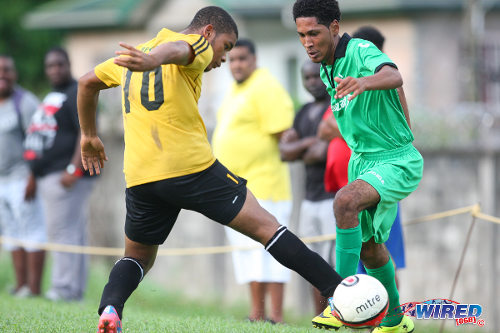 Tue Nov 18
(North Intercol semifinals)
St Anthony's College 1, East Mucurapo Secondary 1;
*–East Mucurapo won 5-4 on penalties;
Trinity College 2, St Mary's College 2;
*–St Mary's College won 4-2 on penalties;
(South Intercol semifinals)
Pleasantville Secondary 0, Naparima College 4;
Presentation College (Chaguanas) 0, St. Benedict's College 0;
*–St Benedict's College won 6-5 on penalties;
Mon Nov 17
(Central Intercol semifinals)
Presentation College (Chaguanas) 2, East Carapichaima Secondary 2;
*–East Carapichaima won 4-2 on penalties;
ASJA Boys 0, Chaguanas North Secondary 3;
(Tobago Intercol final)
Signal Hill Secondary 2, Speyside Secondary 5;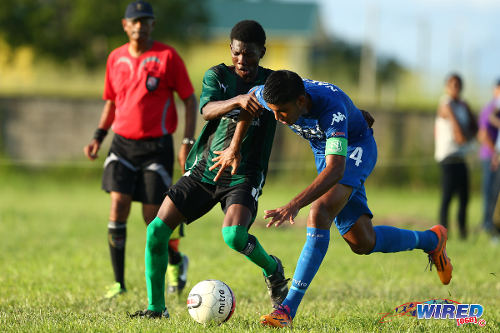 Upcoming fixtures
Thu Nov 20
(South Intercol final)
Naparima College v St Benedict's College, 3.45 pm, Mannie Ramjohn Stadium;
(Central Intercol final)
East Carapichaima Secondary v Chaguanas North Secondary, 4.30 pm, Ato Boldon Stadium;
Fri Nov 21
(North Intercol final)
East Mucurapo Secondary v St Mary's College, 4.30 pm, Hasely Crawford.