"With God nothing is impossible." That's the motto of Jamari Warrick of St Benedict's College, La Romain.  Seventeen year old Warrick of Enid Village, Rio Claro says his favourite colour is red, which is an expression of his warmth, and outgoing and affectionate personality.
Warrick shares his daily commute to La Romain with his mom who takes that two hour drive to inspire and motivate her son to make the most of his opportunities both at school and in the game.
His day begins before 5 am and he never leaves home without feeding his dog, Storm.  Storm is a lucky dog though since his food is specially prepared and cooked by "Chef Jamari" but Storm isn't the only one who enjoys Warrick's cooking.
He cooks almost anything and is often the substitute cook when his mom gives him the chance; although he declared that his favourite food is his grandmothers' crab and dumpling.
"She has it just right," he said with a grin.
After a hard day at school Warrick finds relaxation in playing football or cricket with his hometown boys, or passing on his football skills to his ten year old  brother who looks up to him.
Warrick was very relaxed around his team mates as he sat for this Wired868 interview:
Name: Jamari Warrick
Date of Birth: 11 June 1997
Position: Goalkeeper
Number and Why: I use 25 because of Joe Hart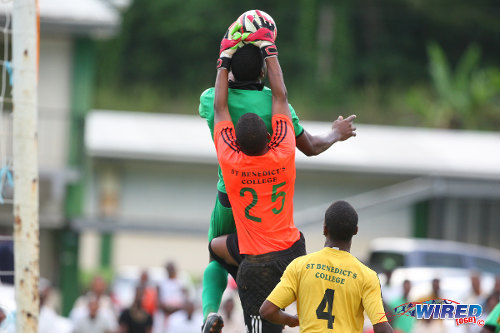 Favourite Player: Joe Hart (Goalkeeper)
Favourite Team: Manchester City of course
What is your favourite social media:
Face book and What's App… Lots of requests on fb are from young players who I network with and we chat about the game and share ideas.
What is something most people don't know about you?
I play cricket.
What do you hope to do when you finish school?
I have aspirations of becoming a pilot.
What would be success for you as a player?
To play as a professional and being able to pay the bills; in other words "making the money while playing the game".
How would you describe yourself as a person?
Cool, humble, fun-loving but focused.
Who was your most important coach and why?
I would have to say (St Benedict's coach) Dexter Cyrus. He is a coach who has a tremendous amount of experience. He is very tactical and always has a remedy for any given situation. He encourages us to remain focused and disciplined.  He always pulls up the team and reminds us to step up when we need to.
What makes you stand out as a player?
I always give my 100% in any game I play.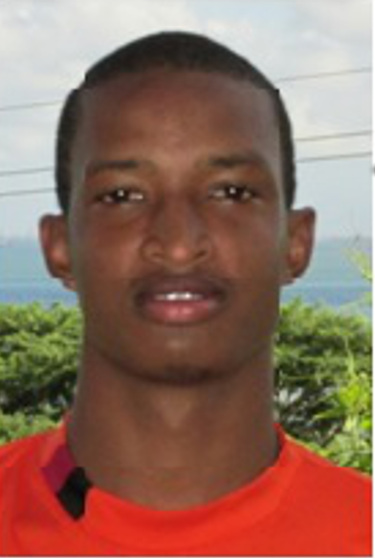 What was your best moment in football so far?
Our game against San Juan Sec when we took control of the game in their hometown.
What was your worst moment thus far?
That would just have to be when we lost to Shiva Boys on our home ground.
What is your target for the season?
To work with the team to win out the leagues.
How would you describe your team at St Benedict's?
We are just that… a TEAM. But we're more than that we are a family of brothers.  We've got heart, soul, we go all out, if we're dying we will give our all still, we inspire each other. In our good moments we're all up but in our down moments we encourage each other to hold our heads up!