Tyrel "Pappy" Emmanuel lives in the quiet community of Jacob Settlement in Santa Flora and is a Form Four student of Shiva Boys Hindu College.  Meeting Emmanuel for the first time, it was quite obvious that he was a quiet and shy individual who transforms whenever he hits the field.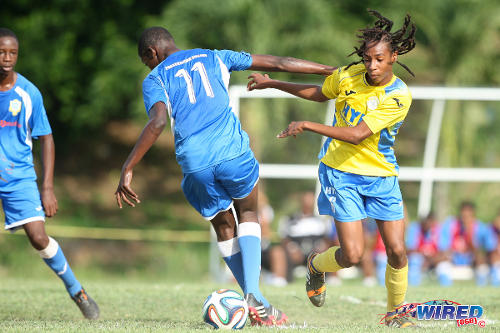 He credited Cox's Coaching School for laying the foundation for his rapid development in football and says he works hard to become even better.
His mother Keisha Edwards and older brother Isaiah Taylor could not be more proud of his progress so far. Taylor said Pappy's skills developed quickly from playing with the older guys in the community. While his mother boasted of her son's vision and clean, "on point" passing.
Although still heartbroken over the 6-0 defeat to Naparima College in the final game of the SSFL Premier Division competition, Emmanuel says he intends to be well prepared for the upcoming InterCol competition, which is carded to kick off on 5 November 2014.
We were able to get past Pappy's shy exterior and got him to open up a bit for Wired868.

Name:  Tyrel Emmanuel.
Date of birth: 10 January 1999.
Hometown:  Jacob Settlement, Santa Flora.
School:  Shiva Boys Hindu College.
How did you get your nickname?
"Since I was small my mum called me Pappy, I don't know the reason for it."
What is something most people don't know about you?
"Before becoming a midfielder, I played defence."
How would you describe yourself as a person?
"Quiet and funny."
What do you enjoy doing in your free time?
"Spending time with my friends and playing different types of sports."
What pushes you to succeed?
"My brother, he pushes me to go training all the time and to work hard and just try to fight it."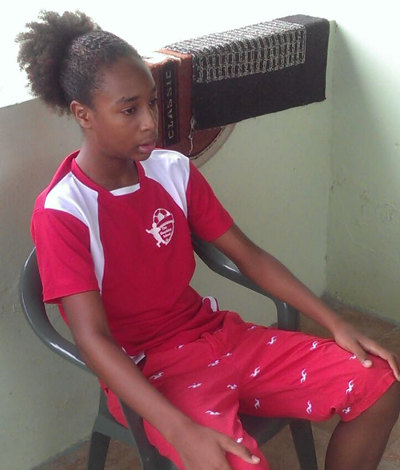 What career path can you see yourself pursuing outside of football?
"I would like to be an Ambassador of FIFA."
What would be success for you as a player?
"I would like to be a professional footballer playing for Real Madrid."
Who was your most important coach and why?
"I would say Dennis Cox (of Cox's Coaching School). He coached me since I was small and I still play with him at this moment."
What makes you stand out as a player?
"I try to do my best in all the games and I work hard during training."
Who is your favourite player and why?
"Cristiano Ronaldo because of his ability and consistency, and he works very hard during training and in the games."
What is your favourite team and why?
"Real Madrid because I like the way they pass the ball and also their counter attack."
What was your best moment so far in football? And your worst?
"My best moment was going to Mississippi with the coach Dennis Cox in August and being able to see different teams (from abroad). I like seeing different styles of play."
"My worst moment was (playing for Santa Flora Government) in the primary school football final, we lost against Arima Boys 4-2."
What is your target for the season?
"Just to keep my personal level high and help the other players to prepare for InterCol this year."