The Trinidad and Tobago women's national senior team's next international match will be 2,782 metres above sea level in Quito, Ecuador on 8 November 2014 at a venue once deemed medically unsafe for players by world governing body, FIFA.
But what else would we expect? A 15 minute flight to Caracas?
Over the last four months for the "Women Soca Warriors" have faced more hurdles than World Championships winner Jehue Gordon might meet in his lifetime; and yet they are still moving. Their dream of qualifying for the Canada 2015 Women's World Cup is not over yet; just deferred.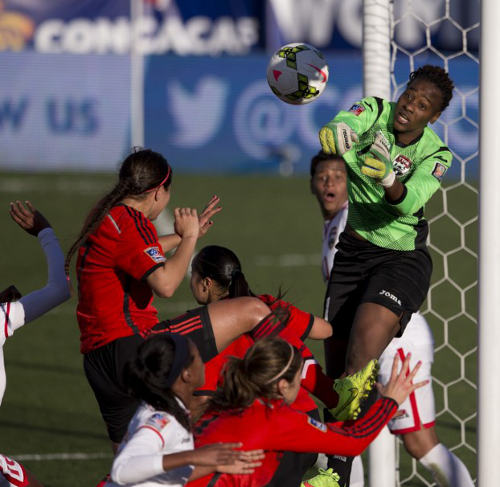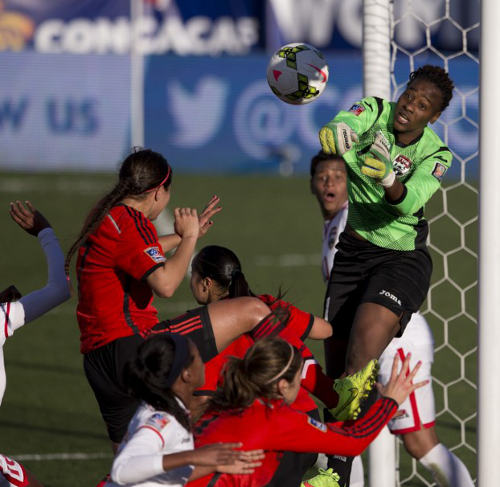 At the CONCACAF Championship's third place play off this evening in the PPL Park in Chester, Pennsylvania, Trinidad and Tobago lost sight of the third and final automatic World Cup spot after falling 4-2 to Mexico in extra time.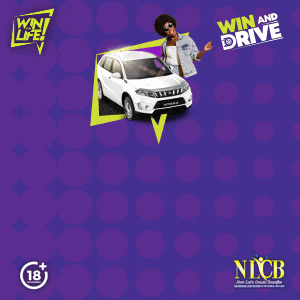 Captain Maylee Attin-Johnson was crushed that her squad failed to hold on to a fleeting second half lead.
"The only thing I am disappointed in is the premature celebration," Attin-Johnson told Wired868. "We got caught up in the euphoria and lost our focus."
Mexico coach Leonardo Cuellar rested his entire midfield and forward players—six in total—in the CONCACAF semifinal on Friday. It meant that more than half "El Tricolor" had four days rest between games while the Trinidad and Tobago team, already haunted by injuries and a key suspension, got just one day off.
Cuellar would say his trick worked although his first emotion might be relief.
In five matches, Trinidad and Tobago lost just once in normal time; and that was to FIFA's number one team on the planet, the United States. Yet, the Warriors must wait until 2 December 2014 and the second game of a two-legged tie with Ecuador to find out if it has been enough.
"We will make a happy ending to this story," said Attin-Johnson. "We have pushed the top teams in CONCACAF to the end; and that's with limited preparation. We have not played with our full team throughout this tournament but each player that was called upon stepped up big time.
"We have a great group of resilient young ladies and I'm super proud of each and every one of them."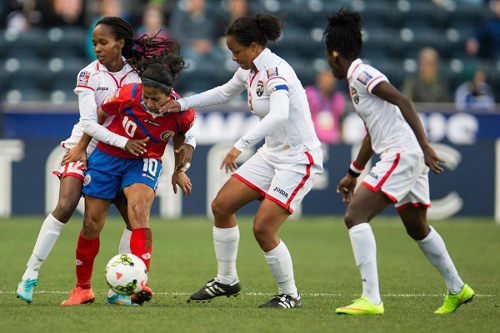 The dream of becoming the first Caribbean team to qualify for a World Cup is so tantalising close that it must feel surreal.
Yet, once more, the Women Warriors found themselves chasing an opponent that was more experienced, better supported by its administration and, on this occasion, fresher.
After an opening 25 minutes in which Mexico was only marginally better, Sandro Mayor put the North American nation ahead with a neat, curling finish from inside the area after the Trinidad and Tobago defence failed to cut out a left side Monica Ocampo cross.
And, by halftime, the Warriors had not managed a single shot while there was a fresh injury scare as Attin-Johnson was stretchered to the sidelines for lengthy treatment on her ankle.
But, not for the first time, the women from the "two island republic" took full advantage of the first whiff of an opportunity. Kennya "Yaya" Cordner scored Trinidad and Tobago's first attempt on goal with a stooping header in the 57th minute from a right side Ahkeela Mollon cross.
It was Cordner's third goal of the competition and, up until that point, no other Trinidad and Tobago player had scored from open play. And all three of her goals came from Mollon deliveries.
"Yaya" and "Mollo" probably finish each other's sentences by now.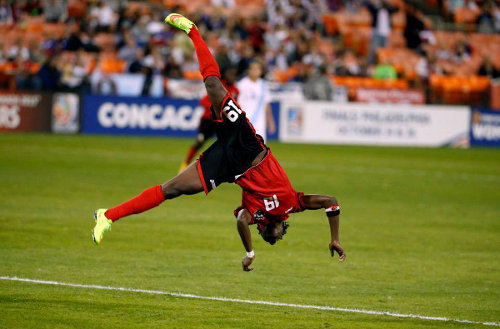 Mexico almost regained its advantage within seconds as Mayor shot against the bar in the 59th minute after T&T goalkeeper Kimika Forbes, uncharacteristically, failed to gather a routine ball from a corner kick.
Trinidad and Tobago was growing in confidence by then.
Coach Randy Waldrum sensed the mood and made an attacking change as teenaged attacker Anique Walker replaced deep-lying midfielder Karyn "Baby" Forbes in the 67th minute.
Mexico central defender Alina Garciamendez was forced to make an acrobatic clearance in the 76th minute with Trinidad and Tobago attacker Mariah Shade lurking as the Warriors showed not only offensive intent but know-how. And, two minutes later, Trinidad and Tobago went ahead.
This time, Cordner drove a left sided cross into the penalty area and, as utility player Brianna Ryce threw herself at the ball, the unnerved Mexican defence failed to snuff out the danger. Mariah Shade, so often the coolest player in the penalty area, took advantage with a first time finish from six yards.
Yesss! Noooo!!
Fifty-five seconds later, the lead vanished as T&T full back Liana Hinds, one of the team's unsung heroes, mistimed her leap at a Mayor cross and Ocampos calmly headed in at the far post.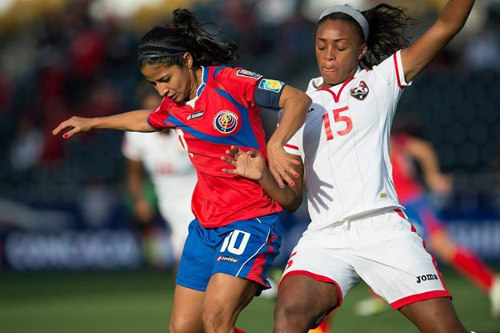 There were no further goals in regulation time, thanks to a brilliant Forbes save off a Veronica Perez free kick. But, two minutes before the end of the first half in extra time, Veronica Corral put Mexico ahead from close range after Bryce misread another Mayor cross.
And, one minute into the second half, Bryce erred again with a loose pass on top of her penalty box. The ball was immediately relayed to Corral who clinically converted her second item.
For the tireless Bryce, it was a cruel end to a competition in which she played in four different roles in defence and midfield. Today was her first international game as a central defender due to the suspension of Rhea Belgrave and injury to Ayanna Russell.
The Warriors could not muster another goal in Pennsylvania. But they have two games left against Ecuador to set that right.
"Mexico rested six players on Friday and we still ran them hard," said Attin-Johnson. "But Ecuador will feel it come November 8. And (hopefully) God's will is for us to clinch qualification in Trinidad on the second (of December).
"I know the support (in Trinidad) will be incredible."
It will be vital that the financial support comes soon, though.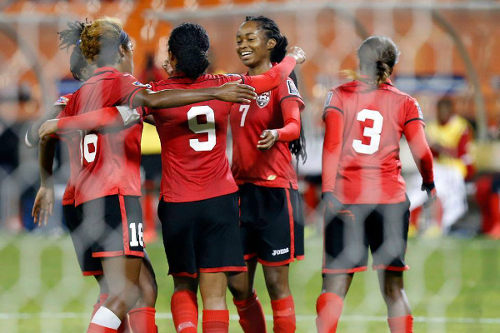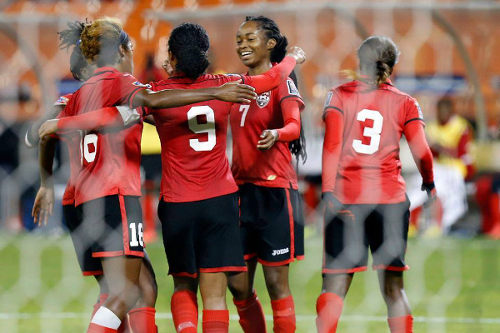 Last Wednesday, Minister of Sport Dr Rupert Griffith announced a $50,000 bonus for each player as reward for their efforts in the group stage. But it is more important that the team is prepared for its trip to Ecuador; and it will not be cheap.
Ecuador played three games at home in the South American qualifiers and four away. They lost ever match on the road and won all but one home game.
Ecuador's only defeat in the thin air of Quito came to Brazil and there might be a story there worth repeating.
On September 18, Brazil won 2-0 away to Chile in its penultimate group fixture, which confirmed the team's progress to the next round. Brazil was due to host Argentina on September 20 before playing the first match of the final group stage away to Ecuador on September 24.
Only two Brazilians who faced Chile were used against Argentina, in a game which Brazil lost 2-0. And Brazil was full-strength in Quito where the "Samba Ladies" romped to a 4-0 win.
Did Brazil play a reserve team against Argentina so as to give their first choice players an additional five days preparation at altitude in conditions that leave visitors complaining of shortness of breath?
If so, will Trinidad and Tobago match that financial investment in its ladies?
Whatever the answer—and former national women's coach Jamaal Shabazz also has extensive experience of playing at altitude—one suspects that our women will give 100 percent. All for one; and one for all.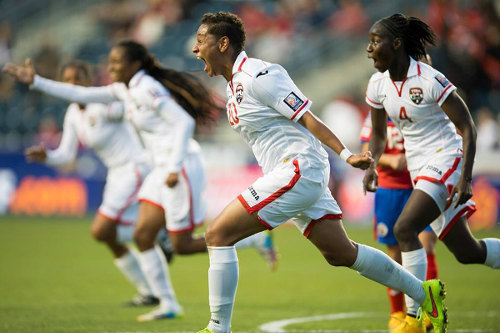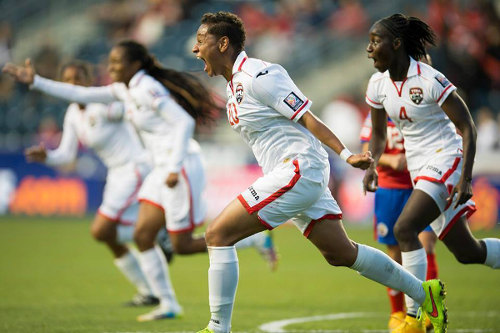 "It's been a great experience for us both on and off the field," said Attin-Johnson, as she took a second to consider the last fortnight. "We became sisters in this tournament. The most important thing is we played with all our hearts and fought for each other.
"It's been a tremendous ride but we know it is not over."
(Teams)
Trinidad and Tobago: 1.Kimika Forbes (GK); 15.Liana Hinds, 16.Brianna Ryce, 5.Arin King, 20.Lauryn Hutchinson (8.Patrice Superville 93), 14.Karyn Forbes, 9.Maylee Attin-Johnson (captain), 6.Khadidra Debessette (10.Tasha St Louis 106), 12.Ahkeela Mollon, 19.Kennya Cordner, 3.Mariah Shade,
Unused substitutes: 21.Tenesha Palmer (GK), 2.Ayanna Russell, 7.Dernelle Mascall, 11.Janine Francois, 13.Anique Walker, 18.Khadisha Debessette.
Coach: Randy Waldrum
Mexico: 12.Pamela Tojonor (GK); 13.Kenti Robles, 4.Alina Garciamendez, 15.Christina Murillo, 3.Bianca Sierra; 10.Sandra Mayor, 17.Veronica Perez (18.Dinora Garza 114), 8.Teresa Noyola (7.Lydia Rangel 48), 16.Karla Nieto, 11.Monica Ocampo (19.Tanya Samarzich 106), 9.Veronica Corral.
Unused substitutes: 1.Cecilia Santiago (GK), 2.Ariana Romero, 5.Paulina Solis, 6.Liliana Mercado, 14.Monica Alvarado, 20.Luz Duarte.
Coach: Leonardo Cuellar
CONCACAF Championship
(Sun Oct 26)
Third Place Play Off
Mexico 4 (Sandra Mayor 24, Monica Ocampo 79, Veronica Corral 104, 106), Trinidad and Tobago 2 (Kennya Cordner 57, Mariah Shade 78) in Chester;
Final
United States 6 (Abby Wambach 4, 35, 41, 71, Carli Lloyd 18, Sydney Leroux 73), Costa Rica 0 in Chester
FIFA Play Off
Ecuador v Trinidad and Tobago, Nov 8, Quito, Ecuador;
Trinidad and Tobago v Ecuador, Dec 2, Port of Spain, Trinidad.