Trinidad and Tobago could lose its reputation as a tourism destination if the national senior women's team keep this up.
The "Soca Princesses" certainly did not give their St Kitts and Nevis guests much time to enjoy the scenery at the Hasely Crawford Stadium as the host team opened its 2014 Caribbean Cup account with an emphatic 10-0 rout in Port of Spain.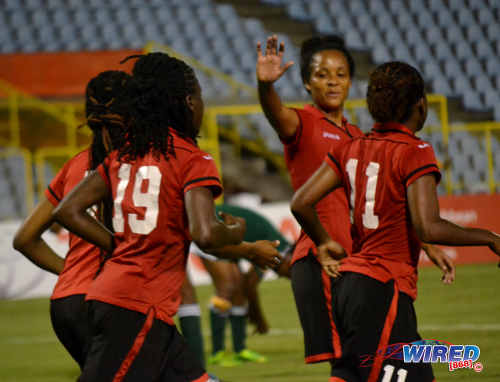 The game was over as a contest after just 12 minutes with Trinidad and Tobago five goals ahead after doubles from strikers Tasha St Louis and Kennya "YaYa" Cordner. But football is not a sympathetic sport and St Kitts was forced to stick around for another 78 minutes.
All things considered, the tourists were lucky the final score did not get close to the 23-0 that the Trinidad and Tobago national under-17 team put past the British Virgin Islands, two years ago.
"We started off really fast but dropped off our intensity after 30 minutes," said United States-based attacker and 2013 Women's Player of the Year, Kennya Cordner. "In CONCACAF, we will have to keep up our intensity all the way through."

The inaugural women's Caribbean Cup trophy is at stake now. But Cordner and company are fixated with the ultimate prize, which is a place at the Canada 2015 Women's World Cup.
No Caribbean team has ever qualified for a senior World Cup. But an additional space for CONCACAF, due to Canada's role as host, has motivated the region's female players.
Tonight, Trinidad and Tobago sent a warning shot to its other rivals as the two island republic climbed atop Group B ahead of Martinique who defeated Antigua and Barbuda 2-0 in the earlier match at Port of Spain.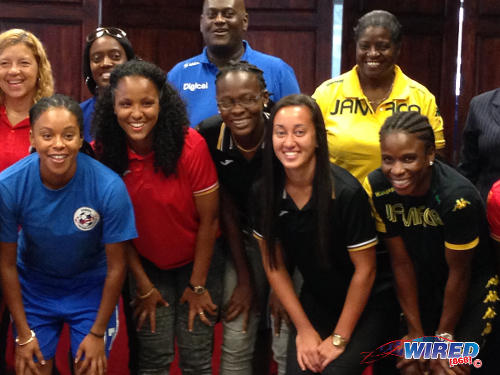 Elsewhere in Group A, Jamaica romped to a 4-1 win over Puerto Rico on Tuesday while Haiti trounced Bermuda 5-1.
Group A action continues tomorrow at the Ato Boldon Stadium, Couva where Bermuda tackles Jamaica at 5 pm and Haiti challenges Puerto Rico at 7.15 pm.
And Trinidad and Tobago will feature again at the Hasely Crawford Stadium on Friday when the host team plays Antigua and Barbuda at 7.15 pm after a 5 pm clash between Martinique and St Kitts and Nevis.
God knows what might be going through the mind of the Antiguan ladies who looked on from the sidelines tonight as the Princesses ruthlessly sliced open the Kittian backline.
Veteran St Louis had a hattrick by halftime while Cordner and Janine Francois both notched doubles and captain Maylee Attin-Johnson, Mariah Shade and substitute Dernelle Mascall contributed a goal each to ensure a positive start to the competition and a smooth transition within the technical staff.
Thirty-three year old Ben Waldrum ran the bench last night in place of his dad, Randy Waldrum, who is expected in Trinidad tomorrow. The younger Waldrum, who has a UEFA B coaching license, is no more qualified than former head coach Marlon Charles and certainly less experienced.
But no one would have been thinking about the technical area as the women ran riot.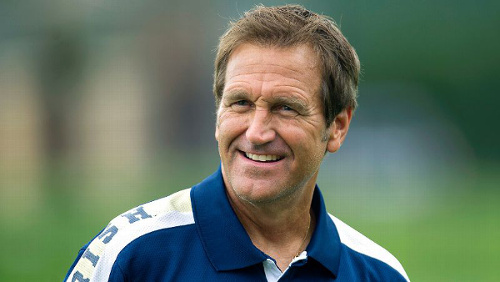 Presumably, the Princesses will grow from strength to strength when the elder Waldrum reclaims the reigns tomorrow.
Charles, who has remained with the squad as an assistant, cooed that the Trinidad and Tobago women are capable of making history.
There were roughly 1,000 supporters at the game tonight. He hopes to see more than double that number on Friday night for the Princesses' next outing.
"Our focus is to change the face of women's football," said Charles, "and we want the fans to come out again and support us. It was nice tonight but we want even more."
The goals were generally simple in their execution; a culmination of sound decision making, unselfish play in and around the opposing penalty area and composed finishing. But, goals apart, Cordner applied the electricity throughout the match with her skilful flicks and acceleration past opponents.
At present, YaYa represents Seattle in the reserve division of the United States' professional league. Perhaps her stock and those of her international teammates would rise in two months' time if Trinidad and Tobago shines at CONCACAF level.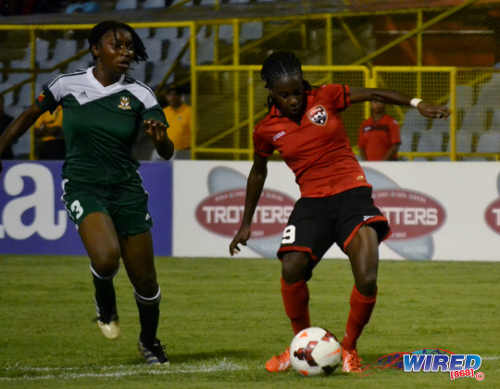 With all due respect to St Kitts, the Princesses have bigger prey within their sights.
"We have to step up our intensity," said Trinidad and Tobago's Canada-born defender Arin King, "because we will play against better teams."
It was an ominous message for the Antiguan women.
Trinidad and Tobago's Soca Princesses are in the mood for goals.
(Teams)
Trinidad and Tobago (4-1-3-2): 1.Kimika Forbes (GK); 4.Rhea Belgrave, 2.Ayanna Russell, 5.Arin King, 12.Lauryn Hutchinson; 14.Karyn Forbes; 11.Janine Francois, 9.Maylee-Attin Johnson (captain) (18.Annalis Cummings 62), 3.Mariah Shade (13.Shenelle Henry 73); 10.Tasha St Louis (7.Dernelle Mascall 53), 19.Kennya Cordner.
Unused substitutes: 21.Tinesha Palmer (GK), 6.Khadidra Debesette, 8.Afiyah Matthias, 15.Patrice Superville, 16.Jo-Marie Lewis,
Coach: Ben Waldrum
St Kitts and Nevis (4-5-1): 1.Tynetta McKoy (GK); 6.Charnel Arthurton, 16.Astonia Carey, 3.Rozel Liburd, 8.Lavern Francis (20.Shamekah Isaac 56); 7.Caroline Springer, 4.Shandor Wilkinson (captain) (9.Kerisha Powell 46), 12.Chelsey Harris, 14.Shinell McCalla, 5.Shirmel Johnson; 11.Pheonetia Browne,
Unused substitutes: 18.Keshanna Huggins (GK), 2.Tyra Wilkinson, 10.Leranja Wilkinson, 13.Kerrise Hanley, 15.Tishauna Stanley, 17.Kidedra Henry, 19.Shirris Edwards,
Coach: Dennis Martin
2014 Caribbean Cup results
Group B
(Wed Aug 20)
Martinique 2 (Prisca Carin 12, 63), Antigua and Barbuda 0 at Port of Spain
Trinidad and Tobago 10 (Kennya Cordner 3, 7, Tasha St Louis 6, 10 pen, 22, Maylee Attin-Johnson 12, Mariah Shade 44, Janine Francois 54, 58, Dernelle Mascall 67), St Kitts and Nevis 0 at Port of Spain
Group A
(Tue Aug 19)
Jamaica 4 (Donnakay Henry 3 pen, Shakira Duncan 43, 47), Puerto Rico 1 (Laura Sanchez 25) at Couva
*–One Jamaican scorer was not recorded by CFU.
Haiti 5 (Marie Yves Pierre 8, Lindsay Zullo 38, Monocheka Pierre Louis 40, Wisline Dolce 86, Jenerve Charles 89), Bermuda 1 (Shuntae Todd 88) at Couva
Upcoming fixtures
(August 21)
Bermuda v Jamaica, 5 pm, Group A, Ato Boldon Stadium;
Puerto Rico v Haiti, 7.15 pm, Group A, Ato Boldon Stadium;
(August 22)
St Kitts and Nevis v Martinique, 5 pm, Group B, Hasely Crawford Stadium;
Trinidad and Tobago v Antigua, 7.15 pm, Group B, Hasely Crawford Stadium.