There are just two games left in the 2013/14 Digicel Pro League campaign for St Ann's Rangers and everyone at the club probably cannot wait to get them out of the way.
Rangers chairman Richard Fakoory envisioned a dignified close of the season and decent cup run when he replaced head coach Gilbert Bateau with Anthony Streete in March. But, at the Ato Boldon Stadium this evening, there could be no hiding from the plain truth about the St Ann's-based club as it crashed out of the Digicel Pro Bowl at the first rung after a 2-0 loss to San Juan Jabloteh.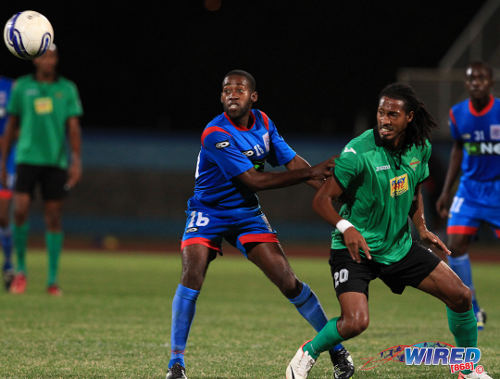 Jabloteh and Rangers are cut adrift from the pack in the nine-team Pro League standings in second from bottom and cellar place respectively. The Rangers team has seven points, Jabloteh has 12 while seventh place Police FC has 27.
Yet, the head to head results make for sober reading. After six meetings this season, Jabloteh won its fifth game this evening; the other ended in a draw.
Worse, Rangers looked terrified of winning this evening.
Michael Yaw Darko (twice), Keron Cornwall (also twice), Keron Alexander and Jameel Neptune all fluffed excellent scoring opportunities for Rangers before Jabloteh opened the scoring through 17-year-old striker Brent Sam in the 70th minute.
Sam made his Pro League debut this evening but he is not one who needs a lot of time to find his feet. Two years ago, the lanky striker scored seven times on his international debut as the Trinidad and Tobago national under-17 team battered the British Virgin Islands 23-0 in Port of Spain.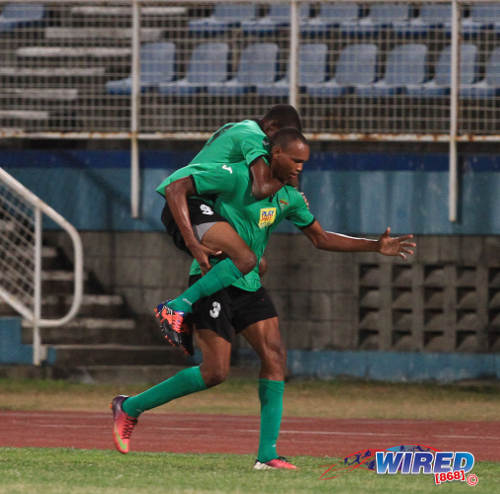 There was only one goal for Sam this evening but it was just as valuable; as his header off the underside of the bar, following a Jelani Felix corner kick, effectively settled the match.
The teenager helped double Jabloteh's advantage too in the 84th minute as he danced around Rangers goalkeeper and captain Akel Clarke before crossing for substitute Neil Mitchell to tap into an empty net.
By then, Rangers had had enough.
(Teams)
San Juan Jabloteh (3-2-4-1): 30.Shane Mattis (GK); 16.Nyron Jones, 12.Jamal Spencer, 19.Dillon Kirton (5.Mudassa Howe); 18.Jevon Morris (vice-captain), 20.Dwane James; 9.Jelani Felix, 15.Micah Lewis, 10.Kerry Baptiste (captain) (21.Neil Mitchell 74), 7.Rennie Britto (14.Shaquille Bertrand 58); 3.Brent Sam.
Unused substitutes: 36.Shundelle Mayers (GK), 4.Jean-Luc Rochford, 17.Kerry Daniel, 22.Maurice Ford.
Coach: Keith Jeffrey
St Ann's Rangers (4-2-3-1): 1.Akel Clarke (GK) (captain); 49.Chad Clinton, 12.Tevin Gilkes, 39.Shaquille Moses, 4.Jelani Peters, 31.Jameel Antoine, 32.Joshua Sylvester (44.Sedale McLean 72), 16.Keron Alexander (7.Jemel Berot 79), 10.Kennedy Isles, 51.Keron Cornwall, 14.Michael Yaw Darko (26.Josh Toussaint 76).
Unused substitutes: 22.Christopher Biggette (GK), 21.Jair Edwards, 33.Isaiah McIntyre, 41.Kevin Carter.
Coach: Anthony Streete
Referee: Cecile Hinds
Digicel Pro Bowl qualifier
(Fri May 2)
San Juan Jabloteh 2 (Brent Sam 70, Neil Mitchell 84), St Ann's Rangers 0 at Couva