Second placed Neal & Massy Caledonia AIA remained in contention for the 2012/13 Digicel Pro League title—at least mathematically—with a 2-0 win over Police FC this evening at the Marvin Lee Stadium in Macoya.
The result kept the "Eastern Stallions" within four points of leading club Defence Force with just two games to go.
In the second outing at Macoya, Trinidad and Tobago star striker Cornell Glen missed his second penalty of the season as fourth place North East Stars was held 1-1 by second from bottom St Ann's Rangers.
Glen had a penalty saved by Central captain and his international colleague Marvin Phillip last month in a goalless draw. And he again missed the chance to secure three points for the Stars tonight as he missed the left post, despite sending Rangers and Trinidad and Tobago goalkeeper Jan-Michael Williams the wrong way.
It was the second successive draw for the Rangers team, which has lost just once in three outings since acquiring Williams from DIRECTV W Connection.

Rangers opened the scoring with its only real chance which, almost predictably, fell to predatory striker Devon Modeste. His left footed effort deflected off Stars defender Kareem Moses and into the roof of the net in the 13th minute.
Stars' number 13, Glen, replied in the 32nd minute from point blank range after Keithy Simpson knocked a cross from impressive left back Kevon Villaroel into his path.
But Glen failed from the penalty spot after referee Gordon Maloney harshlycensored Rangers defender Muhammad Nakhid for an inadvertent handled ball in the 18-yard box. And Williams made a fine, flying save in stoppage time to deny Stars substitute Jayson Joseph and give Rangers a hard earned point.
In the opening game, there were some neat passing routines and offensive movement from Caledonia, particularly in the first half. But, defensively, the Morvant/Laventille team was lacklustre at best.
Even more worryingly, Caledonia's lack of bite seemed to be epitomised by its spiritual leader and Trinidad and Tobago national football team captain Densill Theobald.
A useful box-to-box midfielder with a fine passing range at his best, the 2006 World Cup player led by example as the "Soca Warriors" fought their way past tricky opponents and a series of off-the-field issues to qualify for the 2013 CONCACAF Gold Cup tournament.
Still just 30 years old, Theobald has amassed 90 national senior team appearances, which makes him the fourth most capped player in Trinidad and Tobago's football history behind the retired trio of Angus Eve, Stern John and Marvin Andrews.
But he has not been as convincing in middle-earth in 2013. And, this evening, it was not so much that Theobald lost the physical battle with Police midfielders Trent Noel and Todd Ryan. It was that he never really competed.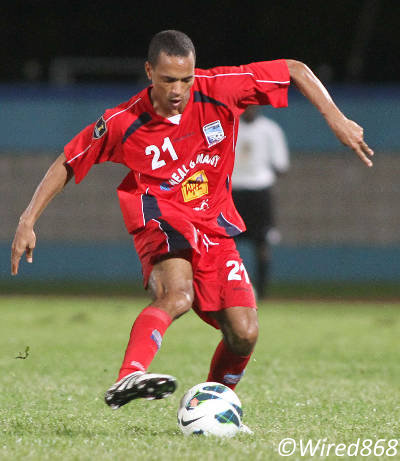 Theobald was playing in India when Caledonia lifted the Caribbean Club Championship crown last year, which is its most prestigious title to date. He must surely lift his form if Caledonia is to retain the honour.
Against Police though, a limp Caledonia effort was still good enough to secure all three points.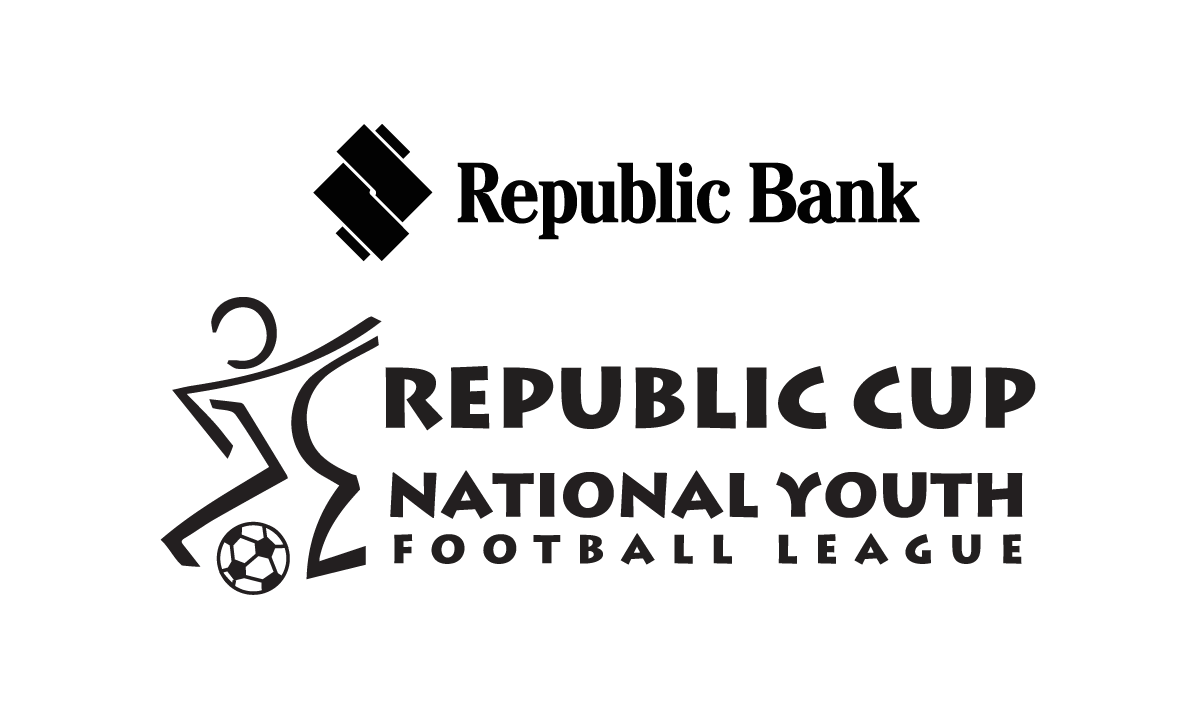 Caledonia right back Kareem Joseph scored his eighth penalty of the season and his sixth in the Pro League after Police goalkeeper Adisa Alleyne clattered Trevin Caesar in the 28th minute. And lanky striker Jamal Gay grabbed his third goal in two consecutive matches with a clever pivot inside the box and flick with the outside of his right boot following a Keyon Edwards pass in the 80th minute.
Noel sent one 25 yard effort crashing off the Caledonia bar but Police failed to conjure much opportunities despite having decent possession in the second half.
Caledonia's title ambitions are still alive. But only just.
(Teams)
Caledonia AIA (4-2-2-2): 1.Shemel Louision; 12.Kareem Joseph, 5.Aquil Selby, 3.Nuru Muhammad, 2.Aubrey David; 7.Stephan David (captain), 21.Densil Theobald; 27.Nathan Lewis (22.Miguel Romeo 83), 17.Akim Armstrong; 6.Trevin Caesar (23.Jamal Gay 71), 9.Keyon Edwards.
Unused substitutes: 34.Kevin Dodds, 4.Colin Nelson, 16.Odelle Armstrong, 20.Akeem Thomas, 28.Sheldon Holder.
Coach: Jerry Moe
Police (4-1-4-1): 16.Adisa Alleyne; 14.Clevon McFee, 2.Jasimar Ashers, 18.Jevon Morris, 20.Elijah Belgrave; 43.Kenaz Williams (5.Anton Hutchinson 66); 11.Kareem Perry, 10.Trent Noel, 26.Todd Ryan (captain), 34.Kerry Fredericks (8.Akiba Peters 72), 9.Keon Quow (15.Jameel Perry 66).
Unused substitutes: 33.Keston Mata, 4.Karlon Murray, 7.Brendon Christopher, 17.Dexter Alleyne.
Coach: Richard Hood
Referee: Rashby McPhie
Today's Pro League results
(6 April 2012)
Caledonia 2 (Kareem Joseph 29 pen, Jamal Gay 80), Police 0 at Macoya
North East Stars 1 (Cornell Glen 32), St Ann's Rangers 1 (Devon Modeste 13) at Macoya
*Glen missed 75th minute penalty
Yesterday's Pro League results
(5 April 2012)
W Connection 4 (Jerrel Britto 9, Joevin Jones 35, Stefano Rijssel 37, Jomal Williams 46), T&TEC 0 at Couva
Red Card: Sylvester Teesdale (T&TEC)
Defence Force 3 (Devorn Jorsling 35, 41 pen, 69 FK), Central FC 0 at Couva
Red Cards: Keston Williams (Defence Force); Marvin Phillip, Weslie John (Central)
[standings league_id=1 template=extend logo=true]