Stand-in Defence Force coach Marvin Gordon praised his men for an impressive performance last night as the army/coast guard combination trounced DIRECTV W Connection 3-0 at the Hasely Crawford Stadium, Port of Spain to advance to the Toyota Classic Cup final.
The Defence Force team, which was beaten 2-1 by Neal & Massy Caledonia AIA in the 2012 First Citizen Cup final, should start as the favourite when it tackles North East Stars next Friday in the Classic final at the same venue in Port of Spain. The Stars edged Stokely Vale on penalty kicks yesterday evening to clinch the other final berth.
It was the "Teteron Boys" that made the most emphatic statement yesterday.
In the first game of the domestic top flight season, Connection whipped Defence Force 2-0 in the Digicel Charity Shield exhibition affair at Marabella. But, to be fair to the soldiers, Connection had already started its competitive season by then due to its participation in the CONCACAF Champions League.
Last night was the first meaningful meeting between Connection, the defending Pro League champions, and last season's Digicel Pro Bowl champion team, Defence Force.

And the outcome was an entertaining clash of styles between the Connection artists and the more direct Defence Force troops.
"We know their style of play," Gordon told Wired868. "The main thing was to prepare in terms of our marking and tracking and to be patient and disciplined when we didn't have the ball and play our football when we got it."
Connection uses a classic 4-3-3 formation with a narrow midfield and attacking trio rather than leaving one striker isolated with retreating wingers in the more common version used today by a host of Pro League teams including Defence Force, Caledonia and North East Stars.
The "Savonetta Boys" use the close proximity of their attackers to good effect in keeping possession while probing for a gap in the opposing defence.
The problem for Connection is, arguably, the lack of a Plan B against an obstinate opponent. Swashbuckling utility player Joevin Jones apart, coach Stuart Charles-Fevrier lacks a player who can drive past challengers or force his way behind the opposing defence.
They might not be at "sixes and sevens" but Connection would surely be helped by the acquisition of a genuine "number nine" or "ten."
Gordon, who headed the technical staff in the place of absent head coach Ross Russell, had versatile defensive midfielder Curtis Gonzales pay close attention to Jones. While defender-cum-midfielder Keston Williams sat in front of Defence Force's back four to counter the movement from the likes of Hashim Arcia and Shahdon Winchester in particular.
Connection midfielder Clyde Leon must have felt like he was in a 4 pm traffic jam on the Uriah Butler Highway.
Midway through the first half, Defence Force set the foundation for a Classic triumph with a brilliant finish from defender Rodell Elcock.
Lanky attacker Jemel Sebro has been a breath of fresh air down the right flank for Defence Force this season and he again won space from Connection left back Kurt Frederick to whip in a teasing low cross. Elcock's finish was anything but straightforward though as he swept the ball, first time, into the far corner despite a touch from opposing goalkeeper and captain Jan-Michael Williams.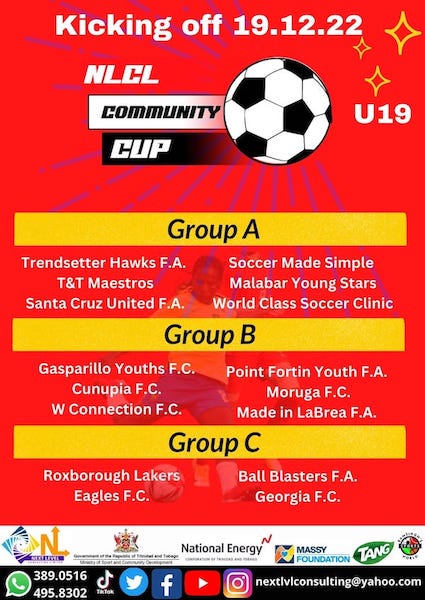 Connection was not exactly rattled; just blunt. The game fell into a pattern with Fevrier's men forcing the soldiers on to the ropes but then failing to land a telling punch while Defence Force looked the more dangerous team on the counter.
Fevrier responded by swapping 4-4-2 for 3-5-2 in the 67th minute. Presumably, he hoped to stretch Defence Force. But employing advanced wingbacks is a gamble against a flanker as quick as Kevon Carter and, in front of the watching Trinidad and Tobago football coaches, the national speedster capitalised within minutes.
Carter got behind Connection's Colombian utility player and stand-in right back Christian Viveros in the 75th minute and, from a sharp angle, surprised Williams with a precise finish into the far corner.
Carter was involved again in Defence Force's third, five minutes from time, as he teed up substitute Jerwyn Balthazar who produced a cracking finish from the edge of the penalty box that went in off the near post.
"It was total football because we played very well in defence and attack," said Gordon. "We have improved in every game we played in this competition but last night was probably our best…
"It is always a privilege to come up against a coach like Stuart Charles and to get a result like that is a wonderful feeling. I look up to Jamaal (Shabazz) and Stuartie a lot."
Russell is on duty with the national under-17 team, at present, and is not expected back for the Toyota final either. Judging from Defence Force's semifinal result, the team is in good hands.
"I wouldn't say we are favorites (for the final)," said Gordon. "A final is about who wants it more on the day and who comes to play for it. But I am fully confident in my team."
North East Stars will have its hands full.
(Teams)
Defence Force (4-2-3-1): 1.Kevin Graham; 14.Cory Rivers, 5.Devin Jordan, 20.Rodell Elcock, 21.Aklie Edwards; 3.Keston Williams, 8.Curtis Gonzales; 29.Jemel Sebro (24.Jahvon Neptune 62), 12.Josimar Belgrave (15.Jerwyn Balthazar 53), 11.Kevon Carter; 9.Richard Roy (10.Devorn Jorsling 72).
Unused substitutes: 25.Sheldon Clarke, 4.Marvin Jones, 17.Ross Russell Jr, 22.Ronald St Louis.
Coach: Marvin Gordon
W Connection (4-3-3): 18.Jan-Michael Williams (capt); 25.Christian Viveros, 5.Elijah Joseph (3.Akeem Benjamin 67), 19.Joel Russell, 32.Kurt Frederick (7.Rennie Britto 67); 8.Clyde Leon, 20.Silvio Spann, 36.Joevin Jones; 40.Shahdon Winchester, 14.Hashim Arcia (65.Neil Benjamin 83), 31.Jerrel Britto.
Unused substitutes: 21.Andre Marchan, 6.Kemuel Rivers, 17.Andrei Pacheco, 39.Alvin Jones.
Coach: Stuart Charles-Fevrier
Toyota Classic Semifinals
(Friday November 30)
North East Stars 1 (Cornell Glen 41), Stokely Vale 1 (Tyrone Manning 60) at Hasely Crawford
*–Stars won 4-1 on penalties
Defence Force 3 (Rodell Elcock 24, Kevon Carter 74, Jerwyn Balthazar 84), W Connection 0 at Hasely Crawford