The Trinidad and Tobago soldiers faced more than their share of defiance in the 2011/12 Pro League season. But Thursday night was not one of those moments.
In the 2012 Digicel Pro Bowl final at the Hasely Crawford Stadium in Port of Spain, the Defence Force exploded and, for once, Caledonia AIA could not muster an adequate response as the "Eastern Stallions" ended on the wrong side of a 5-2 score summary.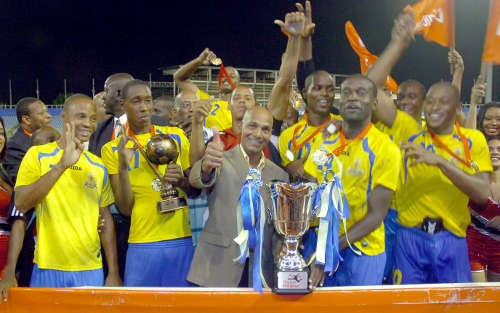 "We worked hard whole year to get one trophy," Defence Force coach Ross Russell told Wired868, with a chuckle. "Caledonia had three already."
The 2011/12 season has been the most successful one in Caledonia's history. But, as the Morvant/Laventille-based team flew to the Cayman Islands today for Caribbean Football Union (CFU) battle, it is uncertain whether they remembered much beyond Thursday's mauling.
Caledonia's starting line-up raised a few eyebrows with four changes from the team that whipped the army/coast guard combination 3-1 at the same venue in last month's Lucozade Sport Goal Shield final. But coach Jerry Moe, who admitted that only playmaker Ataullah Guerra's absence was forced by injury, refused to offer any excuses.

"I don't make any excuses when I win, so I won't make any when I lose," said Moe. "Only losers make excuses."
The Caledonia players and staff, who took three of the six trophies at stake this season, certainly cannot be accused of being losers. But it seems fair to say, with the benefit of hindsight, that Moe had more faith in his back four—and, in particular, the central defensive pairing of Colin Nelson and Kemron Purcell—than they had in themselves.
Defence Force started, as usual, with striker Richard Roy alone upfront. By the final whistle, though, "Mister R&R" had the Caledonia backline seeing double.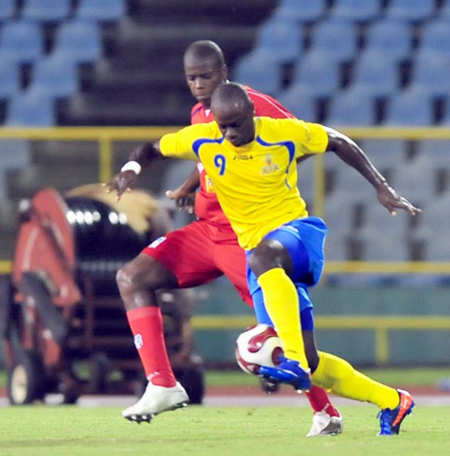 Roy scored twice, created another goal and generally ran the Stallions ragged as the soldiers avenged successive defeats to Caledonia in the TTFF FA Trophy and Goal Shield finals with an emphatic offensive showing.
Not that the eventual lopsided result always looked on the cards.
Caledonia almost conjured up the opener in the 12th minute when a clever exchange of passing released adventurous right back Kareem "Tiny" Joseph in the opposing penalty area.
But Ross Russell Junior, the coach's son, tracked back to execute a timely tackle just as Joseph set his sights on goal.
Caledonia came closer still in the 18th minute when forward Devorn Jorsling, a former soldier, pounced on a loose ball but clipped his angled effort off the outside of the far post.
The Defence Force Rhythm Section was late. It wasn't until the 21st minute that the familiar green drums were transported through the aisles and, as the musicians hit their stride, the soldiers finally located their target.
Versatile Defence Force midfielder Josimar Belgrave and Roy both had looks at goal in quick succession before the two combined for the night's first item in the 27th minute.
Belgrave skipped past a tackle, midway into the Caledonia half of the field, and slipped to Roy who dismissively turned his marker to bury into the far corner with his left boot.
There was something in Roy's fluent turn and composed finish with his supposedly weaker foot that, even then, looked ominous.
Joseph, who scored the first goal in Caledonia's Goal Shield triumph, mustered a reply with a typically irresistible penalty kick in the 33rd minute following a trip by defender Devin Jordan on Abdullah Phillips.
But, on this occasion, the soldiers did not waste time on self-pity.
"Our concentration made the difference this time," said Russell. "We played all over them and one lapse in concentration cost us the FA Trophy. And we had a brilliant first half in Goal Shield and they had five minutes of glory and won the match.
"But, this time, everyone stuck to their task."
Roy certainly remembered his job. Seconds before the interval, he again proved too much for the Caledonia defence.
Belgrave supplied the ball, once more, and Roy held off Guyanese international Walter Moore and spun to provide a right footed finish that Caledonia goalkeeper Kevin Graham could not keep out.
Moe introduced Trinidad and Tobago national under-23 attacker Trevin Caesar at the restart but, before he could break a sweat, Defence Force doubled its advantage.
Russell Jr was the finisher this time with arguably the goal of the night as he controlled a through pass in the area and smashed an angled drive into the far corner with his left boot. At 19-years-old, Russell Jr—apart from his ability to give the ball a good lash—is tall, quick and powerful with good balance and footwork too; it would be wise to get used to his name.
Defence Force midfielder Jerwyn Balthazar threatened further damage with two long range rockets as the ruthless soldiers pinned back the men from Morvant/Laventille.
Caledonia sent on winger Trayon Bobb to add some impetus and the rejuvenated left flank did create another goal as a cross from Moore sparked confusion that Caeser seized upon with an opportunistic finish from close quarters.
But the Caledonia defence could not match its attackers' efficiency and Defence Force substitutes Kerry Joseph and Glenn Franklyn combined to restore the two-goal lead in the 81st minute. Franklyn, a towering central defender, rose unmarked to expertly head home after a right side Joseph free kick.
"The special moment of the match for me," said Russell, "was when I saw the two changes connect and brought us that goal. I think that showed the great composure and depth in our team."
Always inclined to use excessive offensive force on the field, Defence Force nailed a fifth in stoppage time as Balthazar belted past Graham after the Caledonia defence failed to cut out a Roy cross.
At the final whistle, Moore talked himself into a red card after remonstrating with match official Neil Brizan. The Caledonia show was over.
On Thursday night, the empire struck back.