DirecTV North East Stars and Trinidad and Tobago national football team technical director Anton Corneal expressed support and prayers for W. Connection captain and "Soca Warriors" goalkeeper Jan-Michael Williams, whose fiancée, Candice Worrell, is in critical condition after a brutal robbery.
Worrell was relieved of her cellular phone and wallet and left with a broken jaw and cheekbone after being attacked outside her workplace at Jenexcon Engineering in Montrose, Chaguanas on January 20. She has not regained consciousness since the incident.
"This has shocked the whole club," said NE Stars CEO and former 2006 World Cup defender Brent Sancho. "Jan-Michael may play for one of our rivals but football is a fraternity and our thoughts and prayers go out to Jan-Michael, his daughter Nevaeh and especially Candice."
NE Stars players Anthony Wolfe, also a T&T international, and veteran Guyana international Charles Pollard offered a bouquet to Williams before Connection kicked off against T&TEC last night in Digicel Pro League action.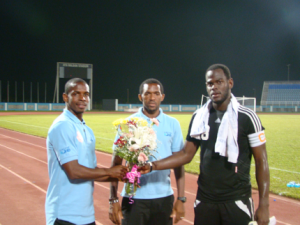 Williams kept a clean sheet as Connection defeated T&TEC 1-0 to move to the top of the Pro League standings.
Sancho and NE Stars Operations Director, Kevin Harrison, urged the press to follow Wired868's lead in publicising the tragedy and vowed to start a fund to help with medical bills. DirecTV, the Soca Warriors Online website and several members of the 2006 World Cup squad have already promised contributions.
"We just pray that Candice is strong enough to fight back," said Harrison. "However, we are incensed that this matter has received no public exposure. The man that did this is still out there and the police have no leads…
"We need the public to come forward and assist the police… What kind of coward would beat a woman like this?"
Corneal also expressed support and solidarity with the 27-year-old Williams and 28-year-old Worrell.
"This is most unfortunate and no one deserves this," stated Corneal on the TTFF website, "and our hearts go out to Jan and his fiancže and their family members.
"The TTFF will offer whatever support that we can to one of our sons. Jan has been a longstanding servant for our country on the football stage and our prayers are with him at this time."