For the second successive year, St Benedict's College and Presentation College (San Fernando) will meet in the South Zone Intercol final.
Benedict's booked their place in the zonal showcase match yesterday afternoon with a 5-0 win over Pleasantville Secondary, while Presentation required penalties to get past Naparima College in a Mahaica Sporting Complex double header.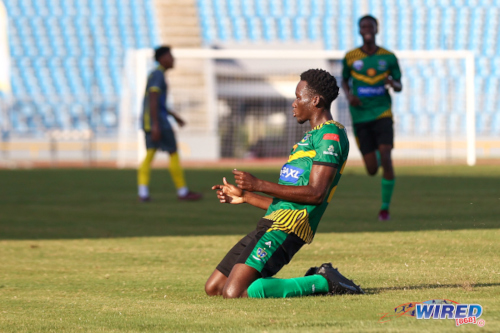 The final will again be staged at the Point Fortin venue, with both Secondary Schools Football League (SSFL) outfits searching for their first trophy of the season.
Last year, St Benedict's edged the "Pres Lions" 4-3 in the south final while their meeting this year ended in a 3-0 win for the "La Romaine Lions". But Queen's Royal College's 2-1 win over Fatima College in the North Zone final on Thursday, after Fatima won their league encounter 7-1, should be warning enough against complacency.
Yesterday, St Benedict's were not exactly stretched by the Premier Division's bottom placed team as they came away comfortable winners.
There were only three minutes on the clock when Malachi Webb put the defending zonal champs ahead from an indirect free kick in the opposing box. And forward Jaden Grant doubled their lead in the first half, off a Jeremiah Niles pass.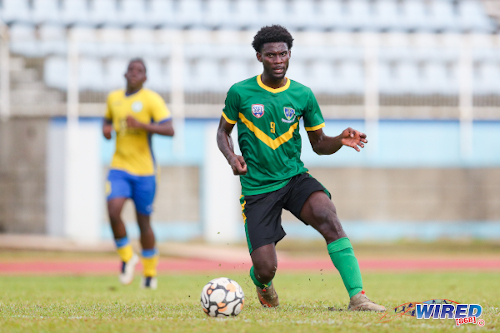 It was the Daniel Jones show after that, as the lanky, left-footed forward scored twice from open play and then off a direct free kick to add a touch of glitter to the score card.
For the second time this season, the Pres-Naps derby yielded no goals at all for spectators to celebrate during regulation time. But the drama was inescapable at the end.
After 10 kicks from a dodgy penalty spot that required construction work from each kicker, there were no saves—but only one miss.
Naparima playmaker Kanye Francis sent opposing goalkeeper Kanye Lazarus diving in the right direction; but, unfortunately, screwed his low shot wide to his left. And that separated the two teams in the end.
Bring on the south final, then.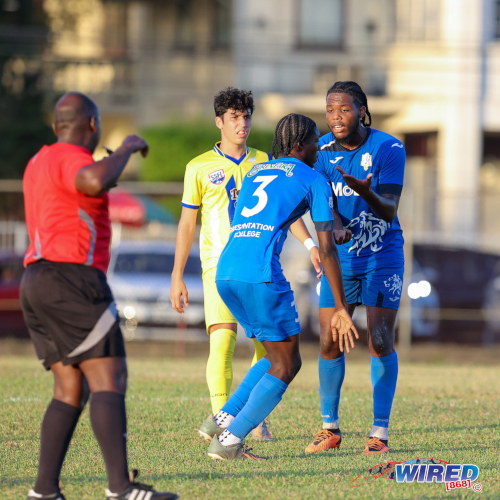 Intercol results
(Friday 17 November)
St Benedict's College 5 (Daniel Jones [3], Malachi Webb, Jaden Grant), Pleasantville Secondary 0 at Mahaica Sporting Complex;
Presentation (San F'do) 0, Naparima College 0 at Mahaica Sporting Complex;
*–Presentation won 5-4 on kicks from the penalty mark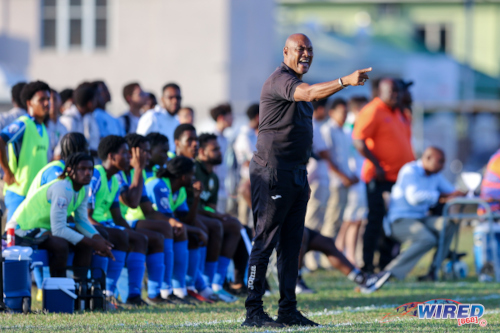 Upcoming Intercol fixtures
(Saturday 18 November)
Bishop's High v Signal Hill Sec, Tobago semifinals, 3.30pm, Black Rock;
(Monday 20 November)
Chaguanas North Sec v Miracle Ministries PHS, Central finals, 3.30pm, Edinburgh 500;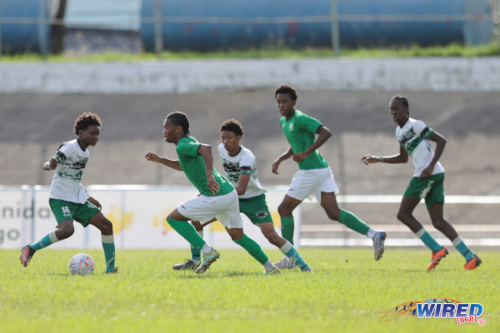 (Tuesday 21 November)
San Juan North v Arima North Sec, East finals, 3.30pm, Larry Gomes Stadium;
(Wednesday 22 November)
Speyside High v Bishop's High/ Signal Hill, Tobago finals, 5.15pm, Dwight Yorke Stadium;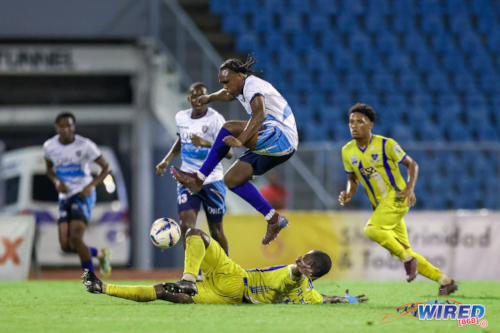 (Thursday 23 November)
QRC v St Anthony's College, North finals, 3.30pm, Hasely Crawford Stadium;
(Friday 24 November)
St Benedict's College v Presentation (San F'do), 3.30pm, Mahaica Sporting Complex.