Trinidad and Tobago lost their second successive outing of the Concacaf Under-17 Championship tonight in Antigua, Guatemala. But, once again, they did not go meekly—as they fell 3-1 to the Group F leaders, the United States of America, at the Estadio Pensativo.
The result was arguably settled within the first 25 minutes of the match, when the North American bigwigs ran up a three-goal lead with goals from forwards Micah Burton and Taha Habroune and busy right winger Paulo Rudisill.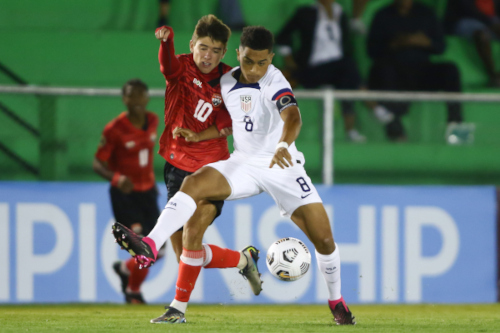 However, the young Soca Warriors belatedly stopped the leaking and even got on the score summary themselves with a tremendous volley by right winger Derrel Garcia.
It was not just a case of keeping the scoreline respectable either. Trinidad and Tobago's second half performance gave the boys in red, white and black strip an advantage for their showdown with Barbados on Wednesday evening.
A draw against their Caribbean neighbours would be enough to see Shawn Cooper's team through to the knockout stage of the competition, alongside Canada and USA.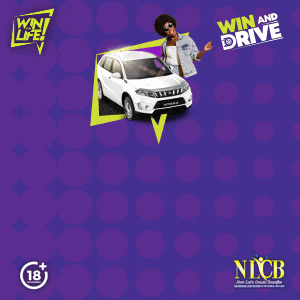 It is, of course, another of the absurdities of Concacaf under the stewardship of Canadian Victor Montagliani that one point could get you into the quarterfinals—and it is practically harder to be eliminated than to advance.
Throw in a reckless fixture schedule of three games in six days that you would not dare to offer to seasoned, adult professional European teams with 30-player squads.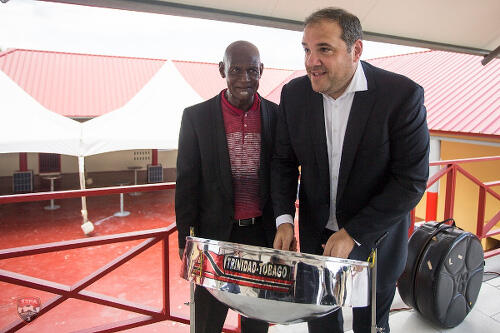 And, to double down on your contempt for the participating teenaged teams, restrict them to 20-man rosters too—so as to even make it impossible for coaches to perform a complete squad rotation.
Little wonder then than it is the likes of Montagliani who offer "know-how" to Fifa-appointed Normalisation Committee chairman Robert Hadad, who, after three years, is barely any closer to completing a job he was meant to do in 24 months.
The aforementioned trivia is only partially irrelevant.
Trinidad and Tobago Men's National Under-17 Team head coach Shawn Coopered headed to the match venue with 18 available players, due to the suspension of Rio Cardines and an injury to defender Jaden Williams.
He lost defensive midfielder Armani Rowe, who was due to fill in his back four, during the pre-match warm-up and ended the match with the slight-framed attacker, Jeremiah Niles, at left back.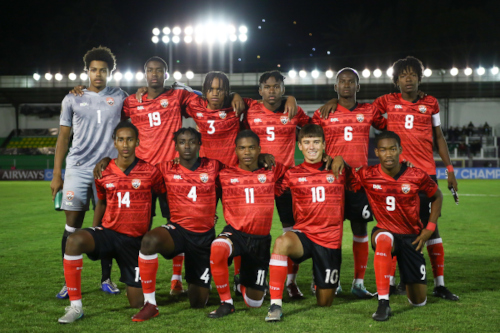 And while USA travelled with extra players in case of injury—Concacaf graciously agreed to swap out injured players, burnt out by their ridiculous tournament format—Cooper naturally did not get the same support from the Trinidad and Tobago Football Association (TTFA).
At this pace, Cooper might need a shave and a dodgy birth paper for himself soon.
There were five changes to the Trinidad and Tobago starting team at kick-off then, since their battling 3-2 defeat to Canada on Saturday.
The United States, under totally different circumstances, made eight changes to their squad—which included leaving out hattrick hero Cruz Medina.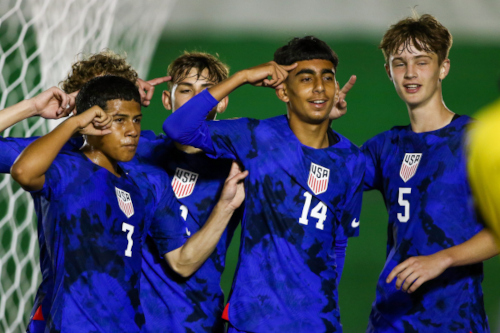 The "Yanks" have an embarrassment of riches in their player pool these days. And, in the opening half hour, Trinidad and Tobago just looked in danger of being embarrassed.
Cooper set his team up to defend in a 4-4-2 formation, which matched USA's system. Only the Warriors cannot match this lot. And the North Americans, spearheaded by playmaker Christopher Aquino, cut through the Trinidad and Tobago midfield like the riot police moving through patrons at an all-inclusive fete.
The constant pressure inevitably led to mistakes. In the 11th minute, Trinidad and Tobago captain and midfielder Josiah Ochoa inadvertently deflected a Habroune cross into Burton's path for an easy opening goal.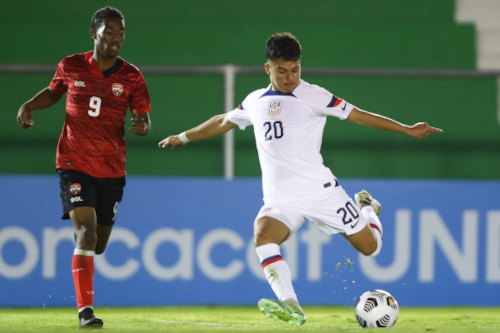 Then, three minutes later, both T&T central defenders—Joshua Figaro and Lyshaun Morris—missed chances to clear the ball before Rudisill tucked home a low Sawyer Jura cross from the left flank.
They were both soft goals and the third was even worse, as Figaro swung and missed at a straightforward low Rudisill cross from the other wing and Habroune could even afford a touch before ramming past Warriors goalkeeper Ailan Panton.
At halftime, USA had 68% ball possession and 14 shots to zero from T&T and 248 passes to 93. If anything, the 3-0 score summary flattered Trinidad and Tobago!
"The team conceded three soft goals which were down to individual mistakes—lack of concentration and composure in key moments," Cooper told the TTFA Media. "All of this are learning experiences the boys are getting while playing only their fourth international game and second competitive game."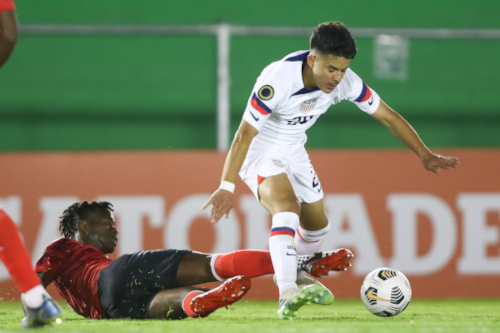 However, Cooper made adjustments at the interval though and, just like against Canada, they reaped dividends.
First, he asked one of his front men to retreat when USA had the ball, which gave the Warriors a flat five in midfield. It at least offered the backline some protection.
The islanders were less timid on the ball too and a fluent move down the right flank in the 61st minute saw the ball zip between Garcia, Aydon Caruth, Tyrell Moore and Michael Chaves before an American defender hacked it clear.
When Moore, who started upfront for his first minutes of the tournament, forced a low save from opposing goalkeeper Adam Beaudry in the 68th minute, it was Trinidad and Tobago's first shot on target of the match.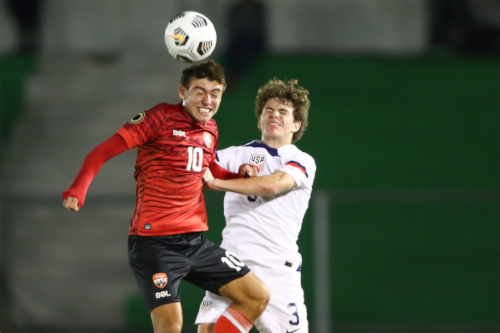 It got better still in the 77th minute, as attacker Malachi Webb again provided an impact off the substitutes' bench as he pressed to pick off a loose pass from USA right back Aiden Harangi, and then immediately crossed for Garcia on the edge of the area.
And Garcia's cushioned volley, a potent combination of power, pizzazz and precision, was unstoppable.
It is worth pointing out that USA outshot Trinidad and Tobago 18-7 in the second half while their possession actually rose to 75%. The Warriors were the only team on the score sheet but it would be a stretch to say they bossed the second period.
Yet if, a week ago, anyone offered Trinidad and Tobago a goal difference of minus-three with three goals scored to boot after their two opening games against Canada and USA—with their vastly superior player pools, resources, and preparation—would anyone have seriously turned that down?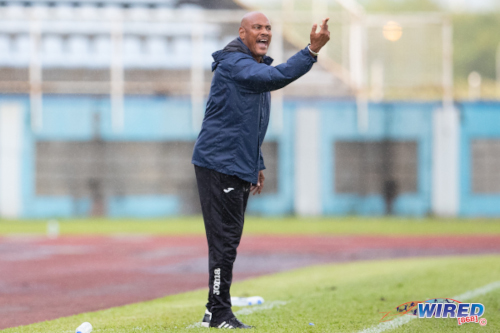 Cooper's troops have been outplayed and outclassed. But they have not been embarrassed and probably not outfought either.
The fact that they are able to produce moments of inspiration in the attacking third should serve them well on Wednesday when they meet Barbados.
From here on, Trinidad and Tobago cannot afford to lose. But the likes of Garcia, Lindell Sween and Webb have shown that they can throw a hefty blow themselves.
Barbados conceded just twice against Canada while three of the five goals they let in against USA came in the last six minutes. So they will not be pushovers.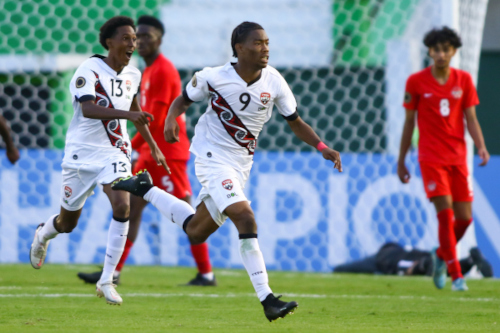 "Going into the Barbados game we hope to continue from the second half against the US," said Cooper. "We are carrying a couple of injuries to key defenders but we are hoping they recover for the match and our medical team will be working with the players to get the best possible situation.
"Our hopes in moving forward depend on a positive result against a very stubborn Bajan team that will also be looking for a victory to move to the next round."
Trinidad and Tobago fans would expect nothing less than three points.
(Teams)
Trinidad and Tobago (4-2-3-1): 1.Ailan Panton (GK); 6.Aydon Caruth, 3.Joshua Figaro, 4.Lyshaun Morris, 5.Samuel Duncan (16.Jeremiah Niles 77); 14.Tau Lamsee (12.Jeremiah Cateau 46), 8.Josiah Ochoa (captain); 11.Derrel García, 10.Michael Chaves (17.Malachi Webb 77), 9.Lindell Sween; 19.Tyrell Moore.
Unused substitutes: 20.Jaden Ottley (GK), 13.Vaughn Clement, 18.Dominic Wilson.
Coach: Shawn Cooper
USA (4-1-3-2): 12.Adam Beaudry (GK); 13.Aiden Harangi, 15.Christian Diaz, 5.Stuart Hawkins, 3.Sawyer Jura; 8.Pedro Soma (captain); 19.Paulo Rudisill (17.Keyrol Figueroa 58), 20.Christopher Aquino, 11.David Vazquez (18.Ezekiel Soto 58); 14.Taha Habroune, 9.Micah Burton (10.Cruz Medina 82).
Unused substitutes: 1.Duran Ferree (GK), 2.Oscar Verhoeven, 4.Tyler Hall, 6.Edwyn Mendoza,  7.Brain Carmona Romero, 16.Adrian Gill.
Coach: Gonzalo Segares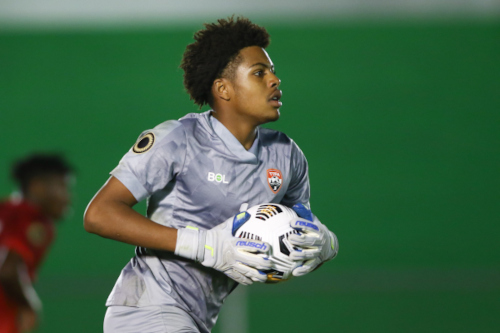 Concacaf Under-17 Championship
(Mon 13 February)
USA 3 (Micah Burton 11, Paulo Rudisill 14, Taha Habroune 24), Trinidad and Tobago 1 (Derrel Garcia 78)
Canada 2 (Liam Mackenzie 21, Alessandro Biello 28), Barbados 0