"Doh leh 'im shoot! Doh leh 'im shoot!"
Panic in the voice but no crowd scatters.
He does shoot. And scores. The shooting shout had come from a goalkeeper.
We are not, you see, in one of the so-called hot spots where, to quote Singing Sandra, the 'heroes are Renegades, Desperadoes'. We are in Tacarigua, in the days when the opening of the Eddie Hart League attracted people from almost literally every part of the country.
Yes, the good old days, whose disappearance Richard Nappy Mayers once lamented in song. The days before, to quote David Rudder, "Trini know what is Uzi diplomacy, Trini know what is SLR love."

If you were a teenager or still a bachelor or spinster, you marked the date down on your calendar. And made serious plans for it.
The EDDIE HART LEAGUE, the sign on the western wall still loudly—though not so proudly, Bobby jokes—proclaims, Est Sept 24, 1967.
Those were the days not of smoking guns but of the oxymoronic Singing Guns. There was Ulric 'Buggy' Haynes and his Malvern crew, Kelvin 'KB' Berassa, Clive Niles, Carlton Franco and Selris Figaro. From Point came a St Benedict's squad: Clebert Lennard, Leo 'Twinkle toes' Brewster, Gerry and Michael Hackett, Lawrence Rondon, Dave 'The Cat' Reuben, Dick Furlonge.
QRC was represented: Sheldon Gomes, Brian Bain, Roger Matthew, the Springers, Jimmy, Larry and Neil, and, I think, the Sadaphals, Vernon and Ellis. And, of course, the Fatima pair of Everald 'Gally' Cummings and Earl Fough.
It was, they said, a minor league. But in that troubled post-Independence, pre-oil boom era. it was a veritable showcase of the cream of the country's footballing crop.
Winston 'Explainer' Henry was still, I presume, to meet Lorraine. And so he made more than a few appearances in goal for some one of the lesser teams.
Two Browns, Arthur 'Jap' and Gerry, who flew football's flag high in the POSFL, made huge reputations for themselves with their feet. Were they still with us today, these veterans and their ilk would be the ones the other Browne would purportedly represent.
But his foot too often ends up in his mouth.
And his tongue? Oh, well…
None of these people, however, nowadays frequent the paved exercise track that graces the premises. It's a far cry from the old days.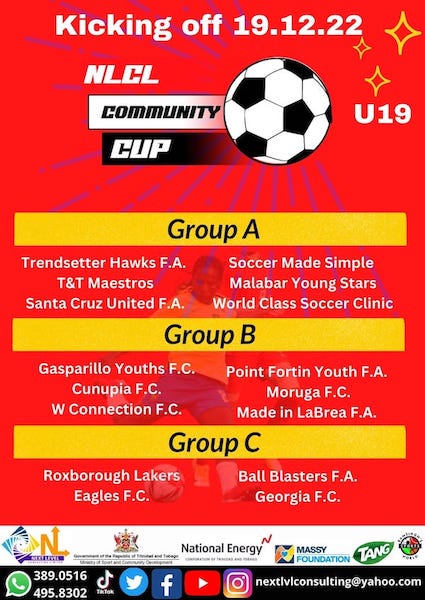 The 'bandan' to the east is long gone, replaced by the Moosai cricket field. But cricket is dead in the East; cricket is dead in the island north of the Caroni! So bats and pads and cork balls and flannels are conspicuous by their absence. Moosai is now mere alternative to the main track, just an option for those who flee the madding crowd making merry in the murky half-light of morning.
Sometime in the mid-to-late Eighties, the spanking new Priority Bus Route replaced the abandoned railway tracks with their fond memories,
On the PBR's northern flank, Ground 2 remains. But the Anglican cemetery is gone. Erect over the ghosts of seasons past, the proud St Mary's Parish Hall now rises.
Gone too is the 'bandan' that once scarred the western side of Orange Grove Road to the south of the railway tracks. Right beside the PBR, there are now Aero Services Credit Union, Trintoplan, the ultra-busy Belgrove's crematorium and two private schools.
And the car park that supplanted the 'bandan' on the eastern side behind the pavilion is no longer a car park; it's a food court.
Early morning walkers can get water, bottled and coconut, to slake their post-matutinal exertions thirst. And early morning workers can get fruit, doubles and bake and shark and other delicacies besides.
No details to share; if Bobby and I tried to eat outside, our wives would murder us without batting an eye.
Especially in these Covid times.
But there is a curious phenomenon that we've noted. We've been quite unable to satisfactorily explain it and logic only partially helps.
Exercisers who, like Energy Correspondent Gregory McGuire, join the track from where Orange Grove Road meets the PBR, naturally proceed southwards, anti-clockwise. But there is no reason—is there?—why those who join the track elsewhere should prefer one direction to the other.
If you walk or drive in along the little gravel track behind the pavilion, you could go left or right, north or south, as you please.
Ditto those, like Bobby and me, who walk or drive in along Ragooraj Street. We walk past the new Health Facility with its blinding spotlights at that early morning hour and automatically join the throng. Going anti-clockwise.
Yes, morning after morning, by far the vast majority of exercisers go anti-clockwise. With absolutely no compelling reason we can think of for it. Not Covid; this has been happening long before 2019.
Nothing to do with herd immunity; maybe just herd mentality.
Editor's Note: Got an interesting early morning adventure or reflection you would like to share? If you can relate it in simple language and no more than 750 words, the Early Bird space will accommodate you.
Email your offerings to us at lasana@wired868.com and/or longtimeamateur@gmail.com.