Trinidad and Tobago Men's National Senior Team interim head coach Angus Eve looks set to turn to maverick 30-year-old forward Marcus 'Lobo' Joseph to fire the Soca Warriors into the Concacaf Gold Cup.
Joseph, a two-time World Youth Cup player more than decade ago, was never used by Eve's predecessor, Terry Fenwick, while his last national cap came in a 4-0 defeat away to Honduras on 17 November 2019 under then coach Dennis Lawrence.
Eve, who is without attackers Levi Garcia and Joevin Jones, suggested that Joseph may get the nod upfront against Montserrat in Gold Cup playoff action on Friday night in Miami, with Ryan Telfer returned to his favoured position on the flank.
"We have Marcus Joseph and we have Isaiah Lee […] in the number nine position," said Eve, at today's online press conference. "Marcus has a great deal of experience playing abroad and doing well in the local leagues. He hasn't had a proper run at senior level but we are hoping he can come good because that is a problem area. 
"And we have Ryan Telfer who can play [as] a number nine also… We have a couple other ideas that we have been working on but I cannot say too much."

Joseph, who spent two seasons in the India second division, is a mobile frontman with a thunderous left foot shot. However, despite snaring Pro League scoring titles for Point Fortin Civic and Central FC, he is yet to reproduce his club form on the senior international stage.
In 20 national senior team appearances, Joseph's six goals all came in friendly matches—five against Anguilla, and one against Grenada. Eve will hope the attacker gets his first competitive goal at the Drv Pnk Stadium on Friday.
The Soca Warriors will again be captained by Khaleem Hyland with offensive midfielder Kevin Molino serving as vice-captain. Molino, Hyland and Joseph played at the Egypt 2009 Under-20 World Cup alongside defenders Curtis Gonzales and Aubrey David.
Molino is easily Trinidad and Tobago's most prolific scorer with 21 goals from 50 appearances, although he is just returning from a hamstring injury and is yet to play a full match for his Major League Soccer (MLS) employers, Columbus Crew, this season.
Eve, who is also the Club Sando and Naparima College head coach, confirmed that 20-year-old holding midfielder Michel Poon-Angeron and 17-year-old playmaker Molik Khan are the two omissions, as he whittled his training squad down to a 23-man team for the playoffs. 
If the Soca Warriors defeat Montserrat, they will play either Cuba or French Guiana on 6 July with a Gold Cup group stage spot up for grabs.
The TTFA will pocket US$100,000 (TT$680,000) if Trinidad and Tobago get into the Gold Cup group stage, while the local body is due another US$125,000 (TT$850,000) if they advance to the knockout stage.
Thereafter, Concacaf pays US$1 mil (TT$6.8 mil) to the Gold Cup champion, and US$500,000 (TT$3.4 mil), US$200,000 (TT$1.4 mil) and US$150,000 (TT$1 mil) to the second, third and fourth placed finishers respectively.
Eve said he had to 'pick his players up mentally' after their disappointing Qatar 2022 World Cup qualifying campaign. But he said his players are 'refreshed' and raring to go, in a more positive environment than they might have experienced earlier this year.
"It is almost like a computer rebooting," said Eve. "We didn't qualify for the main prize we wanted and now we have an opportunity to restart. I am not going to put the players under any real pressure."
The Soca Warriors coach tried to explain the omission of Watford FC reserve midfielder Daniel Phillips, who appeared in three of Trinidad and Tobago's four qualifying matches, and the other overseas-based players who failed to get a look in.
"I have to be surgical about what I'm doing," he said. "I went with players I worked with before, and then the bulk of players I brought on were [those] who consistently played under coach Fenwick—because I would have seen and used their games as a gauge for how they played. 
"[Phillips] was used bit-part [and] I saw other players I wanted to use… He is definitely in the plans going forward; but, in the short term, these are the guys that we put [our] confidence in."
The Trinidad and Tobago coach was also asked to explain his view on Khan, who has been training with the New York Red Bulls youth team. Khan played under Eve at Naparima College and is listed as a Club Sando player.
"He is the future of the Trinidad and Tobago squad, that is what I believe," said Eve, who said the player was not out of his depth in the national training sessions. "He is definitely [one for] the medium and long term but in the immediate [future], we thought we would go with these players at this point in time."
Eve was also asked about the support provided by the Commissioner of Police Gary Griffith to the current squad. He confirmed that the commissioner assisted in visas for  Defence Force winger Reon Moore, goalkeeper coach Clayton Ince, strength and conditioning coach Adarryl John, and trainer Saron Joseph.
Incidentally, the TTFA once had an excellent working relationship with the US Embassy. Former Soca Warriors team manager Peter Rampersad often served as the point-man for such matters, before he was dismissed during the term of president David John-Williams.
John-Williams arguably made things worse by starting a public slanging match with the embassy in 2018, which prompted then US Chargé d'Affaires John McIntyre to accuse DJW of misleading the public.
Fifa-appointed normalisation committee chairman Robert Hadad has been either unable or unwilling to address relations with the US Embassy on behalf of the local football body. Griffith has apparently stepped in to fill the void.
"Commissioner Griffith has always been a friend to the TTFA and he has reached out and helped in this [visa] scenario," said Eve. "He is a Trinidadian and if he can help with the team going forward in a positive manner, of course [we will take it]."
Griffith, in a Trinidad and Tobago Police Service (TTPS) press conference yesterday, said that he helped get visas for two players, which simultaneously denied his son, Gary Griffith III, a call-up. The TTFA confirmed that it was actually one player.
"My son was dropped for players that I aided to secure their visas, and yet people will claim that I have used my influence to get my son on the national team," said the commissioner. "[…] They were forwards […] and they took the place of my son […] because of my actions. My son laughed and told me thanks, because he will not be playing as a result of my actions."
Griffith III was in Eve's 60-man squad. However, he was not capped by Fenwick and, based on the criteria suggested by the current coach, it is far more likely that Aikim Andrews and John-Paul Rochford would have been the alternatives if Moore failed to get a visa.
Was Griffith III, a reporter asked today, in Eve's future plans?
"He is a Trinidadian and he is a young footballer," said the coach, without further clarification.
Eve brushed off the absence of InterMiami CF flanker, Jones, through injury, and explained that he did not call up a replacement because he factored in potential mishaps when he named his 26-man squad in the first place.
"I coach the players that I have," he said. "We would have loved those guys to be in the squad but I am very happy with the guys that I have… When somebody gets injured, it's an opportunity for somebody else to step up."
He was coy about his tactical plans and declined to share what he considers to be the threat posed by Montserrat.
"We have a fair idea of their strengths and weaknesses but I won't want to put that on the worldwide web right now," said Eve. "We [have done] our due diligence."
Eve assured Trinidad and Tobago fans that, once his guys take their practice ground form to the Drv Pnk Stadium in Friday, there will be plenty to appreciate about the team in red, black and white.
"It can always get better—but the guys that we have, I have been very happy with what I've been seeing from them," he said. "[…] The combination of the squad is balanced [and] the guys are really raring to go. They guys have been doing very well in training and I am hoping they can take the confidence they would have built in training and exhibit it on the pitch. 
"And if they do that then yes, we are going to score some goals."
Eve pointed to his stint as National Under-23 Team coach, nine years ago, and his five Gold Cup appearances as a player when asked about his own readiness for the tournament.
"God is in my corner," said Eve. "[…] I am a praying man; I love God. I don't believe I am here by mistake…"
He is also a calypso-loving man. Eve opened the press conference with a quote from 'a wise Trinidadian':
Our country facing, its darkest hour;

So our people need us, today more than ever;

But in our fight to recover, if ever you feel to surrender;

It have one little thing that I want you always remember.

We could make it if we try, just a little harder;

If we just give one more try, life will be much sweeter…
Black Stalin's classic song, he said, explains why he took the job as national football coach, despite the short preparation time.
Warriors fans will hope that, on Friday night, the Trinidad and Tobago national football team is feeling to party.
Trinidad and Tobago Team (Tabulated as club; age; caps/goals scored)
Goalkeepers: Adrian Foncette (Police FC; 32; 17/0), Nicklas Frenderup (Ranheim Il—Denmark; 28; 4/0), Marvin Phillip (Unattached; 36; 80/0);
Defenders: Aubrey David (Deportivo Saprissa—Costa Rica; 30; 57/1), Radanfah Abu Bakr (Unattached; 34; 37/2), Curtis Gonzales (Defence Force; 32; 38/0), Justin Garcia (Defence Force; 25; 4/0), Neveal Hackshaw (Indy Eleven—USA; 25; 19/0), Jelani Peters (Pittsburgh Riverhounds—USA; 27; 0/0), Jesse Williams (Unattached; 20; 1/0), Alvin Jones (Unattached; 26; 26/1), Triston Hodge (Colorado Springs Switchbacks FC—USA; 26; 17/0), Ross Russell Jr (Terminix La Horquetta Rangers; 29; 5/0);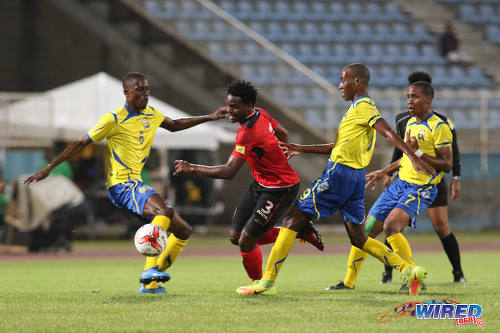 Midfielders: Hashim Arcia (Defence Force; 32; 13/1), Andre Fortune II (Memphis 901 FC—USA; 24; 5/0), Khaleem Hyland (Al Batin—Saudi Arabia; 32; 91/5), Duane Muckette (Unattached; 25; 9/1), Judah Garcia (Unattached; 20; 7/0);
Attackers: Marcus Joseph (Unattached; 30; 20/6), Isaiah Lee (Terminix La Horquetta Rangers; 21; 2/0), Kevin Molino (Columbus Crew—USA; 31; 50/21), Reon Moore (Defence Force; 24; 3/0), Ryan Telfer (Atletico Ottawa—Canada; 27; 11/4).
Technical staff: Angus Eve (head coach), Reynold Carrington (assistant coach), Hutson Charles (assistant coach), Clayton Ince (goalkeeper coach), Adaryll John (strength and conditioning coach), Saron Joseph (performance trainer/massage therapist), Roger Ryan (physiotherapist), Adrian Romain (team manager), Basil Thompson (logistics manager), Dr Akash Dhanai (team doctor), Michael Williams (equipment manager), Shaun Fuentes (press officer), Richard Piper (national teams director).
Wired868 has provided readers with solid, independent journalism since 2012.  If you appreciate our work, please contribute to our efforts. 
Support Independent Journalism