Just after 11.30 am with lunch approaching, Kyle Mayers, on 34, tried to club Kagiso Rabada over midwicket. 
A problem? Well, the ball was just short of a good length and, more importantly, well outside off-stump.
It was not the first time; in the second innings of the First Test, he had smashed consecutive fours to race to 12. He then perished, caught in the cover-point region attempting a similar shot.
This time, there was perhaps less contact. The ball spooned high over the backward of point/short third-man area where Proteas skipper Dean Elgar settled under it as it swirled and held on to it as it dropped out of the sky.
"That shot," intoned Mike Haysman on TV commentary, "made absolutely no sense at all."

There was bemusement in the South African's voice. And his tone was almost funereal.
Prescient? Perhaps. Within minutes, the procession had begun, accelerated by a Keshav Maharaj hat-trick.
Kieran Powell perished, lofting the left-arm spinner directly down the throat of Anrich Nortje, the only boundary fieldsman posted on the leg-side between long-on and square-leg.
Jason Holder came and went, his first ball edged onto his front pad, the chance snaffled by a gleeful Keegan Petersen at short-leg.
Challenged to deny Maharaj a rare hat-trick—sixty-plus years ago at Lord's, Geoff Griffin had claimed South Africa's only other one—Joshua da Silva also made minimal contact with his first ball. Petersen, still lurking at short-leg, couldn't reach it. 
Wiann Mulder at leg-slip couldn't either. Not without an acrobatic full extension of his right arm wide of his right ankle to come up with the sharpest of catches. His reaction had been Ato Boldonesque, the deflected ball travelling only one-third of the distance Jayden Seales' had when Holder had caught Maharaj in second slip the day before.
It provoked similar eruptions. Rabada and Ngidi wrested the ecstatic bowler to the ground and almost smothered him beneath them. It was, you had no doubt, a victory celebration. And hardly premature.
From 90 for 3 when Mayers' hara-kiri occurred, the home side had collapsed to 107 for 6. Effectively seven, it being clear that the incapacitated Roston Chase was not going to take any further part in the match.
The last three wickets would add another 58 runs. Kemar Roach, who at one point could have been forgiven for asking the South African fieldsmen to don a mask, so close were four or five of them to him, got 27, including four fours and one six. The circumspect Jermaine Blackwood—an oxymoron?—who had watched much of the carnage from the bowler's end, made a careful 25, including a solitary four.
When the normally swashbuckling vice-captain proves to be among your most level batting heads, there are serious questions that have to be asked. 
For instance, what really got into Mayers and, once he was gone, Powell?
Man-of-the-Match Rabada had dislodged Brathwaite, yet again caught in the cordon, and Hope, who can hardly expect to hold a place on the team without seriously improving his non-technique against the short ball. 
With the taste of blood fresh on his tongue, the pacer and his partner Anrich Nortje subjected Powell and Mayers to a severe examination. Reprieved when he was dismissed by the first delivery he received, only for it to be called a no-ball, the number four batsman looked as solid as Quinton de Kock looked in the First Test. 
It's a safe bet that several West Indian fans allowed themselves fanciful thoughts about de Kock's 141—and Mayers' 210 not out!!—as the pair of left-handers defended resolutely against everything the pacers threw at them.
Additionally, they whacked boundaries—13 in all between them—through the off-side whenever they got width. Or an overpitched delivery.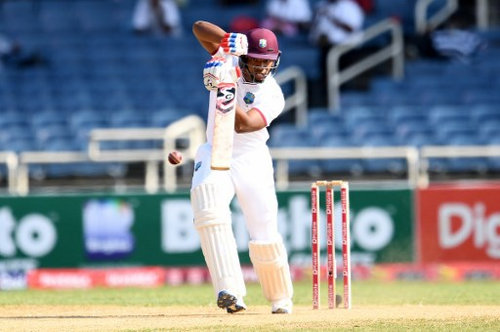 From a shaky 25 for 2, they advanced steadily without real alarums. Mulder, who had cleaned up the tail in the first innings, and Lungi Ngidi, who had bagged five scalps in the first innings of the First Test, proved no more incisive, no more able to discomfit the two southpaws. 
It was just as the 100 mark loomed into view, raising West Indian hopes of something special à la Chattogram that Carlosbrathwaititis struck.
Who can forget? West Indies vs New Zealand in the last 50-over World Cup. Six runs needed off seven balls. Swing for the hills off the first one.
Admittedly, the situation was not exactly the same here in Gros Islet. But was the mindset, which dogged the Caribbean Cavaliers for years before the lucrative incentives offered for victory by World Series Cricket undermined it, not at the back of Mayers' Hail Mary?
And Powell's completely unwarranted risk?
From extreme caution to extreme-unction in one fell swoosh?
As Haysman sought answers during the post-match interview, skipper Brathwaite was repetitively long in description, infuriatingly short on analysis. 
"As a batting unit, we let ourselves down. (…) But as a batting unit, we didn't put partnerships together," he said. "We were going good [today], but we didn't carry on. That hurt us, and including myself, we fell short.
"As batsmen, we know what we did wrong. We have to learn from this as batsmen and come back strongly. (…) We need to (…) work on technical stuff where we could do better."
The sympathetic journalist might have thought first of Einstein's dictum about doing the same thing over and over and expecting different results. 
And then of the Roman admonition: 'Quos Deus vult perdere prius dementat'.
Whom the gods wish to destroy… 
Match Summary
S/Africa: 298 (Q de Kock 96, D Elgar 77, K Roach 3/48, K Mayers 3/28 ) & 174 (R van der Dussen 75*, K Rabada 40, K Roach 4/52, K Mayers 3/24)
West Indies: 149 (J Blackwood 49, S Hope 43, W Mulder 3/1, K Rabada 3/24) & 165 K Powell 51, K.Mayers 34, K Roach 27, J Blackwood25,  K Maharaj 5/36, K Rabada 3/44)
Man-of-the-Match: Kagiso Rabada
Result: S/Africa won by 158 runs