The Soca Warriors must top Guyana, St Kitts and Nevis, Puerto Rico and Bahamas to advance past the preliminary stage of Concacaf's Qatar 2022 World Cup qualifying series. But before a ball is kicked, the Trinidad and Tobago Men's National Senior Team first has to contend with a Fifa Congress on Friday 18 September, which could make today's draw irrelevant for local football fans.
Fifa's 70th Congress, which will be held online, lists its fourth agenda item as: 'suspension or expulsion of a member'. The member association is not named but the Trinidad and Tobago Football Association (TTFA) has been in the crosshairs of the world governing body since March.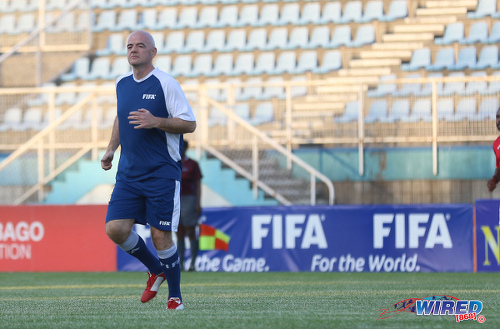 Last week, Madame Justice Carol Gobin dismissed an application by Fifa which sought to compel TTFA president William Wallace to move his grievance, over the implementation of a normalisation committee in the twin island republic, from the local High Court to the Court of Arbitration for Sport (CAS) or dismiss it outright.
Wallace and TTFA vice-presidents Clynt Taylor, Susan Joseph-Warrick and Sam Phillip responded to the ruling on Monday by again inviting Fifa to mediate the disagreement.
Thus far, Fifa has not responded and sources indicate that the governing body has no intention of backing down—despite Justice Gobin's judgment, which denounced the Zurich-based body's perceived bullying behaviour.
Fifa's position so far has been that it is willing to make an advancement payment to CAS and do whatever else is necessary to move its legal tussle with TTFA back to the sport arbitration body in Lausanne, Switzerland. But it is not expected to make any other concession to Wallace and the United TTFA.
Fifa, according to a football insider, believes it can nullify any potential negative international press over its struggle with the local body by pointing to past links between TTFA third vice-president, Phillip, and United TTFA member Keith Look Loy and disgraced former Fifa vice-president Jack Warner.
Wallace denied any involvement from Warner with his slate and there has been no proof to suggest otherwise—other than a claim by the latter figure himself.
Fifa president Gianni Infantino still has until tomorrow to decide if the organisation will appeal Justice Gobin's ruling.
In the midst of the uncertainty, Men's National Senior Team head coach Terry Fenwick must prepare for World Cup qualifying battle.
The Warriors have not trained since July while Fenwick and his coaching staff have never been paid. Thus far, TTFA technical director Dion La Foucade and director of football Richard Piper are believed to be the only members of the technical department to receive remuneration.
Normalisation committee chairman Robert Hadad has not spoken to his national coaches since 29 April, much less arranged payments on their behalf.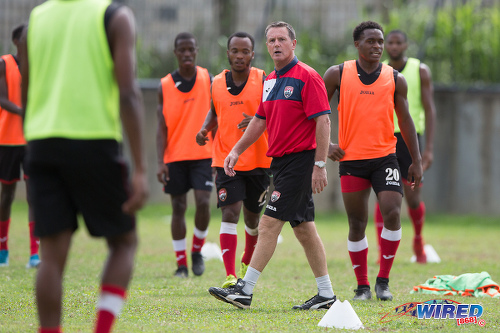 The Warriors are also owed money dating back to the tenure of previous coach Dennis Lawrence; and, with sport cancelled since March due to Covid-19, most of the local players have not collected a cheque since February.
Fenwick too has been a target of disdain within local football circles, since details broke on his contract—which has vastly improved terms to what was agreed by the TTFA board and, according to Wallace, was signed off by the football president with lax scrutiny and no independent legal oversight.
Current Covid-19 regulations mean Trinidad and Tobago may have to play all their fixtures away from home, with local-based coaches and players forced to subject themselves to a 14 day quarantine period on their return.
The last time that Trinidad and Tobago started a campaign in disarray was in 2011, just months after Warner and then TTFF president Oliver Camps quit the game while under Fifa probes.
It was not nearly as chaotic as the current situation, yet the Warriors were eliminated in the preliminary stage of that series—by Guyana.
The 'Golden Jaguars' might be smelling an upset again. The two Caricom neighbours drew their last two meetings under Lawrence and, although Guyana have lost inspirational English coach Michael Johnson, they have reason for optimism by the current state of T&T's football.
Trinidad and Tobago have never lost to Puerto Rico while their last defeat to St Kitts and Nevis was 18 years ago, when interim head coach Clayton Morris used an experimental team comprising mostly youth players. Bahamas are ranked 195th in the world and not expected to pose a threat.
On paper, the draw is about as good as Fenwick could have hoped.
Should the Warriors advance past the preliminary stage, which begins in early October, they would face the winner of Group A with El Salvador being the most likely opponents.
But Trinidad and Tobago have an encouraging record against that Central American nation too, with six unbeaten games against them since their last defeat in the 2007 Concacaf Gold Cup. The Warriors travelled to that Gold Cup with a 'B' team after the 2006 World Cup bonus dispute led to a ban on 13 first team players, with the others—Densill Theobald apart—withdrawing their services in protest.
If the Warriors top Group F and then see off El Salvador, they will advance to the Concacaf Hex to push for a Qatar berth on equal footing with the likes of Mexico, Costa Rica, Honduras, Jamaica and the United States.
But, first, they must survive Infantino's wrath at the Fifa Congress on 18 September.
A Fifa ban would mean curtains for the Men's National Senior Team and probably a similar fate for any national outfits due to compete over the next 12 months at least.
Last week, Wallace explained that the United TTFA did everything it could to shield the local football body from the repercussions of its court case.
"We have always said from the outset that, if this resulted in a personal ban from Fifa, we are prepared to accept that," said Wallace. "We also calculated that the risk of the country getting banned was pretty low. What we did is we took up this matter as elected individuals rather than as the TTFA—so we did not draw the TTFA into the case in essence but acted as elected members who were unfairly removed from office.
"That is why all the funding used in the case was from personal funds and not from the TTFA's coffers. So if there is to be a ban, it would be on us as individuals."
Justice Gobin also suggested that Fifa might be violating its own statutes if it bans the TTFA and the blame for such action rests with Infantino and his gang rather than Wallace.
"As for the concerns about irreparable fallout or adverse consequences to TTFA and Trinidad and Tobago, I am encouraged by the lofty objectives identified in Fifa statutes," stated Justice Gobin, "and particularly articles (3) and (4) of Fifa's commitment to respecting internationally recognised human rights, non-discrimination of any kind against a country for any reason and its commitment to promoting friendly relations in society for humanitarian objectives all of which are underpinned by an appreciation for the rule of law.
"I do not expect Fifa to walk off the field or to take its ball and go home if after full ventilation of the issues, this court were to confirm the primacy of an Act of the Parliament of the Republic of Trinidad and Tobago over the Fifa Statutes."
Infantino and the Fifa Council will have the last word on that, though.
Concacaf 2020 Qatar World Cup qualifying preliminary stage
Group A: El Salvador, Antigua and Barbuda, Grenada, Montserrat, US Virgin Islands.
Group B: Canada, Suriname, Bermuda, Cayman Islands, Aruba.
Group C: Curaçao, Guatemala, St Vincent and the Grenadines, Cuba, British Virgin Islands.
Group D: Panama, Dominican Republic, Barbados, Dominica, Anguilla.
Group E: Haiti, Nicaragua, Belize, St Lucia, Turks and Caicos Islands.
Group F: Trinidad and Tobago, St Kitts and Nevis, Guyana, Puerto Rico, Bahamas.