Trinity College Moka said goodbye to the Secondary School's Football League's Premier Division with an emphatic 4-0 victory over St Mary's College on the final day of the league season. Both sides began the match rooted to the bottom of the 15-team table, already knowing of their relegation before the opening whistle. But they still gave a good account of themselves on the last day of their seasons.
Neither side's technical staff expected to be relegated from the SSFL's top division but admit that their football programmes never got the early momentum so crucial for survival at this level.
Brian Ghent, chairman of CIC's football committee, said: "Some of our preparation could have been different if I can be honest … [We began the season] two or three weeks behind in our training as regards fitness and match preparation."
He added: "There were no repeaters from the 2018 first 11. The only person we had from last year was the reserve goalkeeper; the majority of our players are new. We had a lot of young players, boys 15 and 16, and from a pure physicality point of view, we knew we were at a significant disadvantage. We saw it from the first game against Naparima."
Explaining how he lost his entire first team, Ghent said: "I can't say definitively, you'd have to ask the principal. To me, it was natural attrition, probably with the exception of [Tyrese] Spicer who went with his father, who was the assistant coach to St Augustine."

[sports-match template="logos" match="57190″]
Spicer was arguably the programme's biggest loss, ending the season one goals short of the Premier Division Golden Boot with 13 goals for St Augustine Secondary. CIC, meanwhile, scored five goals total in their 14 matches.
The Trinity College head coach, Ken Elie, said the talent pool he had to choose from was already small, even before promising National Under-15 midfielder Josiah Wilson was reportedly pulled from the team by his parents.
"We hope that the school gives some leeway to players interested in joining Trinity because we had about nine players that came to train with us for two months and just one player got accepted because of their academic status. So we are hoping that the principal finds some way of accommodating some of these players.
"[…] You can't expect players who have been playing for the entire season, training from early in the year, and when it's time for them to repeat you are comparing them with players who don't perform for the school," Elie said.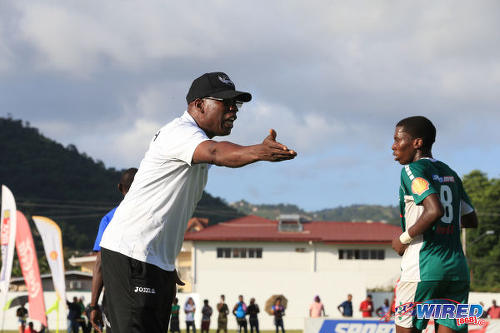 SSFL General Secretary Azaad Khan confirmed that the SSFL repeaters had to seek Ministry of Education approval if they wished to continue their education at their current school and at least 2 CSEC passes to transfer to another institution.
Going forward, Elie said, they needed to rebuild from scratch with greater training intensity. "The players that you see out here right now have played at 100%, however, in the Secondary School's Football League our quality is no longer satisfactory," he said.
Still, Trinity did their best to buoy the faithful band of students that followed them to CIC grounds on Serpentine Road, St Clair. The home side made the most of the first half-hour but never capitalised on their pressure, like so many times this season. Instead, the visitors took the lead after soaking up the early pressure.
Trinity talisman Tezera waited on the contact and got the penalty after a period of sustained pressure. Tezera dusted himself off with a wry smile on his face and duly dispatched the spot kick to Joel Charran's right, taking the score to 1-0 after 31 minutes.
The second goal came four minutes later when Charran strayed out of his area with the ball in his gloves. Tezera stood over it, but it was Josiah Superville who curled the indirect free-kick into the top right corner. Tezera doubled up in the 51st before Jardel Mitchell put an exclamation mark on the victory with a half volley after some patient approach play and a low cross from Keishaughn Prider-Williams.
The result was the final indignity of an already tough season for St Mary's.
"In terms of what our objectives are, relegation does not put a spoke in the wheel, not to the extent that you would think," Ghent said. "We didn't want [to be relegated], frankly. We set that, not being relegated, as our objective, and we played to that objective even in the last few games. We just could not get the results we wanted."
Ghent said CIC football was taking the long view by creating a development programme with former players Hannibal Najjar (technical director), Alvin Henderson, Ken Butcher, Ian Bain, focusing on cementing the basic skills and decision-making of the under-13 and -14 players.
"We are overseeing the thing at a strategic level to get things in place so that over the coming years St Mary's can have a regular supply of players as it used to be in the late 60s, early 70s … So we're really in the embryonic stages of what we're doing. We are not looking for any Nescafe, nothing instant, but we will be back. It's St Mary's; we'll never give up."
And they never did. The CIC boys had very little to cheer but rose up as substitute Kordell Bernard's burst forward, played a ball to fellow sub Jamal Thomas and was marginally offside for the return cross in the 72nd minute.
He smacked his shot against the post in the dying stages after breaking free of the stoic Moka defence. But a consolation goal was not to be.
2019.10.19- during Match Day 11 of the SSFL between St. Mary's College and Carapichaima East Secondary at St. Mary's Grounds, St. Clair. Caps won 5-0. Photo: Allan V. Crane/CA-images(Teams)
St Mary's College (4-4-2) 1.Joel Charran (GK); 3.Jayden Reyes, 6.Xavier O'Garro (Captain), 12.Isaac Harriott, 4.Chad Alonzo; 15.Dante Cooper, 17.Tyrique Huggins (18.Kordell Bernard 60), 7.Jermeel Dosithee, 24.Adonis Andrews (13.Daylon Riley 56); 11.Nickoli Bynoe (19.Jamal Thomas 70), 9.Jaheim Ryan.
Unused Subs: 22.Jordan Bedaisee (GK), 2.Nickoli Chan, 16.Sylvan Stewart, 13.Daylon Riley, 21.Harrison Parks.
Coach: Jeffrey Lake
Trinity College Moka (3-4-3): 22.Justin Dos Santos (GK); 23.Sean Pierre, 5.Anfernee Bascombe, 8.Nkosi Davis;  3.Josiah Superville  10.Temesgn Tesera (Captain) 17.Adel Black-Haynes, 19.Dominic Timothy (Kino O'neil 80); 4.Keishaughn Prider-Williams (21.Brandon Lee Young 64), 6.Jaheim Marshall (2.Nyron Wall 46), 7.Jardel Mitchell.
Unused subs: 1.Tyrese Clement, 13.Joshua Brito, 14.Michael Jagdeo, 9.Simeon Charles.
Head coach: Kenrick Elie
Man of the Match: Temesgn Tezera (Trinity College Moka)
Premier Division results
(Wednesday 30 October)
Presentation (San F'do) 6 (Dantaye Gilbert [2], Markus Mason, Ackeel Jacob, Shakeem Cooper, Jaiye Sheppard), QRC 0 at Mannie Ramjohn Stadium;
East Mucurapo 5 (Jamali Alexis 11, Jaheim Patrick 30, 56, Daniel David 81 pen, Zion McLeod 90), Speyside Secondary 0 at Mucurapo Road;
Trinity East 2 (Jovonn Gomes, Kishaun Charles), Carapichaima East 4 (Keilon Burnett [3], Dexter Neils) at Trincity;
Pleasantville Secondary 2 (Theon Marcano, Sherwin Andrews), St Augustine Secondary 3 (Kyle Carrington, Tyrese Spicer, Kerry Headley) at Pleasantville;
St Mary's College 0, Trinity College Moka 4 (Temesgn Tezera 31, 51, Josiah Superville 35, Jardel Mitchell 58)
Malick Secondary are on a bye
Upcoming fixtures
(Saturday 2 November)
St Benedict's College v San Juan North, 3.30pm, Mannie Ramjohn;
(Monday 4 November)
QRC v Naparima College, 3.30pm, Serpentine Road;
St Anthony's College v Presentation (San F'do), 3.30pm, Westmoorings.