Trinidad and Tobago's hopes of qualifying directly for the Qatar 2022 World Cup can be over before it has begun, courtesy of Concacaf's new qualifying format which allows a significant shortcut to teams based on FIFA rankings.
Concacaf announced today that it will select its six football nations for the 'Hex', the traditional final qualifying round with the best six teams from the confederation, based on rankings in June 2020.
The confederation's remaining 29 nations must claw their way out of a three or four nation group, then survive three knockout rounds to earn the right to play the fourth placed finisher from the Hex, with the winner then advancing to a FIFA Play-Off.
The new format virtually eliminates the potential for shock Cinderella results in the World Cup qualifying series like Guyana's triumph over Trinidad and Tobago in 2011 or Barbados' 2-1 win against Costa Rica in 2000.
More to the point, it means Trinidad and Tobago's chances of getting to the Hex already looks doomed.

[dfp-ad]
At present, the Soca Warriors are 10th in Concacaf, and FIFA has not even factored in the two island republic's embarrassing showing at the June Gold Cup—where coach Dennis Lawrence's team finished below Guyana in their group and were hammered 6-0 by USA.
Lawrence's Warriors now have only between four and six matches in the upcoming Concacaf Nations League to try to make up lost ground. But even then, there is a snag.
Trinidad and Tobago are drawn with Honduras and Martinique but the latter are a ward of France and not recognised by FIFA. So, even if Lawrence engineers a result against the French Islanders, it will not help their ranking.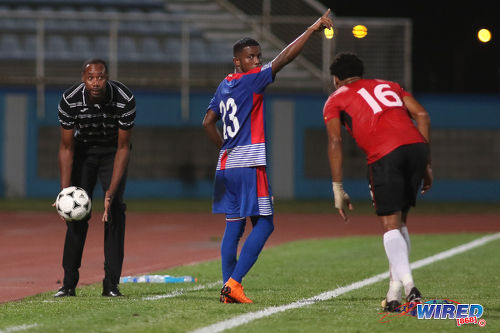 If the Warriors do not defeat Honduras in home and away matches and win at least their Nations League semifinal match—with potential opponents being Gold Cup champions, Mexico, USA and Costa Rica—they will not get to the Hex.
Lawrence acknowledged that Trinidad and Tobago face a daunting task.
"Based on the facts and the information presented, if you are actually in the top six ranked Concacaf teams on the Fifa rankings at this moment," Lawrence told the TTFA Media, "you'll probably be thinking you're in a favourable position and all you've got to do is protect your status until June 2020.
"And well, if you aren't then it means it is a lot more difficult in terms of the Road to Qatar 2022 and you've got a lot of work to do to try and get into the top six—and if not, then battle it out for a chance to have a go at the fourth spot.
"At the end of the day it's what has been set out by Concacaf and whether you agree with it or not you have to face it."
Concacaf president Victor Montagliani suggested that the new qualifying format was designed to lift the intensity of play at the confederation's tournaments.
"This new FIFA World Cup qualifying format, based on the FIFA rankings, makes every competitive match count," Montagliani told Concacaf. "Alongside the Concacaf Nations League and our expanded Gold Cup, it will raise standards of play to unprecedented levels […] while giving our emerging footballing nations the chance to pursue their dreams of playing at a World Cup."
Montagliani did not clarify how the format change would improve matters for 'emerging football nations' and it is not immediately obvious from looking at the fixtures.
The six teams in the Hex will play 10 matches to qualify for Qatar with the fourth placed finisher getting a second chance through two possible play-off rounds. In contrast, Concacaf's other 29 nations have a potential 12 games with three knock out rounds ahead of them before they even face the Hex's fourth placed outfit, to fight for a FIFA Play-Off spot.
Lawrence did not appear to agree with Montagliani's assessment on the fairness of the format for teams outside the top six.
"It is difficult more than before for the teams ranked 7-35 and favourable for the top six ranked teams and we just have to see how it plays out," said Lawrence. "What it means now—and not that it wasn't important before—it shows how hugely important it for us to do well in every game that we play between now and June in the FIFA windows. Every game is like a final now to get into the Hex. If we want to improve on our rankings, we have to get results.
"There is clarity now in that […] and the work has to be very intense from now."
Since taking over as head coach in January 2017, Lawrence has two wins, one draw and eight losses from 11 competitive matches. His overall record is five wins, six draws and 15 losses from 26 games.
It is a tally that needs a remarkable turnaround if the Warriors are to have any chance of getting to Qatar. The TTFA has already extended Lawrence's contract until late 2021, which means he will be Trinidad and Tobago's longest serving Men's National Senior Team head coach if he sees out his contract.
At present, Concacaf's top six nations are (in decreasing order) Mexico, USA, Costa Rica, Jamaica, Honduras and El Salvador. In positions seven to 10 are Panama, Canada, Curaçao and Trinidad and Tobago—although the Warriors are sure to slip at least below Haiti, who are 11th now but were semifinalists at the just concluded Gold Cup.
Incidentally when Trinidad and Tobago Football Association (TTFA) president David John-Williams was elected into office in November 2015, the top six nations in Concacaf were (in decreasing order) Mexico, USA, Costa Rica, Trinidad and Tobago, Jamaica and Panama.
The Warriors were coached by Stephen Hart at the time.
Trinidad and Tobago were ranked 54th in the world by FIFA when John-Williams took office. They slipped to 65th by the time the TTFA president sacked Hart, almost 12 months later. At present, the Warriors are ranked 92nd.
Former TTFA general secretary Sheldon Phillips suggested that John-Williams' decision to scrap the Men's National Under-23 Team could also have a negative impact on the Warriors' 2022 dreams.
"The ranking system will reward teams that have performed well and will be largely influenced by Gold Cup and Nations League performances," said Phillips. "This doesn't bode well for T&T due to their past performances and the TTFA's inexplicable discontinuance of the Under-23 programme, which will ensure T&T go into their Nations League matches with the same core team that finished last in the Gold Cup group."