"A man who took a wicket," Richie asked, as West Indies captain Jason Holder summoned Fabian Allen to bowl over number 20 in Friday's Tri-Nation Series final against Bangladesh, "to give himself a bowling average of 168 could be the key to Windies winning this?"
"Crazy!!" he responded to his own question without deigning to answer.
I empathised. Seated in the comfort of my own home watching Tiger Woods' PGA struggles on TV and following the cricket online, I had much the same thought, expressed rather more succinctly: "Wtf?"
When Richie's comment appeared on espncricinfo's live commentary, West Indies were in pursuit of 210 for victory—the favourites had reached 165 for 5 with five of the DLS-dictated 24 overs left. In the event, Allen conceded a single off every ball to bring his overall figures to a very decent 3-0-12-1.
"Brilliant!" was my thought. "We get away!"

"Brilliant!" must have been Holder's thought. "He did it! They couldn't get him away!"
But I only deduced that after Kemar Roach went for 12 runs in over number 21, his fifth, and Holder again called Allen up to bowl over number 22. The equation then read 27 required from 18 balls.
I never doubted for a second that the skipper would have taken matters into his own hands and bowled his fifth. At that stage, a wicket would have been heaven-sent and, more than most, Holder had recently been able to have his prayers answered.
[dfp-ad]
He opted for Allen. Mosaddek Hossain sent balls one, two and four heavenwards and ball three to third man. Allen's final figures read 4-0-37-1.
I know. This was an ODI and hindsight is Twenty20 vision. But I swear my heart sank when I saw the spinner with ball in hand.
I wished Dwayne Bravo were back as captain. Or around to offer advice. Seems I've got my wish. Bravo the Elder and Kieron Pollard, a new report says, are now included in the World Cup reserves. And Bravo the Younger remains—at least for the moment—in the 15.
When, at the fall of Shai Hope's wicket, I saw him appear on the screen, that was another moment when I wished Bravo the Older's advice was available to Holder.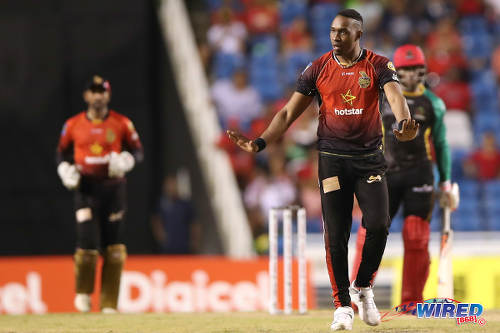 Rain, remember, had interrupted the WI momentum at 131 without loss after 20.1 overs. At the resumption, with the game reduced to a 24-over-per-side affair, Hope left at 144. Almost 23 overs bowled. Enter Holder? Enter Ashley Nurse? Enter Jonathan Carter, someone willing to throw bat at ball from the outset? Someone with a special strike rate, who could maximise the returns from the eight balls left in the innings?
Nah! Holder is a Test captain. Enter Darren Bravo, whose last five innings have yielded 40 runs off 63 balls, including four single-digit scores.
Bravo contributed three off three.
There is, of course, a case for including DJ Bravo in the 15. even in the field, which is the left-hander's best area so far, he certainly is still a better performer than the mediocre Allen. The case is compellingly made, I submit, in an espncricinfo story headlined "Who needs data when you have Dhoni?" And I am not certain that it is not what the selectors were reaching for in naming Chis Gayle vice-captain. I think they chose the wrong man.
The 39-year-old who will ride off into ODI sunset at the end of this World Cup has certainly earned his place in the squad; he is very likely to be the opener when WI take the field for their first encounter against Pakistan on May 31. He repeated recently that he knows it is his responsibility as a senior player "to support the captain and everyone else in the team" and that he is "happy and willing to put my hand up for West Indies cricket."
Skipper Holder has confirmed that Gayle is a major contributor in the dressing-room so it seems unnecessary, almost wasteful, to put an official stamp on such seniority and authority.
Former WI Under-19 captain Shimron Hetmyer, on the other hand, is just 22 and has repeatedly demonstrated a tendency to either forget or ignore the importance of the WI, not I maxim. Furthermore, even if, with Dave Cameron's ouster, there is no longer the threat of the baton for those who succeed in breaking through at IPL level, might it not be advisable to dangle the captaincy carrot before him now?
Ricky Skerritt's new selectors, alas, are not of that view, preferring sentimentality to pragmatism and forward planning. So what will they do with the World Cup squad?
The Tri-Nation pre-World Cup series was always going to be a yardstick for determining who does and who does not measure up. And so, after examining the age-old issue of form and class, the new Cameron-free panel must do the obvious thing and adjust the original squad.
It's not just prestige and bragging rights involved; the material incentives for winning are not unattractive, especially for the cash-strapped CWI.
Teams failing to qualify for the semis will pocket a consolation US$100,000 each to go with US$40,000 earned for every win in the nine-match-per-side league stage. The losing semi-finalists go home with US$800,000 each. The eventual winners earn US$4 million of the US$10 million at stake in the tournament, the runners-up getting half that.
I want to wait and see what fine-tuning (in terms of the final 15) the selectors will do to enhance WI chances of success. I don't see how, sentimental or not, they dare exclude Sunil Ambris. Nor can they avoid as Curtly Ambrose has just pointed out, seeking somehow to improve Holder's (death-)bowling options.
Whatever the composition of the final 15, the skipper is going to have his work cut out for him. Ireland showed that he has a bunch of players who can deliver victory on their day. What WI need is leadership that can inspire them to win on any day. Today.
Can Holder provide that? Despite the fulsome praise heaped on him from many quarters, it's often his leadership that's lauded, not his captaincy. So will he able, by word and deed, to captain his ODI team to be more than the sum of its parts?
Suffice it to say that he does not strike me as capable of producing, as the World Cup situation is not unlikely to demand, an "And, Wes, if you bowl a no-ball now, you'll never be able to go back to Barbados."