Naparima College consigned their fierce rivals, Presentation College (San Fernando), to a trophy-less 2018 season, after eking out a 4-3 win via kicks from the penalty mark in the South Zone Intercol final this evening at the Mannie Ramjohn Stadium in Marabella.
Neither team managed a goal in regulation time and they scarcely seemed able to score from 12 yards either. In all, there were 16 penalties taken—seven scored, five saved and four missed altogether.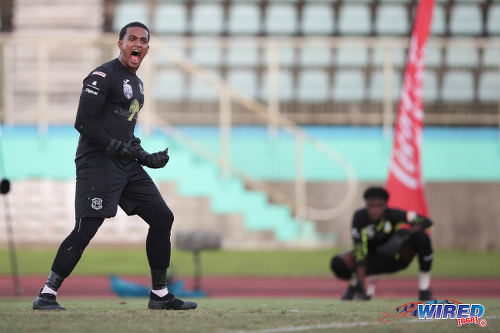 Before the final kick, Naparima winger Isa Bramble knelt at the spot and said a prayer before dusting himself off to send his school's vociferous supporters to heaven.
"Fortunately, God was on our side and we got the victory at the end," said 'Naps' coach Angus Eve, after the final whistle.
For non-partisan observers, though, it was 90 minutes of purgatory. It was difficult to remember either team managing five successive passes or even moments of genuine individual quality during the affair.

Eve preferred to focus on the fact that both sides were defensively solid.
"It was a cagey game, very tactical game by the both coaches," said Eve. "Two well coached, evenly matched teams. We cancelled each other out… But for discipline and tactical awareness, I think the kids on both sides did fantastically well today."
Presentation coach Shawn Cooper sprang the game's major tactical surprise, as he shuffled his front five players with winger Jordan Riley used through the centre, forward Omri Baird employed on the right and midfielder Ackeel Jacob pushed upfront.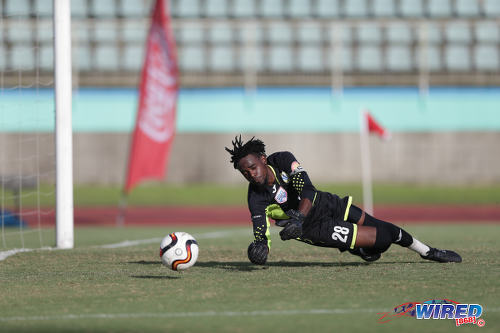 Cooper declined the opportunity to comment after the match. But team captain and goalkeeper Jabari Gray said the 'Pres Lions' were the better outfit before the shoot-out.
"Naps didn't have a clue what to do and we were getting chances," said Gray. "It was just the final touch and the killer instinct at the end [that was missing]."
Eve admitted that the sight of Riley rampaging through the centre did take some adjusting and he eventually settled on using midfielder Shoaib Khan as a man marker.
Still, an angled, speculative Sheppard header, which struck the foot of the post—after an incisive Baird cross—was Presentation's only attack of note in the first half, despite their obvious territorial advantage.
Naparima forward Seon Shippley tried to surprise Gray with an improvised flicked header from a deep, angled Daquon Foster cross, which the Presentation goalkeeper clawed away to his right.
But there was nothing else to get the 3,000 supporters off their seats. Not that the die-hards from either school ever sat down.
The atmosphere was pulsating. The on-field action was anything but.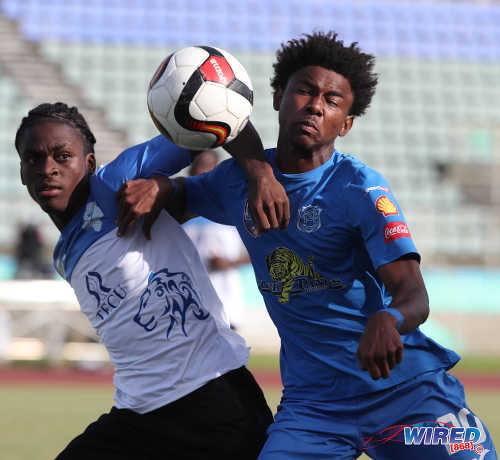 Eve opted to make a change of his own, as National Under-20 attacker Mark Ramdeen was brought inside to look for room. Ramdeen's silky solo effort in their comfortable South semifinal win against Pleasantville Secondary was unforgettable.
But Presentation are not Pleasantville.
In the 66th minute, Ramdeen got a chance to go one on one at Pres defender Darnell Hospedales. The skilful attacker lowered his left shoulder and tried to go right. Hospedales clearly read the handbook and stripped him with ease.
At the other end, burly Naparima defender Tyrique Andrews was equally impassable. Penalty kicks seemed inevitable, even with 20 minutes remaining.
Ironically, Naps created the only two moments of menace in the second half.
In the 78th minute, bustling midfielder Decklan Marcelle finally won space down the left flank and squared for Ramdeen who leaned back and belted overbar.
One minute from time, Ramdeen was again in the thick of the action as Shippley played him clear on a counter attack. Hospedales took no chances though and hauled him back on the edge of his 18 yard box.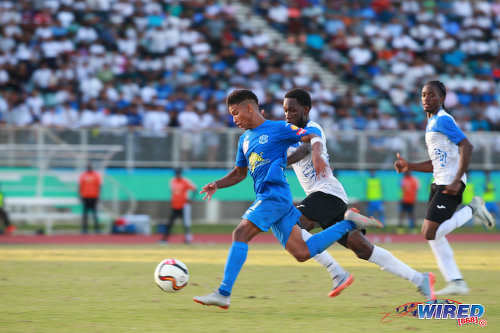 Referee Marlon Perouse showed Hospedales a straight red card but, judging from the 'high fives' he received from players on the substitutes' bench, Pres had no regrets. And Foster did not make them pay, as he blasted the subsequent free kick over the bar.
Foster's ugly set piece was a preview of what was to come.
Naparima goalkeeper Levi Fernandez and Gray saved the first two efforts from Riley and Jeron Pantor respectively. Baird scored next but then neither of the next four kicks hit the mark, as Ramdeen and Jacob both hit the bar, Gray pushed Khan on to the post and Jerrin Jackie was blocked to Fernandez's left.
It meant one successful penalty kick from seven attempts.
Foster kicked down the middle to pull Naparima level again and Barclay and Andrews scored to send the shoot-out into sudden death.
Jardel Sinclair and Shippley traded successful kicks next for either team while Gray pushed Marcelle overbar and Pres full backs Juaval Roberts and Zion Allen both failed to convert—the former hit the post while the latter hit overbar.
"I was asking Cooper if he practiced them and he was asking me if I practised them," said Eve, "and we practised them up to yesterday morning and the boys were banging them in.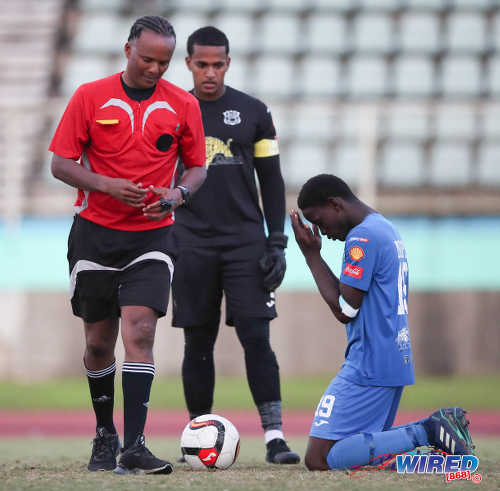 "It was one of those things. The big crowd there, an important kick, nerves; some of the guys just didn't handle it properly."
Bramble had no compunction about asking for help before his potentially decisive kick, as he delayed the shoot out to pray at the spot. And then he drilled his kick home at Gray's right.
"I feel hurt but we put out our best in the 90 minutes," said Gray. "[…] And that's how penalty shoot-outs go. You miss, you lose.
"[…] I wanted this trophy badly. Again, that's how it goes."
Eve was gracious to his opposite number, as he not only credited Cooper's tactical acumen but also lauded his fellow Secondary Schools Football League (SSFL) coaches—he singled out Cooper's assistant Dunstan Williams, along with Reynold Carrington (St Benedict's College), Michael Grayson (Trinity College East), Dale Saunders (East Mucurapo Secondary), Nigel Grosvenor and Kenwyne Jones (both QRC).
"I think the league on a whole is better this season," said Eve. "When you look at the coaches, there are so many coaches with international experience who are developing the league and the players.
"You saw the tactical sense of the game today. You didn't see a swashbuckling type of game but you could appreciate the tactical awareness of the game and both coaches.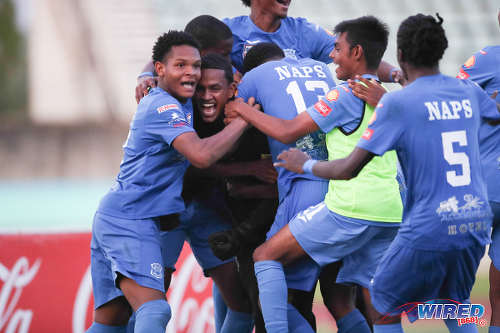 "[…] The colleges league's job is not to create professional players like [Kylian] Mbappé, it is to create student athletes—boys who can go out and get scholarships. Professional football is an afterthought for our players and their parents."
The National Intercol trophy is very much at the forefront of their minds though. Naparima eliminated their testy neighbours today but, with a semifinal showdown against either St Anthony's College or Carapichaima East Secondary on Friday evening, Eve is not getting ahead of himself.
"We drew with [St Anthony's] already this season and we only beat 'Caps' 1-0, so it isn't going to be an easy game on Thursday, no matter which one of the teams we have to play," said Eve. "Our job isn't finished yet."
(Teams)
Naparima College (4-2-3-1): 1.Levi Fernandez (GK); 5.Daquon Foster, 13.Jeron Pantor, 4.Tyrike Andrews, 8.Kodel Frontin; 6.Shoaib Khan, 17.Nathaniel Perouse; 19.Isa Bramble, 10.Decklan Marcelle, 7.Mark Ramdeen; 20.Seon Shippley.
Unused Substitutes: 30.Enrique Changiah (GK), 9.Ezekiel Kesar, 11.Kern Cedeno, 15.Marvin Waldrop, 16.Akil Johnson, 18.Caleb Gaspar, 21.Nirvan Ramnarine.
Coach: Angus Eve
Presentation College (San F'do) (4-1-4-1): 28.Jabari Gray (GK) (captain); 3.Juaval Roberts, 5.Justin Cornwall, 27.Darnell Hospedales, 2.Zion Allen; 12.Jerrin Jackie; 7.Omri Baird, 15.Aleem Barclay, 10.Jordan Riley, 9.Jaiye Sheppard (29.Jardel Sinclair 86); 6.Ackeel Jacob.
Unused Substitutes: 1.Isaiah Williams (GK), 14.Tylon Roseman, 18.Nkosi Chance, 19.Terrell Noel,  23.Christoph John, 24.Adica Ash.
Coach: Shawn Cooper
Referee: Marlon Perouse