"The SSFL executive is a serious executive that is bent on ensuring things happen correctly," Secondary Schools Football League (SSFL) president William Wallace told Wired868. "It's bent on cleaning up whatever existed before and what people got away with… I think last year was really a watershed moment for SSFL in terms of administration.
"The Fyzabad Secondary situation, for example, was totally out of the box. They weren't trying to circumvent the rules or anything like that but it was alleged fraud."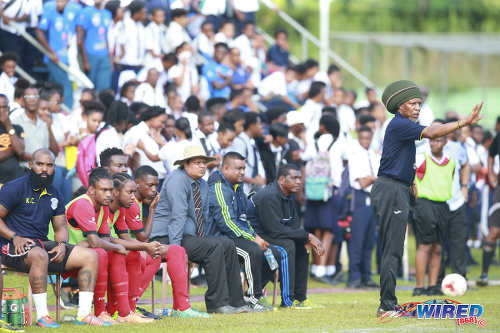 With the 2018 Secondary Schools Football League (SSFL) Premier Division now in the books, Wallace believes the ghost of SSFL's past is slowly fading away and will eventually become a distant memory.
To date, there have been no protests or player eligibility issues arising from the 2018 Premier Division season—although there were a few in the second tier Championship Division competition. And Wallace thanked his administrators and school principals for their hands-on approach, which he thinks led to a smoother campaign.
"I reached out to schools and principals and told them that they had to be responsible," said Wallace. "They are the ones who have to set the example for our young people and so on. And they must hold a serious position.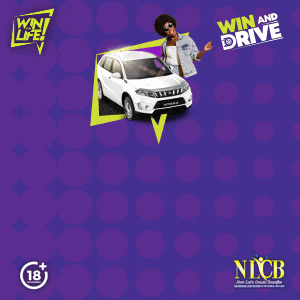 "People made the point that some of the things which were happening last year were going on for years… It may have been happening before but it was wrong. There are some things we may not pick up but when we picked them up we dealt with them. And I'm certain that it will not reoccur."
Last year, the SSFL had already kicked Fyzabad out of the Premier Division by the time police swooped down on the southern school to interrogate team manager Nigel Lakhan and principal Troy Jebhodsingh for fraud.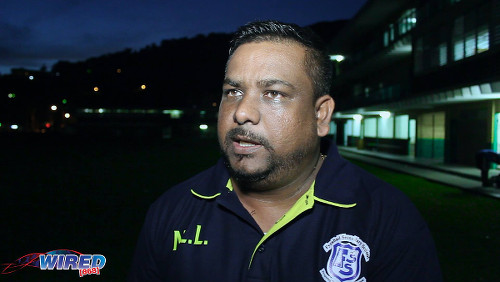 This year, there has been no repeat of such drama, although the SSFL executive had to rule on three Championship Division matters. Thus far, Arima North Secondary is the lone school deemed to have broken the rules and the Premier Division hopefuls suffered a massive points deduction for fielding three ineligible players.
Josiah Joseph and brothers Leandro and Leonardo Da Costa transferred into Arima North with one CSEC pass each, although SSFL's rules state that Form 5 repeats must have at least two CSEC passes to their name. However, Arima North placed the trio into Form 4.
Holy Cross College protested and the SSFL ruled against the "Dial Dynamos."
"Arima North tried to manipulate existing rules," said Wallace, "and of course—as far as we're concerned—our constitution was clear. It was a repeat year for the students. Once you repeat, this is what is supposed to happen. And when you're repeating, there is a minimum standard you must meet.
"The rules are there and these persons are trying to circumvent the rules by trying to use a technical approach. Of course it didn't work and there was no appeal either."
The successful protest saw Holy Cross claim Arima North's place in the Shell/First Citizens Bank Big 5 contest. The top three schools there advance to the 2019 Premier Division.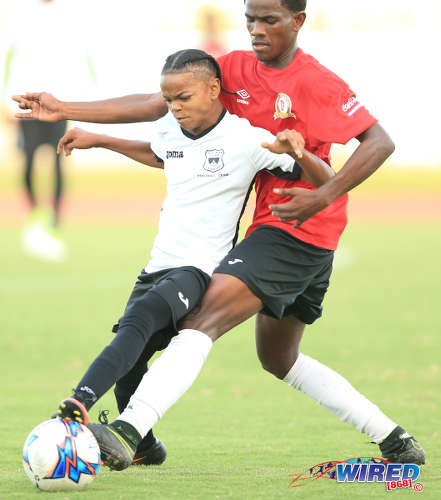 On the other hand, Speyside High School and Pleasantville Secondary survived legal challenges from Mason Hall Secondary and Moruga Secondary respectively.
Mason Hall, who finished behind Speyside on goal difference in the Tobago Zone, contested the League's decision to award three points to the "Country Boys" for an abandoned game against Pentecostal Light and Life Foundation High School (PLL) on 9 October, although neither team showed up.
However, Wallace said the decision was made based on the the failure of the host team, Pentecostal Light and Life, to attend two disciplinary committee hearings on the issue in Tobago.
"You are responsible for hosting the game and then called off the game," said the SSFL president. "[Pentecostal Light and Life] said they got information about [their need to increase security officers at the game] too late. If they had gone to the disciplinary committee with that proper reasoning—I'm not pre judging here—but most likely that game would have been played over.
"[Mason Hall] were not directly involved with the two schools. Basically they are a third party in all of this. Now, Mason Hall's case is basically one of collusion [but] how are we going to prove that?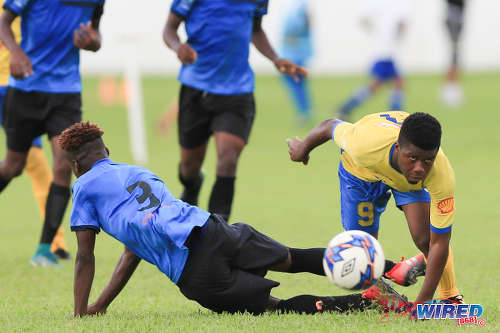 "As far as we are concerned, we followed our rules and regulations and made our ruling. Mason Hall had the right to take that to appeal within 72 hours [but so far they have not]. But people are going around with an emotional approach and making statements."
In Moruga's case, they queried the eligibility of Pleasantville goalkeeper Raheem Lee.
Lee, a Form Six student at Pleasantville, has three O'level subjects and one Caribbean Vocational Qualification (CVQ) subject. And Rule 5 (c) of the SSFL Rules of the Credentials Committee states: "For a Form 6 entry: Players must have attained FOUR (4) or more Ordinary Level passes at Grades I, II or III at CSEC or A, B or C at GCE."
Wallace, like general secretary Azaad Khan before him, declared that the League sees a CVQ subject as valid for a Form 6 player.
"CXC is actually setting that paper and marking that paper; and it's run under CXC just like the CSEC subjects," said Wallace. "Obviously, if we accept CVQ to repeat Form 5, if you are accepted into Form 6 with it does the value of it change?
"The value can't change. You can't accept it to repeat and then say in sixth Form it doesn't have any value anymore. It's counted as one of the four subjects to get into sixth Form."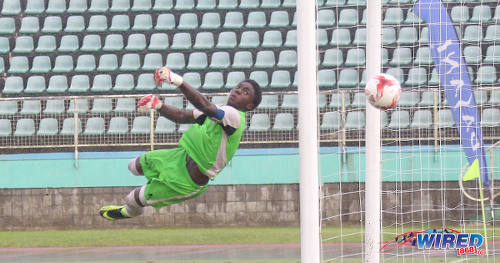 Wired868 asked whether the SSFL would amend its bylaws to clarify the requirements for students.
"Every year we would have to keep spelling out things; it's sad but that's how it is," said Wallace. "We would go and write that in and then next year some other thing will come up and we will have to write that in the following year as well.
"There's something called the spirit of the law and there's also something called what is implied. People are going away from that and they are trying to make cases when they do their stuff."
Away from the SSFL boardroom, Wallace was delighted with the manner in which the Premier Division concluded on Wednesday afternoon with three schools—defending champions Presentation College (San Fernando), Naparima College and San Juan North Secondary in the hunt on the last day of the regular season.
A draw between Presentation and San Juan North allowed Naparima to steal ahead and pinch the title at the death. While, at the other end, St Mary's College avoided relegation in their final outing too.
"The competitiveness was both at the top and the bottom because there were teams at the bottom still playing to avoid relegation," said Wallace, as he marvelled at the late form showed by East Mucurapo Secondary and St Mary's. "Everything was basically decided on the final day of the season. We couldn't ask for a better finish."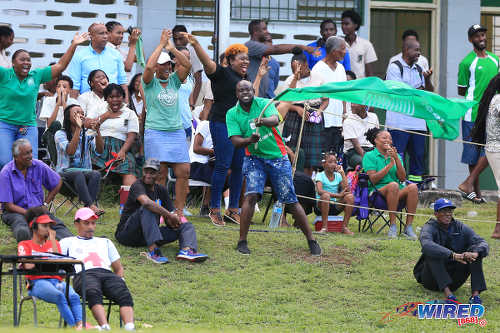 There was a packed house at Bourg Mulatresse when San Juan North hosted Presentation and Wallace was pleased to see such enthusiasm for the sport still exists. The south derby between Presentation and Naparima at Lewis Street was also inspiring.
"Usually you would find that kind of atmosphere at Intercol games but it was just electric [at Lewis Street]," said Wallace. "It was an extremely wet day and you were seeing all these supporters covered in mud and so on. That's the kind of spirit we want to engender in the SSFL. That competitiveness where even the fans could enjoy themselves.
"When you look at the other leagues in Trinidad and Tobago and you go to stadiums that are empty, you wonder why this is happening. And you wonder why we aren't sitting down as persons in the football fraternity in Trinidad and Tobago to see how we can piggyback on each other and work on each other's strengths."
Earlier this year, the SSFL held discussions with the Trinidad and Tobago Football Association (TTFA) for a collaborative approach going forward, which would suit both parties. The result was a Memorandum of Understanding (MOU) between the bodies.
But things have stalled since and, last month, Wallace accused the local football body of killing the dreams of its young national players by repeatedly failing to prepare national youth teams.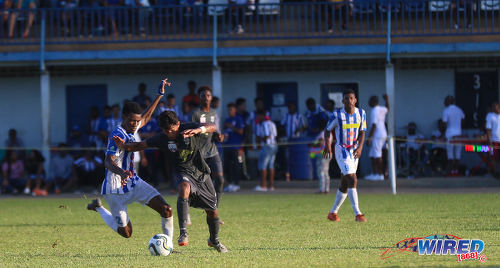 "Basically, [the TTFA and SSFL] hammered out some things as to what we could do [to help] at the SSFL stage," said Wallace. "We would've been clear on when players would leave us; and if the national coach wanted SSFL coaches to work on certain players and certain aspects of their game—all that was in there.
"As far as I'm concerned that was just an empty discussion and a waste of man hours… The MOU never came back to us [so we could] take it to our coaches.
"The TTFA said that they needed to tweak it a bit. And since then that's it; nothing has happened."
For Trinidad and Tobago football to improve, Wallace believes all parties must be on the same page.
"Everybody seems to be operating in silos and that can't help Trinidad and Tobago football," he said. "We're too small for that. We must have a more integrated approach where all stakeholders must play their roles in a formal and serious way.
"That's the only way we'll progress. Otherwise the football will continue to stay where it is."