St Mary's College will have their fate in their own hands on the final day of the Secondary School Football League (SSFL) Premier Division on Wednesday, as they thumped St Augustine Secondary 4-nil in a rescheduled fixture this afternoon.
The resounding win for the "Saints" was inspired by a classy double by Tyrese Spicer and a brilliant midfield display from Michel Poon-Angeron, which took them out of the relegation zone and two points above Valencia Secondary on the 15-team table.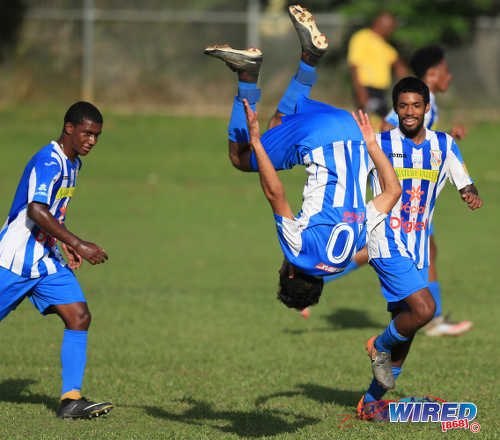 At the final whistle, St Mary's and their small traveling posse celebrated wildly in St Augustine today. But, in two days' time, either CIC or Valencia will be drowning in sorrow on the Premier Division's judgement day.
St Mary's host Trinity College East at Serpentine Road, St Clair on Wednesday while Valencia host Fatima College, who are already relegated, at Larry Gomes Stadium in Malabar.
No doubt, St Mary's would warmly welcome a win from their brother school Fatima. But today, coach Ryan Shim's charges took matters into their own hands—and emphatically so as well.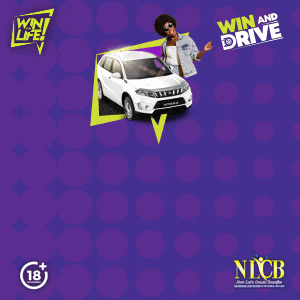 "Coming into this game we still had our fate in our hands, so it was important that we got something today," said coach Shim, who almost blew a fuse on the side line today. "Looking ahead to Trinity East, we'll have to be positive and stay positive. Our fate is in our hands."
After an anxious start, midfielder Gabriel Nanton settled the nerves of the visitors with a close range effort in the 20th minute after teammate Terran Winner failed to bring a Poon-Angeron free kick under his spell.
Both teams looked uncomfortable at the back in the first half as they struggled with long balls over the top. And on more than occasion there was miscommunication between St Augustine goalkeeper Ajahri Murrien and the centre back pairing of Jamal Maloney and captain Daniel Rahaman.
"Everything is on the line for us and we obviously had to find the balance between safety and playing some football," Shim said of his team's anxious spells.
The pacey Spicer was especially menacing down the left in the first half, and St Augustine coach Adrian Romain had Murrien—and the wasteful CIC attackers—to thank for preserving a respectable first half score line. Both Spicer and Kyle Carrington, a hat-trick hero against Trinity College Moka on Saturday, failed to hit the onion bag despite being presented with glorious one-on-one opportunities with the St Augustine shot-stopper.
"Our defence is vulnerable and we are not learning from the mistakes we are making," Romain told Wired868. "I keep coming back to training to try to assess it but it's not working. It's the Premier Division and these teams are coming for three points. Nobody ever sits back and says 'here you are St Augustine'.
"We didn't sit back against San Juan and they deserved to get four. Today, we deserved eight and that's the reality. Praise God St Mary's decided to give us four but the reality is that we need to up our game a little more."
Romain was without the services of influential midfielders Ethan Bonaparte and Rivaldo Coryat—through National Under-20 Team and suspension respectively—while forward Kesean St Rose, the Premier Division's leading goal scorer, started on the bench as he was carrying a knock.

It's safe to say that Romain missed their special touch today. And his pep talk just after the hour mark didn't yield the desired outcome either.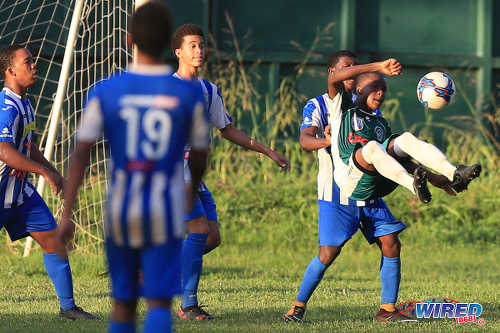 St Mary's didn't mind one iota, and the relegation-threatened team put in a dominant second half performance to spank the hosts, who have conceded seven goals in their last two matches—a definite eye-opener with the Intercol tournament right around the corner.
"Honestly, St Mary's wanted it more," said Romain. "The [last two] teams we played are fighting for survival. Obviously, you could see it and we have conceded seven goals in the last two games.
"It's due to a lackadaisical approach that has been coming around the camp. That is something I need to cut out going into the Intercol in order for us to compete."
Spicer was the main protagonist for the "Green Machine." He threatened with little luck in the first half, but helped put the game to bed within a three minute span in the second period.
First, in the 70th minute, the winger drilled a left-footed shot past Murrien, after the St Augustine defence failed to deal with a through pass that was intended for substitute Jaheim Ryan. Then, two minutes later, Spicer turned provider when he teed up Poon-Angeron for a sweet, curling left-footer from the edge of the area.
By this time, St Augustine were reeling. And although St Rose came on to add some vigour to the attack, the hosts were really sitting ducks on the other end. St Augustine's lively attacker Nickell Alexander tried to give his team some reprieve, but his close range 76th minute effort banged off the bar and stayed out—it was the second time Alexander struck goalie Jordan Bidaisee's woodwork in the encounter.
Alexander's luck may have been out, but Spicer's certainly wasn't.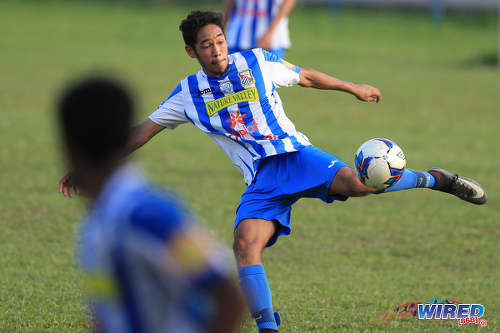 And eight minutes from time, the youngster added more gloss to the score line with the goal of the match, as he rocketed a left-footed shot into the top corner from just outside the area—after some nice link up play between Nanton and Poon-Angeron down the left.
The Saints couldn't seem to find their shooting boots earlier in the Premier Division campaign, but now appear to be firing on all cylinders.
"I want to believe we are peaking at the right time," Shim said. "We couldn't find those goals earlier in the season and as a result we gave up some points. We've been able to do it in the last couple games and I'm hoping we could keep doing it going forward…
"We just have to go and take it […] we know the dire situation we've put ourselves in and we just need to see the season out in the right way."
On Saturday, Shim's charges hit Trinity Moka for five. Today, St Augustine received four. Come Wednesday, the CIC faithful would hope that Spicer and company have more in store.
The Saints are waiting to unleash a "raz" of survival.
(Teams)
St Augustine Secondary (4-2-3-1): 1.Ajahri Murrien (GK); 12.Andge Williams, 18.Jamal Maloney, 5.Daniel Rahaman (captain), 4.Kiel Lopez (24.Dwight Jordan 84); 6.Jelani Augustus, 2.Jabari Anthony; 11.Marli Graves, 23.Rivaldo Patron (15.Jirel Maloney 76) 7.Nickell Alexander; 9.Dorian Sampson (13.Kesean St Rose 66).
Unused Substitutes: 22.Triston Edwards (GK), 16.Tyrique Trotman, 20.Jael Ransome, 21.Kyle Phillip.
Coach: Adrian Romain
St Mary's College (4-2-3-1): 29.Jordan Bidaisee (GK); 2.Augustine Nkemakolam, 12.Justin Gibbons, 5.Luke Savery, 3.Kevon Alonzo (captain); 6.Justin Keith (15.Alejandro Cocking 79) 10.Gabriel Nanton; 11.Tyrese Spicer, 19.Michel Poon-Angeron (20.Shiloh Galera 82), 18.Kyle Carrington (Jaheim Ryan 68); 7.Terran Winner.
Unused Substitutes: 30.Regaleo Holder (GK), 13.Kyle Alexis, 16.Tyrique Huggins, 26.Nathaniel Williams.
Coach: Ryan Shim
Referee: Kwinsi Williams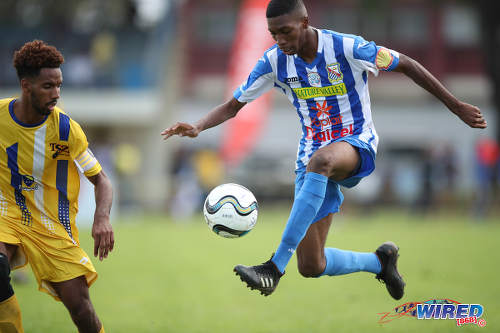 Premier Division results
(Monday 5 November)
St Augustine Secondary 0, St Mary's College 4 (Gabriel Nanton 20, Tyrese Spicer 70, 82, Michel Poon-Angeron 72) at St Augustine.
Upcoming fixtures
(Wednesday 7 November)
St Mary's College vs Trinity College East, 3:40pm, Serpentine Road;
East Mucurapo vs St Anthony's College, 3:40pm, Mucurapo Road;
QRC vs Carapichaima East, 3:40pm, QRC;
San Juan North vs Presentation College (San F'do), 3:40pm, San Juan;
St Mary's College vs Trinity College East, 3:40pm, Serpentine Road;
Trinity College (Moka) vs Naparima College, 3:40pm, Moka;
Valencia Secondary vs Fatima College, 3:40pm, Larry Gomes Stadium, Malabar.
2018 SSFL Premier Division
| Pos | Club | P | W | D | L | F | A | GD | Pts |
| --- | --- | --- | --- | --- | --- | --- | --- | --- | --- |
| 1 | Naparima | 14 | 10 | 4 | 0 | 27 | 9 | 18 | 34 |
| 2 | Presentation | 14 | 10 | 3 | 1 | 30 | 12 | 18 | 33 |
| 3 | San Juan | 14 | 9 | 3 | 2 | 25 | 15 | 10 | 30 |
| 4 | Carapichaima | 14 | 7 | 3 | 4 | 25 | 22 | 3 | 24 |
| 5 | St Benedict's | 14 | 6 | 3 | 5 | 22 | 21 | 1 | 21 |
| 6 | QRC | 14 | 5 | 5 | 4 | 19 | 12 | 7 | 20 |