FC Santa Rosa closed the gap between themselves and Trinidad and Tobago Super League (TTSL) leaders Queen's Park Cricket Club to four points yesterday, as they scalded UTT in route to a 4-1 triumph at the UTT campus in O'Meara.
Rosa weren't the only ones to keep the pressure on QPCC ahead of their outing away to Bethel this evening, as the other top half clubs in action all registered victories.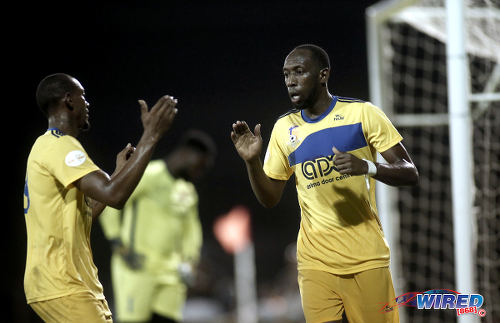 QPCC (19 points), now have a slender two-point lead atop the standings after second place Cunupia FC blanked Club Sando 2-nil thanks to a Kevon "Showtime" Woodley double, while there were also wins for Guaya United (15 points) and Matura Re United (16 points) on their travels.
In O'Meara yesterday, Santa Rosa had something of a score to settle with their scholarly hosts, as a final day defeat to UTT in the 2017 season robbed the "Big Cannons" of back-to-back TTSL titles. On that fateful evening at the Larry Gomes Stadium in Malabar, one sweetly-timed strike from Germany 2006 World Cup player Cornell Glen was enough to see Rosa kissing the TTSL trophy goodbye.
Unable to register in time for the 2018 season, Glen had to make do with a seat among the spectators—perhaps to the delight of some Rosa die-hards.

[dfp-ad]
Only three of the players from UTT's first 11 in last year's 1-0 win started yesterday, with their other former national attacker, Kevaughn Connell, ruled out with a groin strain. The injury to Connell meant that Glen's younger brother, Cyrano, took over the captain's armband and also assumed the role of lone striker.
UTT's plan was clear from the get-go. In an effort to try and counteract Rosa's high press, they tried to utilise Cyrano's hold up play as a target man before springing flankers Shaquille Nesbitt and Tristan Perrotte into action, with support from midfielder J'Deem Parris.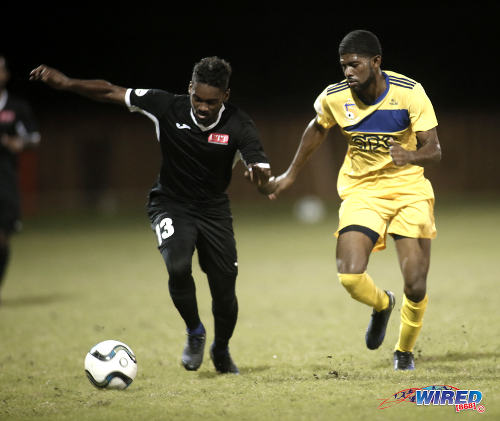 But, with UTT already trailing 1-0 due to a 31st minute strike by Giovanni Abraham, the hosts received a sickening double blow in the 35th minute.
Finally, UTT were able to breach Rosa's high line, as left back Liam Burns split the defence open with a lovely through pass which sent Cyrano into a foot race with defender Alfie James. Cyrano looked to have James beaten for pace, but, as he shaped to shoot towards Joel Johnson's goal, he pulled up lame with a hamstring injury.
It was a sour end to Cyrano's night, which should have started so sweetly. In only the second minute of play, the bustling attacker found himself unmarked from a deep Burns free kick, but couldn't quite bring the ball under his spell after taking on the chest. And, roughly a half hour later, he had to be substituted with an injury.
Rosa were in no mood to sympathise with UTT though, and wide man Kheelon Mitchell buried a low left-footer into the far corner, after Abraham cut back from the byline.
Rosa were two goals to the good and did not even look to be out of first gear. On the other hand, coach Clayton Morris' charges were probably feeling the ill-effects of unsatisfactory preparation for the 2018 season.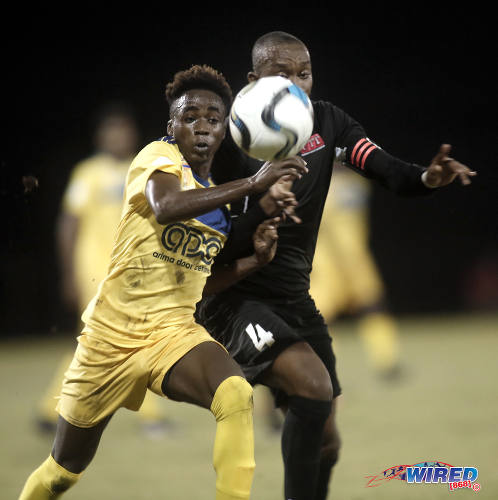 "This year we really did not have a proper preseason," Morris told Wired868. "We come under the Government and funding was a challenge. We only got our budget approved two weeks before the start of the season.
"We didn't have a full preseason and that has us facing some of the challenges with injuries and fitness right now."
Perhaps, inadequate match sharpness hampered Nesbitt, just seconds after the restart, as the UTT playmaker somehow missed a gaping goal from just outside the area—after Johnson made a mess of a short pass to a defender.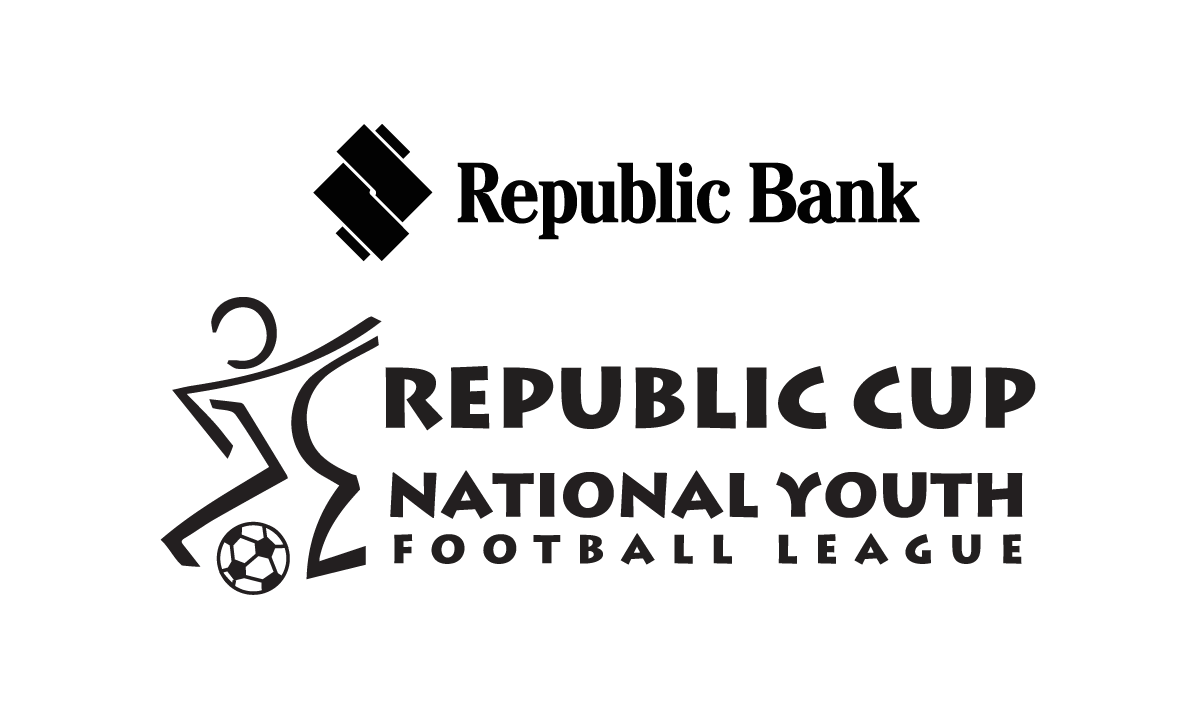 Against an opponent like Santa Rosa, you really have to gobble up those chances. And the Big Cannons really came into their own in the second half with solid showings from former Trinidad and Tobago National Under-20 winger Kishun Seecharan, captain Ryan "Fry" Stewart and former Police FC full back Noel Williams.
Fry was silky as ever and often the architect of Rosa attacks with his deceptive movement and excellent vision in the middle of the park. Seecharan, whose ear bells must still be ringing from all of coach Derek King's instructions, was often the outlet for Fry and his tricky footwork gave Burns no end of problems.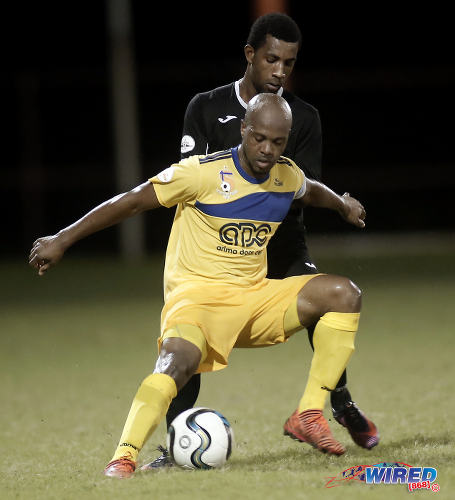 Meanwhile, Williams, a tireless runner and jack of all trades on the football field, was given licence to roam down the left flank and was often further advanced than his left winger, Mitchell.
After UTT goalie Learie McKenzie stopped Abraham twice from point blank range, Williams effectively put the game to bed in the 55th minute. However, he did need two cracks at the target.
First, Williams skied an effort over bar after Seecharan got to the end of a neat Stewart pass and cut back from the byline. But, the lanky journeyman made up spectacularly, just seconds later, when he volleyed home an exquisite lobbed pass from Stewart which took the opposing out of the game.
Rosa were now sailing smoothly and the third item saw them take their foot off the pedal. King, once a cerebral central defender, was not at all pleased.
"I think what we need to work on is staying consistent," said King. "We went three up and then we started to get little carried away."
Although Johnson had little work to do on the night, he did not exactly cover himself in glory when called into action. And in the 65th minute, Williams came spectacularly to his goalkeeper's rescue, as he cleared an effort by UTT substitute Moses Jaikeran off the line, after Johnson spilled a high ball.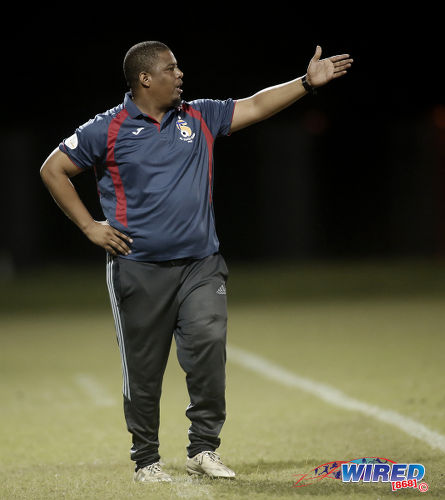 Not even the leggy Williams could save Johnson eight minutes later, though, as Cyrano's replacement, Shaquille Smith, swept home from close range, after Parris played in a low cross from the right.
"I'm a little bit disappointed defensively because we gave away a goal," said King, "but overall the performance was good and most importantly we got the three points."
King is coming off a successful 2017 season, after his North East Stars outfit emerged as surprise Pro League victors. And his Rosa team responded like champions with a fourth item in the 76th minute, after substitute Kevon Cornwall nodded past McKenzie from a Seecharan cross.
Seecharan played under King at National Under-20 level and the Rosa coach believes the youngster has the ability to go way beyond the Super League.
"I've had him for a few years and I think his ability is outstanding," King said. "I believe for anybody to get selected from the Super League to the National Team, they have to show that ability to play consistently at a high level. I told him he never knows who is watching, so always be consistent in his play."
Last week, Rosa announced the signing of winger Akeem "Froggy" Garcia, a Pro League winner with Stars and another one of King's former National Under-20 charges.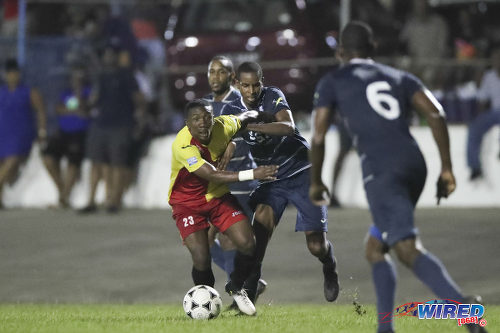 King hinted that two further signings may be on the way while he's convinced that Froggy could make an immediate impact.
"Garcia should be available when the window opens on 3 August," King said. "He's accustomed to playing under me so I think he should add some quality to the squad."
Garcia should be a part of King's pack when they face Petit Valley/Diego Martin United (PVDMU) next weekend. As if the cellar placed PVDMU did not have enough problems.
(Teams)
UTT (4-1-4-1): 1.Learie McKenzie (GK); 19.Jameel Johnson (7.Moses Jaikeran 62), 5.Rickyl Morris, 4.Akil Clarke, 6.Liam Burns; 2.Keshon Carter; 10.Shaquille Nesbitt, 11.J'Deem Parris, 16.Reinaldo Atwell (27.Anisworth Grant 62), 13.Tristan Perrotte; 9.Cyrano Glen (captain) (14.Shaquille Smith 37).
Unused Substitutes: 22.Kenny Dick (GK), 15.Janeke Danzell, 26.Michel Holder, 28.Joshua Yearwood.
Coach: Clayton Morris.
FC Santa Rosa (4-2-3-1): 30.Joel Johnson (GK); 6.Sheldon Nesbitt (3.Dakeil Ferreira 88), 19.Jesse Reyes, 5.Alfie James, 4.Noel Williams; 24.Andre Rampersad, 21.Durwin Ross; 12.Kishun Seecharan, 17.Ryan Stewart (captain), 18.Kheelon Mitchell (16.Carlon Nicholas 88); 14.Giovanni Abraham (9.Kevon Cornwall 66).
Unused Substitutes: 1.Jesse Peters, 11.Shane Hospedales, 15.Osei Sandy, 25.Stephen Johnson.
Coach: Derek King
Referee: Kern De Suza
Wired868 Man of the Match: Ryan Stewart (FC Santa Rosa)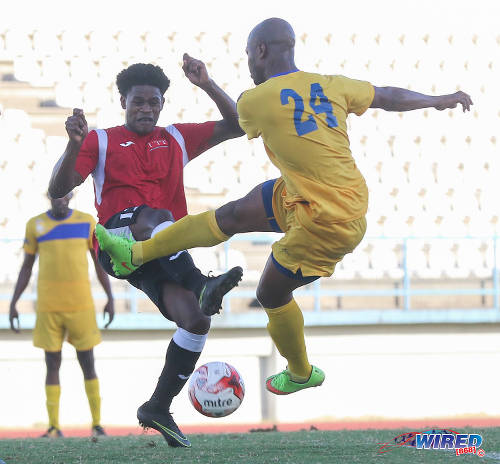 TTSL Results
(Saturday 28 July)
Metal X Erin FC 0, Guaya United 1 (Carlon Hughes 35) at Erin Rec Grd;
UTT 1 (Shaquille Smith 73), FC Santa Rosa 4 (Giovanni Abraham 31, Kheelon Mitchell 40, Noel Williams 55, Kevon Cornwall 76) at UTT, O'Meara;
San F'do Giants 0, Matura Re United 2 (Kareem Lewis 57, Kenwin Matthew 76) at St Margaret's Rec Grd;
Cunupia FC 2 (Kevon Woodley 37 pen, 45), Club Sando 0 at Larry Gomes Stadium.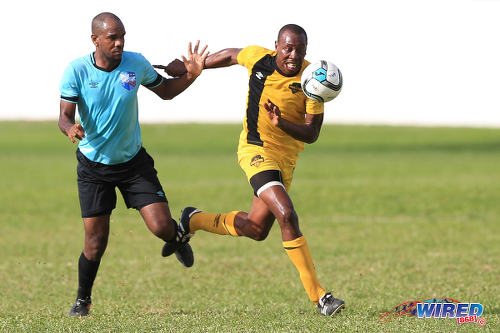 Today's fixtures
(Sunday 29 July)
Prisons FC v Petit Valley/D'go Martin Utd, 4pm, YTC, Arouca;
Police FC v RSSR FC, 4pm, Police Barracks, St James;
Bethel United v QPCC, 6pm, Mt Gomery Recreation Ground.