The Trinidad and Tobago Women's National Senior Team must wait to learn if they will appear in the semifinal round of the Central American and Caribbean (CAC) Games, after squandering a two-goal lead tonight against Nicaragua in Barranquilla, Colombia.
The surprise withdrawal of Haiti from the women's tournament meant that Trinidad and Tobago only needed a win against an unheralded Nicaragua team to get to the knockout stages. Instead, they were pegged back 2-2 by the Central Americans, despite leading 2-0 in the 47th minute.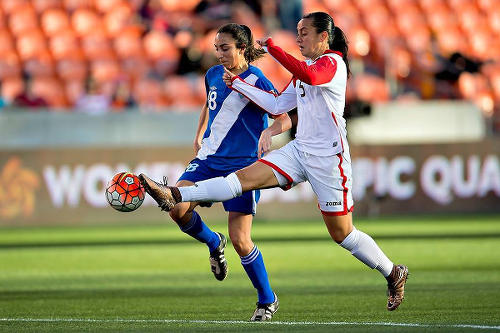 The news was worse for the Trinidad and Tobago Men's National Under-20 Team, as they were eliminated 3-2 by Costa Rica, despite a stirring comeback at the Estadio Romelio Martínez.
The Under-20 Team, coached by Russell Latapy, still have a final group match on Tuesday against hosts, Colombia. However, they have no chance of advancing to the knockout round after successive defeats to Honduras and Costa Rica.
The young Soca Warriors conceded twice in the first half against Honduras and, once more, the damage was inflicted early on the boys in red, black and white strip.

Latapy made six changes to his starting team, as full backs Darnell Hospedales and Isaiah Garcia replaced the injured Triston Hodge and suspended Jerrin Jackie; while only Kierron Mason kept his place in midfield, as Rivaldo Coryat, John-Paul Rochford, Judah Garcia and Nickel Orr came in for Jodel Brown, Shaqkeem Joseph, Mark Ramdeen and Jarred Dass respectively.
Garcia, Hodge and Dass were the three over-aged players permitted under team rules.
[dfp-ad]
The overhaul did not lead to a better start for the Warriors, though, as Costa Rica raced to a 3-0 lead within the first 24 minutes, courtesy of a double from midfielder Randall Leal and a solitary item from forward Andrés Gómez.
Remarkably, Latapy's team threatened to erase the sizeable deficit, though, as Rochford and Orr scored in the 60th and 67th minutes respectively.
Rochford, a QRC student and FC Santa Rosa player, has now had a hand in five of Trinidad and Tobago's last six goals—despite just one start for Latapy at this level.
The diminutive player, who was an unused substitute on Friday, scored in both appearances from off the bench in Guadeloupe, two months ago, and assisted on his country's two other items there too. And he was back among the goals today in his first start for the Under-20 Team.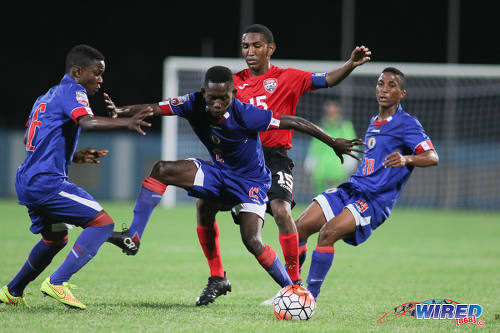 Versatile attacker Isaiah Lee, a Matura ReUnited player and Naparima College student, also got his first international run-out as a substitute while United States-based goalkeeper Jadel Poon-Lewis replaced Denzil Smith in the 35th minute and did not concede in his 55 minutes on the field. But, ultimately, their efforts were not enough to snatch a point, which would have kept hopes alive of a semifinal position.
The Women's Team have more to be hopeful about, although they might not feel like celebrating tonight.
An early Nicaraguan own goal coupled with an item by ace midfielder Karyn "Baby" Forbes helped the two island republic to what looked like a comfortable 2-0 lead, just two minutes after the interval.
However, coach Jamaal Shabazz's team could not hold on, as teenager Yessenia Flores came off the bench to score twice, as Nicaragua fought back to level before full time. Nicaragua travelled to Colombia with eight under-20 players in their squad, while Trinidad and Tobago had four teenagers—Aaliyah Prince, Kedie Johnson, Natisha John and Afiyah Cornwall, who were all substitutes.
Only goal difference separates Nicaragua and Trinidad and Tobago now. If Nicaragua fail to score against Mexico on Tuesday and concede four clear goals or more, Shabazz's troops will march into the semifinals.
However, if the Central American women manage a more respectable result than Trinidad and Tobago's 5-1 defeat to Mexico, then the TTFA's two outfits will return home before the serious football business gets started in Colombia.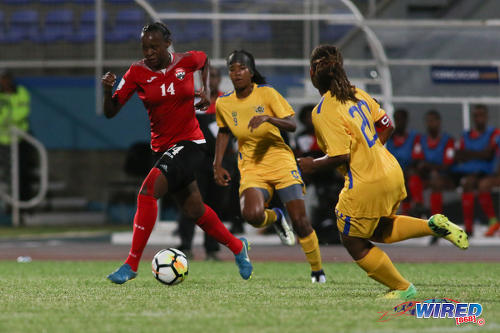 A Trinidad and Tobago football side has not appeared in a CAC football final since the men's team grabbed silver in the 1974 edition.
Shabazz targeted a medal at the 2018 Games but his dream was complicated by Nicaragua tonight.
(Teams)
Trinidad and Tobago U-20 Men: 1.Denzil Smith (GK) (20.Jadel Poon-Lewis (GK) 35), 2.Isaiah Garcia, 17.Jessie Williams, 3.Derron John, 12.Darnell Hospedales, 8.Kierron Mason, 14.Rivaldo Coryat (6.Isaiah Lee 54), 15.John-Paul Rochford, 10.Judah Garcia, 13.Nickel Orr, 9.Jayden Prowell (captain) (18.Ethan Bonaparte 72).
Unused substitutes: 20.Jadel Poon-Lewis (GK), 6.Isaiah Lee, 7.Mark Ramdeen, 11.Jarred Dass, 16.Jodel Brown, 18.Ethan Bonaparte, 19.Shaqkeem Joseph.
Injured: 5.Triston Hodge.
Suspended: 4.Jerrin Jackie.
Coach: Russell Latapy
Costa Rica: 1.Luis Rivas (GK), 2.Kevin Espinoza, 3.Pablo Arboine (captain) (17.Jose Espinoza 46), 4.Juan Vargas, 16.Suhander Zuñiga, 20.Eduardo Juarez,8.Bernald Alfaro (14.Roberto Cordoba 85), 10.Jonathan Martinez, 7.Randall Leal (6.Luis Hernandez 72), 11.Barlon Sequiera, 15.Andrés Gómez.
Unused substitutes: 18.Patrick Sequeira (GK), 5.Juan Arguedas, 9.Bryan Rojas, 12.Jimmy Marin, 13.Diego Mesen, 19.Yostin Salinas.
Coach: Hugo Herrera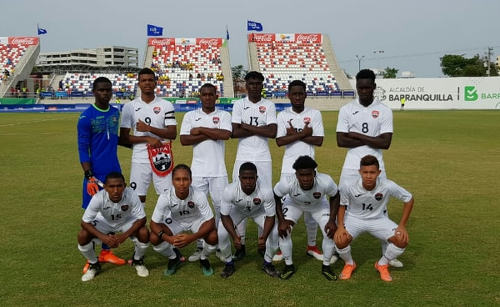 2018 CAC Games
(Sunday 22 July)
Costa Rica 3 (Randall Leal 9, 24 pen, Andrés Gómez 15), Trinidad and Tobago 2 (John-Paul Rochford 60 pen, Nickel Orr 67).
(Teams)
Trinidad and Tobago: 1.Kimika Forbes (GK); 2.Ayana Russell, 5.Arin King, 4.Rhea Belgrave; 8.Patrice Superville (19.Aaliyah Prince 79), 11.Janine Francois (6.Natasha St Louis 90), 3.Jenelle Cunningham, 14.Karyn Forbes, 16.Liana Hinds; 10.Tasha St Louis (captain), 9.Mariah Shade (15.Kedie Johnson 72).
Unused substitutes: 20.Saundra Baron (GK), 7.Jonelle Cato, 12.Summer Arjoon, 13.Natisha John, 17.Afiyah Cornwall, 18.Naomi Guerra.
Coach: Jamaal Shabazz
Nicaragua: 1.Bethania Aburto (GK), 2.Martha Silva, 16.Diana Ortega, 18.Elizabeth Arcia, 4.Alys Cruz, 6.Sheyla Flores (7.Julissa Acevedo 78), 10.Katherine Pereira, 13.Jansy Aguirre, 14.Kesly Perez, 17.Josseling Berrios (11.Yessenia Flores 45), 9.Shanelly Treminio (19.Doriana Aguilar 70).
Unused substitutes: 12. Beykel Méndez (GK), 3.Celeste Escobar, 5.Kelly Avalos, 8.Cinthya Orozco, 15.Ninoska Solis, 20.Natalie Orellana.
Coach: Elena Dixon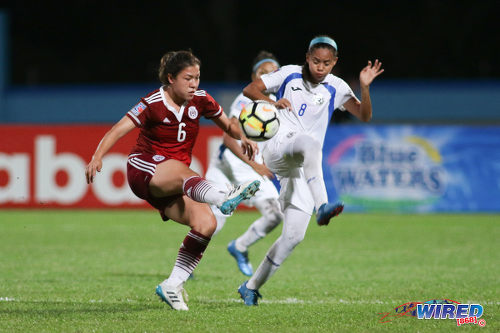 2018 CAC Games
(Sunday 22 July)
Trinidad and Tobago 2 (Martha Silva OG 45, Karyn Forbes 47), Nicaragua 2 (Yessenia Flores 69, 75).