Central FC have flown sky high and hit rock bottom during their six year existence. And last night, in arguably their darkest financial hour, the "Couva Sharks" were still able to see some light, as they defeated Defence Force 4-2 on penalty kicks to clinch the First Citizens Cup, after a 2-2 deadlock over regulation time at the Hasely Crawford Stadium, Port of Spain.
The Central players—according to coach Stern John—have gone some time without a pay-cheque, which led to numerous departures. And the three-time Pro League champions did not even have a substitute goalkeeper on the bench last night.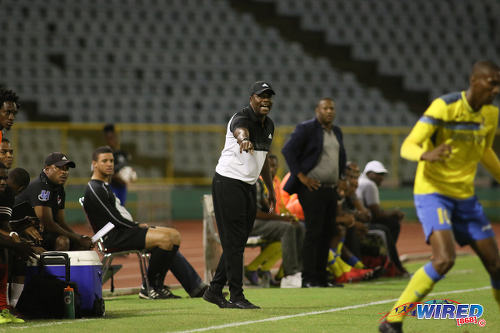 John routinely stresses to his charges that adversity often leads to opportunity, though, and they responded well in last night's thrilling finale to secure their third FCB crown in front of hundreds of football fans.
"For the past couple of years, Central have been able to field some of the best players in Trinidad and Tobago," John told Wired868, "but we are in a rebuilding stage with the financial problems we are having now and I must give credit to the boys because they have been working their socks off under some difficult conditions.
"We have 13 [contracted] players because a number of [them] left for financial reasons while others went abroad. So we have to grind it out."

It was the second straight runners-up finish for Defence Force, who lost 3-1 to W Connection in the 2017 First Citizens Cup final.
[dfp-ad]
"I heard Army was saying that 13 men couldn't beat them," said John, who turned up with 15 players last night. "These boys showed resilience, they showed fight, they showed passion and they deserved this 100%."
Defence Force coach Marvin Gordon tipped his hat off to the Sharks and suggested that football was the real winner on the night.
"I think the people of Trinidad and Tobago won because they saw two teams with two good coaches trying to be tactical against one another and trying to bring a result; so I think the fans won tonight," said Gordon. "It was one of the best finals I saw in Trinidad in a long time… To me it's a tough pill to swallow because penalties is like a lottery draw and it's about who has more nerves.
"Tonight they had more nerves than us and they got the result."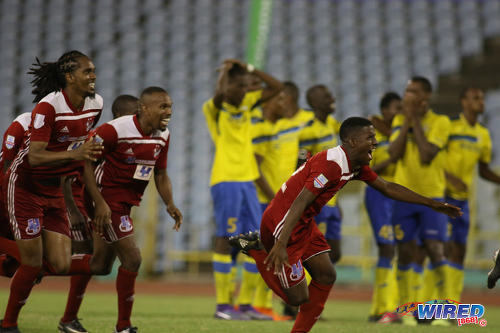 The 2018 edition of the FCB Cup came with a twist. For the first time, it started with a group stage format, which gave way to the semi-finals and final. The Sharks and the "Teteron Boys" met in the group stage and eked out a 2-1 win off a double from tricky winger Tyrone Charles.
Last night, it was former Soca Warriors midfielder Keron "Ball Pest" Cummings who led Central with a stylish double and glimpses of the form that he displayed at national level before he was shot in his left in December 2015.
Cummings and Dominic Douglas played as inverted wingers behind Akim Armstrong, who operated as a lone striker and did a commendable job against the rugged Defence Force centre back pairing of Rodell Elcock and Curtis "Boyo" Gonzales.
Armstrong created Central's opener with his tireless, tenacious play in the 43rd minute, as he stole the ball from Gonzales before picking out the advanced Cummings with a through pass. And the playmaker calmly checked inside to his favoured left foot, before stroking his effort past Defence Force goalkeeper Sheldon Clarke.
Gordon did not mince words with his players at halftime.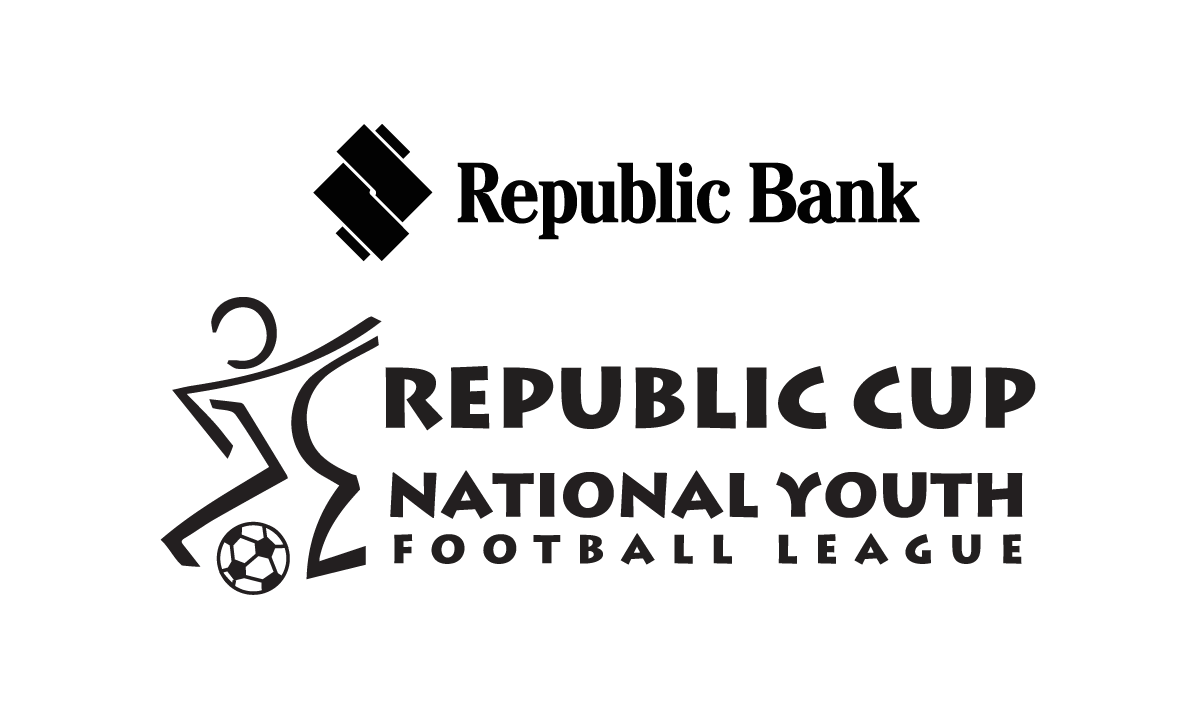 "The attitude needed to change," said Gordon. "The attitude in the first half wasn't great at all; we were second to everything. They were quicker than us.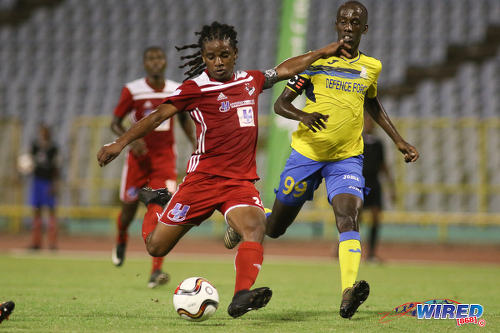 "I had a good go at the guys and I let them know that this is not what I expect from this team… We said we are going to win it, then let's go and win it."
The "hairdryer treatment"—coined by iconic former Manchester United manager Sir Alex Ferguson—seemed to work wonders, as Defence Force caught their opponents on the back foot at the start of the resumption.
Central had two early scares as Elcock had one goal-bound shot deflected wide, during a scramble in the box, while veteran striker Devorn Jorsling whipped a free kick just over bar.
Jorsling spent the majority of the evening on his back or all fours, as Central's youthful defensive duo of Dwight Pope and Taryk Sampson tried to stop his impressive hold-up play by any means necessary. But, in the space of roughly 100 seconds, the talismanic poacher left his footprint on the game as the Army/Coast Guard combination stormed into the lead.
First, in the 64th minute, Jorsling neatly cushioned a Brent Sam pass into the path of attacker Dylon King, who rifled into the top corner, despite a touch from Central goalkeeper Marvin Phillip.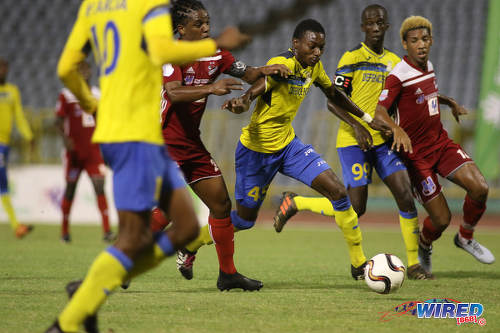 Then, seconds later, Jorsling bundled in from close range, after teammate Reon Moore showed electric pace to get by Kaydion Gabriel and square from the left flank. And just like that, before anyone could say "Galleons Passage" five times quickly, the servicemen were running the show.
John responded by replacing Rhondel Gibson with wily, veteran poacher Kerry Baptiste, which allowed Armstrong to drop into a deep-lying midfield role.
Defence Force might still have won the match in the 81st minute, only for Phillip to deny Hashim Arcia with a brave save from point blank range. Yet, within three minutes, the teams were level again after another moment of brilliance by Cummings.
A hurried clearance from Clarke ricocheted off a teammate and, as Defence Force tried frantically to clear, Cummings spanked a scrumptious left-footed volley into the top corner from the edge of the area. His equaliser sparked a frantic end to the game with both custodians forced into fine saves.
In the 88th minute, Phillip stretched every sinew in his body to stop a smart first time effort by King. While Clarke was equally agile to stop a meaty long distance hit by Jared London; and, in the sixth minute of stoppage time, a curling free kick by Cummings.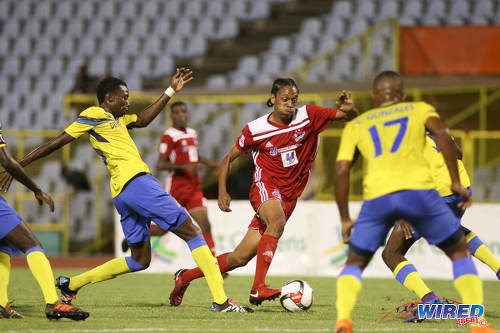 The 'hell for leather' approach was abandoned during extra time, although both teams still fashioned—and missed—glaring chances. Phillip, who was named the tournament's MVP, again showed his worth with a fine reflex save from close quarters to thwart Moore in the 110th minute. But he was not needed in the shootout.
King blasted Army's second penalty high and wide while Moore followed suit with the very next kick, as he thumped a rocket off the bar—despite sending Phillip the wrong way.
And, with the score reading 3-2 in Central's favour after conversions by Armstrong, Baptiste and Cummings, Duane Muckette—who deputised as captain for the injured Densill Theobald—sealed the deal with the decisive kick.
John hopes that there is more silverware to come.
"I'm hungry for success and I want to do well," said John. "Hopefully I can continue my trade because I'm passionate about it and I'm passionate about Trinidad and Tobago football; and I want to get it back to where it's supposed to be.
"We all know about the financial situation with the League and we have to find money for the players and them. The players have sent a message and said 'hey we've worked our socks off'.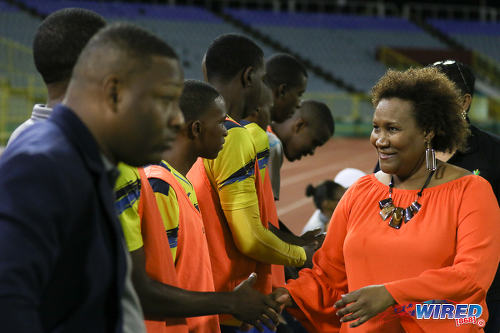 "They are still being owed money [and] we have to look after the players. Without the players, there is no football in Trinidad and Tobago; there's no future. Somebody needs to sort it out."
(Teams)
Defence Force (4-1-4-1): 25.Sheldon Clarke (GK); 5.Jerome McIntyre, 6.Rodell Elcock, 17.Curtis Gonzales, 21.Akile Edwards; 4.Dave Long (18.Reon Moore 18); 8.Brent Sam, 99.Jerwyn Balthazar (captain), 45.Dylon King, 10.Hashim Arcia; 9.Devorn Jorsling (11.Dwight Quintero 75).
Unused substitutes: 1.Andre Marchan (GK), 12.Jemel Sebro, 16.Kellon Serrette, 20.Levi Serries, 32.Jameel Cooper.
Coach: Marvin Gordon
Central FC (4-3-2-1): 1.Marvin Phillip (GK); 13.Rhondel Gibson (29.Kerry Baptiste 68), 12.Taryk Sampson, 5.Dwight Pope, 22.Jameel Neptune; 15.Kaydion Gabriel, 19.Jared London (27.Anthony Charles 114), 24.Duane Muckette (captain); 10.Keron Cummings, 26.Dominic Douglas (7.Kirston Baird 59), 8.Akim Armstrong.
Unused substitutes: 18.Densill Theobald.
Coach: Stern John
Referee: Cecile Hinds
Wired868 Man-of-the-Match: Keron Cummings (Central FC)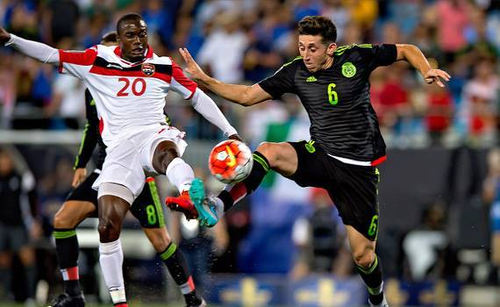 First Citizens Cup Final 
(Friday 20 July)
Defence Force 2 (Dylon King 64, Devorn Jorsling 65), Central FC 2 (Keron Cummings 43, 84) at Hasely Crawford Stadium;
*–Central win 4-2 on penalties.
(Penalty Sequence)
Baptiste (Central) scores, Arcia (Defence Force) scores;
Armstrong (Central) scores, King (Defence Force) misses;
Cummings (Central) scores, Moore (Defence Force) hits shot off post;
Sampson (Central) saved by Clarke, Sam (Defence Force) scores;
Muckette (Central) scores.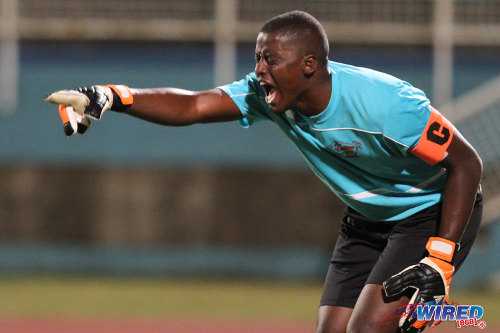 FCB MVP: Marvin Phillip (Central FC)
Most Goals (5): Kareem Freitas (Police FC), Dylon King (Defence Force), Brent Sam (Defence Force).