Trinidad and Tobago Men's National Senior Team head coach Dennis Lawrence questioned the technical level and capability of some of his locally-based players last night, after a sub-par performance in a 0-1 loss to an experimental Panama team at the Ato Boldon Stadium in Couva.
The Soca Warriors, who fielded four debutants last night, failed to register a single shot on target and struggled to get any passing fluidity in the final third. And Lawrence gave a frank assessment of their display in the post-match briefing.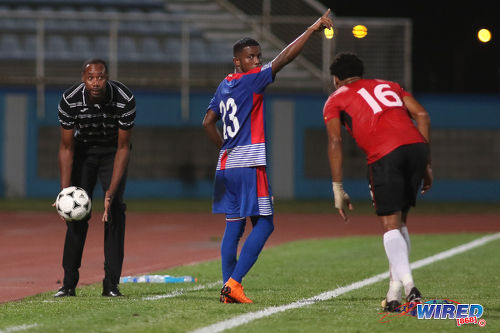 "I think a lot of questions were answered tonight in terms of the local players and where they are at the moment in terms of being active for football," said Lawrence, "because some of our passing tonight was very, very erratic. One of the most obvious things tonight is that technically our players need to improve, because if you cannot receive the ball in quick time and play it,  then you will end up in problems.
"So we got a clear indication of where the work needs to be done at this level."
Lawrence went further to suggest that some of the players who wore the red, black and white strip last night were just not international material.

"I don't think it's premature to say it, I think it's obvious," said Lawrence. "[…] Obviously, you can see what qualities some of the players can offer and I think some of them have hit their [ceiling] level. They can't go the extra bit that is required.
"[…] A lot of them are still young and we have to work with them to try and improve them from that aspect. But if we go based on tonight, then immediately you could see that some of them are not ready."
Lawrence's mood would not have been helped by a rash lunge from one of his more trusted players, defender Curtis Gonzales, which ultimately left-winger Oscar Villarreal with ample time to pick out Jesús González, who scoredr the decisive goal from close quarters.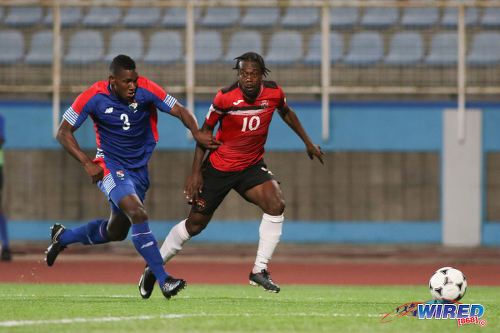 Or maybe, the 92 minutes which preceded that Gonzales slip—and González's tap-in—was frustrating enough for Lawrence, as the hosts struggled to get quality service for striker Marcus "Lobo" Joseph. Joseph was asked to chase long balls all night while the midfield trio of Hashim Arcia, Kevon Goddard and Jared London offered little—if anything—in an attacking sense.
Ultimately, Lawrence had to admit that"a victory was never on the cards for us tonight."
There were some positives for the hosts, though.
Speedy flanker Cordell Cato was, arguably, the best Warriors player on the pitch and twice had José Calderón twitching in the Panama goal with efforts which just rolled past the left upright. However, the Charlotte Independence player faded in the second half and was guilty of overplaying on a few occasions.
Goddard, a former National Under-20 player, put in a decent defensive shift in central midfield too. But as was the case with many of his teammates, Lawrence noted, the ability—or bravery—to get into Panama's half and create just was not there.
"Kevon Goddard will give you everything; he's a heart-and-soul player," said Lawrence. "But as we saw, he just lacked the bit of ambition to be brave on the ball and get forward. Technically, we need to polish up but it was an all-round lack of technical ability we showed tonight and Kevon Goddard just fell under that umbrella."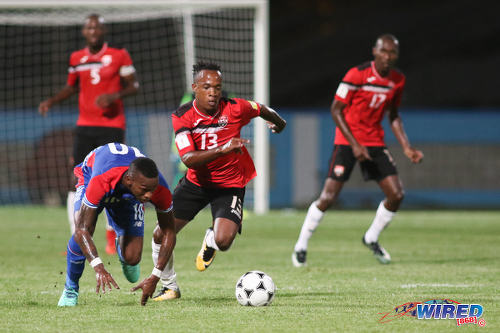 The loss ended a stretch of five unbeaten games for Trinidad and Tobago,  dating back to their 2-1 World Cup qualifying win over the United States on 10 October, 2017. Lawrence hopes that he can get his players back on the field at the earliest possible opportunity, though.
"I think the most important thing now is to keep these players active," he said. "My main concern at the moment is how we are going to keep these players active. I don't think there are many of them who are under contract with any football club, which is very unusual. The Pro League finished last November so we've had players inactive since then."
Lawrence suggested that the Pro League's issues have had a knock-on effect on his squad.
"It's extremely difficult because you are putting together a squad and you've got a short period of time," he said, "and you've got to try and work on fitness levels before you can think about anything else.
"We can't continue to perform and take on these higher opponents by producing our football in that manner. We have to have an active football league… At the moment, we don't have any leagues apart from minor leagues."
Lawrence noted that some of the national players are at present competing in minor league competitions. But then it is the only way they can get some semblance of match fitness.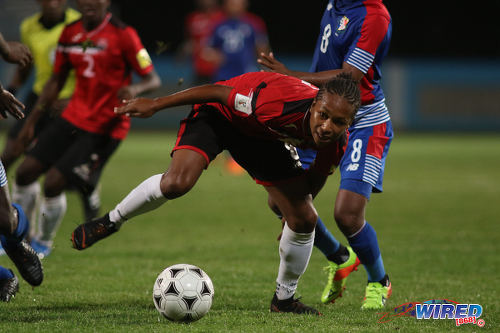 "What do I do? Do I tell the players not to play in the minor leagues or is it good that they are being active?" he asked. "My major concern is the lack of activity by our footballers."
Lawrence also addressed his continued non-selection of Guaya United's Carlon "Judgement" Hughes, who was the Trinidad and Tobago Super League's (TTSL) top goal-scorer last season. Qatar 2022, the Warriors coach explained, is the goal now and the southern attacker will be well into his 30s by the time that rolls around.
Last July, Lawrence gambled on bustling FC Santa Rosa forward Keron Clarke, who played for 71 minutes in a 1-3 defeat away to Ecuador. However, the head coach said the 32-year-old lower league attacker could easily have been withdrawn from the field after the first 20 minutes.
"That is how difficult the guy found it," Lawrence said. "We are playing against opposition where football is a livelihood; that's what they do every single day. It's not easy for a football player who doesn't train consistently and on a weekly basis to come in and play at this level.
"I think age is a also a question mark with regards to [Hughes], so we try to integrate the younger ones like Nicholas Dillon, somebody who we can work with and prepare for what we are going to face.
"[…] So I have seen [Hughes] and I just felt at this time it wasn't what we needed."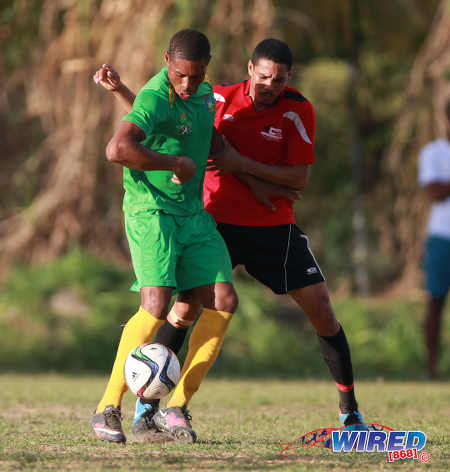 Judgement Day might be here for a few players from last night's squad as well.
"I think now, for a lot of the people who are asking who should and shouldn't be in the team,  I think we got the answer tonight," said Lawrence. "All in all, I wasn't pleased with the result in any way. I wasn't pleased with the performance but I was pleased with the fact that we were able to put a team on the pitch and we were able to get answers."
(Team against Panama)
Trinidad and Tobago (4-1-4-1): Adrian Foncette (GK); 16.Alvin Jones (19.Kathon St Hillaire 86), 5.Daneil Cyrus (captain), 15.Curtis Gonzales, 18.Triston Hodge; 17.Jared London; 7.Cordell Cato (2.Jameel Neptune 83), 13.Kevon Goddard (20.Nathaniel Garcia 72), 14.Hashim Arcia (11.Nicholas Dillon 61), 12.Reon Moore (9.Akeem Roach 53); 10.Marcus Joseph (8.Judah Garcia 79).
Unused substitutes: 1.Marvin Phillip (GK), 21.Andre Marchan (GK), 4.Rhondel Gibson, 6.Maurice Ford, 23.Isaiah Hudson, 25.Taryk Sampson, 27.Justin Sadoo.
Coach: Dennis Lawrence