Veteran attacker Tasha St Louis will retain the captain's armband next week when the Trinidad and Tobago Women's National Senior Team hosts Panama in friendly international outings on 22 and 24 March at the Ato Boldon Stadium in Couva and the Manny Ramjohn Stadium in Marabella respectively.
The Thursday Couva outing will kick off at 6:30pm while the Saturday clash in Marabella starts at 4pm. Tickets cost TT$20 and are only available at the venue on match day.
St Louis, who led the team under former head coach Carolina Morace, will keep the honour for the Women Soca Warriors' first international under current boss and returning head coach Jamaal Shabazz—who also steered the U-17 and U-20 teams over the last six months.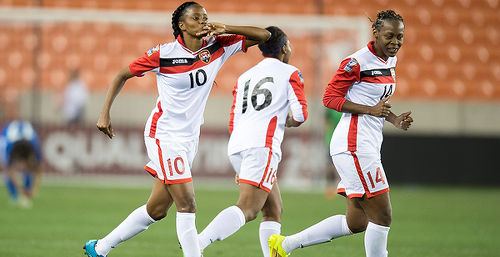 Shabazz included three National Under-20 players in his squad, Petrotrin midfielder Shenieka Paul, St Augustine winger Kedie Johnson and Trincity Nationals defender Natisha John having all been promoted to the senior outfit.
St Louis' squad also boasts Petrotrin forward Mariah Shade, Real Dimension midfielders Janine Francois and Karyn Forbes and QPCC defender Ayana Russell, who were all involved in Trinidad and Tobago's exciting but ultimately unsuccessful Canada 2015 World Cup qualifying series.
However, star forward Kennya "Yaya" Cordner misses out owing to club commitments in Norway. Defender Arin King and goalkeeper Kimika Forbes are injured while Akheela Mollon and midfielder and captain Maylee Attin-Johnson reportedly ruled themselves out owing to coaching commitments
The Women Warriors are expected to start their France 2019 World Cup qualifying campaign in May at the Caribbean Championships. Shade told the TTFA Media that the squad is anxious to take to the field.
"We are very much excited and eagerly awaiting these two games," said Shade. "We have been hard at training and now it's just an opportunity to implement what we've been working on with our new coach,Jamaal Shabazz.
"We know that it's important for us to come out and put on a good show in preparation for our tournament coming up."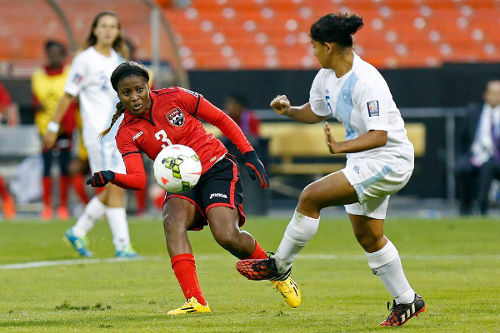 Although Shabazz is not particularly optimistic about the team's chances of getting to the FIFA tournament, Shade said the women feel they have unfinished business.
"We have a lot of players who were left heartbroken in our last qualifying campaign," said Shade, "so we know this is another opportunity for us to come together once again and work hard to achieve this goal of qualifying for a World Cup; and therefore it's very important for us.
"We've been putting in a lot of work and we've been getting better with a consistent training programme over the past few months. It's a younger team this time with a few of the experienced players involved still from the previous campaign so it's a chance for us to mesh and continue building that chemistry in these two games against Panama.
"We will like for the fans to continue their support and come out and back us from early because our intention is to go all the way in the qualifications and we will really appreciate every bit of support we can get."
(Trinidad and Tobago squad)
Goalkeepers: Nicolette Craig (Essex County College), Tenesha Palmer (St Ann's Rangers);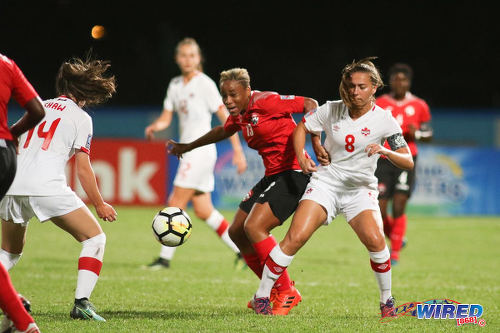 Defenders: Patrice Superville (QPCC), Jonelle Cato (Trincity Nationals), Anastasia Prescott (QPCC), Jenelle Cunningham (Real Dimension), Ayana Russell (QPCC), Natisha John (Trincity Nationals);
Midfielders: Tasha St Louis (Real Dimension), Karyn Forbes (Real Dimension), Janine Francois (Real Dimension), Naomie Guerra (William Carey University), Shanelle Arjoon (West Texas A&M), Kedie Johnson (St Augustine), Shenieka Paul (Petrotrin);
Forwards: Mariah Shade (Petrotrin), Natasha St Louis (St Ann's Rangers), Andrea Young (Ottawa Fury).